Multi-disciplinary, multi-sectoral approach

Strong alumni community

Interactive and applied learning

Experienced faculty

Live virtual classes

3 career oriented specialisations



100% online programme

Enhanced digital platform
Empowering you to
succeed
Learning Outcomes

Varied experiences, enabling industry integration and cross fertilisation of ideas

Understanding of the interface of business with technology & analytics

Upskilling, that is sharply aligned with professional requirements and priorities

Better understanding of the self and renewed commitment towards personal development

Enhanced problem-solving, managerial, communication and leadership skills

Specialised knowledge and skills pertaining to the chosen electives

PROGRAMME BENEFITS

Flexible programme design, weekend course delivery

Career oriented specialisations

Career advancement opportunities

Opens doors to leadership roles

Increased earning potential

Graduates from recognised universities with minimum 50% marks

Minimum 1 year of industry experience from reputed companies

Integrate job roles and classroom learning in real time

Get customised inputs on personal growth and career development

Specialise in Capital Markets, Marketing, and Business Analytics and AI
Sample
certificate
TAPMI's online degrees and certificates are widely accepted by governments, corporate organisations, and higher education institutions for jobs, higher education, and future prospects.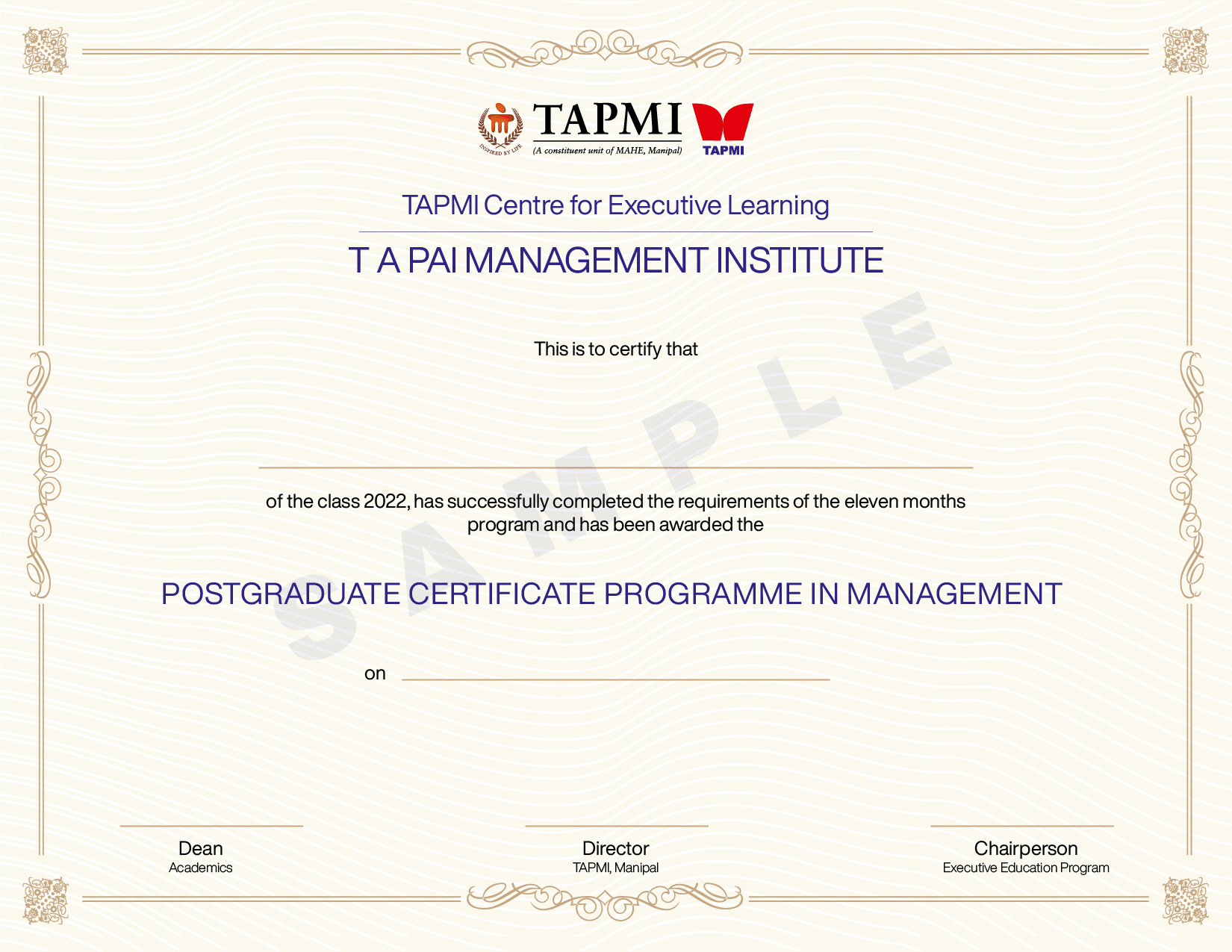 Meet our

faculty
Prof. Jeevan J Arakal

Associate Professor, Chairperson – Branding & PR, Chair – Executive Education Programmes and VEL

Prof. Arakal is an economics graduate from Kerala University. An alumnus of XIMB, he completed his Ph.D. from SJMSOM-IIT Bombay. Prof. Arakal has worked for about twelve years in development and academic institutions. Prof. Arakal has also served as a consultant to clients like Vedanta Foundation, Nalco Foundation, Small Farmers' Agribusiness Consortium, South Odisha Development Initiative (SODI) and Udoygini in the past. He teaches Brand Management, Sales & Distribution Management, Rural Marketing and Marketing Management.


Prof. Mukta Srivastava

Associate Professor, Co-chair – Marketing Management Area & Co-chair – Executive Education Programmes and VEL

Prof. Srivastava is a gold medallist in MBA and qualified NET in Management. She has more than 13 years of academic and research experience. She serves as a reviewer for various ABDC listed journals including Marketing Intelligence & Planning (ABDC-A), International Journal of Consumer Studies (ABDC-A), and the Asia Pacific Journal of Marketing and Logistics (ABDC-B). She teaches Services Marketing, Brand Management, Customer Relationship Management, Marketing Management, Business Research Methods, and Marketing Research.


Prof. Gurudutt Nayak has been an active mentor for New Age Incubation Network IT projects under the initiative of KBITS, Govt. of Karnataka. He teaches IT for Business, IT Consulting, Enterprise Resource Planning, Services IT, and Entrepreneurship


Prof. Happy Paul earned a Ph.D. in Organisational Behaviour from IIT Roorkee. He has over eight years of experience in academia. Before joining TAPMI, he worked as Assistant Professor at Graphic Era Deemed University, Dehradun. He teaches Individual and Group Dynamics, Organisational Structure and Design, Organisational Behavior, Human Resource Management, Learning and Development, and Leadership Assessment.


Prof. Ishwar Haritas

Associate Professor, Chairman – TAPMI Center for Inclusive Growth and Competitiveness & Area Chair – Strategy and General Management Area

In a career spanning over 15 years, Prof. Haritas has worked in industry, not-for-profit organisations, and inter-governmental agencies, in over 15 countries, across three continents, on scores of strategy design and execution projects / programmes. He teaches Business and Corporate Strategy, International Business.


Abhishek Kumar Rohit is a fellow of the Indian Institute of Management Raipur in the area of Economics and Business Environment. His thesis is titled "Degree of Openness, International Monetary Transmission and Spillovers". He holds an MBA in Finance and has served Punjab National Bank for three years in a managerial cadre. He teaches Microeconomics, Macroeconomics, Business Environment, International Finance, and Econometrics.


Aditya Mohan Jadhav runs training programmes in the areas of Project Appraisal, Project Finance, Social Cost-Benefit Analysis, etc. for middle-level managers from Indian Railways, Intelligroup Ltd., Progress Software, ICICI Bank, National Stock Exchange, and others. He is a reviewer for Economic and Political Weekly and Tata McGraw Hill Ltd., and Tally Solutions Ltd., Bangalore. He teaches Corporate Finance, Investment Banking, Project Finance, and Investment Finance.


Dr. Meera is a dedicated banker with 30 years of experience in credit/ treasury/audit/legal/ recovery facets of banking. She retired as General Manager from Karnataka Bank Ltd after serving for 30 years in various capacities. She teaches Banking Finance, Risk & Compliance, and Audit & Legal Implications.


Srinivasan has a combined work experience of around 26 years in industry and academia. He has completed MBA (PGSEM) from IIM Bangalore. After earning a Ph.D., Prof. Tatachari took on an academic avatar with a passion to continue his research dreams and teach future leaders on the way. He teaches Organisational Learning and Knowledge Management, Social Identity Approach, HRM in the IT industry, Creativity, and Women in Organisations.


Vrishali Bhat has a Postgraduate degree in Commerce from Pune University. She is an Associate of the Institute of Chartered Accountants of India and has also completed the Intermediate Level of the Company Secretary course conducted by the Institute of Company Secretaries of India. She is also a qualified Mutual Fund and Insurance Advisor. She teaches Financial Management, Management Accounting, Corporate Laws, Security Analysis, Financial Planning, and Portfolio Management.

What is virtual learning?
Programmes delivered in a device-to-device mode in a virtual learning environment are termed "virtual learning" programmes. An interactive live classroom environment is created for the participants, and the rigor and engagement of the classroom environment are replicated in a high-quality technology-enabled learning platform. Virtual learning provides an opportunity for working professionals to study without taking a break from their careers.
Can I start this course anytime?
While you cannot start the course anytime, you can choose your own time to study and interact with faculty and go through the course content.
How many hours do I need to spend on this programme?
Learners will need to spend around 7.5 hours/ week, for a period of 40 weeks to complete this programme. We recommend attendance of 75% per course in the programme.
Is the programme completely virtual?
Yes, the entire programme is delivered through online platforms. The experience is seamless with a digital whiteboard, hand raise for dynamic participation, and chat options for unobtrusive queries, when required.
What is the deadline for enrolment?
For details regarding the deadline, please visit our website.
Who should do this programme?
Those who want to specialise in Capital Markets, Marketing, Business Analytics and AI
Those seeking customised inputs on personal growth and career development
Professionals looking for real-time integration of job roles and classroom learning
Do I get a certificate for this programme?
Yes, you will receive a "Postgraduate Certificate in Management" by TAPMI, a constituent unit of the Manipal Academy of Higher Education (MAHE).
Do you provide placement with this programme?
At present, TAPMI is not providing support for placement for this programme as it aims at working professionals.
Is this programme accredited?
No, since this is a certificate programme it is not an accredited programme.
How is the programme delivered?
Lectures will be delivered through an appropriate online platform like Zoom or Microsoft Teams
Learners can attend the sessions using a laptop/ mobile at your convenience in your city
Classes will be scheduled on Saturdays and Sundays
There will be 5 sessions per week, every session will run for 90 minutes
Multiple assessment modes will be used to test and facilitate learning
Participants will be provided with e-books and reading material for each course
What are the benefits of this programme?
Flexibility in programme design, and weekend course delivery
Learn while you earn
Career-oriented specialisations
Strong application-based and integrated learning through diverse functional courses
Diverse cohort with varied experiences, enabling industry integration and cross-fertilisation of ideas
Understanding the interface of the business with technology and analytics
If I am unable to attend classes regularly, can I directly connect with the faculty?
The recommended attendance per course is 75%. Session recordings will be available for all programme participants who cannot attend a session or for those who wish to revisit them.
Who is eligible for this programme?
Graduates from recognised universities with a minimum of 50% marks in the aggregate score
Minimum 1 year of industry experience from reputed companies
Will I be able to access classes when I am travelling?
You can access and attend classes while you are travelling. However, we do not recommend this option. As mentioned earlier, recordings of all classroom sessions will be available to all programme participants.
Can I take up classes while I am abroad?
Yes, if you have an internet connection and the time zone is convenient for you.
If I decide to discontinue the programme due to an emergency, will I get a refund?
No. You will not be refunded. However, we will try and accommodate you in future batches, if any. Please contact our course coordinators for more details.
If I face any technical issues, will the classes be repeated for me?
Though technical issues are uncommon, recorded sessions will be available for you to revisit in case you face an issue during live sessions.
What is the programme fee?
The programme fee is USD 3600 (all inclusive). You can pay the amount in three instalments.
What is the selection process?
Interested candidates must apply online by paying the application fee of USD 50. Based on the details submitted, a profile-based selection will be conducted. Selected candidates will be intimated via email.
How is this programme different from an MBA/ PGDBM?
Postgraduate Certificate Programme in Management lays emphasis on experiential learning. The biggest beneficiaries of PGCP in Management will be professionals who are looking at growing into general management roles. The programme enables you to –
SHARPEN your management skills with high-quality inputs on functional areas, analytics & decision making, and personal growth
LEVERAGE classroom learnings and assignments by applying learnings at the workplace
ADDRESS gaps in knowledge and skills for better job effectiveness
ENHANCE career growth opportunities in high growth industries like -e-commerce, FinTech, Digital Marketing, and Data Science & Analytics
How is the programme delivered? Is it a correspondence course?
This is NOT a correspondence programme. The programme is offered through live online sessions, where you interact with the faculty in real-time. It is a synchronous process; however, all classroom recordings will be shared with programme participants.
How do virtual programme differ from traditional programmes?
Virtual learning programmes are as rigorous as traditional classes. All features of traditional classes, such as class participation, homework, group collaboration, and testing to name a few, are available in this technology-enabled environment as well.
In between the programme, if a learner is transferred or gets a job abroad, can he complete the course from there?
The course is conducted online and can be attended from any place that has a stable internet connection.
Is the prospectus available online? Where can I collect it from?
Yes, you can download the brochure here
What are the documents required to apply for this course?
The documents required are – copies of your graduation or degree certificate along with a copy of the transcript, a letter from the employer justifying your relevant work experience (wherever applicable), along with a registration fee of USD 50  (non-refundable).
Will there be an interview/ test for admission to this course?
There is no interview or entrance test for the selection of candidates.
How are results declared?
Our counsellors will get in touch with you, and the selected candidates will receive emails. The offer via email is provisional and is subject to subsequent verification of professional credentials and the payment of fees within the stipulated deadlines.
What is the minimum attendance required?
The minimum attendance required is 75%.
Can I take a break?
The programme has a defined start and finish date. A grace period of one month is given for the completion of course-related formalities.
When can I select my elective?
Elective selection would happen at the end of Term-1. Students would be asked to give their first and second preferences and be allotted according to their preferences and demand. In case there are less than 20 students for one elective, that elective will not be offered.
Is the project work to be done after or during the course duration?
Project work needs to be completed within the course duration and within the time frame specified in the programme. As mentioned above, a month's grace period is given for the completion of all evaluation components except the end-term examination. In case a participant misses the end-term examination, an application for re-examination must be submitted. Candidates can take the re-exam upon payment of the examination fees.
How is the assessment and grading done for an individual at the end of the session?
A student is assessed on her/his performance in quizzes followed by individual or group assignments like case analysis, and projects given to them from time to time. Every course also has an end-term examination which is an individual component. Accordingly, grades are awarded as prescribed in the programme outline.
Would the course material given by TAPMI suffice, or do learners have to refer to other books for successful completion of the programme?
The course material supplied by TAPMI is sufficient. For extra or additional information, one may refer to other books online or visit any library.
How do we communicate with the faculty outside of classroom timings?
You can directly email the faculty for course-related queries. Discussions forums are also a useful way to clear doubts.
Are graduates running their own businesses eligible for this programme?
Yes, they are eligible provided they present the appropriate professional credentials.
How can I contact TAPMI if I have any queries/questions regarding the course?
Enroll with us
Interested to join our courses?
Share your details and we'll get back to you.
Post Graduate Certificate Program in Management
TAPMI