Program
benefits
Here's what you can expect from this program
Empowering you to
succeed
Learning Outcomes

Sound technical knowledge

Better job opportunities in analytical and leadership roles

Enhanced problem solving skills

Increased earning potential

Gateway to a flourishing career in Data Science

Why we stand out

Effective online pedagogy

Advanced digital learning platform

Designed for immersive learning

Placement assistance & career counselling

10+2+3 year graduate degree in Statistics / Mathematics / Computer Science / Engineering / Technology or any other discipline with a minimum of two years of learning Mathematics or statistics from a recognized university/institution with an equivalent qualification recognized by the Association of Indian Universities (AIU).
Candidates who have completed their 10+2 or graduate level education outside India must produce a certificate of equivalence issued by the Association of Indian Universities.
Students & professionals holding NRE, PIO status, residing outside India and/or students & professionals who are not Indian citizens are considered 'international students' and are eligible to pursue MAHE's online degree programs. All such students & professionals will be billed an international fee for respective degrees & may need to submit documents mentioned but not limited to CV, address proof, valid visa, PR card & passport copy as part of the application process
Work experience is desirable
Easy financing options
Easy financing options in the form of loans at low interest rates and part payment facilities to enable students to secure seats seamlessly.
Attractive scholarships
Scholarships for defence personnel, meritorious student, persons with disabilities, alumni of MAHE, and alumni of degree colleges under Academy of General Education (AGE).
Sample
certificate
MAHE's online degrees and certificates are widely accepted by governments, corporate organizations, and higher education institutions for jobs, higher education, and future prospects.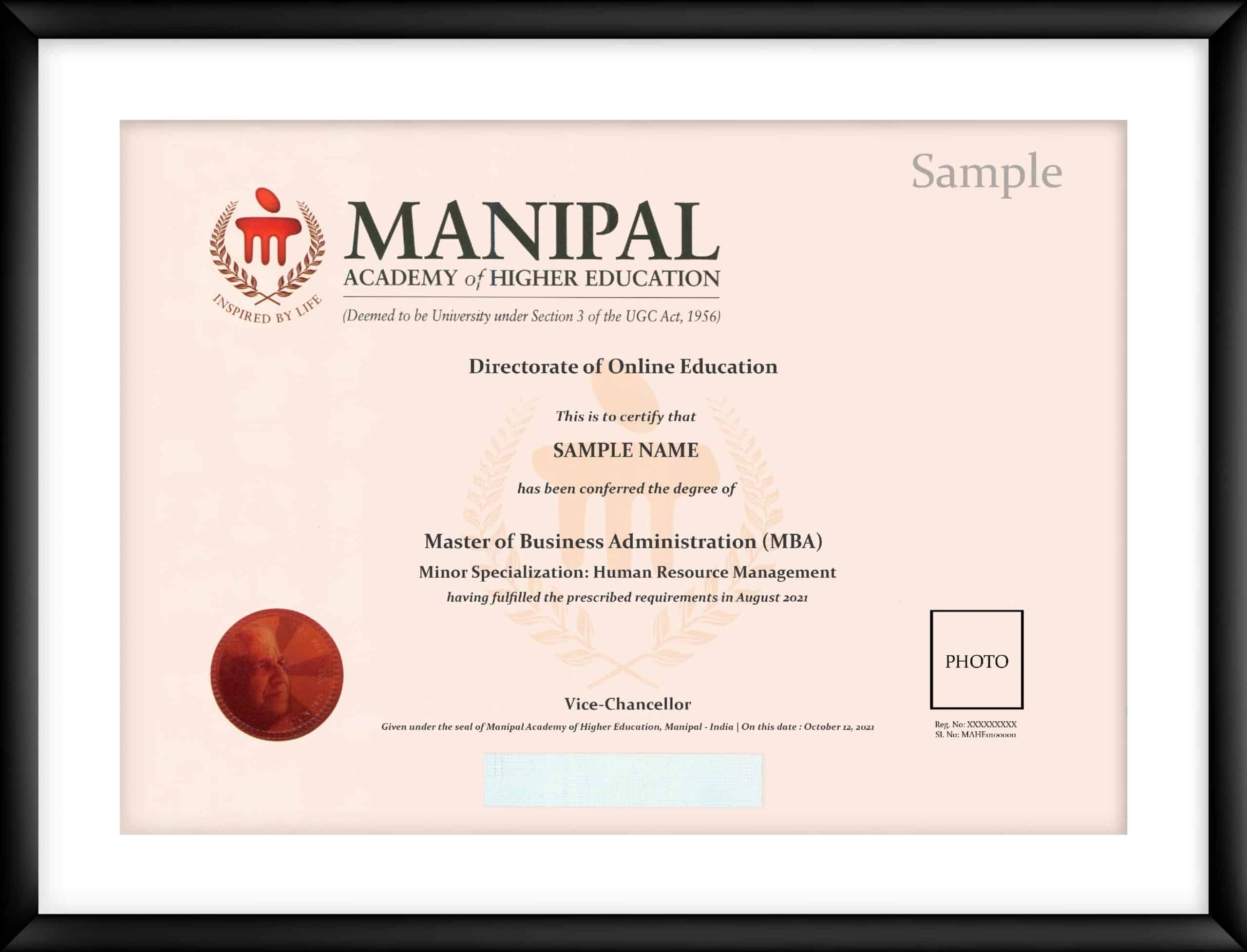 How do I apply for MAHE online programs?
What are the eligibility criteria for MAHE online programs?
What are the documents required for the admission into MAHE online program?
What is the selection process?
What is the refund policy?
How is the MAHE online program delivered?
Will there be any live lectures/webinars?
How will my academic queries be answered?
How much time should I dedicate to complete the learning activities?
What is the medium of instruction?
When do I get access to MAHE learning portal?
What is the evaluation & assessment pattern?
What is the grading pattern?
What if I fail to clear some papers/subjects?
What is the duration of online programs?
Why should one choose MAHE online program?
Will the online degree be equivalent to conventional degree?
Enrol with us
Interested to join our courses?
Share your details and we'll get back to you.