B.Com is a renowned undergraduate course with many job opportunities. It lays a strong foundation for prospective learners. The B.Com degree course aims to teach students analytical abilities, financial management, and business skills by emphasising conceptual topics.
If you're thinking of studying for a Bachelor of Commerce, there's much more you must consider making an intelligent selection. You should know the various details regarding B Com courses such as sorts of programmes, specialities, scope, fee structure, programme timeframe, qualification, enrolment, education, and job options. So, continue reading to learn 'What is B.Com all about?' and everything you ought to understand regarding the course details.
Key points for BCom course details
| | |
| --- | --- |
| Particulars | Details |
| B.Com full form | Bachelor of Commerce |
| Course level | Graduate |
| Course duration | 3 years |
| Eligibility | 12th pass |
| Course fee | Ranging between INR 40,000 to INR 200,000 |
| Examination type | Semester pattern |
| Admission | Admissions granted by University based on 12th score. |
| Average salary | Starting salary range of INR 10,000 to INR 25,000 per month |
| Recruiting companies | ICICI, HDFC, PwC, LIC, Bajaj Allianz, SBI, and more |
What is a Bachelor Of Commerce (B.Com)?
B. Com, also referred to as Bachelor of Commerce, is a graduate degree that allows you to excel in commerce. The B.Com degree is typically pursued by individuals who have completed their 12th grade in commerce. After their 12th grade, even fine arts students can change disciplines and enrol in a B.Com.
During the three-year B. Com programme, students will gain general business concepts while studying key commerce disciplines like finance, economics, accounting, actuarial studies, and business management. There are several types of B.Com degrees, such as-
B.Com (General)
B.Com (Honours)
B.Com (LLB)
While most students pursue a B.Com general degree, other possibilities are equally worthwhile. That will make sure you gain a lot of knowledge and help you get a solid career and life.
Eligibility criteria for B.Com course
Now, as you come to know about Bachelor of Commerce, let's proceed further towards the eligibility needed to pursue this course. To be eligible to get B.Com admission, you must meet certain standards. The following are the requirements for enrolling in a B.Com course:
There is no minimum age requirement for admission. Individuals of all ages, genders, and communities are encouraged to apply.
You must have completed your 12th grade in commerce. Students in the science and arts who have completed their 10+2 may enrol and switch streams in certain conditions.
Participants must also have studied maths and English.
You must have a grade point average over the college's minimum cut-off percentage. This minimum percentage cut-off score is entirely determined by the institution of higher education.
Modes of pursuing B. Com course
There are three modes to pursue B. Com courses:
B.Com Online
B.Com Distance Education
B.Com Regular/Traditional B.Com
B.Com online is a three-year programme that teaches students about
Business communication
Financial and corporate accounting
Business law and accounting
Candidates who cannot attend a traditional B.Com degree or who cannot pay the standard degree costs may consider B.Com online. You can enrol in an online B Com course provided by Online Manipal.
What are the prospects after pursuing B.Com?
In the overall job market, there is a strong demand for commerce graduates in the job market. Due to various educational possibilities and great adaptability, Commerce graduates have a better chance of landing a job. With a Bachelor of Commerce degree, a candidate is qualified to work in various industries, including:
Marketing
Banking
Public Accounting
Policy Planning
Consultancy
Investment Banking
After completing B.Com, students may pursue further higher education options.
Scope of B. Com graduates in India
Bachelor of Commerce has tremendous potential as there are many career and job possibilities. A B.Com degree will lead to jobs in financial services, banking, research, analysis, risk management, government, and taxation, among other fields. For countless 10+2 students, B.Com stays among the most popular options. A Bachelor of Commerce degree also prepares you for programmes such as MBA and Financial Management. Having a commerce foundation helps open the path to a great future.
Higher education opportunities after B.Com
Students who have finished their degree in the commerce stream have a wide range of higher education alternatives. Students can pursue postgraduate studies in various fields, including economics, international studies, law, and the arts. MBA and M.Com are two of the most popular courses after B.Com. You need to have an overview of M.Com vs MBA before finalising on what to do after B.Com. Other than that, there are many higher studies options to do after B.Com:
Master of Business Administration (MBA)
M.Comp
Diploma in Banking and Financial
Executive MBA
Executive Programme in Applied Finance
International Postgraduate Diploma in Risk Management
LLB
Master in Financial Management
Master in Management Studies
Master in Retail Management
Master of Marketing Management
Master's Degree in HRD
Master's Degree in Marketing
Master's in Business Studies
Masters in Financial Management
Masters Program in International Business
CA
MCA
Postgraduate Management Diploma
Career areas to explore
After finishing a graduate degree in commerce; students have multiple employment opportunities, but not all B.Com graduates are familiar with the various paths they may pursue to develop a successful career. Let's look at some of the career alternatives available after B.Com that you'll want to pursue:
Chartered Accountancy (CA)
Company Secretary (CS)
Chartered Financial Analyst (CFA)
Business Accounting and Taxation (BAT)
Certified Management Accountant (CMA)
US Certified Public Accounting (CPA)
Financial Risk Manager (FRM)
Association of Chartered Certified Accountants (ACCA)
Certified Financial Planner
Certificate in Investment Banking (CIB)
Digital Marketing
Having such a wide array of opportunities might confuse you. Thus, this guide will help clear some of your doubts and let you make a better decision on what to do after B.Com.
BCom course syllabus details
Corporate tax, financial law, economics, and accounting are among the topics included in the B.Com syllabus. Each B.Com subject carries a 100-point weightage, including a 20-point internal review and an 80-point external test. Over three years, subjects under the course are separated into six semesters. Candidates must take four core disciplines, like accounting, banking, and finance, and one elective per year, like English, economics, or philosophy. The primary subjects covered in Bachelor of Commerce are:
Accounting
Actuarial science
Advertising
Assurance
Business System Analysis
Banking
Business economics
Computers and Management Information Systems
Decision Analysis
Economics and Econometrics
Electronic Commerce
Entrepreneurship
Finance and Financial Markets
Government
Human Resources
Industrial Psychology
Information Management
Insurance
Labor Relations
Law
Logistics Management
Management
Management Science
Marketing and Communications
Operations Management
Organisational Studies
Politics and Public Policy
Supply Chain Management
Risk Management / Financial Risk Management
Strategic Management
Statistics
Taxation
Transport Economics
Keep reading to get more B.Com course details.
B.Com syllabus – Semester-wise breakdown
Aspirants can review the B.Com syllabus to get a good understanding of the modules and subjects included in this three-year course. The following are some modules and the subjects covered in the Bachelor of Commerce curriculum:
Syllabus of B.Com semester 1
Financial Accounting
Business Organisation & Management
Generic elective courses such as Principles of Microeconomics or New Venture Planning
Environmental Studies
Syllabus of B.Com semester 2
Language: English/Hindi/Modern Indian Language
Business Laws and Ethics
Generic elective courses like Principles of Macroeconomics or Economics of Regulation of Domestic and Foreign Exchange Markets
Business Mathematics and Statistics
Syllabus of B.Com semester 3
Company Law
Discipline-specific elective courses like Indian Economy or Financial Markets and Institutions, etc.
Syllabus of B.Com semester 4
Income Tax Laws
Skill-based electives like Banking and Insurance or Financial Analysis and Reporting
Syllabus of B.Com semester 5
Auditing and Corporate Governance
Discipline-specific elective courses like Principles of Marketing or Training and Development, etc.
Cost Accounting
Skill-based Elective courses like Computer Applications in Business or Advertising, etc.
Syllabus of B.Com semester 6
Fundamentals of Financial Management
Business Communication
Discipline-specific elective courses like –

International Business
Consumer Affairs and Customer Care, Organisational Behaviour
Entrepreneurship and Small Business
Office Management and Secretarial Practice
Corporate Tax Planning
Fundamentals of Investment
Management Accounting
Why should I choose B.Com?
B. Com graduates are in high demand, particularly when the economy improves. However, even when the economy isn't doing well, B. Com graduates can still find work in different industries.
Earlier, people believed that a B. Com degree would only lead to clerical tasks, but this is no longer the case. A Bachelor of Commerce allows you to work in a wide range of fields. Some of the subjects in B.Com, such as accountancy, economics, industry, and financial and company management, are critical areas in a developing nation's economy.
Moreover, you can pursue a variety of employment in a field you prefer.
Benefits of pursuing a B.Com
A B.Com course has many advantages. Many factors make B.Com attractive to students, from job options to income incentives. Make sure you're aware of these benefits and get to know all B.Com course details before deciding on a degree programme following high school.
A B.Com degree teaches you all you need to know about how businesses work. You learn everything from accountancy to leadership. This makes you extremely accessible in various areas and gives you a wide range of job opportunities.
B.Com graduates begin with a solid starting salary, which substantially rises as they gain experience. Compensation is also high, but it all relies on the industry and organisation where you get work.
Students with a B.Com can enrol in courses such as CA, CS, CMA, MBA, and other advanced courses to enhance their capabilities and improve their potential earnings. Postgraduate courses like M.Com and MBA also help you improve your professional journey. These courses can assist you in moving up the corporate ladder.
Bachelor of Commerce graduates work in businesses with a high level of job stability. The best example is the banking business. The government and other regulatory bodies keep a watchful eye on banks. As a result, employment losses and bank closures are unlikely.
Prepares for entrepreneurship
Unlike any other bachelor's degree, a B.Com degree equips students for both the corporate sector and entrepreneurship. The course equips students with commercial information that they may apply in the workplace. Several B.Com students can go into entrepreneurship and start their own companies. They know how to create and run a business and various other complex elements in running a business. 
Read more – Advantages of a B.Com degree
Bachelor of Commerce fees structure
Compared to other undergraduate degrees, the cost of a B.Com is not very expensive. It is among the most cost-effective degree programmes. The fee entirely depends on the institution where you are pursuing your education. Compared to private institutions, government-aided academic institutions have reduced fees. The payment systems differ significantly. For all three years, the cost of your B.Com can vary from INR 10,000 to INR 100,000. However, some colleges offer extra advantages such as improved infrastructures, laptops, hostels and canteen facilities, placements, etc. Opting for B.Com online courses are best suited as these courses are pocket-friendly and feasible for everyone.
Required skills for B.Com course
Candidates interested in studying Online B.Com and those who are currently pursuing Bachelor of Commerce should have the following skills to boost their employability prospects and thrive in their careers:
Thinking analytically
Business valuation
Communication skills
Financial intelligence
Negotiation skills
Relationship management
Excellent technical abilities
Exceptional networking abilities
Leadership qualities
Confidence
Self-motivated
Business development
Research and quantitative skills
Highly organised
Proficiency with MS Office
Adaptability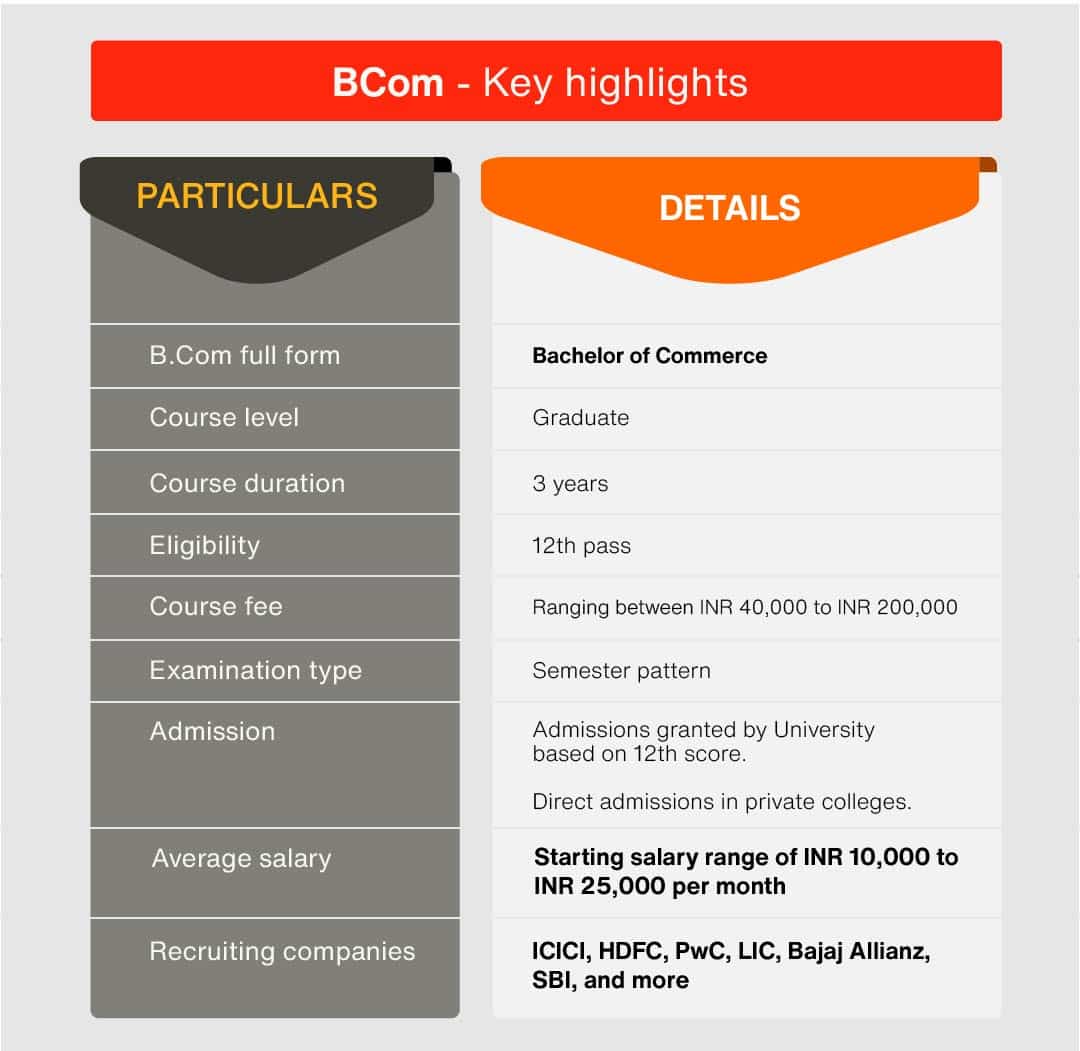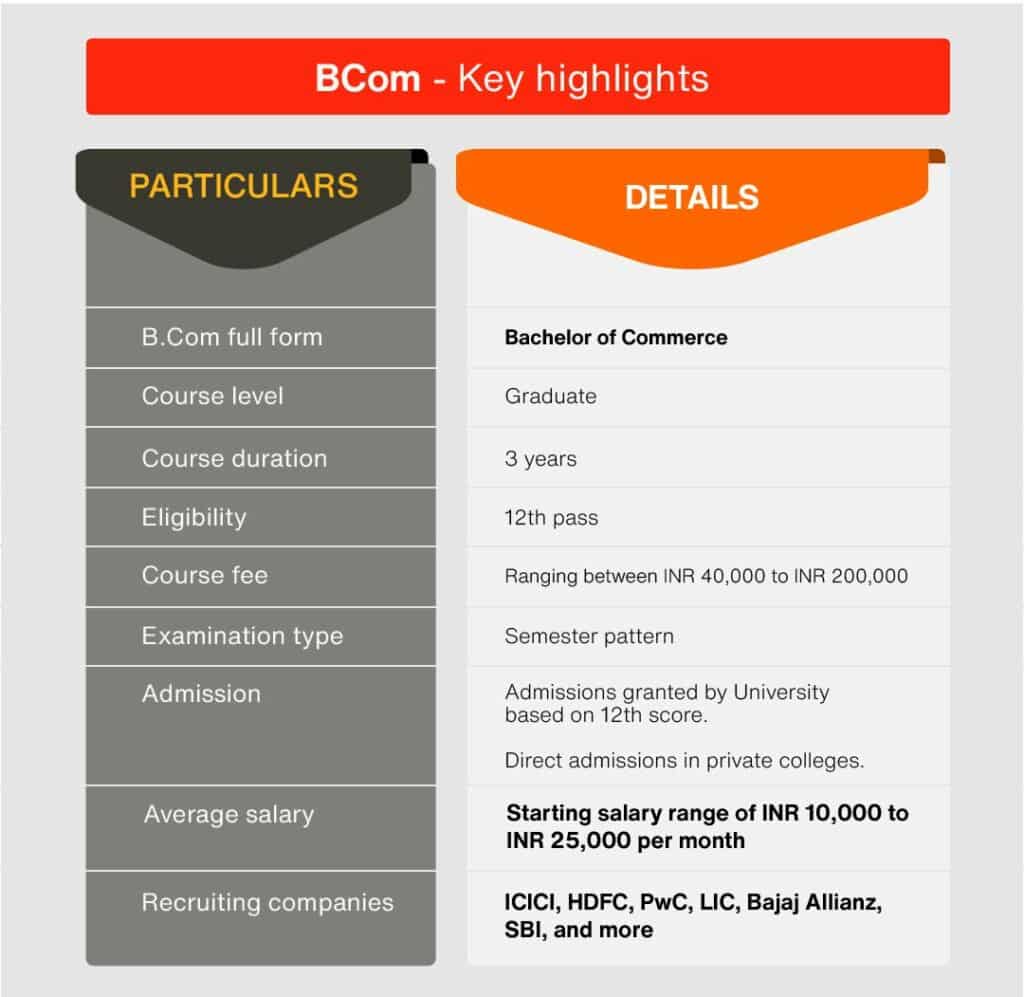 Online B.Com: A smart approach to get educated
Online B.Com choices continue to grow in popularity as costs decrease due to improved technology. The quality of teaching develops and improves. Online education is getting popular, rather than the exception for upcoming generations.
Along with B.Com course details, you must be well-versed with the benefits of pursuing an online BCom.
Educators and students may set their own learning pace with online education. Also, with the additional privilege of being able to build a schedule for everyone, opting for an online Bachelor of Commerce provides a better work-study combination, so there's no reason to compromise anything.
Additionally, online learning teaches you important time management skills, making it simpler to strike a solid work-study balance.
Online B.Com education is typically less expensive than traditional classroom instruction. Learners can make payments in instalments or per class. This enables more effective budgeting. You get the advantage of avoiding commuting and buying learning resources and books. So, the financial investment is lower, but the returns may be superior to alternative possibilities.
Online B.Com classes are typically smaller than traditional classes, which allow for more contact and discussion between you and your teacher in virtually all circumstances. Tutors may typically access various resources online, including videos, photographs, and e-books. They can also use other media, such as forums or conversations, to enrich their teaching.
You can learn or teach anywhere in the world with online education. This eliminates the need to travel from one location to another or adhere to a strict timetable. Online learning is also accessible from any place with an internet connection. So travelling won't get in the way of your learning.
Pursuing online B.Com from Manipal University Jaipur
Manipal University Jaipur offers online courses in B.Com that combine the most recent innovations in business management with some of India's greatest teachers to help you thrive in a variety of career paths. You can attend live and recorded lectures wherever you are and learn at your own pace. Also, you get the facility to explore a large e-library and get online access to study materials. Teaching methodology incorporates real-world case studies to help you improve and strengthen your critical thinking abilities. So, get all online B.Com course details, enrol in Online Manipal and make a smart choice for your future life.
Read more – How to get a B.Com degree through online mode
Eligibility requirement to get admission in online B.Com at Manipal University Jaipur
To get B.Com admission in Manipal University, candidates should fulfil the following criteria:
Applicants must have completed a 10+2 from a recognised institution
OR
A three-year diploma (10+3) from a State or National board, or an equivalent degree recognised by the Association of Indian Universities in any domain
They should have at least 50% marks in aggregate (45 per cent for reserved categories).
Conclusion
Online B.Com degree provides an all-encompassing learning experience. It enables immersive knowledge and quick and easy access to efficient online education. If you've decided to pursue a B.Com, you've made a wise decision, as you've probably noticed that several reputable universities offer this degree.
Hope you got all the answers regarding what a Bachelor of Commerce is all about' We have provided you with all the B.Com course details that will help you choose B.Com as your foundation for a bright career. The education is fantastic, with plenty of job opportunities, ensuring your vocation and future. With a plethora of benefits, wide career scope, online B.Com is one of the finest choices for students after 12th class. So, hurry and enrol for an online Bachelor of Commerce and take a step towards a lucrative career ahead.
Enrol with us
Interested to join our courses?
Share your details and we'll get back to you.