Key takeaways-
B.Com and BBA have a course duration of three years and helps you explore job opportunities in the field of commerce and business.
You can opt for B.Com if you want to explore a career in finance, accounting and other in-depth commerce subjects.
BBA is an excellent option if you want a career in management across sectors or to establish the basics of entrepreneurship.
For students with a commerce background or for those who want to pursue a graduation in commerce in 12th standard, it can be confusing which program to opt for. The two most common commerce degree programs are B.Com and BBA. Well, it is important to choose the right degree based on your interests, subjects offered in the program and your ambition.
There are significant differences between the two courses that you should be aware of before making the right decision. This article gives you an insight into which degree you should opt for.
What is B.Com?
The Bachelor of Commerce degree is a three-year degree program designed to provide a solid foundation in the field of commerce and finance. Students with this degree qualify for financial, accounting, and secretarial careers in different sectors.
What is BBA?
The Bachelor of Business Administration (BBA) degree is designed for individuals who desire to work in the competitive field of management. The BBA program lasts three years and provides a solid foundation in business administration. You will learn about all organizational processes, and how to manage and expand them. The course includes hands-on activities that will help students build on their entrepreneurial abilities.
Course duration
The course duration for both B.Com and BBA is three years, which is split in 6 semesters.
Eligibility criteria for B.Com & BBA
10+2 from a recognised National or State board institution
10+3 diploma from a recognised national or state institute
At least 50% marks in aggregate in 10+2 / Diploma (45% for reserved categories)
Course curriculum: B.Com Vs BBA
Course curriculum
B.Com
BBA
Semester 1
General English
Economic theory
Fundamentals of accounting I
Business organization
Principles of business management
Communication skills & personality development
Organizational Behavior
Business environment
Marketing management
Computer fundamentals
Semester 2
Computer awareness & internet
Marketing management
Fundamentals of accounting II
Business law
Fundamentals of entrepreneurship & innovation
Economic environment in India
Business communication
Financial accounting
Human resource management
Quality management
Retail management
Semester 3
Business communication
Financial management
Cost accounting
Business statistics
Financial statement interpretation
Legal & regulatory framework
Quantitative techniques for management
Research methodology
Financial management
Advertising & sales
Semester 4
Indirect taxes
Corporate finance
Corporate accounting
Environmental science
Human resource management
Business strategy
Management information systems
Management accounting
Environmental science
International marketing
Rural marketing
Semester 5
Management accounting
Investment options and mutual funds
Money & banking
eCommerce
International trade & finance
Consumer behavior
Business analytics
Elective- General management
Elective- Retail management
Semester 6
Entrepreneurship development
Principles & practice of auditing
Business environment
Direct taxes
Dissertation
Customer relationship management
Digital marketing
Elective- General management
Elective- Retail management
Read more-
B.Com Technical skills
Computer skills
All professional learning, including B.Com, is now computer-based. You must be adept in the use of computers and other software programs that will benefit you in your studies.
Accounting skills
Accounting is a vital component of B.Com. There are several jobs in accounting to explore after a B.Com degree, so it is important to acquire accounting skills. To thrive in your job, you must be strong with numbers.
Taxation skills
Another vital element in B.Com is taxation. You must have a strong knowledge of the country's tax system, including laws and regulations and their applications. Tax knowledge will offer you a variety of professional opportunities.
Analytical skills
Analyzing figures, laws, and regulations, as well as utilizing analytical software, are significant parts of the course and professions, therefore you must be able to do analyses.
Research skills
B.Com is a theoretical subject that necessitates extensive investigation. To perform well in the course, you must have solid research skills.
Read more- Skills required for a B.Com fresher
BBA technical skills
Computer skills
A BBA degree demands you to be technologically proficient. Throughout the course, you will be completing a lot of work on the computer. Most BBA professions are also technologically sophisticated, therefore you must be proficient with computers.
Analytical skills
As part of your education, a BBA degree needs you to complete a lot of analysis. You will also master sophisticated analytical software, which is now a need for most management roles.
Presentation skills
Making presentations is an essential aspect of BBA degree programs and all connected jobs. Presentations are a common and efficient form of visual communication in the business.
Accounting skills
As part of the BBA program, you will learn about all areas of running a company, including accounting. To succeed, you must be naturally gifted with numbers.
Digital Marketing skills
Digital marketing is the latest buzzword. Digital marketing will be a vital element of most management roles, you must be familiar with all features involved, such as SEO, SEM, SMM, AdWords etc.
Career prospects after B.Com
After completing your B.com degree, there are several job roles you can explore, which not only pay you well, but are also in-demand in the market today. Here are a few top job roles you can look out for after B.Com.
Accountant
An accountant is required in every organization, irrespective of which sector you choose. An accountant is responsible for making critical financial decisions for the company by collecting, tracking, and correcting the company's finances. They are also responsible for financial audits, and ensuring that the organization's financial records are accurate.
Financial analyst
The job of a financial analyst involves analyzing financial data, analyzing past results, identifying trends, and making recommendations for improvement. They are also responsible for evaluating the financial performance of the company and maintaining a strong financial analysis foundation creating forecasts and models.
Business manager
A business manager must oversee the activities and performances of other workers, hire and train new employees, and ensure that each department in the company is contributing to financial goals. They also ensure whether there are enough resources for workers and prepare reports for the management.
Investment banker
An investment banker is responsible for raising capital for businesses and individuals by issuing debt and selling equity. They develop various financial models to value debt and equity, mergers, acquisitions and capital raising transactions. They also develop relationships with new clients to expand business.
Financial risk manager
A financial risk manager is responsible for identifying threats to assets of the company, analyzing business risks and offering a solution. They must possess knowledge in managing financial risks and work with banks, insurance companies and accounting firms. They work in various fields from financial services to marketing.
Career prospects after BBA
BBA offers equally great career opportunities in the field of business. You can join the corporate world or embark on an entrepreneurial journey. Here are some job roles you can explore after BBA.
Sales & marketing manager
They are responsible for leading a team of professionals who are involved in the sales and marketing activities of an organization. They must track market developments, develop marketing opportunities, create strategies, set up sales plans and ensure they're implemented. They must possess in-depth knowledge and understanding of sales and marketing and have effective communication and leadership skills.
Management consultant
Management consultants help an organization solve issues, maximize the growth of a company and improve business performance. They perform quantitative and qualitative analysis to drive proposed solutions to various issues within the company. They can work in various sectors like banking, healthcare and engineering.
Business development manager
They are responsible for contacting potential clients and developing a strategy focused on financial gain. They identify new markets and satisfy customer needs. They keep a record of sales, revenue, invoices etc. They set goals for the development team and ensure the business is growing.
Operations manager
An operation manager is a key part of the management team. They oversee the operational activities of an organization such as recruitment, training, and other day-to-day operations. They also oversee financial planning, management, budgets, product delivery and strategy.
Product manager
Product managers are go-to persons for a product. They identify customer needs and the larger business objectives that need to be fulfilled and build a strategy. They are heavily involved in a wide range of responsibilities like planning, delivery, and marketing throughout the product life cycle. They prioritize customer needs, work with sales and marketing teams and define the product vision.
Read more- Top career options after BBA
B.Com or BBA: What's best for you?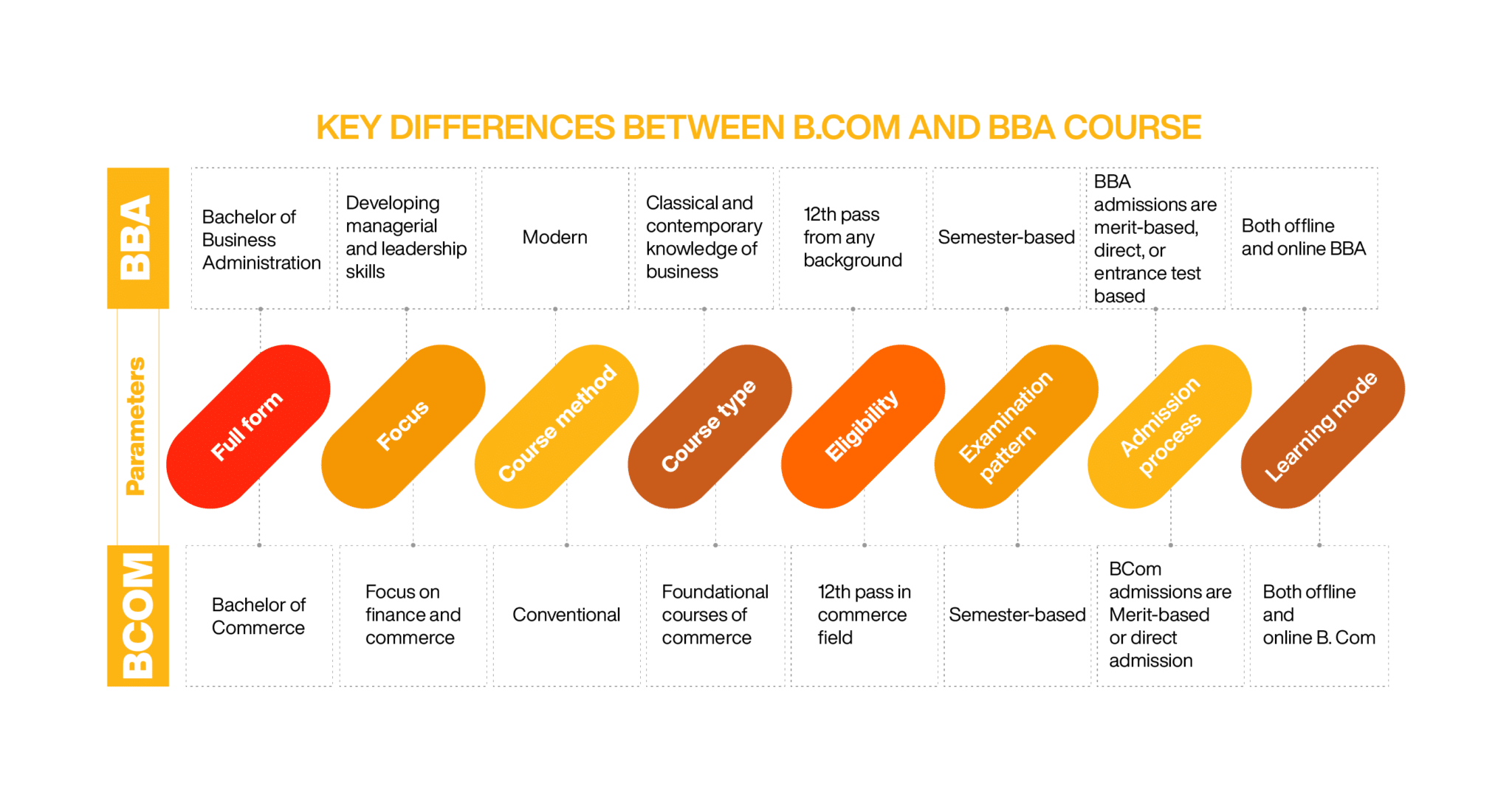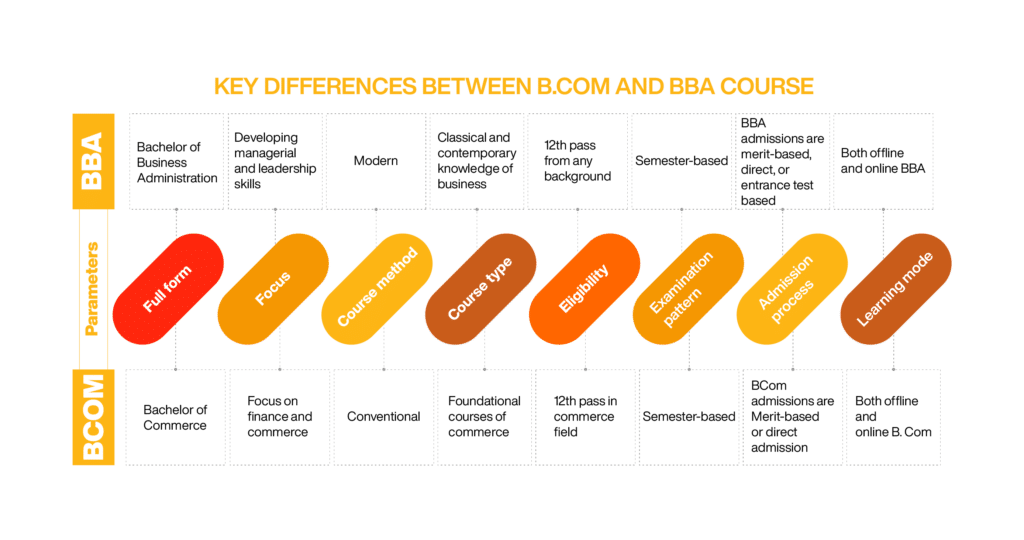 While BBA is available in various areas of expertise ranging from marketing to travel and tourism, entertainment, communications, and many more, B.Com is primarily focused on commerce courses and specializations. Choose a degree based on your interests and job preferred job prospects.
BBA is ideal for people who want to follow a specific management speciality such as banking and finance, human resource management, digital marketing, tourism management, or media and communications.
If you are considering a career in commerce, want to study in-depth many elements of the profession, and are also interested in numbers, B.Com may be an excellent option for you.
The Online Manipal advantage
Online degrees are definitely the way forward in today's world. Be it flexibility, accessibility, or cost-effectiveness, there are several factors that have made online degrees more desirable. In that sense, pursuing a degree from top universities like Manipal University Jaipur (MUJ) and Manipal Academy of Higher Education (MAHE) through the Online Manipal platform can secure your future.
MUJ's online B.Com degree is designed to build competencies required in the field of commerce. On the other hand, our latest online BBA program is attuned to the latest pedagogies and prepares you for many contours your professional life might take. So make the right decision for a bright future in these in-demand programs.
Enrol with us
Interested to join our courses?
Share your details and we'll get back to you.