Management
Online Manipal Editorial Team | May 20, 2022
The MBA marketing syllabus is structured so that learners get a complete walkthrough of various marketing and management techniques. It teaches aspirants how to succeed in sales, advertising, growth hacking, and other business concepts. The course can be pursued completely online and has a duration of 24 months, divided into four semesters. MBA graduates usually get jobs straight after graduation and land in good internships with the best companies.
What is an marketing MBA?
The MBA in marketing course is designed for those professionals who want a career in business and management and plan to upgrade their skills. The course set a firm foundational understanding of business administration and the five marketing concepts (production, product, selling, marketing, and societal marketing concept) along with the seven elements of marketing (product, price, promotion, place, packaging, positioning and people).
MBA in marketing is for individuals who have a competitive mindset and are prepared to face challenges. It also involves travelling, and interacting with people.
MBA marketing: syllabus and subjects covered  
MBA in marketing covers various subjects, including consumer behaviour, marketing research, services marketing and customer relationship marketing, advertising marketing, sales promotion, e-marketing, international marketing, etc. Marketing topics include concepts that help students get a theoretical and practical understanding of the business world in action. Students learn the common marketing pitfalls and challenges faced by businesses, including how to build brand value up from scratch.
Growing a business requires careful planning, not just in advertising but also in developing products/services.
Online MBA in Marketing – semester-wise syllabus
Below is the MBA marketing syllabus of Manipal University Jaipur's online MBA, which is considered to b the No. 1 online MBA in India.
| | |
| --- | --- |
| First semester | Second semester |
| Management Concepts and Behaviours on Organisation | Cost Management and Operations Accounting |
| Managerial Economics, Environment, and Quantitative Techniques for Analysis | Managerial Marketing |
| Statistical Analytics and Research on Operations | Consumer Behaviour |
| Management Accounting and Communications | Advertising and HR Management |
| Finance Management | Decision Making for Accounting and Business Management |
| HR Management | Production and Project Management |
| | |
| Third semester | Fourth semester |
| Research Techniques | Brand and Product Management |
| Marketing for Different Industries Business | Management for International Businesses and Total Quality Management |
| E-commerce and Retail Marketing | Integrated Marketing, Logistics, Distribution, and Supply Chain Management |
| International Business | Any 4 elective courses in a chosen business area |
| Any 4 electives in a chosen business area | Graduation Project |
| | | |
| --- | --- | --- |
| Elective Subjects | Third Semester | Fourth Semester |
| Marketing | Sales and Distribution, Logistics & Supply Chain Management, Consumer Behaviour, Marketing for the Retail Industry and Research techniques | Service Marketing and Customer Relationship Management, Advertising Marketing, Sales Promotions, international e-commerce marketing |
Students who want to apply for the MBA marketing course in some institutions must clear their CAT (Common Admissions Test) entrance exam. The CAT exam pattern gets revised every year, and the 2022 exam is slated to be held in November. Having a Bachelor's Degree in Business Administration (BBA) in finance, accounting, technology, or any marketing field will be beneficial for an MBA..
A general BBA degree covers the basics, but the MBA marketing syllabus will guide learners through an advanced career track that focuses on different business specialisations. In the field of digital marketing, it is not mandatory to do an MBA degree but the competition is so high that professionals with an MBA degree are mostly preferred over those who aren't certified.
MBA in marketing management projects
Projects for MBA in marketing management are chosen every year from different areas which students work on and add to their portfolio. Below is a list of popular MBA projects in marketing:
A study on Amul's distribution strategy
Hyundai's business plans and marketing strategies
A study of the Consumer Protection Act, India, 1986
Sales relationship case reports on Coca Cola and Pepsico
A detailed analysis of relationship management done by Hotel Westin
Evaluation of brand equity at Woodland
Is an MBA in marketing a good option?
Yes, MBA marketing is a good option for professionals who want a challenging and well-paying career in the industry. An MBA in Marketing helps you move up the career ladder quickly, it qualifies you to be promoted for management and executive positions in your current company.
MBA professionals enjoy job security, attractive bonuses, and great networking opportunities. Studying an MBA degree online opens up new avenues and aspirants can travel across the world, explore cultures, and meet people. Many companies offer marketing internships to students. To excel at marketing, one has to be good at interpersonal communications, entrepreneurship, problem-solving and critical thinking, creativity, and a flair for being self-driven and motivated to learn and be the best in the industry.
What is the scope of an MBA in marketing?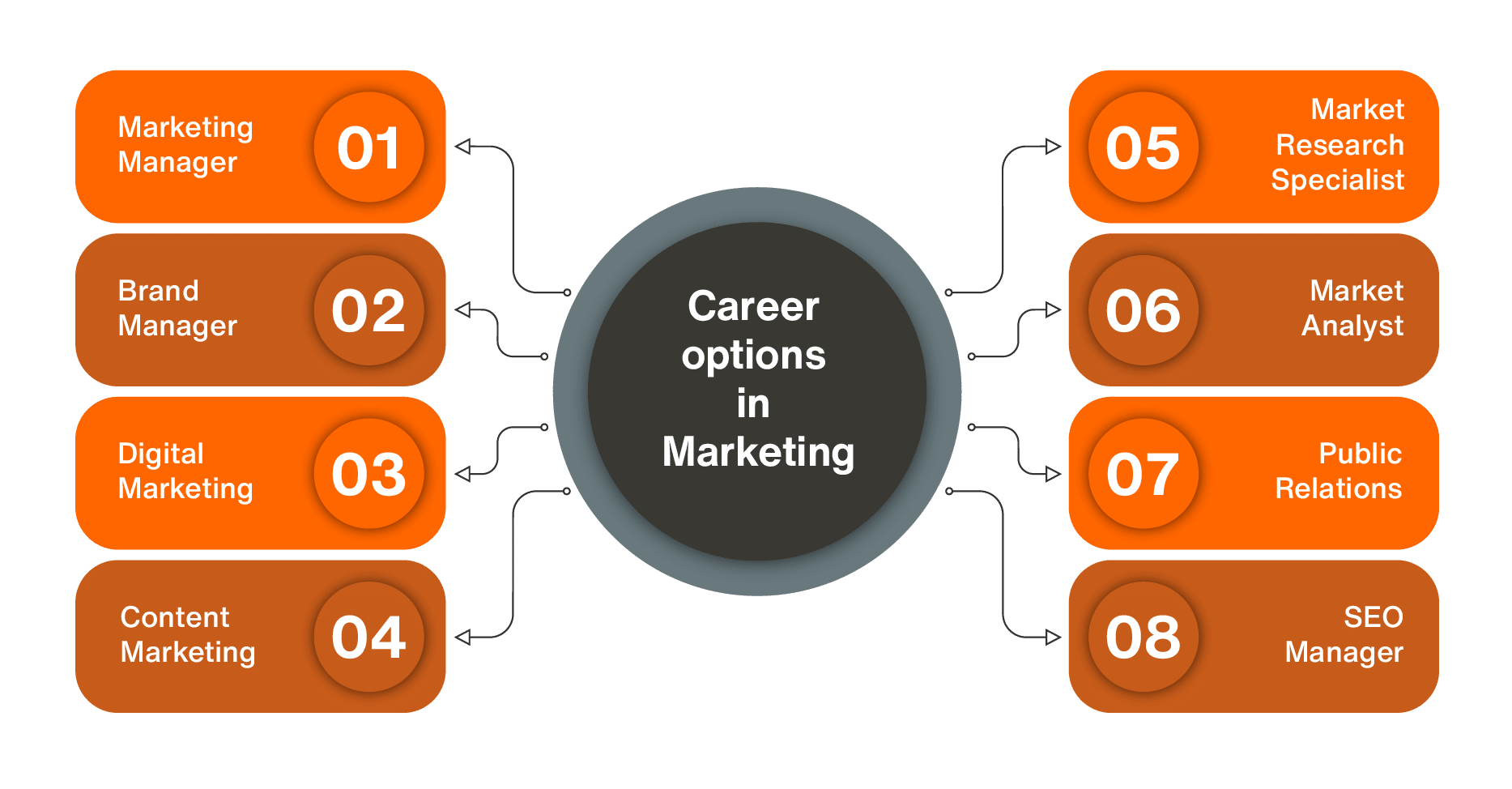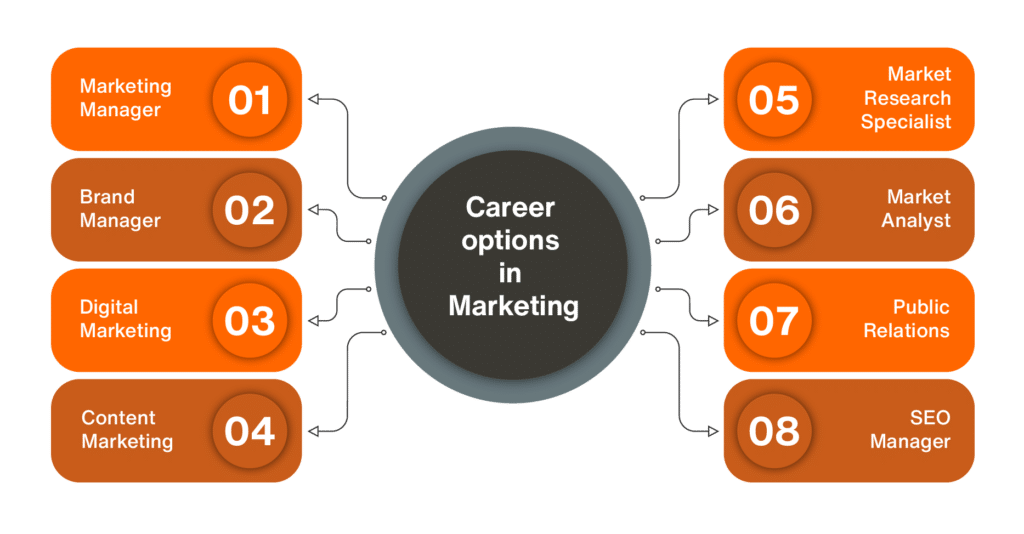 Read more – How to become marketing manager in India?
There is a lot of scope for MBA marketing graduates in India, and many companies are actively seeking professionals with this qualification. Marketing and finance management are the backbones of every business, so MBA aspirants play a critical role in their job positions. 
The MBA marketing syllabus also covers the latest digital marketing trends, social media strategies, and other growth hacks used by professionals to accelerate the transformation of businesses. MBA in marketing caters to the latest e-commerce trends, so that students graduate with on-demand industry skill sets. MBA in marketing helps in generating revenue for the company. It implies that an MBA in Marketing is a doorway to an ocean of opportunities in corporate and multinational companies. Some of the top recruiters are companies such as Apple, Amazon, Deloitte, Facebook, Goldman Sachs, HSBC, Paypal, Flipkart, Myntra, etc.
Freshers start with a salary bracket, averaging at INR 5 to 7lakhs per year and advance in their careers with attractive salary hikes. Experienced professionals in different specialisations come under the following estimated annual salary.
| | |
| --- | --- |
| Specialisation | Estimated salary |
| MBA in Marketing | INR 7 lakhs to INR 25 lakhs |
| MBA in Digital Marketing | INR 5 lakhs to INR 25 lakhs |
Source: IIDE
YOU MAY ALSO LIKE: A guide on how to get a job in the marketing sector
Master your marketing skills with an online MBA from Online Manipal
Manipal University Jaipur (MUJ) offers marketing electives with the online MBA course. An online MBA from MUJ helps both fresh graduates and working professionals to prepare themselves to become future business leaders. Marketing elective covers all elements in the domain, including e-commerce, international marketing, retail marketing, advertisement and others. You get a chance to work on case studies and a capstone project in your area of interest. The networking opportunities, access to the alumni network, and placement assistance help you find the best career option and thrive in your job role.
Free access to e-learning course with online MBA
Online Manipal offers free access to digital courses hosted by Coursera and over INR 50,000 worth additional certifications when students enrol in the online MBA programme. Students can choose their marketing electives and gain the relevant professional experience needed to thrive in the desired niche. There is also exclusive e-learning material and interactive content provided with the platform to enhance the digital learning experience.
The online MBA marketing syllabus is recognised by government, national organisations, private entities, and employers worldwide, which implies that students find better placements on completing the course.
Conclusion
Along with all the subjects prescribed in the syllabus, an MBA marketing graduate is groomed with leadership and teamwork skills. In the current competitive business world, there is a greater requirement for skilled professionals who are capable to think out of the box and implement those ideas. Marketing professionals and their skills are vital to every business, as they are at the heart of the message a brand or an organisation wishes to convey to their target audience.
Enrol with us
Interested to join our courses?
Share your details and we'll get back to you.