Digital transformation is sweeping across industries, and businesses rely more on digital media to connect with their target audiences, provide goods and services, and attract customers. Marketing is in charge of creating, conveying, and meeting client demands. It spans the entire process, starting with product creation and continuing through delivery.
A company's financial success frequently hinges on its marketing expertise. It boosts negotiation power, creates devoted customers, safeguards against the competition, strengthens brands, and generates revenues by accomplishing all of these aspects.
Sales and marketing positions are in high demand now and for the foreseeable future because no firm can thrive without marketing and sales personnel. Every year, there is an increase in the number of positions in client interactions, online marketing, market analysis, and marketing communication. An MBA in marketing is now required by the majority of employers, making a marketing-focused MBA one of the most sought-after digital courses.
An MBA in marketing is a wise decision for anybody interested in a career in marketing-related fields, including brand management, events, corporate communications, public relations, search engine marketing, and social media. This course teaches students about marketing, sales, consumer trends, techniques, and research in various industries to prepare them for business opportunities. Almost any discipline can benefit from a major in marketing as the field is broad and encompasses everything from human behaviour and design to artwork and mathematical abilities.
This post covers the important marketing concepts, the advantages of MBA marketing, its scope, career prospects, and MBA marketing subjects.
Advantages of doing an MBA in Marketing
In recent years, students and companies have come to value an MBA in Marketing as among the most desirable degrees. Also, with the transition to digital and internet marketing, most organisations today have internal marketing teams focused on driving clients and visitors to the brand. An MBA with a marketing concentration does not restrict the degree bearer to pursuing professions in marketing alone, even though there are many specialised fields of marketing. Numerous other careers, including consulting and business management can be pursued using the skill set.
Everyone, from small businesses to global corporations, knows how marketing may help develop a client base, foster brand loyalty, develop a brand reputation, and ultimately boost revenues. Professionals with an extensive understanding of this field are highly sought after in the market because of the numerous advantages marketing brings to firms. Following are the advantages of obtaining this specialisation.
Gain a competitive advantage
Having the talents that might distinguish you is essential as the industry is becoming increasingly demanding. Establishing oneself as the top option with a master's degree is one approach to achieving this. With a more apparent appreciation of how to advertise your abilities, a marketing MBA can aid you in standing out from the competition. Therefore, a master's degree will not only give you the talents you need but also assists you in becoming the most sought-after applicant.
Individuals who graduate from an MBA program are more likely to obtain a higher beginning wage than their peers. So, if you are prepared to advance professionally and earn a higher salary, it's time to start thinking about enrolling in an MBA program at a reputable university. Payscale claims that the annual income for those with an MBA in marketing might range from Rs 3 lakh to Rs 20 lakh, based on seniority, employer, and industry. Top employers include Tata Consultancy Services, Vodafone, Amazon, Citibank, HDFC Bank, and Kotak Mahindra Bank. Even household names in FMCG and global ad agencies like Ogilvy, DDB Mudra, Dentsu, and McCann Erickson, use marketing grads.
Marketing is among the few fields that allow you to use your creativity. As a marketer, you will always have the space to express, whether creating marketing materials, developing a marketing presentation, or even coming up with proposals for an ad campaign. Therefore, a vocation in marketing is the way to go if you're seeking a position where you can use your creative abilities.
MBA-trained marketers are in charge of promoting businesses and the goods and services they provide. Everyone can find a niche in marketing, whether they enjoy narrating, designing, researching, or even engaging with other clients. You can select a position within various sub-departments involved in promoting a service or product, comprising copywriters, planners, search engine analysts, paid marketing experts, graphic artists, etc., based on your particular area of expertise.
Get ready for a leadership position
It is a fact that not every company executive or leader has an MBA. However, it can be simpler to be considered for leadership roles if you have a management qualification to support you. This is because an MBA helps you develop the abilities necessary to become a leader and provides you with domain experience. You will develop various skills while obtaining an MBA, including decision-making, communication, problem-solving, and more.
Subjects covered in an MBA in Marketing course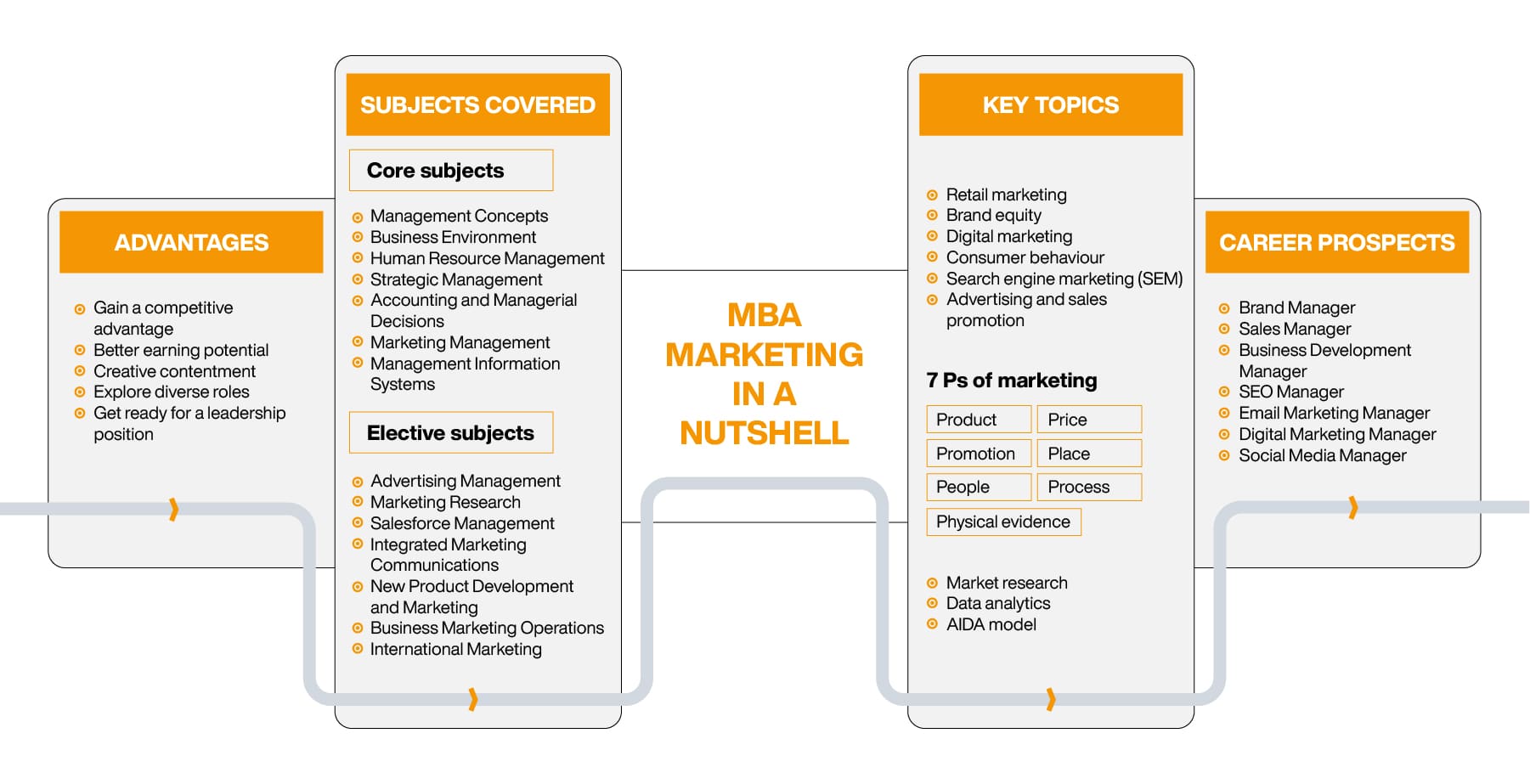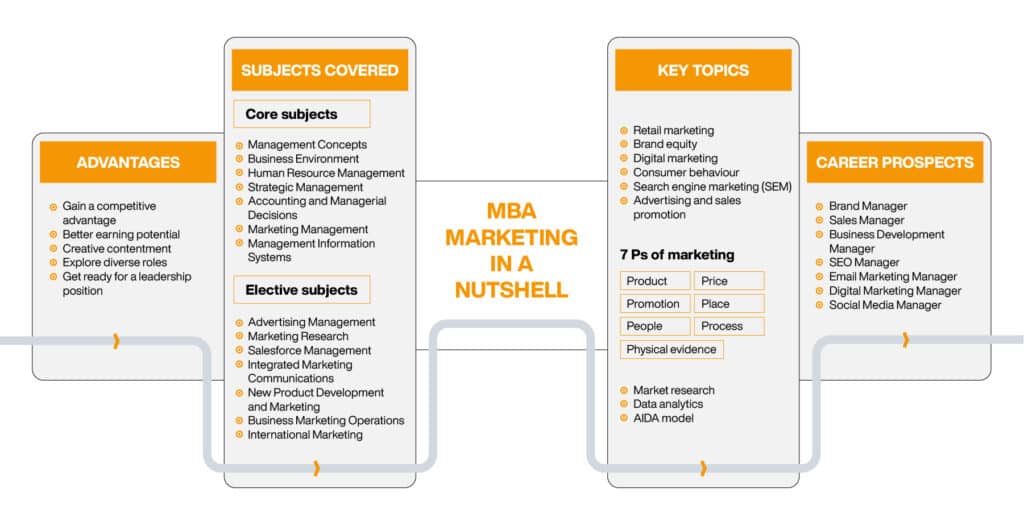 A four-semester MBA marketing course focuses on both management and marketing. This programme comprises core MBA marketing subjects and elective subjects. The foundational MBA subjects are taught to the learners during their first academic session. The applicants can select electives depending on their fields of interest and areas of speciality that may be connected to the job of the industry in which they hope to find employment. Workshops and internships are essential components of this programme. Employers can map candidates' strong areas to their recruiting criteria, thanks to their specialities.
Core Subjects
Management Concepts
Business Environment
Human Resource Management
Strategic Management
Accounting and Managerial Decisions
Marketing Management
Management Information Systems
Elective Subjects
Advertising Management
Marketing Research
Salesforce Management
Integrated Marketing Communications
New Product Development and Marketing
Business Marketing Operations
International Marketing
The list of topics stated above is simply provided as a guide. The exact course options could vary depending on the programme and university.
Critical topics one needs to learn during an MBA in Marketing
Branding, advertising, promotions, and sales make up the entire marketing field. Marketing's primary objective is to boost product and service sales. An organisation's profitability is directly connected to its marketing performance due to the significant value firms place on this function. Marketing staff members are handsomely compensated. Let us look at marketing basic concepts.
Retail marketing
Retail marketing refers to the methods and plans by which retailers promote awareness and interest of their goods and services among consumers in an effort to generate sales. It includes all the strategies that consumer businesses use to draw clients and increase sales of products and offerings. A more customer-focused model has replaced the conventional notion of retail marketing, which involved a product being advertised at a certain price, sold from a business location, and subsequently discontinued.
Retail marketing strategies affect almost every element of a company's operations, including store design, sales promotions, pricing strategies, advertising, checkout processes, and customer service. You must effectively promote your items in a market that is getting increasingly competitive, with customers having several options for nearly every product. An MBA in marketing will help you to build a career in this domain.
Brand equity
Brand equity is the financial value of a brand which provides capital/value to products and services, which is related to future returns that customers generate to the product or service. It is the premium a business receives from selling merchandise with a well-known brand name as opposed to a generic version. Making items remarkable, distinctive, and of the highest calibre and reliability allows businesses to build brand equity for their goods.
Building brand equity takes time and is quite complicated. Top brands like Apple, Google, Amazon, Tesla, and others have tremendous brand equity. Throughout your MBA in marketing, you will explore case studies and real-world projects to discover further about brand, branding and building brand equity.
Digital marketing
Also referred to as online marketing, Digital Marketing is the promotion of brands to connect with potential customers using the internet and other forms of digital communication. This includes not only email, social media, and web-based advertising, but also text and multimedia messages as a marketing channel. Digital marketing targets a larger audience and allows you to pinpoint the consumers most inclined to buy your products or solutions. It also enables tracking regular progress by monitoring insights for necessary reorientation. Digital marketing is more economical than conventional marketing.
Consumer behaviour
Consumer behaviour is a fairly broad topic that encompasses many themes spanning psychology to behavioural science. It deals with the study of how individual customers, groups or organisations select, buy, use, and dispose of ideas, goods, and services to satisfy their needs and wants. It refers to the actions of the consumers in the marketplace and the underlying motives for those actions. Understanding this concept can help one better comprehend why, when, and how they purchase goods.
You will gain immense insight into the consumer decision-making model, the sociocultural context that affects choices, and psychological elements, including personality and attitudes in the study of consumer behaviour. This is imperative course in the MBA Marketing specialisation, as a successful marketer needs to be well informed regarding the same
Search engine marketing (SEM)
The practice of marketing a business using paid advertisements that appear on search engine results pages (or SERPs) is commonly known as Search Engine Marketing. Advertisers bid on keywords that users of services such as Google or Bing might enter when looking for certain products or services, which gives the advertiser the opportunity for their ads to appear alongside results for those search queries. These ads, known as pay-per-click ads, come as small, text-based ads, whereas others, such as product listing ads (PLAs, also known as Shopping ads) are more visual, product-based advertisements that allow consumers to see important information at a glance, such as price and reviews. The two most used search engines by marketers are Microsoft and Google advertisements, respectively. You can gain proficiency in this concept during your MBA in Marketing.
Advertising and sales promotion
Advertising and sales are two pillars of promotion. Promotional advertising develops a brand's image, and the outcomes become apparent over time. Sales promotions are significantly more direct and concentrate on bringing money into the company's bank immediately. Sales promotions provide a momentary incentive to buy, whereas advertising offers a justification for doing so. The former can therefore result in a short-term rise in sales but nothing in the way of long-term market share gains, particularly in markets where brands are substantially similar. In contrast, sales campaigns can permanently change market shares in areas where brands are very different.
7 Ps of marketing
A planned marketing strategy enables us to establish precise goals based on the firm's current circumstances. The effective marketing mix (7Ps) comes into play when determining the techniques to carry out this plan. It's crucial to discern how the 7Ps of marketing blend into the overall vision when developing a solid and effective marketing strategy.
This concept is one of the most frequently asked MBA marketing interview questions. The 7Ps are a group of well-known marketing strategies that you can employ in any order to please clients. They are:
Product
Price
Promotion
Place
People
Process
Physical evidence
Market research
Market research is the act of determining whether a fresh product or service is viable via surveys with potential customers. Businesses may use this method to identify their target demographic, collect and document customer feedback, and make informed decisions. Companies and organisations can conduct market research themselves or hire specialised firms to do it for them. Implementing polls, connecting with a cohort of people, often known as a sample, interviewing people, and other comparable procedures are all ways to conduct market research.
The main objective of market research is to analyse or explore the market for a specific good or service and to predict how the target market will respond to it. The data gathered from market research can be utilised to customise marketing and advertising campaigns or identify the features customers value most or any unmet service needs.
Data analytics
Data Analytics entails examining unprocessed data to make inferences about emerging goods and offerings that will additionally assist in directing the corporate choice. It offers businesses and marketing departments the opportunity to gain valuable information that will make them more competitive in today's globalised world. With analytics, you may tailor your brand strategy and the customer experience rather than a more general approach.
Your marketing plan will be successful if you can anticipate trends and capitalise on them practically as soon as they emerge. Data analytics is the need of the day, and investing in data analytics can help firms overcome many obstacles and advance on the path to success.
AIDA model
The AIDA model is among the most widely used and significant models for tracking the customer pathway via the Awareness, Interest, Desire, and Action stages that a client ends up going through before purchasing a good or service. Brands use this technique to organise and deliver their marketing communications to their customer base at every stage of the purchasing process. This model outlines the cognitive phases a person experiences when making a purchase decision for a good or service. It is a purchasing conduit where customers move back and forth between stages to help them complete the sale.
Since social media has expanded the relationship beyond the consumer and the business, it now includes achieving AIDA's various goals through data from other clients through social networks and communities.
Career prospects of an MBA Marketing graduate
A marketing-related MBA opens up various professional prospects for you in the corporate world. It opens up a world of work prospects for you in the public and private sectors. You can pursue careers in marketing for brands, sales, different marketing channels, product management, leadership and management abilities, market research, and consumer behaviour, to mention a few.
Jobs in MBA Marketing are a great choice because they can affect the management and functioning of the company. While many of us enter marketing and sales with a degree, MBA graduates from marketing are more sought after than ever as the organisation battles recession and competitiveness. Although switching careers can be challenging, hiring managers will want to see a more formal degree as proof of their skills.
You might be able to emerge from the background and have an impression on the organisation with the aid of a top marketing MBA. After earning an MBA in marketing, you can take up a variety of troles, such as developing marketing strategies, perfecting the sales pitch and product positioning, adjusting pricing, boosting sales, negotiating deals, and leading the firm to new heights. Following a marketing MBA, these are some of the top career options:
Brand managers uphold the integrity and principles of a brand across all platforms. They strive to sustain the company's brand throughout all tiers of marketing operations and to modify the marketing plan for the target audience. Also, they assist in developing the brand's vision and objective and efficiently communicate it to the target market. A brand manager is involved diligently in analysing client insights and executing successful marketing strategies that will aid in lead generation and retaining clients.
A sales manager's primary duty is to ensure the sales team meets its goals. They strive to create quotas, assess and modify the sales team's productivity, and identify innovative and enhanced sales-boosting procedures.
Business Development Manager
A manager of business development is focused on the expansion and improvement of a company. They strive to find fresh business prospects to boost the company's profitability and increase sales. You will thoroughly devise a strategy and outline the strategy in the relevant markets, improve business operations, or seek to enhance brand recognition as a business development manager. Most of the time, your duties involve collaborating with several business units.
SEO (Search Engine Optimization) manager is responsible for managing the brand's sponsored search campaigns on search engines. Managing display ads on Google is a part of an SEO manager's job role. They also oversee the execution, strategy, budget, and other aspects of these brand efforts.
Their role is to oversee all tactics for email campaigns. Running end-to-end email marketing campaigns, managing the email database, and concentrating on attracting new customers and retargeting existing ones are the primary responsibilities of an email marketing manager.
Digital Marketing Manager
A digital marketing manager must understand the most recent digital marketing techniques and tools. They manage digital marketing initiatives, from developing the idea to putting it into practice. They also might team up with the entire marketing team to assist in the launch of initiatives.
A social media manager's responsibility is to oversee social media profiles across various platforms, including Instagram, LinkedIn, Twitter, and Facebook. To promote interaction and followers on social media platforms, the primary task is to create catchy and interesting text copy that goes alongside visual designs, namely video, photos, infographics, animations, and more.
Looking to step into managerial roles in the marketing domain?
The MBA is perhaps the professional degree that is most in demand today. It is a master's programme with a structure that strongly emphasises teaching learners professional business and administrative abilities. Numerous employment options in the public and commercial sectors are made available by a top-notch MBA degree. Additionally, it equips them with the business savvy they need to launch their ventures.
MBA holders are preferred over others for managerial positions. Do all the qualities that can help you become the ideal manager come from earning an MBA? Yes, a top-notch MBA programme may undoubtedly help you with this. A leading MBA programme will have a curriculum that gives you a thorough understanding of the fundamentals of finance, marketing, and logistics, among other topics. These topics are all crucial from a managerial perspective. However, it goes beyond theories or different types of scholarly knowledge. If you choose the appropriate institution, you can gain practical experience in managerial roles via internship opportunities and various industry-academia partnerships. You will be able to converse with business executives and benefit from their vast expertise and related information.
A good MBA programme will teach you how to work like a manager, and the coursework pushes you to adopt these qualities. With a more practical approach, you would undoubtedly get the opportunity to hone and optimise your interpersonal skills. Earning an MBA teaches you how to evaluate business opportunities more precisely and instils in you the knowledge and abilities to comprehend the marketplace and approach it using deliberate actions. It equips you with the knowledge and abilities to more thoroughly comprehend how your company's procedures operate and to take the necessary steps to ensure peak productivity. This is a strategy for realising how an MBA may produce effective managers.
Rise up the ranks in Marketing domain with an MBA from Online Manipal
An online MBA in Marketing offered by Manipal University Jaipur (MUJ) will help you advance your career by opening doors to executive and managerial positions and increasing your earnings. Online MBA programmes are more in demand than ever because of the growing digital consciousness. The major goal of this online MBA programme is to enable students to complete their degrees at any time and from any location. The versatility of the academic schedule is undoubtedly its most crucial feature, as most students enrolling in these courses are working professionals with substantial work obligations. MUJ's MBA programme is the best and comparable to on-campus programmes in terms of faculty, alumni network, and curriculum. With recorded as well as live sessions and interactive video conferences, MUJ's online MBA programme is meant to closely resemble the on-campus curriculum. Students have the chance to converse with one another in real-time forums or chat sessions.
MUJ supports students in finding placements. They provide career fairs to introduce and market our employable students to reputable companies and assist them in obtaining positions they want. The placement cell strives to improve students' employability levels after completing their courses. Numerous MBA projects will be assigned to you, improving your practical knowledge and teaching you how to apply marketing principles in real-world situations. Additionally, they provide one-on-one mentorship sessions with business experts from diverse fields.
Conclusion
An MBA in marketing can improve your abilities and strategic edge and inspire you to be more innovative at work. Given the pay and the powers you'll have after getting your degree, this course offers a great deal of promise as a career. It's time to consider getting an MBA in marketing if you want to develop a remunerative and intellectually fulfilling profession. Earning an MBA in Marketing from a prestigious university offers new job prospects for students and working professionals who wish to advance into managerial positions. Also, it makes you well versed with all MBA marketing concepts, which will be helpful for your career. Try enrolling in an online MBA with marketing as an elective from a reputed institute such as Manipal University Jaipur, to pave your way ahead in this competitive industry.
Enrol with us
Interested to join our courses?
Share your details and we'll get back to you.