Management
Online Manipal Editorial Team | April 29, 2022
No matter how good a company's services or products are, no one will know about them if they are not properly marketed. Marketing strategies are regarded as the most critical ingredient in the success of any business.
The role of marketing is to act as a bridge between building new products and rising consumer awareness of existing ones. It's a broad term used for advertising, media planning, public relations, branding, and so on. You can pursue a wide range of career options with a marketing degree. The majority of marketing jobs nowadays are in the online sector. Radio, newspaper, television, and other forms of traditional offline advertising are still in use, but digital marketing is getting prominence these days.
Is marketing a promising career for the future?
Marketing thrives on the constant flux of new ideas, technologies, and trends. Anyone who wants to work with people and keep an eye on the pulse as a creative, strategist, or number cruncher should consider a career in this field. There's no doubt that technology has had a profound impact on the marketing landscape, changing the way marketing managers do their jobs. As an example, customer acquisition and retention tools are becoming more advanced, and strategies are now made based on real-time information.
Traditional brick-and-mortar marketing has evolved into digital marketing. Businesses need to hire people who are knowledgeable about new and emerging marketing tools as marketing technology evolves. As technology advances, so does the nature of marketing, which is constantly changing. People are better prepared for success when they specialise in a particular marketing field. Many well-paying jobs are open to those with a marketing degree and experience. There is a growing demand for specialised marketing roles.
Your career as a digital marketer can take many different directions. You can work as a digital nomad, as an entrepreneur, as a freelancer, or for a company. Whatever path you choose, you can be sure that you'll be learning and growing all the time as the internet evolves and new opportunities and challenges emerge.
Top 15 MBA marketing jobs
You'll have a wide range of responsibilities and career opportunities as a marketing professional. The scope of marketing jobs depends on the company you work for and the business industry you are in. Let's look at some of the top jobs in this sector:
Marketing manager: A marketing manager is in charge of creating and implementing marketing strategies to promote the company's products and services effectively. Their job is to stay current with marketing fads and trends to stay ahead of emerging consumer demands by utilising data gathered from various sources.
Brand manager: A Brand Manager is in charge of tailoring a company's brand strategy to its target audience. A brand manager serves as the company's "brand guardian", ensuring that the company's marketing initiatives and communications are consistent with the brand's identity.
Market research analyst: The Market Research Analysts collect and analyse information about products and market conditions to identify new markets, sales opportunities, and the most effective marketing strategies for specific products.
Media planner: It is the job of a media planner to ensure that their client's advertising copy is strategically placed in various media outlets to reach the client's target audience. The media planner is responsible for running effective media campaigns to promote the company's products and services.
Digital marketing manager: The job of a digital marketing manager is to create and implement strategies to promote a company or brand's products and services through digital/online channels.
Marketing Analyst: A marketing analyst's role is to help businesses decide what products and services to sell, and whom they should target, at what price.
Social media manager: A social media manager has to develop a strategy, produce quality content, and analyse data to manage an organisation's online presence.
Marketing executive: Marketing executives' primary goal is to promote a product, service, or idea for their company's profitable growth.
Content marketer: A content marketer is tasked with creating and disseminating multimedia content to build a brand identity and online presence through inbound marketing strategies.
Search Engine Optimisation (SEO) / Search Engine Marketing (SEM) specialist: The person who oversees the company's overall SEO strategy. Web marketing, content strategy planning, web analytics, link building, and keyword strategy are other responsibilities.
Email marketer: Email marketing specialists are tasked with various tasks, including developing and tracking a wide range of email campaigns.
Growth marketer: A growth marketer is someone who conducts continuous, iterative tests throughout the sales funnel and uses the results to create data-driven strategies that improve key performance metrics.
Conversion Rate Optimisation (CRO) specialist: The CRO specialist uses data from Web Analytics, feedback forms, surveys, and other types of qualitative data to develop testing hypotheses and identify winning conversion paths that customers take on the website.
Media buyer: A media buyer is a person who negotiates and places the price of all of the advertisements on various media channels.
Public Relations specialist: They write press releases and create social media campaigns to influence public perception of their clients and raise awareness of each client's work and goals.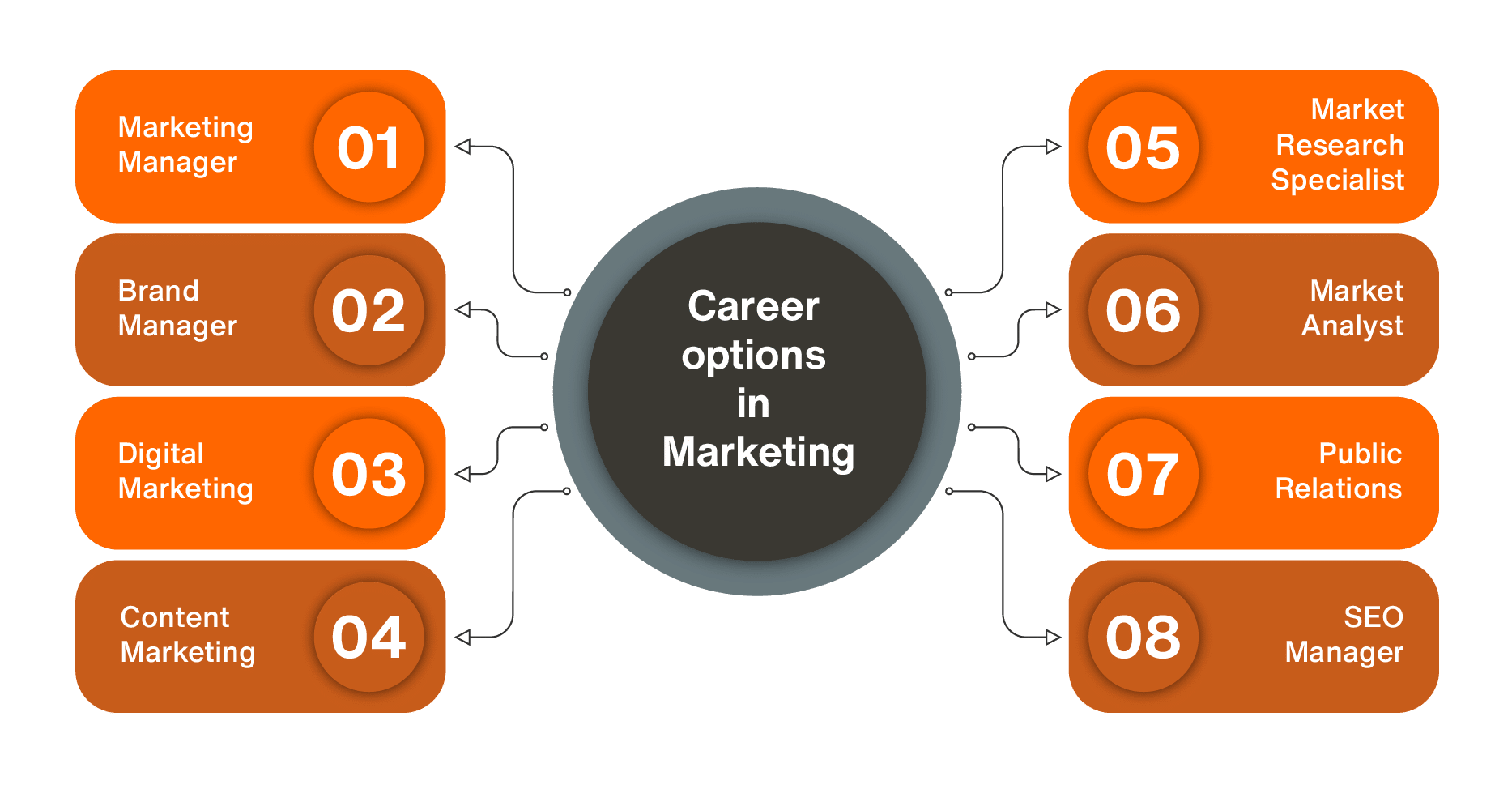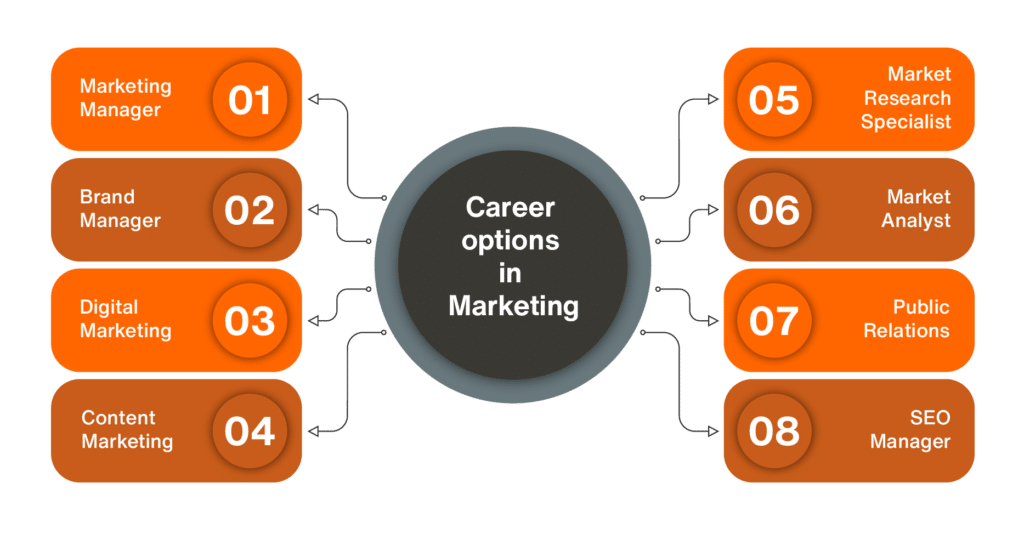 What qualifications do I need to get a marketing job?
The qualification requirement for making a career in the marketing sector is
Select any stream in Class 12th: In 10+2, you can choose any stream. However, taking the commerce stream is recommended because it will help you develop a strong academic foundation for the business world.
Get a bachelor's degree in a relevant field: Marketers are typically required to have a bachelor's degree in a relevant field. It is recommended that you pursue your graduation in one of the two – BBA (Bachelor of Business Administration) or BBM (Bachelor of Business Management)
Pursue a Post-Graduate Diploma in Management (PGDM) or an MBA: An MBA is required for executive-level positions. You can supplement your education by pursuing multiple certifications. You can pursue either a Master of Business Administration (MBA) or a Post-Graduate Diploma in Management (PGDM). In the second year of the programme, you can specialise in Marketing. You will learn about marketing concepts, marketing planning, marketing research, marketing segmentation, brand management, sales forecasting, business communication, industrial marketing, and other topics in this year.
Certification in Digital Marketing: To advance your career in digital marketing, you can enrol in digital marketing certification courses offered by institutes. PPC, email marketing, content marketing, SEO, creating online funnels, social media marketing, graphic design, and market research tools are all concepts you'll need to learn.
Steps to start a career in marketing
If you're thinking about a career in marketing, here's how to get started:
Complete your 10+2: You can choose any stream in 10+2.On the other hand, choosing the commerce stream is advised because it will assist you in developing a solid academic foundation for the business world.
Earn a bachelor's degree: If you want to work in marketing, one of these degrees will get you off to a good start – BBA (Bachelor of Business Administration) or BBM (Bachelor of Business Management) (Bachelor of Business Management) or B.Com (Bachelor of Commerce)
Pursue an internship: In addition to pursuing a degree in marketing, you should also look for internships. This will give you hands-on experience and help you learn the ins and outs of the trade.
Get an entry-level job: After you have earned a degree in the field, create a resume that highlights your qualifications and work experience. Apply for jobs that are a good fit for your skills and experience.
Earn a master's degree in marketing: A master's degree, such as an MBA or PGDM, with marketing as your specialisation, will be an added advantage and will help advance your career.
Find a better job: A master's degree can open doors to high-potential professional opportunities. Update your resume and look for better opportunities in management positions that match your skills and experience.
How do I start a career in marketing with no experience?
To get your foot in the world of marketing, you need to figure out what you're most interested in, whether traditional marketing, digital marketing, brand management, etc. Make sure you know what to expect from each job you're considering. To get a better sense of what it takes to succeed in marketing, you should read job listings and blogs, watch videos, and get in touch with marketing professionals in your network. Volunteer or intern as part of your freelancing experience. The next step is to find a job in marketing after you've spent time learning new skills and putting them to use.
It is always recommended to pursue an MBA with a marketing specialisation to gain an advantage in your marketing career. A marketing professional with an MBA has far more opportunities for advancement than those without one.
Jobs and salary in the marketing sector?
An early career Field Marketing Manager with 1-4 years of experience earns an average total compensation (bonus and overtime pay) of INR 700,000 per year. A mid-career Field Marketing Manager's salary with 5-9 years of experience is an average total compensation of INR 1,800,000 per year.
| | |
| --- | --- |
| Job title | Average salary |
| Marketing Manager | INR 9.5 Lakhs |
| Brand Manager | INR 6.5 Lakhs |
| Market research analyst | INR 4.5 Lakhs |
| Content marketer | INR 5-7 Lakhs |
| Digital Marketing Manager | INR 7.5 Lakhs |
| Media planner | INR 5.5 Lakhs |
| Public Relations Specialist | INR 4-6 Lakhs |
| Growth Marketer | INR 8.8 Lakhs |
| Marketing Executive | INR 3.5-5 Lakhs |
| Social Media Manager | INR 5.6 Lakhs |
| Search Engine Optimiser (SEO) | INR 5-7 Lakhs |
| Email Marketer | INR 3-5 Lakhs |
| Media Buyer | INR 4.4 Lakhs |
| CRO Specialist | INR 6.6 Lakhs |
| Marketing Analyst | INR 8 Lakhs |
Digital Marketing is a trending field in the marketing domain. Many job roles such as Content Marketing, Social Media, SEO, SEM, CRO, Email Marketing and others are subsets of Digital Marketing. Diverse industries are recruiting digital marketing specialists to expand their digital presence and drive business through online media. The average annual digital marketing salary (entry-level) in India is INR 5,48,755. A Senior Digital Marketing Manager's salary in India ranges between INR 7 lakhs and 25 lakhs as experience level increases.
Top recruiting companies in the marketing sector
Some of the companies which are actively recruiting for marketing roles are:
Google
Accenture
Byjus
Cognizant technologies
American Express
IBM
UBER
Paytm
Microsoft
Amazon
Zomato, and many more
Do I need a master's degree for a job in the marketing sector?
Master of Business Administration is designed for professionals with a few years of experience who want to develop their leadership abilities and general business knowledge. People management, organisational behaviour, and leadership are some of the MBA's focus areas.
Gaining management and executive positions is easier with an MBA in Marketing. An MBA in marketing programme is designed to help you improve your abilities in business development, advertising, and marketing. For a senior-level position, these are some of the skills needed. In addition, with the advancement of technology, marketing management has become the beating heart of any organisation, resulting in a diverse range of marketing job roles.
Tips before entering the marketing sector
Here are some of the tips to keep in mind before entering the marketing sector:
Enrol in a degree programme: It is critical to obtain a relevant degree, such as a BBA or BBM, to develop the necessary skills and mindset to succeed in marketing roles.
Look for internships in the field and become familiar with marketing concepts: An internship is essential for fresh graduates looking for marketing jobs. It boosts your confidence, clarifies your marketing concepts, and gives you complete control over your career path.
Take relevant certifications: Marketing courses and certifications are available both offline and online, allowing you to build a strong foundation in the field of marketing. It is important to put in the time and effort to learn new skills if you want to impress potential employers in this field.
Make use of your peer connections: Attend as many marketing gatherings as possible to broaden your network. This will provide you with access to a network of people who have mastered the skills required to succeed in your new career path.
Develop the necessary skills for the work: Depending on your job or industry, you may want to pursue an MBA or take specialised courses in digital marketing concepts. There is a wide array of digital marketing jobs, and certification could help you qualify for higher-level positions or earn a competitive position.
Master your marketing skills with an online MBA from Online Manipal
Organisations in today's business world are looking for the next generation of leaders who can propel them to success. The online MBA programme at Manipal University Jaipur will help you strengthen your business acumen, develop leadership skills, and expand your professional network. Students can choose marketing electives with their online MBA course at Manipal University Jaipur.
Students can benefit from Manipal University Jaipur's placement assistant programmes. The vast network of professionals, academics, and alumni can assist students in building their professional network and preparing for interviews.
Eligibility
10+2+3-year bachelor's degree from a recognised university/institution, or an equivalent qualification recognised by the Association of Indian Universities or other competent bodies, in any discipline
Minimum of 50% marks in aggregate (45% for reserved categories)
A valid score from any aptitude test (CAT/MAT/CMAT/XAT/GMAT).
Candidates without an aptitude test score need to appear and clear the online aptitude test conducted by Manipal University Jaipur as per admission norms to the MBA programme
Fee structure
INR 1,50,000 (all inclusive) or INR 37,500 per semester (includes an examination fee of INR 5,000)
Student fees can be paid semester-by-semester through Manipal's flexible payment options. The students can also check their eligibility for a scholarship and look into simple financing options like no-cost EMIs.
Duration
Minimum two years divided into four semesters
Maximum four years
Affiliations
The Manipal University Jaipur is accredited by NAAC, WES, AICTE, and ICAS, and is recognised by the UGC. These certifications serve as evidence of the quality of their academic model, pedagogy, and curriculum, as well as a means for employers to verify the credentials of their graduates.
University Grants Commission (UGC) Regulations 2020 are used to design Manipal University Jaipur's online degree programmes, which are recognised on the same level as on-campus programmes. Manipal University Jaipur's online degrees are widely accepted by governments, corporations, and higher education institutions for jobs and education.
Conclusion
A marketer can be found in any industry, from banking and insurance to management consulting and startup companies to the teaching and leisure industries and so on. Reading about new marketing emerging roles, regularly checking job listings, and technology landscapes are the best ways to explore job opportunities in marketing. As you may have learned from this blog, there are many different marketing jobs and roles out there. All of which requires a unique set of abilities. A wide range of factors, including experience, education, and reputation, can influence a marketer's salary. Work hard, prepare thoroughly, and do everything to stand out.
Enrol with us
Interested to join our courses?
Share your details and we'll get back to you.