Management
Online Manipal Editorial Team | April 29, 2022
MBA course full details
An MBA course is known as the Masters of Business Administration degree, and it is a two-year postgraduate professional programme that runs through 4 semesters. Students who pursue MBA courses learn about the fundamentals of management studies and gain business acumen and administrative, marketing, and networking skills.
An MBA degree can help professionals land a great job in the business administration field, and graduates earn top salaries after completing the course. Students are expected to have BTech, BCA, Bcom, BSc, or another relevant Bachelor's degree before applying for an MBA admission at any institute or university.
Key points for an MBA course
An MBA degree usually runs for two years as a postgraduate course, but some universities offer one year MBA degree programmes as well.
Students from diverse academic backgrounds can apply to these courses. MBA courses can be pursued by those coming from Science, Arts, Commerce, and Humanities streams.
There are various ways to attend an MBA course. Traditional MBA degree programmes are full-time but with part-time and distance learning options. However, online platforms like Online Manipal, in association with accredited universities, now offer online MBA degrees, and students can personalise their learning experience by applying for an online MBA course.
Fresh graduates can apply to an MBA course after completing their undergraduate programmes. However, many colleges do not allow direct entry to aspirants without getting at least a few years of work experience on their resumes.
An online MBA degree is the best option for candidates who balance a full-time job or work-life with other responsibilities. Students can complete online MBA degrees from anywhere in the world, and most of these courses are self-paced, except for the examination dates which institutes schedule.
| | |
| --- | --- |
| MBA course full form | Master of Business Administration |
| MBA course level | Postgraduate |
| MBA course duration | 2 years |
| MBA eligibility | Any bachelor's degree |
| MBA course fee | Ranges between INR 1- 25 lacs |
| MBA examination type | Semester pattern |
| MBA admission | The university grants admissions based on entrance exams and Bachelor's degree scores. No direct admissions are available. |
| MBA average salary | INR 8 lacs to 30 lacs per annum |
| MBA recruiting companies | Amazon, Facebook, Boston Consulting Group, JP Morgan Chase, Google, Adobe, and many more |
What is an MBA course?
An MBA Course teaches students all about business administration and builds leadership skills. Deciding to study for an MBA is a big step for managers, and MBA students are professionals who come from all sorts of backgrounds. Getting an MBA from a reputed institution can offer students many advantages. Some of the main career motivations for doing an MBA degree include – promotion to senior management job roles, higher salary packages, more industry recognition, international recruitments, etc.
MBA classes help students develop the skills needed to run and grow a business. Students learn how to improve a company's reputation, boost work morale, prevent financial crises, and develop, design, and sell products effectively. Business markets are constantly evolving, and MBA equips learners with the skills needed to keep up with the changing trends and do well.
Eligibility criteria for MBA courses
The minimum eligibility criteria for enrolling in MBA courses for candidates is that they should have completed their 10+2 from a recognized Board of Education and have a Bachelor's Degree. MBA programs have no age limit and students should meet additional admissions requirements such as having the required scores from MBA entrance exams.
Is taking an entrance exam necessary for an MBA
MBA aptitude tests assess a student's logical, analytical, problem-solving, critical thinking skills, business understanding and knowledge of current market affairs. More than 37,000 institutions offer MBA degrees in India, and all of them select candidates based on their MBA entrance exam scores.
The top MBA entrance exams in India for getting accepted by universities are- CAT, MAT, XAT, SNAP, and GMAT. There are state-level entrance exams as well, which are held between March to August, such as MAH-CET, TSICET, TANCET, APICET, and Karnataka PGCET. Check the table below for the dates, locations, and scheduled timings of these examinations.
MBA entrance exam calendar for 2022-23
National-level MBA entrance exams are conducted between December and January. MBA aspirants can apply for these entrance exams online and register their seats. The registration process for these exams starts during the first quarter of 2022. Below is the examination calendar for the 2022-23 sessions:
| | | |
| --- | --- | --- |
| MBA Exam | Last Date to Apply | Exam Date |
| CAT 2022 | TBA | November 27, 2022 |
| IIFT 2023 | TBA | TBA |
| XAT 2023 | TBA | TBA |
| SNAP 2023 | TBA | TBA |
| MAT 2022 | May 9, 2022 (PBT)May 23, 2022 (PBT)May 11, 2022 (IBT)May 18, 2022(IBT)May 19, 2022 (IBT)May 25, 2022 (IBT)May 26, 2022 (IBT) | May 15, 2022 (PBT)May 28, 2022 (PBT)May 14, 2022 (IBT)May 21, 2022 (IBT)May 22, 2022 (IBT)May 28, 2022 (IBT)May 29, 2022 (IBT) |
| CMAT 2022 | March 17, 2022 | April 9, 2022 |
| ATMA 2022 | May 22, 2022 | May 29, 2022 |
| OJEE 2022 | April 13, 2022 | TBA |
| IBSAT 2022 | TBA | TBA |
| TISSNET 2022 | February 7, 2022 | February 26, 2022 |
| TANCET 2022 | April 18, 2022 | May 14-15, 2022 |
| TSICET 2022 | TBA | TBA |
| KMAT 2022 | TBA | TBA |
| MAH-CET 2022 | April 7, 2022 | June 24-26, 2022 |
| NMAT by GMAC 2022 | TBA | TBA |
| MICAT 2022 | Over | Over |
| KIITEE MBA 2022 | Over | Over |
| APICET 2022 | TBA | TBA |
| Karnataka PGCET 2022 | TBA | TBA |
Most Tier-1 and Tier-2 universities require students to take the top entrance exams and achieve the desired score criteria before letting them be eligible for admissions. However you still can get admission in MBA colleges as they take their own assessment before giving you a seat.
Mode of pursuing an MBA course
Universities offer MBA admissions after graduation, and students applying to these programmes file their applications after completing a Bachelor's course. Traditionally, there have been full-time, part-time and distance learning options. But Online Manipal offers an online mode of learning for our learners, which makes it easy for them to pursue the course at their convenience.
Full-time MBA
A full-time MBA program is the traditional design of a Master's of Business Administration degree and students attend on-campus classes. It gives a regular academic experience to learners. Full-time MBA degrees run for 2 years but have no scope for working while studying. Therefore, full-time MBA programmes would require dedicated time set aside only for learning with no time to focus on work and other major responsibilities.
Online MBA
Online MBA programmes have a general duration of 2 years and require students to have a high-speed internet connection and all the required credentials before signing up for the course. Some online MBA programmes have a residential component where students must attend campus for one to two weeks. However, Online Manipal offers 100% online MBA programmes, which are flexible to allow students to finish the classes at their convenience. Online MBA degrees let students plan their study schedules, take exams from home, and get a degree without attending a full-time or on-campus programme. It is ideal for those who want to acquire an MBA degree on the side while balancing their work and personal life.
Mode of examination
The online MBA exams are conducted fully online, which means candidates can sit for the final exam and clear it from anywhere in the world. There are no offline modes of examination available.
What are the future prospects after pursuing an MBA degree?
Students who graduate from their MBA degree programmes enjoy multiple job opportunities in the business, finance, retail, and technology sectors. MBA graduates can join companies as managers or start their businesses. Many MBA students go on to work in the private sector, and management consultants are in high demand by top firms. MBA jobs in finance range from equity, venture capital, investment banking, and asset management. Fresh MBA graduates also get recruited in the automobile, healthcare, supply chain industry, and agricultural-business sectors. Jobs in the tech sector are a good fit for MBA candidates since many professionals work as product managers for big companies and get paid well. The highest paying job roles are accounting manager, VP of finance, financial analyst, and Chief Financial Officer (CFO). Other popular job roles for MBA graduates across different sectors include Financial Manager, Medical Health Services Manager, Marketing Manager, Information Technology (IT) Manager, and Business Operations Manager.
Scope of MBA graduates in India
MBA graduates in India have an easy time landing jobs in the banking and finance sectors. The average salary of an MBA graduate here is INR 3.9 lacs per annum, which significantly goes up with the job role and cumulative years of work experience. Hyderabad, Chennai, Pune, Mumbai, and Bangalore are the top cities that attract MBA graduates. An operations manager in India fresh out of business school can make up to INR 8 lacs per year, while management consultants get paid INR 13.5 lacs and up. Business planning, analysis, product development, marketing, etc., are some of the responsibilities included in the job role.
Higher education opportunities after MBA
There are further higher education opportunities for MBA graduates. Many students add MBA specialisations to their degrees to stand out from the crowd. These additional courses enhance your skills, upgrade your resume, and contribute to career-oriented personality development. Students who finish their MBA may also apply for a PhD course as the next step.
Higher education opportunities after MBA are:
Financial Risk Management
Doctor of Business Administration
Certified Information Systems Auditor (CISA)
Chartered Financial Analyst (CFA)
PhD in Management
Post-Graduate Diploma in Computer Applications
Data Science and Analytics
Human Resource Management
Foreign Language Courses
Coding Courses
Fellow Programmes in Management from IIMs
Career/Job options after MBA with salary
The starting salary of an MBA graduate will depend on the location, job profile, company, and industry. Online degree programmes offer placement opportunities with top companies, which can substantially increase the chances of a candidate landing high-paying packages. Below are some of the average salaries with their associated job roles for MBA graduates in India.
| | |
| --- | --- |
| Finance | INR 8 lacs to INR 14.7 lacs |
| Human Resource Management | INR 7 lacs to INR 15.5 lacs |
| Information Technology | INR 9 lacs to INR 16 lacs |
| Logistics Management | INR 6.25 lacs to INR 18.5 lacs |
| Credit Management | INR 8.8 lacs |
| Accounting Management | INR 7.1 lacs |
| Corporate Controllers | INR 12.2 lacs |
| Financial Analytics | INR 8.12 lacs |
| Marketing Management | INR 14.3 lacs to INR 20.4 lacs |
| Human Resources Manager | INR 7.05 lacs |
| Senior Human Resources Consultant | INR 11.6 lacs |
| HR Operations Manager | INR 8.74 lacs |
| Employee Relations Manager | INR 7.3 lacs |
MBA course subject details
The MBA Finance course walks learners through case studies, capstone projects, and all professional skill sets required to succeed and thrive in the business world. MBA is a comprehensive academic programme, with graduates in high demand from various businesses and organisations.
Subjects covered in MBA
The subjects covered in the MBA programme test students on their problem-solving, analytical, logical reasoning, and abstract thinking skills. In the first semester, students are exposed to concepts such as marketing, finance management, business planning, communication skills, computer application knowledge, etc. The second to fourth semesters get progressively advanced as students prepare and get to work on their graduation projects.
MBA syllabus semester-wise breakdown
Here is a syllabus semester-wise breakdown of the MBA finance degree course offered by Online Manipal :
| | |
| --- | --- |
| First Semester | Second Semester |
| Management Process and Organizational Behavior | Production and Operations Management |
| Business Communication | Financial Management |
| Statistics for Management | Marketing Management |
| Financial and Management Accounting | Management Information System |
| Managerial Economics | Operations Research |
| Human Resource Management | Project Management |
| Third Semester | Fourth Semester |
| Research Methodology | Strategic management and business policy |
| Legal Aspects of Business | International Business Management |
| 4 elective courses in the chosen area | Business Leadership |
| | 4 Elective courses in the chosen area |
| | Projects |
Available electives for specialisation MBA subjects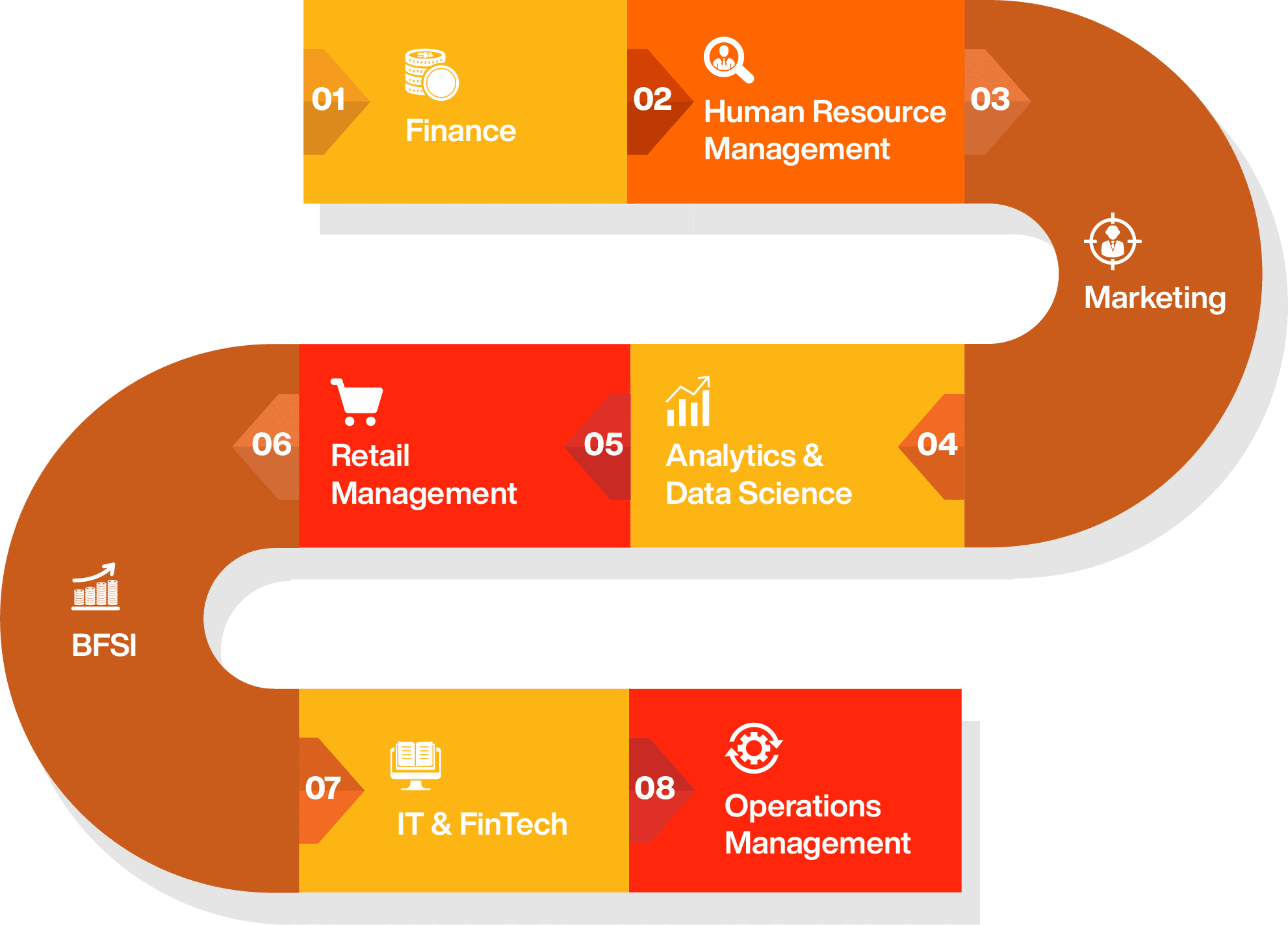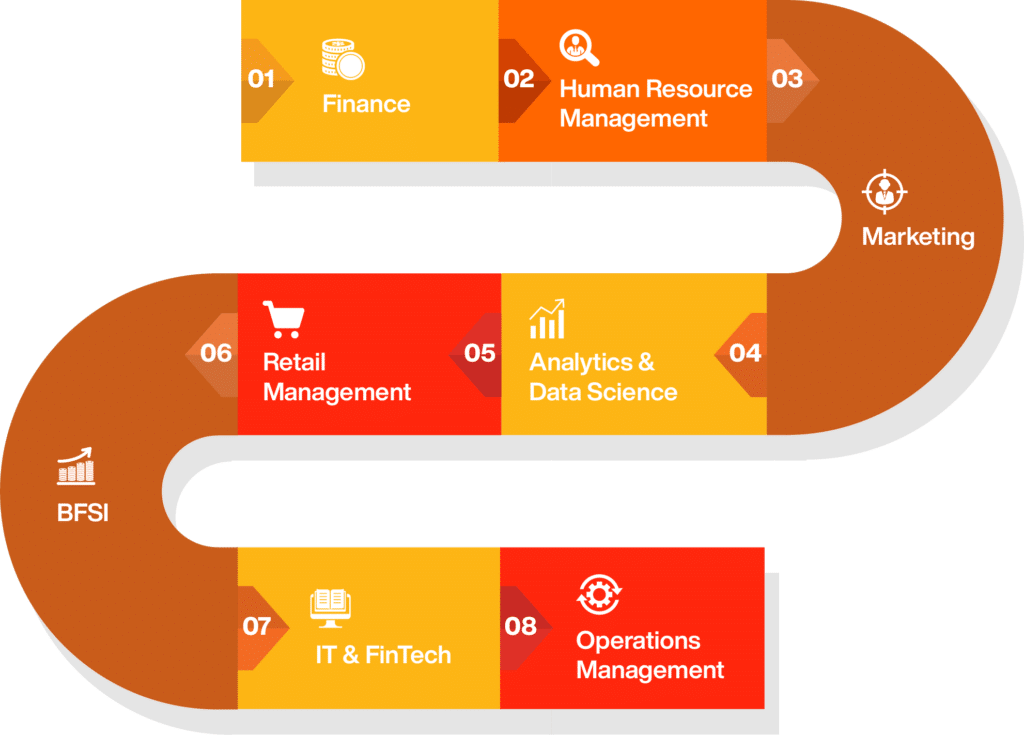 Students can choose Elective courses from these below-mentioned specialisation subjects
| | | |
| --- | --- | --- |
| Elective Subjects | Third Semester | Fourth Semester |
| Finance | Security Analysis and Portfolio Management, Mergers and Acquisition Taxation Management, Internal Audit and Control | International Financial Management, Treasury Management Merchant Banking and Financial Services, Insurance and Risk Management |
| Marketing | Sales Distribution and Supply Chain Management Consumer Behavior, Retail Marketing, Marketing Research | Services Marketing and Customer Relationship Management, Advertising Management and Sales Promotion, eMarketing International Marketing |
| Human Resources Management | Manpower Planning and Sourcing Management and Organisational Development Employee Relations Management, HR Audit | Compensation and Benefits Performance Management and Appraisal Talent Management and Employee Retention, Change Management |
| Analytics and Data Science | Programming in Data Science, Exploratory Data Analysis, Introduction to Machine Learning, Visualisation | Advanced Machine Learning, Unstructured Data Analysis, Business Analytics, Data Scraping |
| Retail Management | Enterprise Resource Planning, Retail Customer Relationship Management, Operations Management, IT in Retail, | International Retailing, Entrepreneurship in Retail Business, Rural retailing, Retail Marketing Environment |
| Banking Financial Services and Insurance | Bank Management, Financial Risk Management, Financial Statement Analysis and Business Valuation, Principles and Practices of Insurance Systems, Financial Services | ALM and Treasury Management, Basel Guidelines and Risk Management, Life Insurance Management, General Insurance Movement |
| IT and Fintech | Database Management System, Software Engineering Technology Management, Business Intelligence/Tools | E-Commerce, FinTech Payments and Regulations, Cryptocurrency and Blockchain, Enterprise Resource Planning |
| Operations Management | Production and Operations Management, Enterprise Resource Planning Logistics and Supply Chain Management, Operations Research | Services Operations Management, Total Quality Management Production, Planning and Control, Project Management |
Why should I choose an MBA course?
An MBA course from a well-reputed business school can offer you many advantages and is an excellent step for aspiring business managers. It helps young business people start their ventures, design and market products to customers, and build leadership skills. An MBA degree lets you prepare for changing business environments, and it is a versatile degree since it is compatible with job roles in various industries.
Benefits of pursuing an MBA degree course
Completing your MBA shows you are serious about growing a company and investing in the business. Professionals with an MBA develop the skills and competency needed to grow a company and help it succeed. Here are a few benefits of doing an MBA:
Develop a good awareness of global markets
A good MBA course puts learners through different work and business experiences. It gives them a perspective of various global markets.
Improve networking and communication skills
Strong communication skills are required to succeed in business, and an MBA degree prepares candidates for that. An MBA brings various advantages from honing written, verbal, and even professional networking skills.
Increase job opportunities
MBA candidates have skills in marketing, finance, management, and people leadership – which means they have plenty of opportunities for the best jobs. An MBA holder is a valuable asset to any company in any sector, from energy production, food and consumer goods, technology, and other niches.
Improve time management skills
Completing an MBA is not easy, and it will teach you to get organised. MBA graduates are known for their fantastic time management skills and can work with multiple departments in the company.
MBA course fees structure
The total online MBA course fee at Online Manipal is INR 1.5 lacs (inclusive of all taxes), and the fee per semester is INR 37,500 (inclusive of all taxes ). For a detailed breakdown of the course fees, check out the prospectus.
Required skills for MBA course
In the MBA course, students learn about the latest technology and business management practice. However, there are many soft skills required to succeed in the field. During your advanced education, you will discover that you need to develop the following skills along the way:
Leadership
Being able to motivate and inspire team members with your leadership qualities is an essential skill to have. Students need to inculcate the ability to understand the organisation's needs, collaborate with peers, and give honest feedback on projects.
Communication
Breaking down complex concepts and explaining them in simple terms to teammates is a skill, and it's a critical skill as communication skills aren't just limited to work but life too. Whether you're meeting up at a press conference, drafting a formal proposal, making an analytical model, or creating a memo, you should be able to understand the needs of the audience and convey your insights to them.
Critical thinking and creativity
Management courses like MBA make students learn how to think outside the box and analyse solutions before implementing them. They learn how to consider the opportunity costs and benefits arising from selecting an option or discarding one.
Some Related articles you might want to read:
Online MBA: A smart approach to get educated
Get access to cutting-edge e-learning materials and learn from the best with Online Manipal. An online MBA degree from Manipal University Jaipur walks learners through all the essentials of running a business from the ground up and gets them certified. Learners get hands-on experience by applying what they learn in virtual labs and building capstone projects. Our career counsellors help you build an impressive portfolio and provide all the necessary support needed along the way to assist you in landing your dream job in the industry.
Why should I enrol for an online MBA course?
Here's why you should apply for an online MBA course:
Get hired by top companies in India and land attractive salary packages
Develop critical thinking skills, professional networks, and build good relationships with industry experts
Flexible learning environments with quizzes, virtual webinars, industry exposure, and more
Become competent professionals by building projects and developing a strong portfolio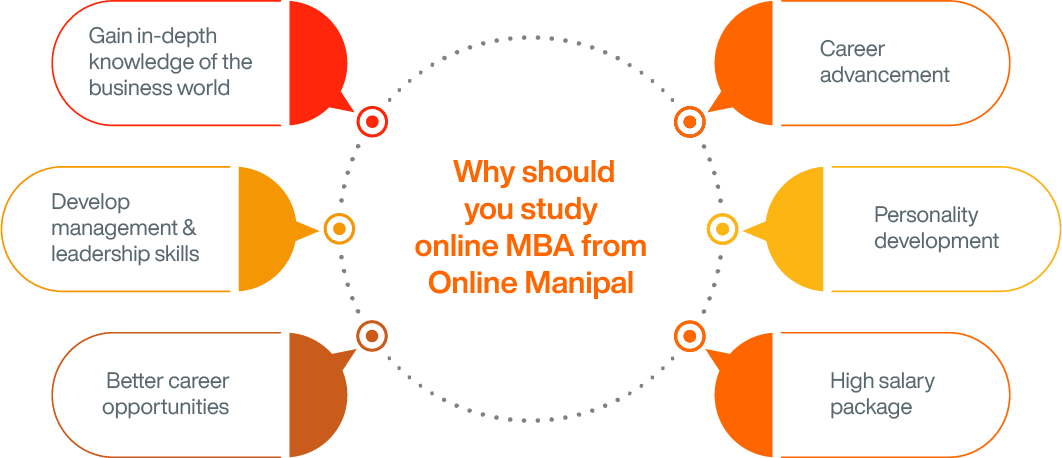 Pursuing an online MBA from Manipal University Jaipur
Manipal University Jaipur offers students an excellent learning experience and prepares them for future careers. Our online MBA course is UGC-entitled from a NAAC A+ accredited university. Students get free access to Coursera and over 50,000 certifications as a bonus when enrolling for this course. It takes 15 to 20 hours a week of learning commitment and the online MBA programme duration is 24 months.
Why an online MBA from Manipal University Jaipur?
An online MBA from Manipal University Jaipur through the Online Manipal offers the following benefits:
Learn from an experienced faculty and meet with the best industry experts
MBA degree is recognised on a global and national level
Career assistance, networking opportunities, and access to 1000 hours of interactive content
Write your proctored semester-wise exams online and collaborate with peers on capstone projects
Is Online Manipal's online MBA degree valid?
Yes, the MBA degree at Online Manipal is valid and recognised by various organisations from the public and private sectors, including the government, corporate organisations, and other international universities, which students want to attend after completing the course. Online MBA specialisation provided by Manipal University Jaipur
Eligibility requirement to get admission in MBA at Online Manipal
The eligibility requirement for Indian students seeking admission into our MBA programme is quite simple. Students need to have completed 10+2 and a three-year bachelor's degree before applying for the course. Candidates have to clear an online aptitude test and also demonstrate a score of a minimum of 50% (45% for reserved category) in graduation. The aptitude test is not needed if the candidate has already cleared national aptitude tests like CAT/MAT/CMAT/GMAT/XAT.
Eligibility criteria for International students for online MBA
The eligibility criteria for students who are applying to MBA courses are as follows:
International students applying to MBA courses in India should have completed their graduation from AIU-approved universities. International students are eligible to apply for the online MBA curriculum but must hold the status of NRE, PIO, or equivalent.
Students and professionals have to submit all the relevant documentation such as CV, proof of address, ID proof, VISA, passport, and PR card. Any additional documents may be requested by the university, depending on the country they reside in. The institutes or universities will charge all international students & professionals additional fees for the selected degree programme.
Aspirants need to clear an aptitude test and a written exam before being accepted into the programme. They will also have to appear for a personal interview. Bachelor's degree graduates require a minimum of 50% aggregate marks or above to be eligible for the online course. Only 45% aggregate marks is needed for candidates belonging to the reserved class category.
Candidates also need to clear the national and international MBA entrance examinations and achieve at least a 40 percentile score.
Online MBA scholarship offered by Online Manipal
Manipal University Jaipur offers attractive scholarships to students. Easy financing options are provided with no-cost EMIs to make studying online and getting an MBA convenient.
Placement assistance at Online Manipal
Online Manipal offers placement assistance with leading companies towards the end of the course. So, you don't have to worry and spend time going to different portals and keep applying and trying to keep track. Look at some of our top recruiters in the next section.
Top MBA recruiters at Online Manipal
Top MBA recruiters at Online Manipal are:
Accenture
Amazon
Goldman Sach
SAP Labs
PWC
Dell
Intel
ZS Associates
Cadence
Microsoft
DXC
HSBC
Wipro
Deloitte
Philips
Cisco
Ericsson
Admission process for online MBA programme
Students can download the Online Manipal Prospectus to get more details about the various courses offered by the platform.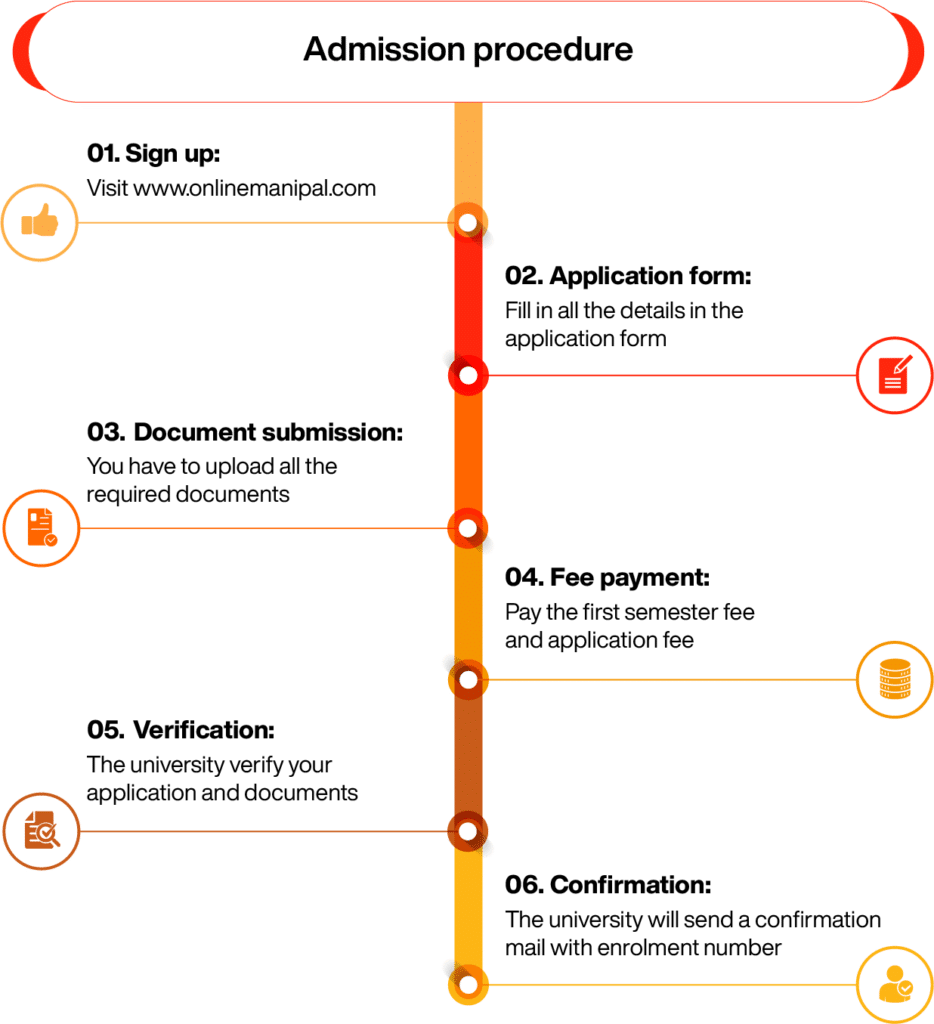 Frequently asked questions on MBA course at Online Manipal
What is the credibility of an online MBA from Online Manipal?
The course has been designed as per University Grants Commission (UGC) Regulations. Online degrees are recognised on par with campus programmes and are widely accepted by governments, corporate organisations, and private institutions.
Does the Online Manipal offer any financial aid to students?
Yes, Online Manipal offers easy financing options starting with no-cost EMIs to help students fund their education. There are scholarships available for meritorious students as well.
How do I get assistance with my application process?
Please contact info@onlinemanipal.com, and our team will get in touch with you. Alternatively, candidates can call up 7304-000-444 and connect with our admissions counsellor.
What is the student application fee?
The application fee for our online programmes is INR 500, and this gets adjusted with the semester fees after enrollment and admissions confirmation.
Conclusion
Pursuing an online MBA degree at Online Manipal can be a highly rewarding experience. For those interested in being the best professionals, Online Manipal is the go-to platform for doing an MBA. Our students have an excellent track record in the industry, and many top universities in India and abroad recognise the course.
Enrol with us
Interested to join our courses?
Share your details and we'll get back to you.