Management
Online Manipal Editorial Team | July 11, 2022
In today's automation and transformative innovation world, an MBA can advance your career from the conventional way of functioning to the fast-paced industry and would skill you to assist firms in adapting to transition and achieving objectives that complement and align all organisational contexts. This specialised master's degree programme provides excellent employment options across many industries upon completion. Students gain real-time exposure to the professional world thanks to the on-the-job training offered in this 2-years degree programme.
Along with providing in-depth information in finance, accountancy, economics, marketing, and human resources development, an MBA degree also trains students in business-related skills like networking, leadership, communication, problem-solving, and sales and marketing. Many B.Tech, BBA, B.Com, BA, B.Sc., and BCA graduates today choose to pursue an MBA after graduation because it is a requirement for most top managerial jobs across all industries and domains. The range of an MBA expands as more specialisations in areas like marketing, international business, and analytics are added.
Will an MBA give a career boost?
Studying an MBA emphasises the current trends in global business, implements management solutions and teams, and enhances corporate partnerships and workgroups. It is a fantastic technique for comprehending the dynamic business environment. The skills you pick up while studying for this degree are inescapable. The possibility of choosing from many specialities is among the significant advantages of an MBA. This is one such reason as to why an MBA graduate salary is high in current Indian market Following are some examples of the most common MBA specialisations:
Finance
International Business
General Management
Operations Management
IT Management
Advertising
Human Resource Management
Event Management
Business Analytics
An MBA graduate's average salary in India is about INR 2,90,000 per annum. However, the compensation structure is influenced by several variables, including university placement, academic standing, job description, abilities, and many more. 
Is the MBA programme a launchpad to leadership positions?
An MBA can be an excellent springboard for aspiring business people. Considering that we live in a time of intense competitiveness in both the corporate sphere and the job market, one needs to be endowed with managing talents and leadership attributes to offer value to the business in numerous ways.
Knowing how to run a business will benefit if you are an expert in a particular industry. An MBA degree is essential for starting a business or changing careers. However, earning an MBA has benefits beyond simply helping you begin a new profession. An MBA can help you succeed in your work, build your network and become a better leader. Also, the benefits of an MBA degree to a company are immense. The following are some advantages of an MBA:
Better Career Possibilities
Higher Salary
Establishing Industry Network Building Management Skills
Developed leadership skills
Global Business and Economic Exposure
Building entrepreneurial skills
Education in Life Skills
Access to an alumni network
Possibility to Connect with Subject Matter Experts
ALSO READ: How can an online MBA degree help you?
Here's how MBA nurtures future leaders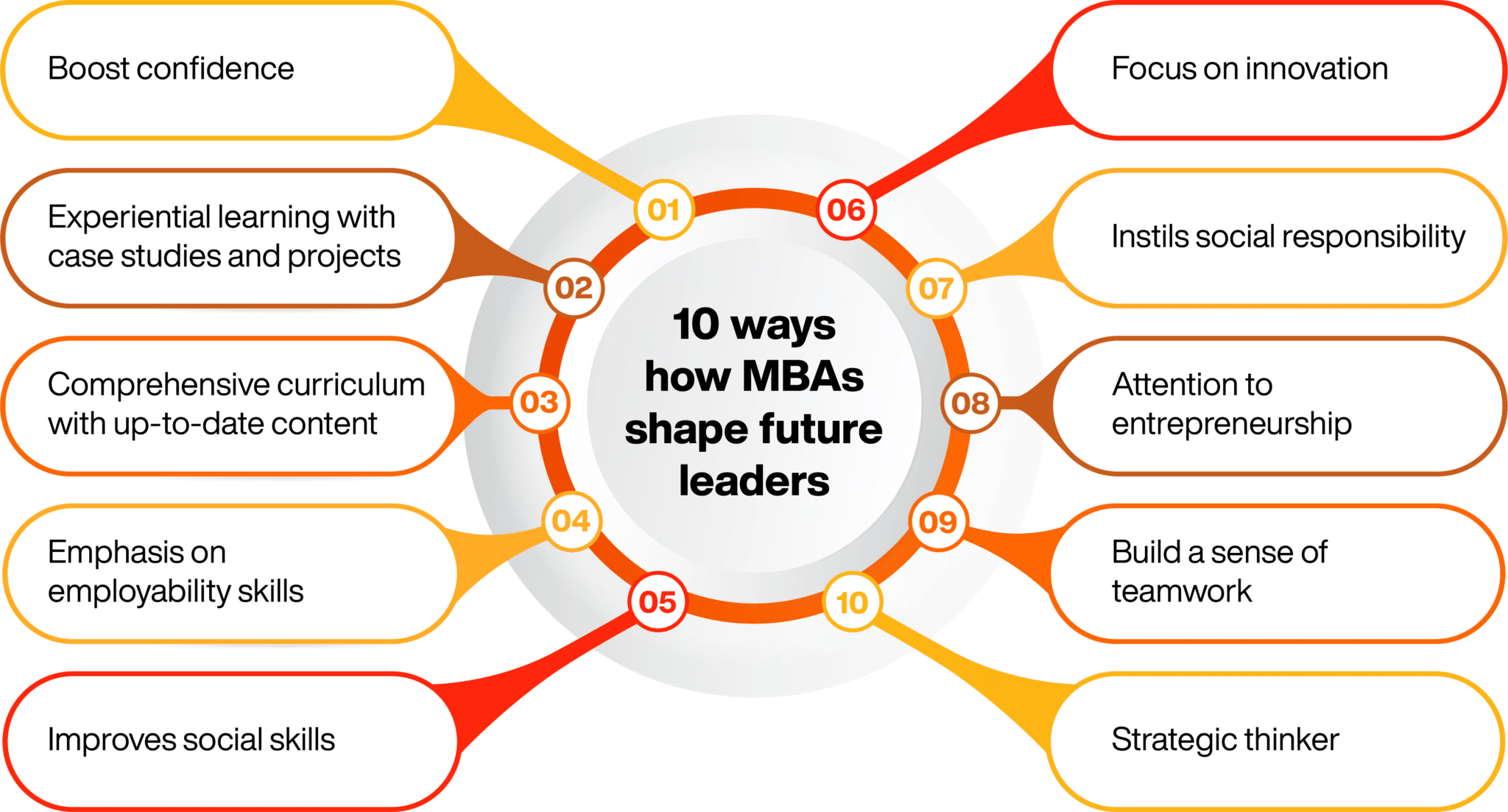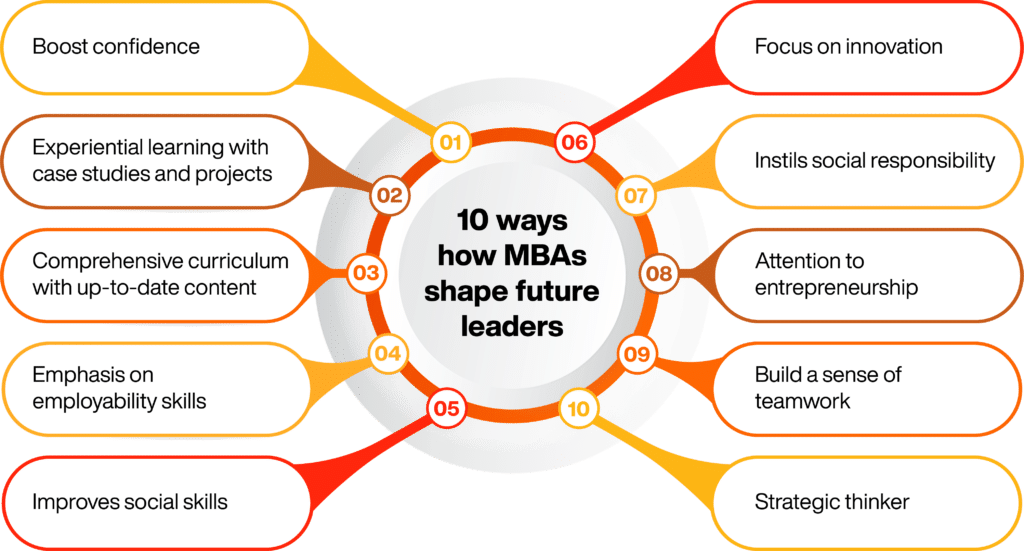 An MBA can teach much about leadership, but your education shouldn't end there. Giving employees the chance to grow at work is required for educating tomorrow's leaders, and all organisations should prioritise doing that. Let's examine a few ways that an MBA benefits aspiring leaders.
Boost confidence
An MBA degree exposes a learner to a modern paradigm where experts from many industries are breaking new ground. It increases their confidence in their skill sets and aptitude and helps develop a more assertive attitude and image. An MBA qualification and expertise are cognitively challenging and undoubtedly assets in achieving confidence.
Experiential learning with case studies and projects
Experiential learning is combined with a strong emphasis on case studies and practical learning in today's MBA programme. They include more hands-on projects and situational constraints that educate conceptual and operational applications of theories. As a result, the exposure you receive from these experiences will aid in developing an MBA student's foresight and business forecasting skills, which are necessary for a competent leader wishing to advance up the career ladder.
Comprehensive curriculum with up-to-date content
The MBA programme curriculum has been updated to give you a more individualised experience with increased flexibility and choice to represent and assist participants who are becoming more varied and have original aims and aspirations. The MBA programme equips students with the tools they need to drive progress in both business and society. Critical talents, including leadership effectiveness, critical reasoning, creativity, and communication abilities, are among the things it aims to foster. Many business schools provide courses like Visualisation Techniques for Business Intelligence, Advanced Analytics, Design Thinking for Abstract Reasoning, etc., that are essential for fulfilling the requirements of present and developing job profiles.
Emphasis on employability skills
Employability abilities are required for MBA students to land their first job. These abilities include effective communication, interpersonal interaction, problem-solving, subject knowledge, competence, decision-making, learning, etc. Employers place a high value on employability skills since they see them as indicators of how well you get along with coworkers and clients and how well you will manage your work performance and professional achievement.
Improves social skills
Leaders are renowned for their speaking abilities; they must have strong interpersonal skills and give speeches that inspire their team to collaborate for a common objective. An MBA degree is very beneficial because of the inherent focus on fostering hard and soft skills and abilities. MBA students are obliged to participate in extensive soft skill development programmes where they receive correct instruction on everything from how to dress to how to eat and start a conversation. These abilities aid applicants in creating a positive social character that endears them to their coworkers and peers and makes them respectable and likeable.
Focus on innovation
Learning the skills of innovation and originality is essential in a society where countless options are available for even the most necessities. The importance of innovation is taught to future leaders through MBA programmes that encourage students to use their creativity while completing assignments and submitting work. These programmes also assist students in building upon their foundations to develop ground-breaking solutions for their corporate endeavours.
Instils social responsibility
A growing range of customers is now evaluating an organisation's trustworthiness based on its environmental and social effects. As a result, successful leaders should be socially conscious of their impact on the environment, team, and the neighbourhood. The significance of social obligation is further demonstrated because most MBA programmes also offer a special major in sustainability studies. Students gain knowledge of sustainable and environmentally friendly business practices.
Attention to entrepreneurship
The MBA programme also develops influential leaders by teaching them entrepreneurship competencies. Every leader is an entrepreneur in some capacity; if not operating a company, then managing it on account of the administration and stakeholders. Because of the various courses and specialities in the MBA programme, one learns how to improvise, juggle, and become independent, as well as how to oversee personnel and company practices from start to finish.
Build a sense of teamwork
Leadership is about empowering folks to discover ways independently, not possessing all the answers. A leader must maximise individual potential, lead diverse teams, and foster exclusivity. Students from various backgrounds are forced to collaborate while pursuing an MBA. Candidates can develop the crucial soft skills—communications, emotional maturity, and teamwork—that employers typically seek through this experience.
Strategic thinker
A leader may need to use strategy, planning, and narratives to pull a company out of a problematic predicament. Another area where an MBA produces influential leaders is this one. Students pursuing an MBA are continuously encouraged to study, conduct research, and develop original answers to challenges that arise in daily life. They can approach a single issue from various angles, broadening their thinking.
How can you make the most of an MBA?
An MBA is a significant financial commitment, so you want to get the most value possible from this programme. Earning an MBA is a unique experience that requires different training and abilities. These are a few tips to make the most of your MBA experience:
Create a financial strategy
Concentrate on the entire MBA experience
Network everywhere and anywhere
Be proactive while pursuing your MBA
Adapt your career objectives as you get further
Try to get as many internship opportunities as you can
Avoid being intimidated
Be a future leader with an online MBA from Online Manipal
An online MBA programme offered by Manipal University, Jaipur, will equip you with the skills necessary to lead successfully in today's dynamic society. With various new-age electives, such as Finance, Marketing, HRM, Analytics & Data Science, Retail Management, BFSI, IT & FinTech, and Operations Management, you can specialise in learning valuable skills required in the job market.
Improve your professional skills at your convenience from reputable faculty and even take online tests with proctors from the comfort of your home. The total course fee for an online MBA programme is around INR 1,50,000. Governments, businesses, and institutes of higher learning frequently accept MUJ's online degrees for employment, further studies, and future chances. The faculty comprises seasoned professionals who are authorities experienced in their specialities. They increase the usefulness of real-world knowledge and empower you to forge your course for success confidently. The instructional methodology incorporates real-world case studies to strengthen and expand your critical thinking abilities.
Conclusion
Finally, developing into a successful leader is more of an innate trait than a learned one. Although an MBA significantly improves a person's ability to lead, success in this area also depends on the individual. This practice is further aided by developing a focus on self and being persistent with your ultimate objectives. Take some time to think and evaluate your strengths, shortcomings, and ambitions, which can help you develop your leadership potential. An MBA programme must be completed with appropriate guidance for it to be worthwhile.
Enrol in the online MBA course offered by Manipal University, Jaipur, to become a better leader and learn industry management skills. This programme aims to position participants for prospective leadership positions. So hurry and sign up for this course to advance your career.
Enrol with us
Interested to join our courses?
Share your details and we'll get back to you.