If you have never heard of the 4 C's, familiarising yourself with them may be a good idea. The 4 C's have replaced the old 4 P's, and the emphasis has shifted from the producers to the consumers. In many ways, the 4 C's are a better blueprint for smaller businesses.
In the 90s, Bob Lauterborn published an article in Advertising Age magazine that proposed a new marketing formula – the four C's. The concepts focus on the wants and needs of the consumer, cost of satisfying those wants, and the convenience of buying the product. The four C's are often referred to as the marketing mix. This framework has evolved significantly over the years. In the first edition of his book, Lauterborn's 4 C's were a departure from McCarthy's four P's and emphasised the importance of consumer focus and convenience.
Lauterborn also predicted that in the future, people would no longer need to visit physical locations to buy goods. Instead, the emphasis on convenience would become even more critical. Today, social media and online interaction are two main tools for creating dialogue. Communication includes the use of relevant content, social media, and other marketing tools and is also an important part of the 4Cs.
Also read: Important concepts in MBA marketing
What are the 4 C's of Marketing?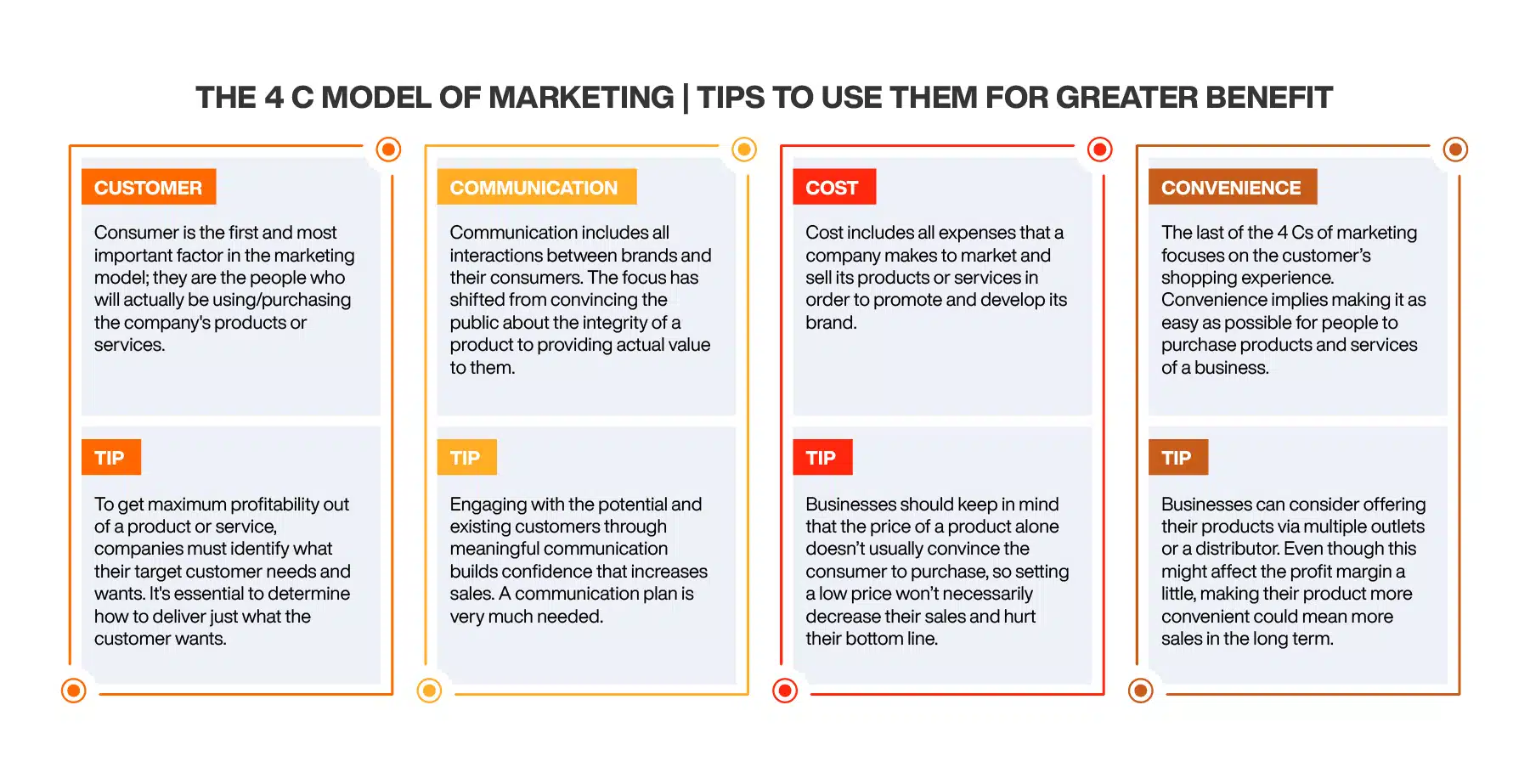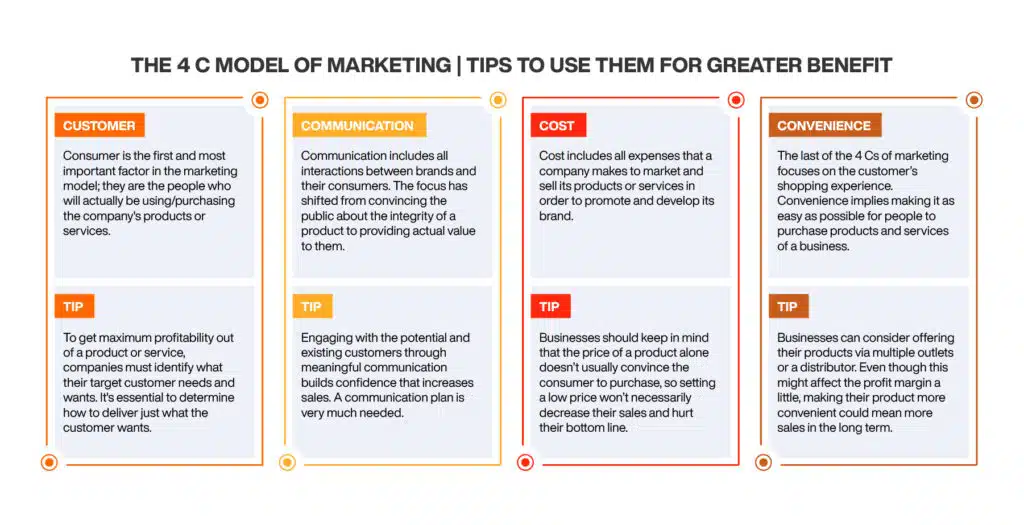 The 4 C's of Marketing are Customer, Cost, Convenience, and Communication. These 4 C's determine whether a company is likely to succeed or fail in the long run.
The customer is the heart of any marketing strategy. If the customer doesn't buy your product or service, you're unlikely to turn a profit. Companies must prioritise customer satisfaction above all else, as it will ultimately lead to more significant revenues.
The cost of marketing is also essential as it takes money and investment to develop a successful brand identity and deliver a compelling message across all channels.
The complexity of marketing also depends on the nature of your industry and target audience. In short, the more complex your business, the more likely you'll need to spend money on marketing strategies.
Finally, communication is vital for any type of business because it allows you to build a relationship with your target audience, ultimately leading to greater engagement and sales.
Related article: Learn about the 7 P's of marketing
Know your consumer needs and wants
The goal of marketing is to meet consumer needs and wants. It can be done through advertising, sales promotions, or product development. Marketers can use research to understand what people want and need. It is important because it helps businesses meet consumer needs and wants and create a good relationship with customers.
Cost
Cost is an essential C in marketing because it can affect your return on investment. For example, if you invest in a product that costs $100 to produce it but sells for only $50 when it's launched, you've lost $50. So, the cost is important to consider when making investment decisions.
Another way cost affects your ROI is by influencing the target audience. It means that if you launch a product aimed at young people interested in fashion, you may make more sales than if you projected the same product to adults who like sports. So, cost plays an important role when designing your marketing strategy and identifying your ideal target audience.
Finally, cost is also important when deciding how much money to spend on advertising or what discount rate to use for financing.
Convenience
Convenience refers to the consumer's shopping experience. It is something that everyone needs, maybe not all the time, but more often than not. It makes life easier, and it's one of the things that people look for when they want to make a purchase.
You should know if a consumer wants to shop online or at stores. If a consumer prefers to shop at a store, your store location should be easily accessible. Convenience is important in marketing because it helps people decide whether or not to buy a product or service. It makes their lives easier and makes them more likely to buy from a company that understands their needs.
Communication
Communication is conveying information and ideas from one person or group to another. Communication can take place through written, spoken, and visual channels. With proper communication, you can convey your message effectively, and the right people hear it.
In marketing, communication is about sharing information about your company and products with potential customers. This can be done through traditional advertising, social media campaigns, and word-of-mouth. A strong understanding of both the technical and non-technical aspects of communication will help you effectively reach out to your target audience.
When you build trust with your target audience, they are more likely to buy from you than your competitors. You can build trust and increase sales by having a solid understanding of the language of your target audience and using accurate messaging.
Benefits of 4 C's
The 4 Cs, or the four pillars of the marketing mix, are a modern twist on the traditional 4 P's. These principles focus on customer value, convenience, communication, and cost-efficiency. As a result, marketing campaigns must be designed around customer value. Listed below are some of the benefits of using the 4 C's.
The 4 C model helps businesses of all sizes compete with each other. By understanding your target audience, you can offer better products and services tailored to their needs. As a result, your sales will skyrocket. You can use the four-point model to determine your target market. The 4 C's include product/service worth, competitive advantage, and market positioning. Your market position is based on the perceived value of your product or service.
By incorporating the 4 C's into your marketing communications, you'll be more likely to receive good customer feedback and improve your brand's image and reputation. You'll be able to measure individual communications against brand policies and guidelines and devise slogans based on your results. Aim to create a clear brand image by following these four principles. You'll be amazed at the difference it makes. With these principles at your fingertips, you'll be on your way to building a successful business.
They encourage creativity and collaboration. Creative thinking, the building block of the modern world, is integral to many skills, including originality, mental flexibility, and communication. The 4 C's are not only fun, but they also foster healthy emotional development.
In the marketing mix, the 4 P's traditionally have a place, but modern consumers demand that retailers cater to their needs. With increasingly busy lifestyles and lack of time, retailers are under pressure to cater to these demands. In addition to the 4 P's, they must consider their customers' perspectives.
The 4 C's approach focuses on customers and a direct line of communication between the customer and brand. Ultimately, it makes it possible to create a brand that is a customer's first choice..
How to effectively implement the 4 C's of marketing?
To be effective at marketing, your brand needs to incorporate the four Cs into your marketing strategy. This can be accomplished by understanding how your audience perceives value and focusing on ways to improve that value. For example, your message should be compelling without boredom. A clear brand message is easy to remember, and the audience will immediately feel an affinity for your brand. But it's important to remember that the most effective marketing communication is two-way.
To use the 4 C's of marketing effectively, you should define your target audience. This will help you segment your marketing strategy and determine your target audience. Next, you should develop a positioning statement. A positioning statement or an online value proposition is a great way to convey these elements. After identifying your target audience, use the 4Cs to develop a clear positioning statement. You should also use the 4 C's when you build content for your website.
As a small business, you should ensure you understand marketing well. Understanding marketing is different from successfully applying it. Your marketing strategy must have a metric to measure its performance, and this can be accomplished through the 4 C's of marketing. This framework helps create a measurement system for your small business marketing strategies. The 4 C's of marketing are essential for a business because they are the cornerstones of a successful marketing campaign.
Customer success operations are an important part of a customer success team. They balance the needs of customers today with future needs. They work closely with the leadership team to forecast revenue growth, renewals, and churn. You can achieve measurable growth by incorporating these three key components into your marketing mix. Then you can focus on increasing customer satisfaction. You'll find that your brand will continue to gain a loyal customer base.
Brush up your Marketing skills with an Online MBA in Marketing
Online MBA programmes are offered by many colleges and universities around the world. They are designed for students who want to advance their careers by gaining more specialised knowledge and skills. Students who complete an online MBA programme can use their new skills to work in various industries, including business, marketing, finance, IT, or other fields. Online MBA programmes typically offer courses focusing on business aspects, such as marketing strategy or finance. Students may also choose to specialise in one topic, such as marketing analytics or digital marketing.
Online MBA courses offer flexibility that can't be found in traditional classroom settings. While classes may be scheduled according to your convenience, you can efficiently work around your daily responsibilities. An online MBA is an excellent option if you have the motivation and dedication to succeed.
One of the most popular platforms for online MBA programmes is Online Manipal, the online platform of Manipal University Jaipur (MUJ). Manipal University Jaipur is a NAAC A+ accredited institution that offers UGC-entitled MBA programmes in various specialisations. Students can choose a specific programme focus based on their professional goals. Online Manipal provides affordable access to top-notch e-learning material including Coursera courses. The programmes are designed to equip students with the skills and knowledge they need to succeed in their prospective careers. You can take advantage of its proven record of success by earning a fully-accredited degree.
Other helpful articles:
Why choose an MBA in Marketing?
Guide to get a job in marketing sector
Conclusion
A marketing mix is a tool for promoting the products and services of a business and should be used by all companies that wish to be successful in the market. To be effective, it has to be implemented and managed to generate the maximum possible return on marketing investment.
The 4 C model cannot be applied to every type of business and market. However, it is vital to understand the model's limitations when trying to use it for your business. By understanding these limitations, you can make more informed decisions on how best to implement the 4 C model in your business and market.
Enrol with us
Interested to join our courses?
Share your details and we'll get back to you.