Management
Online Manipal Editorial Team | April 21, 2022
Finance is a topic that has piqued the curiosity of everyone, whether a business person or a college student. An MBA in finance degree program is widely regarded as the most desirable and well-known MBA degree. It opens up a world of possibilities in business, banking, investing, stock markets, and insurance, among others.
MBA in finance is now a widely recognized and favoured professional path for individuals worldwide. An MBA in finance teaches and enhances leadership skills, creativity, rational reasoning, and other skills. It gives learners and professionals hands-on exposure that builds a solid career basis, and it assists them in gaining a comprehensive understanding of the financial industry.
A MBA in finance is all about finances, advancement, and sustainability. If you want to establish a profession that includes these features, an MBA in finance is a perfect way to start.
What is an MBA in finance?
'What is an MBA in finance?'. It is a two-year postgraduate degree offered by most Indian universities and business colleges. The first year of this degree study focuses on fundamental management theories, with students being able to pursue their specialisation and gain industrial exposure, beginning in the second year. While number processing is at the heart of finance, it isn't the only aspect. An MBA in finance is frequently a popular choice worldwide.
Despite the current economic slump, the domain has seen tremendous growth. Therefore, it's reasonable to say it's a little more stable than others. Finance now encompasses funds, capital, money, and the management of all of its components. All of these, and much more, are included under the scope of finance. Therefore, while addressing the question 'why MBA in finance,' it's always best to start with the basics.
One must be able to work with numbers and balance sheets and have a passion for financial analysis and crisis management. A minimum of 50% in their graduation degree and a score on the CAT, MAT, or GMAT are required. Job experience in the management and business fields for four to five years is a plus. Read this post to get information regarding MBA in Finance course details, banking and finance subjects, and the MBA finance syllabus semester-wise.
YOU MAY ALSO LIKE: Top CAT exam alternatives in 2022
What are MBA finance subjects and syllabus?
The first question that everyone wants to know regarding subjects is – 'How many subjects are there in MBA finance?' The institution largely determines the MBA finance subjects. Subjects in MBA finance first-year studies cover fundamental management principles, whereas the second-year covers specialised and elective topics and project submission.
Core subjects
Cost accounting
Financial planning and control
Investment analysis and portfolio management
Banking and Insurance
Micro and Macro Economics
Fixed-Income Securities
Advanced Accounting
Marketing and strategy
Financial statement analysis
Corporate Finance
Elective subjects
Security Analysis & Portfolio Management
Mergers and Acquisitions
Taxation Management
Internal audit and control
International Financial Management
Treasury Management
Merchant Banking and Financial Services
Insurance and Risk Management
Some business schools or colleges that provide finance courses and certification also provide in-depth specialities as part of the MBA in Finance programme, such as
Certified Public Accountant(CPA)
Certified Financial Advisor (CFA)
Certified Management Accountant (CMA)
Financial Risk Management (FRM)
Certified Financial Planner (CFP)
Certified in Production and Inventory Management (CPIM)
Online MBA finance – semester-wise syllabus
MBA finance has four semesters with different subjects that equip learners with all the aspects of finance. Let us have a closer look at the MBA finance syllabus.
MBA Finance – First semester
Micro Economics
Corporate Social Responsibility
Principles of Accounting
Principles of Marketing Management
Tools and Frameworks for Decision Making
Quantitative Methods and Statistics
Business Communication And Soft skills
Organisational Behaviour-1
MBA Finance – Second semester
Financial Modelling
Supply Chain Management
Business Intelligence
Strategic Management
Managerial Economics
Marketing Research
Corporate Governance and Business Ethics
Corporate Finance-2
MBA Finance – Third semester
Macro Economics
Business Law
Operations Management
Corporate Management
Optimisation and Project Research
MBA Finance – Fourth semester (Internship & Projects)
Project Submissions
Organisation Behaviour-2
Marketing Management
Project Management
MBA in finance projects ideas
The ability to develop a suitable research subject is a vital talent and responsibility. You may choose the project topic depending on your area of interest from all MBA finance subjects. You'll need to consider a few things when selecting finance project topics.
1. Create a list of ideas and opinions
2. Select a topic on which you can read and follow the research
3. Ensure that the topic is adaptable and that the materials are readily available
4. State your topic as a focused analysis question
5. Research and read more about your subject
So, here are a few good finance project topics to consider:
The impact of the money supply on economic growth in India
Study on futures and options markets in India
Comparative study of investment avenues concerning equity and mutual funds
Analysis of investor perception, apprehension and decision making in Indian stock markets
Assessment study of mortgage training in financial institutions
Rationale, positive and negative effects and scope of consolidation of the banking sector in India
Income tax planning concerning individual assesses
Is an MBA in finance a good option?
An MBA in finance is a challenging degree that you should consider pursuing. The following factors make an MBA a suitable choice.
Finance is among the most vital sectors in the globe. As a result, by pursuing an MBA in finance, you will be a part of an industry that affects all enterprises, sectors, and nations. You will always be protected, and your career and business will always be safe.
Many careers are becoming obsolete because of technological advancements, but this will not be the case for the finance sector. This sector has embraced technology and is using it to propel growth. As a result, because your MBA in finance degree teaches you how to use technology, you will also participate in the digital revolution.
Finance plays a role in almost every aspect of life. There is no way to start a business without finance, and it is essential even for governments to function. As a result, with an MBA in finance, you can choose to work for any organisation or industry. You can land your ideal job, earn a lot, and have a rewarding career.
The financial industry includes some of the most demanding jobs. These positions need you to keep up with current corporate sector events and be highly knowledgeable. The financial markets' instability adds to the burden. The rewards, though, are worth it if you can handle the strain and perform effectively. If you work in finance, you will never have a monotonous workday.
Finance is all about money; therefore, it's only logical that the pay in this sector is competitive. Finance professionals who excel at their jobs earn a lot of profit, as this sector entails a significant amount of risk.
ALSO READ: Why should I apply for an online MBA course?
Future scope of MBA in finance
In a nation with one of the major global financial markets and an economy that produces many multinational corporations, a finance degree such as an MBA has potential. This degree will open up many employment options for you, most of which will pay substantially, like:
Financial Analyst
Portfolio Manager
Financial Advisor
Treasury Manager
Investment Banker
The MBA in finance also includes innovative technology, such as analytics and presentation techniques. These are the industry's future trends, and you'll study them during your training, putting you on a solid road to professional success. Without a doubt, this sector is thriving.
This implies that students considering this career path have various job opportunities to consider. Because of the vastness of this domain, you can choose to work in a variety of fields with different career options after MBA, including:
Brokerage firms
Insurance companies
Commercial and investment banks
Credit unions and private banks
Corporate management
International financial management
Investment services
Financial planning services
Personal financial planning for individuals and private organisations
There is always a necessity for an MBA in finance, making this programme highly adaptable and in demand. In terms of how financial statements are to be handled, corporate sectors demand financial help. Only financial managers can deal with how the finances should be controlled and managed in a way that does not jeopardise the company's reputation or credibility in the market. As a result, an MBA in finance will become in-demand in the future.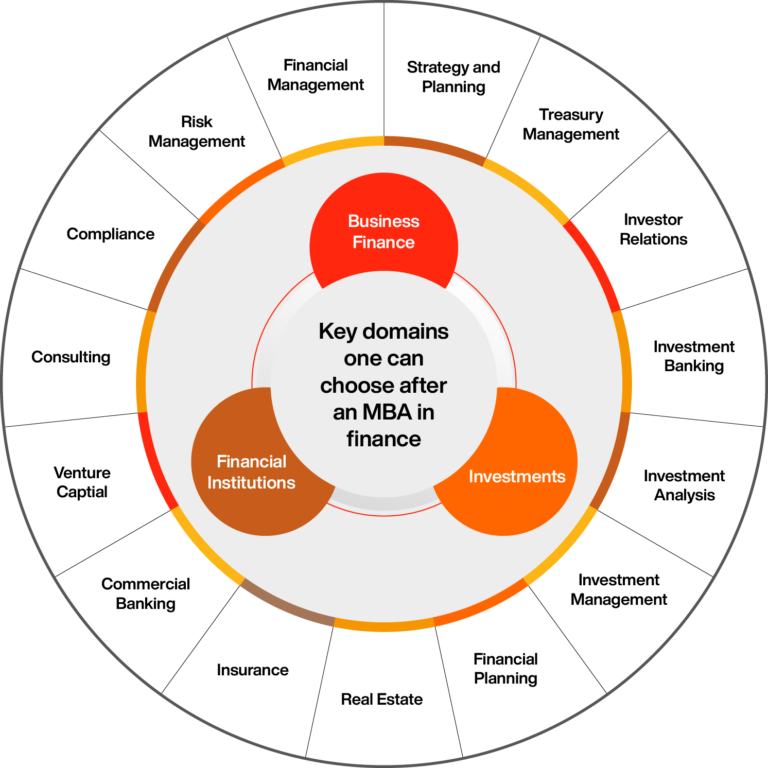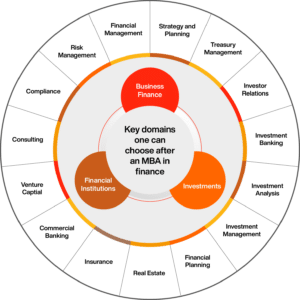 Certification programmes for online MBA
Consider a job in finance as a form of lifelong learning. To stay in the industry for a long time and improve your credentials, you'll need to take certifications, obtain licences, and certify yourself regularly. The qualification you require is determined by the type of specialist you are. The main certifications in the field of MBA finance are:
Financial Industry Regulatory Authority (FINRA)
Certified Financial Planner (CFP)
Chartered Financial Analyst (CFA)
Certified Public Accountant (CPA)
Related links to MBA in Finance:
Master your MBA finance skills with Online Manipal
Become a future-ready finance professional by enrolling in an online MBA degree offered by Manipal University Jaipur. Learners who pursue an MBA in finance will be prepared with all the in-demand financial skills and knowledge, ensuring they are on the right track.
Financial electives in an online MBA program can help you advance your career as a finance manager, finance auditor, public accountant, portfolio manager, risk manager, and more. MBA finance curriculum delves deeply into all facets of finance and economic management, ensuring that you succeed in your career.
Certification courses for MBA finance students can help them advance in their careers. The industry-aligned curriculum prepares students to enter the workforce when they complete the programme. All the registered students receive placement aid from the university to get their desired careers and thrive in their professional lives.
Learners are provided with added resources and tools to ensure that they are industry-ready. They also have free access to Coursera and INR 50,000 worth of certificate programmes, and regular presentations by industry executives, besides the e-learning materials for the programmes. In addition, famous industry and experienced management experts teach MBA finance online courses.
Get free access to certificate courses with an online MBA
Learners who enrol in the online MBA programme at Manipal University Jaipur receive full access to Coursera and INR 50,000 worth of additional certificate courses, industry connections, alumni network, and placement assistance.
Conclusion
An MBA with a speciality in finance is crucial for today's job market. Besides, it also plays a significant part in moulding the individual whose priorities lie in finance and who enjoys the realm of capital, resources, currency, money, and assets.
A career in finance is all about income, status, and security. It's a fantastic time to sign up for an MBA in finance if you want to build a successful career on these foundations. However, it is critical to recognise that employment in finance necessitates a superior cognitive process, perseverance, and hard effort.
Apply for an MBA in finance online course at Manipal University Jaipur, if you want to get the most out of your MBA in finance. You will not only be a part of a fantastic industry, but you will also have a prosperous and satisfying career with this qualification.
Enrol with us
Interested to join our courses?
Share your details and we'll get back to you.