Management
Online Manipal Editorial Team | April 27, 2022
Data is a core component of making critical decisions in the business world. The role of a financial analyst involves analysing vast volumes of information and delivering insights to businesses. A financial analyst is a professional who works in the financial services industry, often for firms, private companies, corporate institutions, and governments.
Senior financial analysts help companies spend their money wisely by making sound investment choices. One of the biggest reasons why analysts are in huge demand is how they assist organisations in diversifying assets and their portfolios.
In this guide, we will go over the finer details on how to become a financial analyst in India.
What is a financial analyst
A financial analyst is an individual responsible for helping a company make important business decisions about managing its portfolio and investments. Analysts scour through piles of financial information and attempt to extract insights from data. CEOs use their findings to decide whether or not to buy/sell company stocks and bonds and assess their risk appetite for investments.
An analyst must be aware of the latest microeconomic and macroeconomic industry trends and be able to create spreadsheet models of financials for presentation. Companies hire analysts also to determine the efficacy of their numerical data and calculate their marketing or advertising budgets. Analysts are also responsible for making profit and loss forecasts and tracking the financial performance of organisations.
What does a financial analyst do?
A financial analyst assesses a company's financial statements to evaluate its financial performance and uncover investment trends. They're responsible for performing cash flow analysis, evaluating the performance of stocks, bonds, and various assets, and analysing the latest market trends. The goal of a financial analyst is to optimise the performance of a business and make recommendations to maximise profits.
Types of financial analysts in India
Financial analysts primarily work for data-driven companies such as banks, investment firms, private corporations, brokerages, and regional institutions. Financial analysis is a broad field, and numerous job roles are available in the market. Some of the main ones are:
Buy-side analysts – Buy-side analysts are individuals who provide specialised services to companies. They create marketing strategies for businesses and help them decide which securities to purchase and sell. Hedge funds, insurance companies, and non-profit organisations typically employ buy-side analysts.
Sell-side analysts – These professionals provide consultancy services and act as financial advisors to sales agents.
What qualifications do I need to be a financial analyst?
If you're planning to become a financial analyst in India, the good news is that there are no minimum qualification requirements. However, most financial analysts have a bachelor's degree in finance, economics, or accounting. Companies also look favourably at undergraduate degrees related to engineering, technology, and data science. Employers generally choose to hire candidates from top universities and do not select applicants who don't have a bachelor's at the bare minimum.
In the 21st century, aspirants who plan on becoming financial analysts pursue undergraduate degrees such as B.Com and MBA (Finance). MBA graduates may get hired right after business school, but analysts require an affinity for data, strong communication skills, and good problem-solving skills to succeed regardless of qualifications.
Is financial analyst a good career to start with?
Being a financial analyst involves enjoying a high-paying career that features low work stress, high rates of job satisfaction, and attractive bonuses. The job market is very competitive, and financial analysts clock in between 50 to 70 work hours a week. According to the Bureau of Labour Statistics, the field experienced a 6.4% job growth from 2020 to 2030, and they estimate that more than 31,000 job vacancies will open up.
There are many financial analyst jobs in India in the market, and companies constantly scout talented professionals during campus placement drives.
Benefits of becoming a Financial Analyst
The benefits of becoming a financial analyst are as follows:
Build good relationships with management teams, meet new people, and establish credibility in the finance market
Deliver data-driven insights to companies, help grow businesses, and get paid well doing so
Enjoy high rates of job satisfaction, job security, and over 14% salary hikes when compared to non-certified peers
Be able to work in a variety of industries ranging from finance, technology, marketing, advertising, retail, e-commerce, etc.
How much is a financial analyst salary per month?
The average financial analyst salary in India is INR 4.3 lacs per annum for freshers, i.e. around 33K per month. A Chartered Financial Analyst (CFA) earns up to INR 6.8 lacs per annum (close to 57K per month), 76% more than the national average salary. The highest salary packages in companies for these professionals can sometimes cross INR 16 lacs yearly. There are many financial analyst jobs as freshers in Indian market which pays a good sum from the starting.
Financial analyst jobs: Top recruiting companies for financial analyst
The top recruiting companies for financial analysts jobs for freshers and experienced people in India are:
Alstom India Limited
Cyient Inc.
Uber
Convosight
Cadbury
HSBC
Citi
Philips
OSTC Academy
Deloitte
John Crane
Amazon
Barclays
Accenture
GroundTruth
Avantha Technologies Limited
Financial analyst qualifications: Education criteria
The education criteria for becoming a financial analyst are as follows:
Aspirants who want to become financial analysts must complete a minimum of a Bachelor of Commerce degree in India. After completing their degrees, they must apply for the Chartered Financial Analyst (CFA) certification exam. There are 3 CFA Levels – CFA Level One, CFA Level Two, and CFA Level Three. Admissions to CFA programmes are determined on a merit basis.
A Master of Business Administration (MBA) is a good career path for those who want to become financial analysts. Pursuing an online MBA degree or on-campus work well. This postgraduate programme lasts for 24 months, and candidates can choose electives such as retail management, operations management, analytics & data science, marketing, HRM, and others.
B.Sc Finance programmes are three-year undergraduate degree courses suitable for 10+2 students. Many universities offer these courses, and graduates can apply to the financial analyst role after completing them.
Which degree is best for financial analysts?
Financial analysts usually have a Bachelor's Degree, but for advanced financial analyst jobs, companies require a Master's in Business Administration (MBA). A Bachelor's degree in Commerce is enough to get a career started, at the very least.
How to become an financial analyst
Here is a roadmap on how to become a financial analyst in India.
Complete your 10+2
Completing 10+2 in high school is essential, and aspirants should select commerce or science as their stream. Science stream students have better chances of success since financial analysis involves mathematics, technology, and cross-disciplinary subjects.
Earn a bachelor's degree
Applying for a bachelor's degree in commerce (B.Com) or a Bachelor's in Business Administration (BBA) is the next step. Aspirants need to meet the university admission requirements and prepare for national-level entrance exams.
Get a master's degree to upskill
After completing their undergraduate degree, they can apply for an MBA in Finance for upskilling. MBA finance graduates get recruited by top companies and land jobs straight after business school. Online Manipal offers placement assistance and career guidance and support to candidates.
Try pursuing an internship
There are many internship opportunities for aspirants during the 2nd or final year of their degree. Companies prefer to hire students a few months before graduating and directly employ them based on track record and performance. An internship can open up new doors for candidates and provide various networking opportunities with industry experts. It's an easy way to advance one's career and is encouraged.
Find a job as a financial analyst
Candidates who do well in their internships may decide to transition to a full-time job role at the company. But, those who haven't applied for internships yet can start applying for jobs at companies after graduating. Many online platforms like AngelList and LinkedIn promote job postings for professionals, and graduates can also apply.
These days, companies use Facebook and other social media channels to connect with individuals directly or contact business schools for recruitment. Employers may also prefer to meet candidates or do online interviews.
What are the top financial analysts' skills?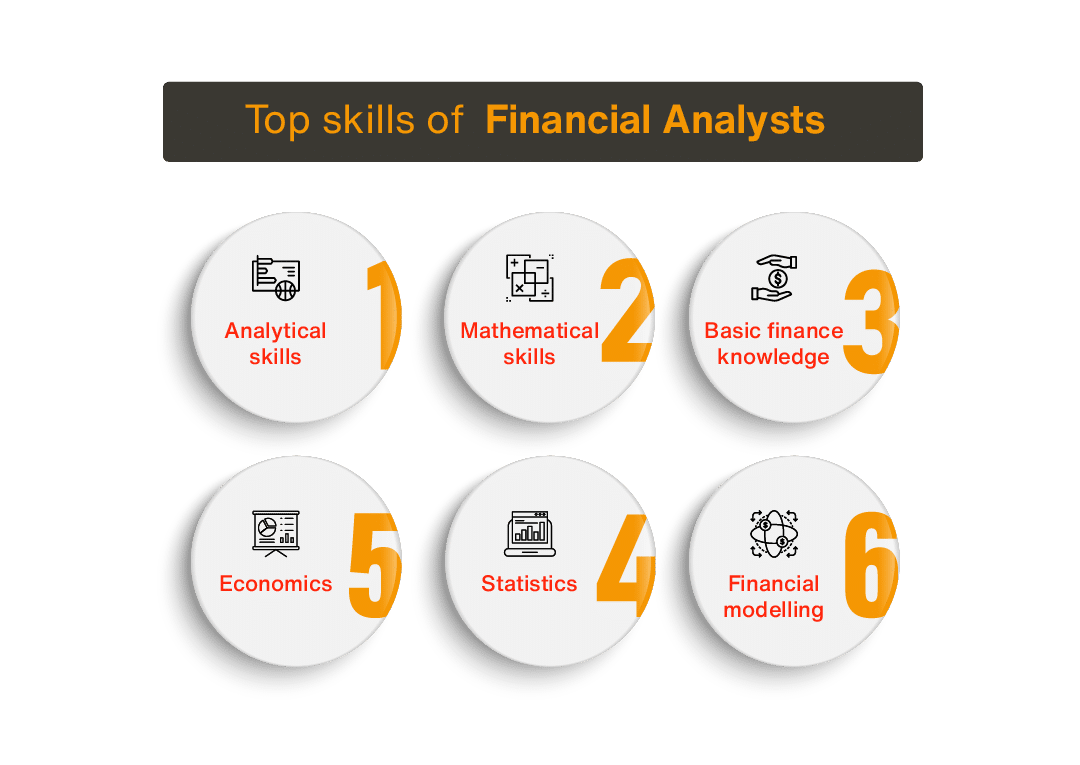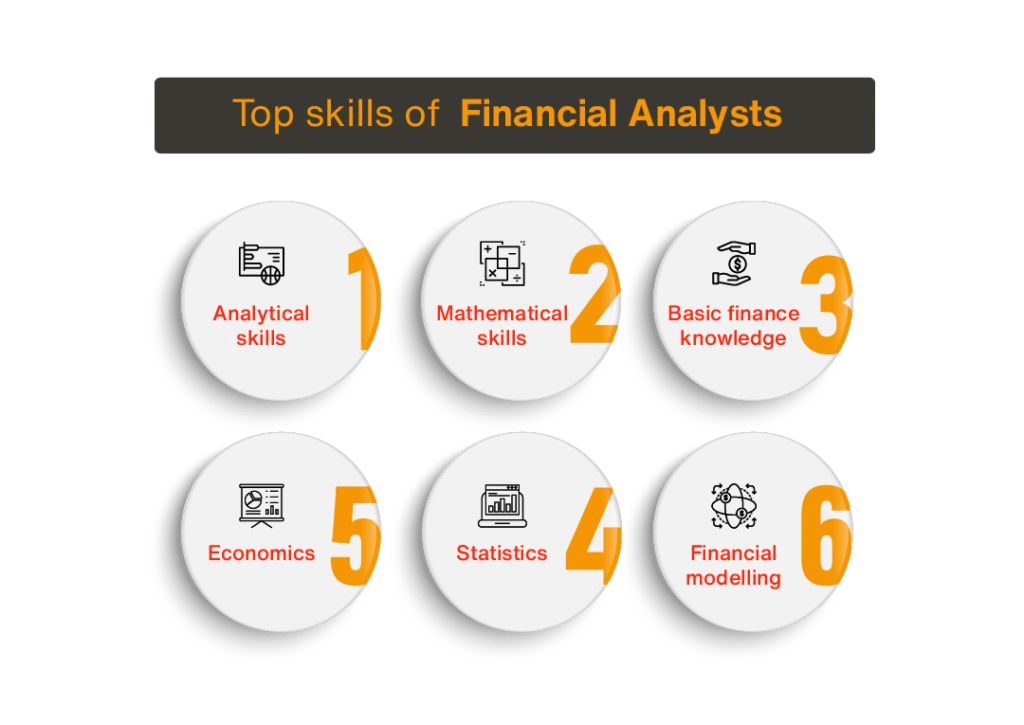 Following are the top skills needed for financial analysts:
Financial analysts have to work with numeric data from multiple sources, and therefore, they need good analytical skills to decide what information is relevant and what is not. Analytical skills include analysing vast volumes of information, extracting insights from unstructured data, cleaning it up, and identifying business opportunities.
Financial analysts need mathematical skills such as financial statements analysis, statistics, probability theory, mental maths, etc. Developing a good intuition for maths is critical since you need to make sure no accounting errors happen. Financial analysts need to get good at crunching numbers and sorting through millions of financial transactions, so mathematical skills are necessary.
Financial analysts should have basic financial knowledge of equity research, fixed income, and private equity concepts. They should be comfortable performing business valuations and be familiar with investment banking concepts.
Good accounting skills related to credit risk analysis, IFRS knowledge, cash flow analysis, etc., are needed. Professionals should possess strong quantitative skills and be able to report their findings in clear and concise ways to clients.
Job roles in the industry require a basic knowledge of statistics. Knowledge of calculus can help candidates tremendously during their coursework.
Advanced working knowledge of Microsoft Excel and databases is recommended. Creating data visualisations, graphs, charts, and applying different formulas to calculations form the basics of financial modelling.
Master your skills with an online MBA from Online Manipal
Online Manipal makes it easy for students to apply for an MBA with finance as an elective and complete their graduation online. If you want to learn how to become a financial analyst in India, enrolling in the online MBA and selecting finance as an elective is a great way to get started.
With a course duration of just 24 months, the curriculum is comprehensive and walks learners through step-by-step with interactive tutorials, videos, quizzes, and much more. The UGC-entitled course is also accredited by a top NAAC A+ ranked Manipal University Jaipur.
Conclusion
The road to becoming a financial analyst is challenging but highly rewarding. If you want a career that pays well, engages with businesses, and builds professional networks, this could be the one for you. Financial analysts hired full-time by companies work as hedge fund managers, portfolio managers, risk analysts, rating analysts, and other advanced job roles as they progress in their careers.
Enrol with us
Interested to join our courses?
Share your details and we'll get back to you.