Management
Online Manipal Editorial Team | May 10, 2022
Case studies are an integral part of business school education. Real-world experience is used to develop a study method that helps students understand business scenarios. Harvard Business School was the pioneer in using the case study method, and it is now a common feature in all business schools around the world. You could use hundreds of case studies to learn how managers tackle different situations, from mergers and acquisitions to the launch and success of a new product line to branding strategy.
This article will cover some of the most important aspects of MBA business case studies, such as why they're important and some case study examples.
What is an MBA case study?
Case studies are real-life business situations or hypothetical business scenarios used in MBA course to facilitate some elements of experiential learning. A business case study will present you with a business issue, a conflict to be resolved, or an impending decision that needs to be made. In most cases, a case study focuses on a specific company and a seemingly difficult management issue. In many cases, this is a problem that the company's upper management (CEO, CFO) is dealing with.
Following that, a slew of objective and subjective facts are presented. There may be information about the company's history and financial data relevant to the case study example (balance sheet, profit, and loss account). Additionally, there could be information demonstrating the company's size (for example, the number of employees, locations, and products).
Also read: MBA Course Details
As a management student, you are expected to read the case, analyse the issues presented, evaluate the underlying issues, and present solutions to the case's problem. When writing an analysis, you should provide a realistic solution and explain why this solution will help your organisation achieve its objectives. Finally, your analysis should include detailed plans for implementing your proposed solution.
Why are MBA case studies important?
When combined with in-class discussions, case studies help students develop their critical thinking and problem solving skills, which aid in formulating better approaches to problems. From eliciting student-led debates to deciphering complex business concepts, cases are powerful pedagogical vehicles for fostering students' confidence, problem-solving, and reasoning abilities.
A case study is an important part of an aspiring manager's curriculum because it requires the use of critical thinking while solving a problem. Each situation requires a different approach to reading and interpreting information and, ultimately, a different way of thinking.
When you tackle a case study, it will test your analytical, reasoning, leadership, and decision-making abilities. The case study method helps you apply your theoretical knowledge and practical application in a dynamic and VUCA (Volatility, Uncertainty, Complexity, and Ambiguity ) world.
List of Top 25 MBA case studies everyone should know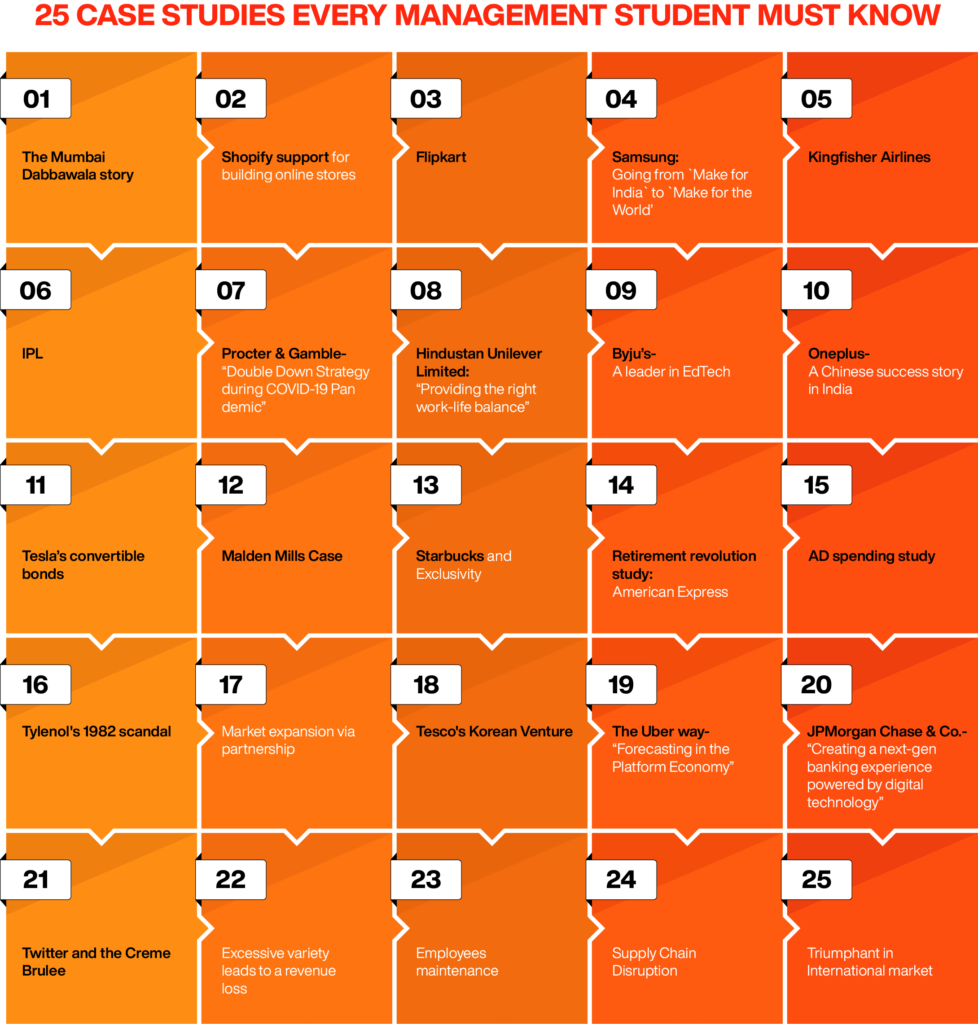 Followings are some of the interesting case studies for MBA students:
The Mumbai dabbawala story
Many business schools in India and abroad, including Harvard, use this well-known case study in operations and supply chain management. Dabbawala model was applauded by the likes of Prince Charles and Richard Branson because of its Six Sigma level of accuracy. What makes this case so special and appealing? Let's take a look at this:
They collect hot meals from customers' homes across the city and deliver them to schools and workplaces throughout the day. Known for its smooth, dependable, and long-lasting delivery system, they have a long track record of success.
Their operation is intertwined with the rail network in Mumbai, which sets the pace and helps with the delivery schedule. The dabbawalas use a simple coding system that is easy and convenient for everyone. In addition to having a specific code for the neighbourhood where the Dabba will be delivered, they also have characters indicating the delivery address and who will be making the delivery.
They work in self-organised teams of 25 people each. While delivering their dabbas, the most experienced ones serve as supervisors. Every dabbawala negotiates with his customers on an individual basis.
It may seem surprising, but one of the reasons for their success is their reliance on human capital rather than technology. They are highly motivated because they understand how important their work is. If they don't deliver, someone somewhere will miss his lunch. For them, delivering food is akin to serving God!
In a first, Flipkart has teamed up with the Mumbai Dabbawalas to deliver goods to customers in the city.
Shopify support for building online stores
From sole proprietors to multinational conglomerates, businesses of all sizes have used Canada-based Shopify's SaaS (Software as a Service) e-commerce platform to launch online shops. Web builders, safe payment methods, templates, search engine optimization (SEO), analytics, and a slew of other tools were all available through the company. Shopify's web builder was easy to use, even for people with no coding or e-commerce experience.
Despite offering a feature-rich solution, Shopify has received criticism for the high costs that merchants must bear to set up a website of their choosing. However, Shopify by 2020 was hosting close to 377,000 online stores and boasted customers like Budweiser, World Wildlife Fund, GE, Amnesty International, Tesla, and Encyclopedia Britannica.
The case is set up to accomplish the following teaching goals:
E-commerce sites have specific business goals, system functionality, and information needs.
The quality of an e-commerce website may be affected by the features offered by e-commerce solution providers.
Flipkart
Flipkart, the first Indian e-commerce company valued at a billion dollars, was founded in 2007 with a small investment of Rs 4 lakhs. Flipkart exploited a large group of consumers eager to experience the convenience of online shopping.
Flipkart's success is largely due to the following factors:
Its warehouse and inventory management system give it a solid backend to work from.
Focus on resolving delivery and defective product issues promptly. The company's co-founders believe that discounts are not enough to satisfy the customer's expectations of timely service and efficiency.
Next, we're going to see a lot of innovation. Cash-on-delivery and credit card payments at the doorstep are additional options that give customers more flexibility and convenience.
Flipkart added the 'surprise and delight' factor to customers' shopping experience. They were given offers that Flipkart tailored to their specific needs and preferences. That's what the company's Big Billion Sale was all about. In the eyes of many, the retailer was accused of making a hasty leap into the unknown. Flipkart maintained its goodwill by sending an apology and explanation letter to all its customers for its mistakes in managing site traffic and the demand-supply gap for its products. It made enough amends to regain the trust of its supporters.
Samsung: Going from `Make for India` to `Make for the World`
This business case study discusses how Samsung's manufacturing and R&D strategies formulated for India can help it succeed internationally. When Samsung launched its "Make in India" initiative in the mid-2010s, it took advantage of government SOPs to encourage multinationals to establish manufacturing facilities in India. In addition, its Indian R&D centres came up with innovative products after studying Indian customer needs and taking into account customer feedback.
The case discusses some of the products launched under the "Make for India" initiative and describes their impact on the company's market position in great detail. As a result of these and other government incentives, Samsung ramped up its domestic production over time. With its "Make for the World" initiative, Samsung announced that it would relocate its manufacturing operations from other countries to India, where it would ship its products worldwide. Is it likely that Samsung will make India its sole Asian manufacturing hub in the future? Is it possible that its customer-oriented products will help it outperform the rest?
The case is set up to accomplish the following teaching goals:
Build international brands by devising strategies.
Examine the government's methods for promoting domestic manufacturing.
Recognise the significance of multinational corporations (MNCs) being aware of the specifics of the local market when expanding into new regions.
Importance of product globalisation to capture market share.
Recognise the importance of product design innovations in the global marketplace.
Supply chain management issues.
Locate opportunities to reduce costs and speed the launch of new products in the market.
A study of multinationals' perspectives on the advantages and disadvantages of domestic manufacturing.
Kingfisher Airlines – A lesson from failure
Vijay Mallya's dream bird, "Kingfisher", was devastated by some reckless and risky decision-making on Mallya's part. Due to bankruptcy and non-payment of loans, Kingfisher, operating since 2005, was forced to shut down at the end of 2012. The airline owed a debt of $1 billion to a consortium of 17 banks.
How did the glitzy airline go out of business despite its increased brand recognition and loyal customer base?
When Kingfisher was first launched, Mallya intended to be a value-added airline. After launching Kingfisher Red, the airline later positioned itself as a low-cost carrier (the spun-off fleet of Air Deccan).
Air Deccan's acquisition for the start of operations was a failure. In most cases, attempts to gain visibility on high-traffic international routes (like Bangalore to London or Bangalore to Silicon Valley) failed. The takeover of Air Deccan, which had been in crisis for three years, resulted in a loss of more than INR 10 billion (US$160 million).
As a result of the frequent changes in senior leadership and the absence of a long-term CEO or MD, the airline suffered.
Many of the airline's planes were grounded in 2011 because of engine problems. However, even as the company overhauled the engines, market conditions and rising fuel prices significantly impacted yields.
Customers would rather fly with other low-cost airlines. Hence, withdrawing from the low-cost segment (Kingfisher Red) was ineffective in attracting new customers to the company's premium segment (Kingfisher).
The airline continued to lose money year after year due to external and internal issues. It wasn't just a lack of a clear vision and a firm positioning strategy that kept the airline from resuming operations; a lack of understanding of consumer behaviour led to Mallya's various decisions, such as suspending international operations and raising fuel surcharges.
IPL – The right pitch at the right time
The Indian Premier League (IPL), conceived in 2007, is a perfect example of controversial marketing. BCCI's Indian Premier League (IPL) generated excitement usually seen in basketball, soccer, and baseball franchises. In addition to attracting cricket-crazy Indians, what else did the Indian Premier League do to become a global brand?
Fast-paced action and 3.5 hours of movie-like entertainment are the key selling points. Twenty20's commercial potential has been demonstrated by the IPL's involvement in high-stakes matches.
Indian Premier League (IPL) is popular worldwide, and the presence of international star players influences the level of support and interest. In Australia, for example, Shane Warne's contribution to the success of the Rajasthan Royals is widely recognised.
The IPL's popularity can be attributed largely to its coverage in the media. All year long, the season is covered by local, national, and international media outlets, even when the season is closed.
The involvement of celebrities such as Shah Rukh Khan, Preity Zinta, and Shilpa Shetty as franchise owners and promoters added a lot of glitz and glamour to the show.
The auctioning off of players and franchises, using cheerleaders, the opening ceremony, and live concerts, are all part of the IPL's marketing strategy.
The IPL has expanded by leaps and bounds, but the IPL has also been embroiled in several controversies involving corruption, match-fixing, and mismanagement. The BCCI can sustain IPL success with improved administrative efficiency, strict oversight, and increased player awareness.
Procter & Gamble – "Double Down' Strategy during COVID-19 Pandemic"
According to this case study, Procter and Gamble used the strategy of "Double Down" during the COVID-19 pandemic to increase its brand visibility. When the US government implemented a lockdown after the coronavirus outbreak, people began stockpiling essential supplies in anticipation of a lockdown. As a result, retailers could not keep enough of the most popular products in stock. Businesses reduced their media spending in anticipation of the economic downturn. However, despite the uncertainty, P&G decided to increase its marketing investment to increase its brand visibility. Though the market and economy were slowing, did P&G's advertising strategy succeed?
The case is set up to accomplish the following teaching goals:
Understanding consumer behaviour and the reasons for panic buying is critical to better understanding your customers.
Consumers' behaviour patterns change during times of crisis.
To remain competitive in the event of a pandemic, assess the company's business strategy.
Analyze the company's media strategy to increase media expenditures, especially during the pandemic.
Investigate the issues and difficulties that the company might have encountered in implementing its strategies.
Hindustan Unilever Limited: "Providing the Right Work-Life Balance"
HUL, India's largest Fast-Moving Consumer Goods (FMCG) company, has implemented several programmes to help its employees achieve a healthy work-life balance. HUL's HR policies are examined in depth in this case study, which shows how they aided employees in carrying out their professional and personal responsibilities more effectively. HUL's efforts to meet the diverse needs of its female employees are explained in great depth. There are references to the company's efforts to stay on top of new-age employees' evolving needs. Will HUL continue to be an 'Employer of Choice' in India?'
The case is set up to accomplish the following teaching goals:
Understand the term "quality of work-life" (QWL).
Look for new developments in the QWL field.
Investigate the effect of allowing employees to work from home on their overall satisfaction with their work schedules.
Develop strategies for retaining and managing talent.
Create a plan to increase the diversity of your workforce.
Examine HR policies to stop discrimination based on gender.
Byju's – A leader in EdTech
The case concerns the rapid expansion of the Bengaluru-based Indian e-learning platform Byju's (Think and Learn Private Ltd). Founder and CEO of the EdTech start-up, Byju Raveendran previously worked for Pan Ocean Shipping, a UK-based shipping company. For 12 long years, Raveendran helped his friends get through the Common Admission Test for Management Courses in India and then built Byju's learning app. BYJU – The company's main product was the Learning App, which users could download on Android devices from Google Play and iOS devices from the Apple App Store. The app provides comprehensive learning programmes and special programmes for students preparing for competitive exams and for students in grades 6 to 12 in India.
Since its inception in 2015, the startup has received funding from the Chan Zuckerberg Initiative and Chinese internet giant Tencent. Byju's turned profitable in 2019 after three years of annual growth of 100% (2016-18). In July 2019, its valuation increased to US$5.5 billion, making it the world's most valuable EdTech company. It remains to be seen if Byju's strategies that worked in India would be successful in other markets as the company enters international markets.
The case is set up to accomplish the following teaching goals:
Realise the importance of educational technology in India's educational system.
Observe the business models of educational technology start-ups.
Determine whether or not educational technology in India is well-accepted.
Oneplus – A Chinese success story in India
The focus of this case study is the success of Chinese smartphone maker OnePlus in India. In December 2014, OnePlus launched its first smartphone in India, and within four years, it had become the country's most popular premium smartphone brand.
According to the case study, OnePlus's strategy in India was to launch high-end smartphones at affordable prices, build a strong community, focus on customer service, and use clever marketing techniques. Obsession with product design and quality, branding, and customer engagement was OnePlus's core strength. An emphasis on viral marketing and community interaction, including social media, to spread the company's message.
OnePlus faced several challenges, despite its phenomenal success in India. Competition, scaling offline, price-sensitive Indian consumers, low smartphone penetration, and an economic slowdown were all factors that contributed to the decline. Furthermore, OnePlus risked losing price-conscious customers as its phones became more expensive. Vikas Agarwal , OnePlus India's General Manager, faced several challenges as India remained a critical market for the company. These included increasing the adoption of OnePlus devices in India, expanding offline, crushing competition, and maintaining OnePlus' dominance in India's premium smartphone segment.
The case is set up to accomplish the following teaching goals:
Evaluate the expansion and entry of OnePlus into India.
Recognise the significance of India as a market for OnePlus.
Find out what helped OnePlus become so popular in India.
Consider OnePlus's key growth market, India, and the issues and challenges it faces there.
Consider how OnePlus can maintain its position as a leading player in the Indian premium smartphone market by looking at the company's plans.
Tesla's convertible bonds
This business case study looks at how Tesla, Inc., a company with a credit rating below investment grade, has successfully issued convertible bonds and funded its electric car business at a low-interest rate since 2013. However, things changed over time. Tesla's stock price soared, and some speculated that this could spell the end of the company's use of convertible bonds. A new low-cost, long-term source of financing for Tesla's business is now on the CEO's radar.
The case is set up to accomplish the following teaching goals:
Become familiar with convertible bonds and other financial instruments.
Bonds and debentures are two different types of investments.
Recognise the benefits and drawbacks of long-term financing via convertible bonds.
Look into the various funding options available to startup businesses.
Malden Mills Case
In some situations, making the right decision can be compared to financial benefits, as Malden Mills has firsthand knowledge of. The industrial facility was set on fire two weeks before Christmas in 1995, and the management told employees that they would be out of work until they rebuilt the processing plant. On the other hand, CEO Aaron Feuerstein of Malden Mills increased the number of representatives by 90 days at full pay and 180 days with benefits for $25 million.
Collaboration and profitability reached a new high, with 40% more business and 95% client and representative retention. After they modified the processing plant, the majority of the uprooted specialists were rehired. Each week, the amount of yardage created increased from 130,000 to 200,000. As a result, Malden Mills has gone through three rounds of the bankruptcy court, with a significant portion of the debt being tied to a reimagining of the industrial complex. Business students should consider this case to see if engaging in humanitarian activities will satisfy their needs in the long run.
Starbucks and Exclusivity
In 2008, Starbucks announced that it would be closing 600 of its locations in the US. Starbucks stores had been gaining new features, such as wi-fi and music, but they had begun to lose their warm "neighborhood store" feel for a chain store persona. According to the Harvard Business Review, Starbucks is a mass brand attempting to charge an exceptional price for an event that is not any more extraordinary. As a result, to compete with its price-conscious customers, Starbucks would have to either cut costs or reduce the number of stores to regain its image selectiveness.
Starbucks' growth has been hampered by three issues, according to the HBR study: alienating early adopters, attracting an excessive amount of attention, and moving too slowly forward with new locations and products. According to Harvard Business Review, Starbucks should have remained a privately held company and grown at a moderate pace to maintain its status as a top brand.
Retirement revolution study: American Express
With the retirement of senior employees comes the loss of knowledge and experience in the organisations. Retiring workers leave the workplace with a wealth of knowledge and experience in their wake. American Express came up with a pilot programme to retain this. American Express created a group of workers who would gradually take over some of the day-to-day responsibilities of retiring employees. In return, the individual would devote some of their free time to mentoring and teaching future generations. This resulted in phased retirement, allowing employees to leave gradually and enjoy the extra time while still receiving a portion of their previous salary and regular benefits. This also meant that some employees stayed a year or more past the traditional retirement age.
With this programme, AMEX believes senior employees can enjoy their final years of work in an unrestricted capacity while educating the current workforce for future success.
Ad spending study
There are times when an organisation's financial situation does not allow it to spend large sums of money on advertising. However, forgoing advertising in favour of higher profits can be costly. Experts recommend expanding your marketing strategy to reach a wider audience when you're in a slump. During a recession, this is especially true, as many organisations cut back on their ad spending.
Firehouse Subs' boom petered out after seven years of expansion from 30 to 300 locations. The company's leadership realised they needed to find a solution. As a result, they gave back the fees franchisees had paid for local advertising to take control of their local marketing. Since sales continued to decline, it became clear that this was an ineffective strategy. Firehouse reclaimed its local marketing fee and allowed franchisees to participate in a new marketing campaign. This required them to pay double for local marketing but included them in an $8 million advertising campaign poised for success. Experts applaud Firehouse for having the fortitude to ask franchisees for more money where it was needed, even during difficult times.
Tylenol's 1982 scandal
Seven people died in Chicago in 1982 after taking Tylenol after an unknown suspect laced the capsules with cyanide after it hit the shelves. Even though the problem was limited to the Chicago area, Tylenol's domestic market share dropped immediately from 37% to 7%. Tylenol was not responsible for the product's tampering. Still, to maintain the product's reputation, Johnson & Johnson removed all Tylenol from the shelves, incurring a loss of more than 100 million dollars.
Tylenol was successfully reintroduced to the medical community with tamper-resistant packaging, sales presentations, and discounts. Johnson & Johnson's quick action and effective public relations saved the brand.
Market expansion via partnership
Expanding beyond a company's initial customer base is usually a daunting task for small businesses to support new growth. On the other hand, businesses greatly benefit from collaborating with a well-established market leader.
Diagnostic Hybrids, a company specialising in medical nosology, collaborated with Quidel, a leader in rapid diagnostic tests, to achieve this goal. As a result of this partnership, Diagnostic Hybrids gained a larger market presence and a wider range of resources for research and development. As a separate subsidiary, the same company's president and operations were allowed to remain as part of the acquisition strategy.
Tesco's Korean venture
Tesco's Korean venture is an excellent example of establishing a market share on a global scale. The company made some well-thought-out moves in its Korean expansion, notably partnering with Samsung, the largest Korean conglomerate. It embraced the Korean way of life by operating stores as nearby agencies and neighbourhood centres.
Tesco also made a wise decision by employing nearly entirely Koreans, with only four British employees out of a total workforce of 23,000. According to reports, Tesco's well-planned strategy has gained customers in Seoul, with 25% of Koreans signing up for loyalty cards and earnings in the billions, finding success in "cracking[ing] the Asian tiger" where competitors such as Carrefour and WalMart have failed.
The Uber way – "Forecasting in the Platform Economy"
Uber's forecasting process is examined in-depth in this case study. For forecasting, the company relied on its own Time Series data. Time Series is a type of dataset that includes data collected over a set amount of time. You can measure time in seconds, minutes, hours, days, weeks, years, and even millennia. Analysis of time series data and regression analysis were used to forecast demand for Uber cabs. Additionally, the use of different variables from different sources lends credibility. This analysis relies heavily on the selection of variables. It is important to combine data from various sources for the analysis to be useful.
The case is set up to accomplish the following teaching goals:
To gain a fundamental understanding of Uber's business model and the platform economy.
Learning how to wrangle data properly is the first step in data analysis.
Importance of value forecasting.
For a better understanding of how to use time series forecasting.
To better understand how you can use various data sources to enhance the analysis.
JPMorgan Chase & Co. – "Creating a Next-Gen Banking Experience Powered by Digital Technology"
This business case study examines JPMorgan Chase's digital initiatives to create a next-generation banking experience powered by technology (JPMC). JPMC employed 50,000 technologists worldwide and spent $11.5 billion on technology in 2019 to stay relevant in the face of shifting customer expectations and the growing popularity of digital banking. Jamie Dimon, CEO of JPMC, took on the challenge of increasing the reliance of banking operations on digital technology in 2006.
JPMC's digital initiatives included the "mobile-first, digital everything" strategy, which was an important part of the company's evolution over time. Big Data, Cloud computing, Artificial Intelligence, Mobile and Electronic Payments, Machine Learning, Blockchain, Robotics, and Cybersecurity are discussed in detail by JPMC. With the help of several FinTech companies, JPMC has been working on various new technologies for its banking operations and preparing for future competition from both banking and non-banking entities. Amidst all of its technological innovation, JPMC faced an ever-increasing threat from banking organisations aligned with technology companies. As a result, it made a concerted effort to use digital technology to combat the competition.
The case is set up to accomplish the following teaching goals:
Use digital technology to examine the impact of traditional banking processes on the modern world
In the present and future, how important is mobile banking?
Recognise the methods financial institutions use to overcome the difficulties of implementing new technology.
Explain the difference between incremental and disruptive/breakthrough innovation using the banking industry as an example.
Twitter and the Creme Brulee
Marketing is essential for any business, irrespective of the size and turnover. Marketing can cost a lot of money, but it won't yield much return unless done correctly. Curtis Kimball, the man behind the Creme Brulee Cart, used Twitter to his advantage. He amassed many followers and expanded his commercial enterprise by allowing people to follow the cart online.
Curtis developed personal relationships with his followers by soliciting their feedback on everything from flavour combinations to cart locations. Perhaps the most incredible aspect of this story is that Kimball has no advertising budget (Twitter is a free service) but enjoys a distinctly popular following and high Yelp ratings.
Excessive variety leads to a revenue loss
Hickory Farms began with holiday gift baskets containing sausage, ham, and cheese and eventually had a presentation of 2,500 special products. This stretched the employer and resulted in a loss of flavour with customers.
Recognising this problem, Hickory Farms reduced its product line from 2,500 to 300, with more modern visuals, descriptions, and other features such as less packaging and more recycled content. In addition, the organisation revamped its website, making it easier to save online. This streamlining resulted in a 13 per cent cost reduction that Hickory Farms could pass on to their customers. Jennifer Woodbery, a brand strategist, believes that this was a wise decision, making the most of Hickory Farms' trusted name and image through an effective rebranding of offerings.
Employees maintenance
It is common for your best employee to change after promotion. Such was the case at the cat shelter Paws Need Families, where Della, a cleaner, rose through the ranks to become an assistant manager and, eventually, manager. She began arriving late, allowing applications to sit, skipping inoculations, which were all serious offences. Meetings were held instead of confronting Della directly, and they hired an assistant manager to compensate for Della's shortcomings. Della was eventually fired for failing to clean up her act.
According to Ken Blanchard, co-author of The One Minute Manager, short meetings and a review system could have avoided this situation. With an effective employee system in place, we can identify problems before they become major issues.
Supply Chain Disruption
When a fire at Philips' microchip plant occurred in 2000, the Nokia and Ericsson phone companies were affected. They responded in different ways, and ultimately Ericsson did not fare so well in the mobile smartphone market. Instead, the European customer market was taken over by Nokia.
Nokia devised a new business model for snatching up spare chips from various suppliers and re-engineered some of their telephones to adapt to one-of-a-kind chips from new suppliers. At the same time, Ericsson decided to wait until the hassle was over. While Ericsson slashed its production and sales, Nokia was able to dominate the market. This incident and its aftermath are textbook examples of managing supply chain risk.
Triumphant in International Market
A British motorcycle manufacturer, Triumph began to fade from prominence three decades ago. It did, however, find a new life on a global scale. Triumph sold 7,562 bikes in the UK in 2010 but 50,000 worldwide, indicating that the company's international expansion paid off. Triumph's famous manufacturing plant in Warwickshire closed in 1983, but the Indian factory remained, and it is now very popular. With a six-month ready list and a new factory under construction, the company is struggling to meet demand in India, as the country has embraced the brand.
How to get started with MBA case studies?
You cannot solve a case study with minimal effort. When you begin working on an MBA case study, you will develop your perspective. So, it is critical to do the following at the start:
Study
Contemplate
Decide
Execute
The most difficult aspect of solving the case study is comprehending the case in which most students fail. To overcome this, the four stages listed above can be useful.
Begin by comprehending how this case relates to the rest of the course. The first case is typically used to introduce you to the course and the material you'll be covering, and the final case study summarises what you've learned and covered in the course.
Steps to solve MBA case studies
To solve an MBA business case study, you should follow the following general guidelines:
Think of yourself as a manager or, as the Harvard Business School likes to say, as a protagonist. Define the issue or the problem you are dealing with as a protagonist.
Take a closer look at what's causing the problems and issues you're having. You may uncover evidence that proves their case. Form your hypothesis.
Create options within the scope of the organisation's goals and objectives.
Return to your original hypotheses and assumptions to determine the best course of action. You should back your solution or strategy with data from the exhibits.
Put it to the people. Discuss. Brainstorm. Trade-offs for each alternative need to be identified
Offer a final alternative and explain why it is a better choice.
Make a note of any interesting/new/innovative solutions that others encounter during the case study discussion.
Advantages of learning from business case study
Management case studies are the best tools to understand the rapidly changing market realities and managerial challenges, shifting consumer expectations and the race to meet them. Some of the perks of using case studies are:
Business leadership skills: Employers want people who can make quick, sound decisions that benefit the company. This is why case studies are so useful in preparing students for real-world business situations in the future. Confidence is essential in business because colleagues and business partners may not always share the same beliefs, and it is necessary to defend your thinking. This is achieved through the debating process, in which students defend their solutions to each case and attempt to persuade one another to support their ideas.
Better than lectures: Case studies with a narrative arc appeal to students on an emotional and intellectual level. Solving a real-world problem gives them a feeling of accomplishment. This method encourages students to get emotionally and intellectually involved in each case.
Holistic view of the company's business:Candidates who complete the MBA program are exposed to many domestic and international case studies, broadening their career options after graduation. Students will learn how to apply what they've learned from previous cases to any situation throughout their career.
How to start your own case studies?
Practice by putting yourself in the shoes of a business owner or manager, as it will help you become familiar with the various components of a case study. You should practice identifying relevant facts and critical issues while reading through cases. After reading the case, take notes to have a list of items and possible solutions to research. As you come up with solutions, make a list of the advantages and disadvantages of each one, and make certain that the solutions you come up with are attainable.
Conclusion
Through these real-world business scenarios, you learn various skills such as asset management, acquisition strategy, business administration, and so on, without having to bear any actual risks or potential losses as in real life. This promotes quick thinking and provides students with a good understanding of a challenging experience.
Different ways of looking at the same business situation can yield very different results from the same data. Participating in case discussions with your peers will allow you to gain new perspectives on the company's challenges, which you can then apply to your work. As a result, business school students significantly benefit from using case studies.
Enrol with us
Interested to join our courses?
Share your details and we'll get back to you.