Have you ever wondered why countries trade? Countries trade due to the differences in technology, resources endowment, demand, government policies and existence of economies of scale.
Let us understand what happens when Indian Rupee depreciates. When we say that Indian Rupee value has fallen against US Dollar, it means that Indian products has become cheaper in the international market. When Indian products become cheaper, exports increase whereas India has to shed out more Rupee against Dollar, thus making imports dearer.
Common terms used in international trade: 
Terms of trade – the ratio of country's export and import price
Exchange rate – price of a country's currency in terms of another currency. Eg: USD 1 = INR 80
Depreciation of currency – fall in the value of currency in terms of other currency
Appreciation of currency – is when the value of currency appreciates in terms of other currency
Dominance of Dollar in global trade
After World War II, global trade was dominated by dollar as the US turned the world's biggest economy. In 1944, Dollar was stable as compared to any other currencies and was pegged to gold. In 1970, Dollar was delinked from gold and then came the floating exchange rate, which means exchange was now determined by the market forces.
Difference between the international trade with Dollar and trade in Rupee
When Russia invaded Ukraine, America imposed sanctions which removed them from SWIFT network leading to many challenges in trading for India and other countries. Now the question is what the SWIFT network is and how it works.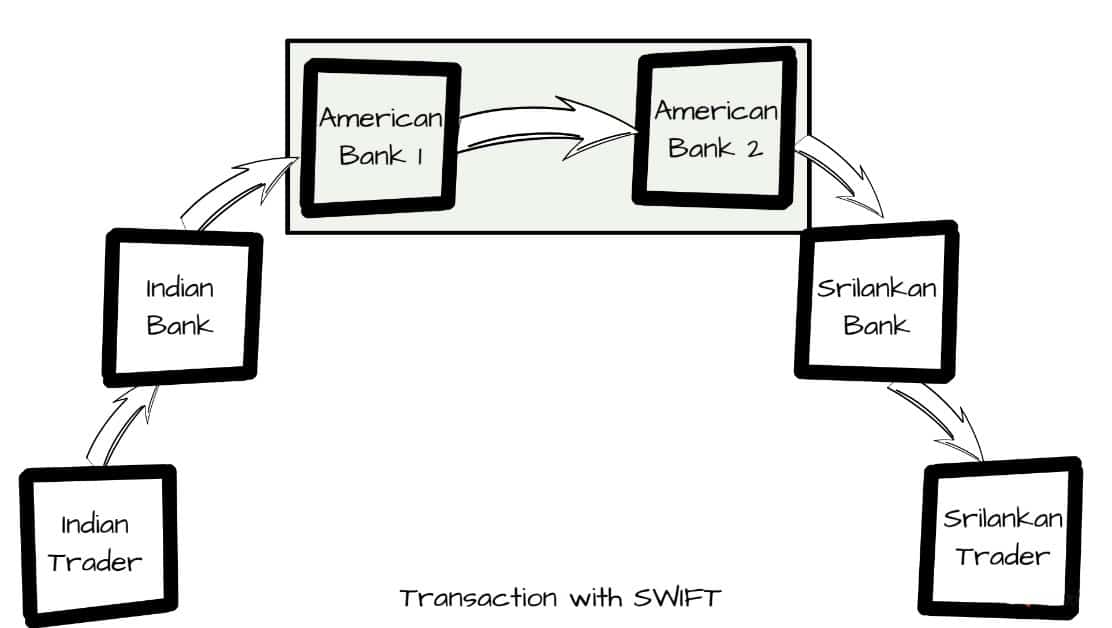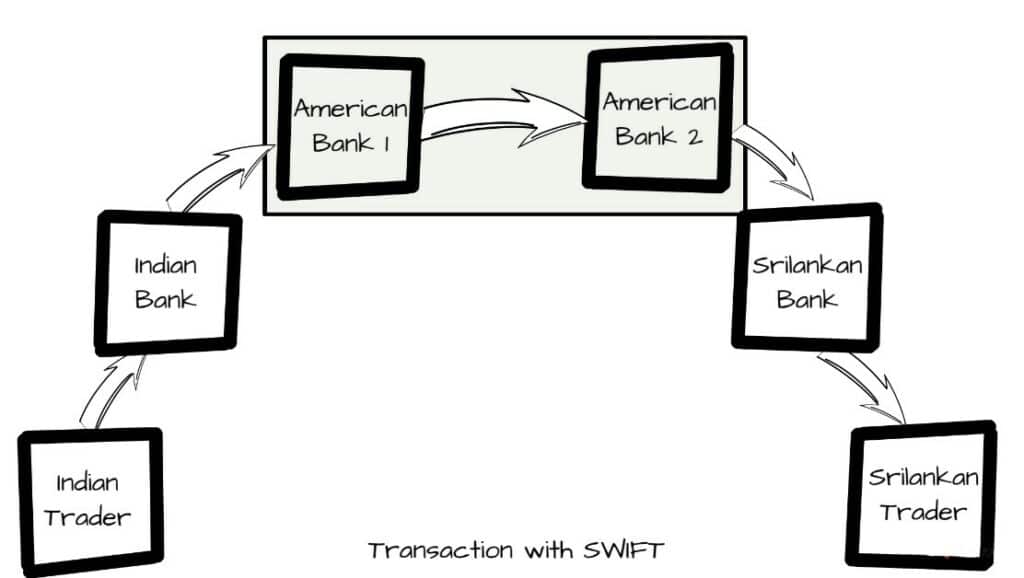 Let us say Company A of India has to import from Sri Lankan company B. There are six entities involved in this method, Indian trader Indian Bank, American Bank I, American Bank II, Sri Lankan Bank, and the Sri Lankan trader.
Now the Indian Bank will have an account in American Bank I in Dollars in the same way the Sri Lankan will have an account in America Bank II in Dollar. Let us suppose Company A has to import goods worth of INR 1 crore from Sri Lanka, they give Indian Bank INR 1 crores and will ask to give INR 1 crore worth Dollar to American Bank II to pay to Sr Lankan trader. This INR 1 crore worth Dollar to in American Bank I will be converted according to the current exchange rate, say $1 = ₹80, which means $125,000 and transferred to American Bank II. Now the American Bank II will deposit the equivalent of $125,000 worth of Sri Lankan Rupee in Sr Lankan Bank, then Sri Lankan Bank will pay the Sri Lankan trader. This SWIFT system requires a lot of calculation and complex transaction management. The system is controlled by US and Europe; they can impose sanction on any country as they did on Russia who can no longer trade through SWIFT.
Internationalising Rupee
To reduce the dependency on foreign currency, India plans to soon select its trade in Indian currency. International trade settlement in this case requires involvement of trading partner country and its bank. Indian banks will be allowed to open special Rupee vostro account of bank with trading countries. All payments will be channelled through vostro account, as was in the case of crude oil imports from Iran. If such deals are signed with more countries, it will be a big step in internationalising the Rupee.
SBI Group Chief Economist Soumya Kanti Ghosh said in a research note that the RBI should make a "conscious effort" to internationalise the Rupee and the payment disruptions caused by the Russia-Ukraine war offers a good opportunity to insist on export settlement in Rupee, beginning with some of the smaller export partners.
Let us understand how it works with a simple example –
Countries must be interested to trade in Indian Rupee
Both countries should open vostro accounts in their respective countries. Eg: if India is trading in Rupee with Russia, Russia should have a vostro account in India and vice versa
Both should have reserves in local currency
Suppose India wants to export to Russia. Russia will pay in their currency – Rouble. This payment will not be made to the exporter directly but will be deposited in their Indian bank account. The bank will then calculate it in Indian Rupee and pay traders in Rupee (this conversion between Rupee and Rouble will happen according to the exchange rate determined by market forces).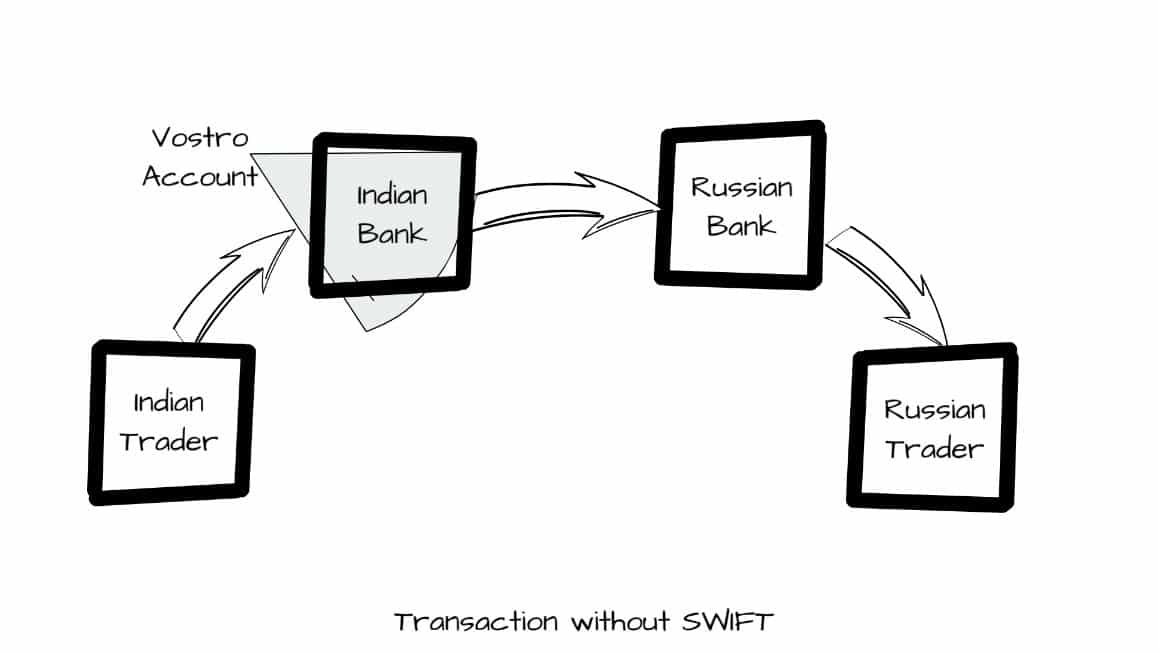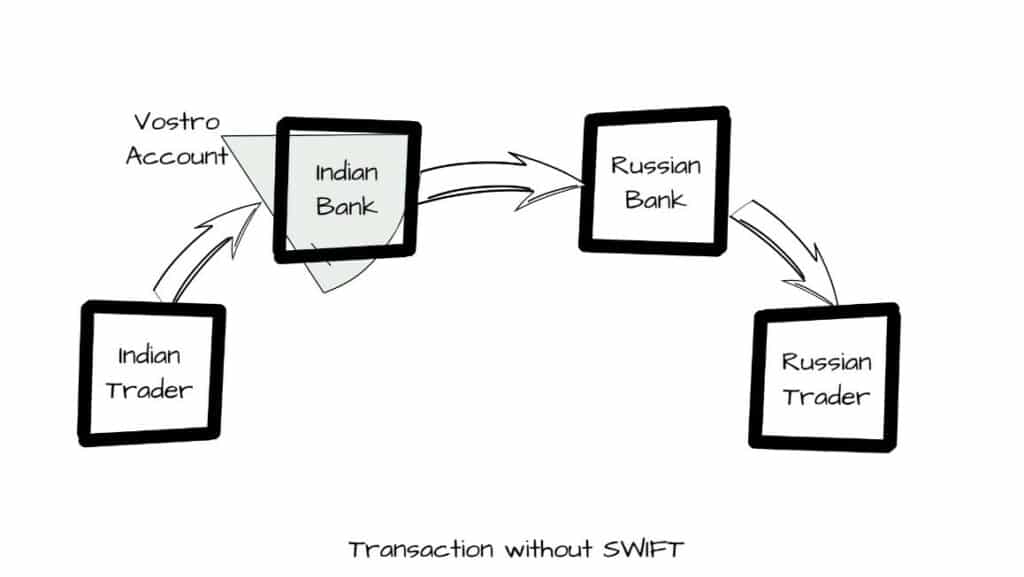 Application of trade without SWIFT network in real-world scenario
Suppose an Indian trader wants to import goods from a trader in Russia without SWIFT network in Rupee or dollar. Russia will have bank account in an Indian Bank with money in Indian Rupee, which is nothing but a vostro account (an account maintained in Rupees by a local bank for a foreign bank). Now, the Indian trader when importing goods from Russia will pay to Russian account in Indian bank (vostro account) in Rupee, the Russian Bank will pay to the Russian trader in Rouble according to the market exchange rate. The same happens when the Indian trader is exporting goods to the Russian trader. In such cases, all transactions happen through the vostro account.
ALSO READ:
How will internationalisation of Rupee benefit India?
This will increase the demand for Rupee as foreign traders will require Indian Rupee
It will help in preserving foreign reserves which in turn reduce our trade deficit
Trade easiness with countries like Russia, Sri Lanka and Iran means saving for both the sides, if the trade happens with Dollar
It will enhance our integration into the global economy
Promote development of financial markets
Increase international trade with South Asian countries
Why RBI decided to take such a step?
All said, it is not an easy step, as Dollar is widely recognised and is the strongest currency of choice for international trade. Another Asian giant- China- has been trying for several years but could still contribute to only 3% of global trade transaction. This decision has been taken to promote global trade, lower transaction cost and motivate exports with partner countries. This is not just a fair deal from the economic angle, but also an important move from the geo-political angle.
Reference:
https://www.business-standard.com/article/opinion/trade-in-rupee-a-little-step-forward-but-nothing-more-122071701064_1.html
https://www.euromoney.com/article/b12knpn8zhpl3j/india-globalizing-the-rupee
https://www.business-standard.com/podcast/economy-policy/will-the-rupee-settlement-plan-be-a-game-changer-for-india-122071300111_1.html
Enrol with us
Interested to join our courses?
Share your details and we'll get back to you.