Management
Online Manipal Editorial Team | October 16, 2022
Digital Marketing is the contemporary approach to reaching out to potential customers using the internet as a cornerstone of technical advancements. However, the prospects in this fast-growing industry show that the prognosis for a career in digital marketing in India is only favorable and will remain so in the coming years. India is transitioning to a digital economy along with a significant shift in marketing strategies, and social media is now a part of everyday life.
As a result, it is simple and more advantageous to target the Indian market using digital marketing platforms. So, studying digital marketing strategies and preparing for this competitive industry is strongly encouraged. A further benefit of working in this industry is the possibility of landing high-paying positions at reputable businesses if you are an expert digital marketer.
Scope of digital marketing in India
The requirement for digital marketing is increasing dramatically as the globe becomes more technologically literate. Brands are working diligently to fully comprehend how to use digital marketing in their favor as businesses become aware of this. Digital marketing in India has a broad range, and it is a platform that works well for corporate branding and promotions. Thus, there is a huge demand for digital marketers in various sectors. Since practically all age groups are quite active on digital platforms, reaching large audiences and promoting becomes very simple.
In 2020 and 2021, the reach of digital marketing has significantly expanded. The increase has been nothing short of phenomenal, despite the epidemic striking us for two years running. The industry's trend patterns have significantly changed as a result of recent innovations and the pandemic, yet digital marketing is still going strong and is anticipated to increase even more in the coming years. The amount of people using the internet has reached astounding levels. Global digital ad spending is expected to reach $441 billion in 2022 and $485 billion in 2023.
Also heck out Why choose an MBA in Marketing?
Who is a digital marketer?
A digital marketer is in command of increasing consumer awareness of a brand. They employ a wide range of digital media to increase brand recognition and produce leads. Experts in digital marketing have the expertise and skills necessary to harness the potential of the internet to create successful community blogs, web pages, social media postings, and email advertising campaigns with today's internet-savvy individuals.
Role of a Digital Marketer
A digital marketer's primary objective is to oversee advertising campaigns highlighting a brand and its goods. They strive to comprehend the brand's voice and current trends, select the appropriate distribution channels for advertising campaigns, and build digital advertising strategies. They play a crucial role in boosting brand awareness in addition to generating traffic, leads, and sales.
Why pursue a career in digital marketing?
The significance of digital marketing for consumers has increased the potential for employment creation and provided chances for people to pursue careers in this constantly demanding field. Job candidates need to be proficient in both the marketing field and the many technologies and tools utilized for specific operations within digital marketing, as the latter leverages internet technology as its primary support system.Any customer, regardless of the sector, product, or service they provide, now places a high priority on digital marketing.
It has created competitive job markets for consultants, leading some of them to pick this as a career path. The future of digital marketing is as awesome as you think, as this industry instills various abilities in the technology and marketing domains for anyone choosing to pursue a career in digital marketing. Engaging in specific technical areas like website building and graphics design is what it means to advertise in online media.
Steps to kickstart your career in digital marketing
Learn the fundamentals of digital marketing
It should go without saying that the initial step for those new to digital marketing is to comprehend what it is and the key elements that make it up. It's important to realize that digital marketing isn't just one discipline but rather a collection of procedures that might take part in a campaign. All facets of online marketing are covered by its various elements.
Launching your website is among the best ways to use various digital marketing strategies in actual situations. It's not enough to comprehend the theories underlying SEO and social media marketing; you also need to understand how to implement the various methods. You'll be asked to advertise many website types during your career in digital marketing, whether it's to boost sales via PPC and social media advertising or to raise organic traffic (SEO) to those websites. Developing your website won't only enable you to understand the many concepts, but you can also use it as a platform to persuade potential clients or businesses to hire you and land a respectable project or employment.
Get to know the various digital marketing tools
Digital marketing managers make use of digital marketing tools to assess their job and simultaneously monitor the advancement of several initiatives. Effective tools will enable you to create insightful reports for administration or clients and dashboards for all channels. There are many helpful tools available, and even while the monthly cost isn't free, doing so is still an investment in your career and a great addition to your resume.
Select a suitable digital marketing channel
There are many digital marketing channels, such as SEO (Search engine optimization), Content marketing, Email marketing, Social and display ads, and others. Since you are responsible for managing your website yourself, it will be impractical to use all available marketing channels, both in terms of time and resources. We advise concentrating on only one aspect of digital marketing instead.
Learn about social media advertising
It entails gaining a fanbase on social media channels and directing traffic therefrom. You ought to be acquainted with them. Plus, exploration is simple because it is free to publish content. But keep in mind that social media marketing involves more than just sporadically updating your Instagram every few days. You must comprehend the mindset to succeed, including what drives it, what consumers want to see, the successful forms of material, etc.
Acquaint yourself with Google Analytics
Learning Google Analytics inside and out is a good place to start. Everything about a digital marketing campaign is measurable. You need to be aware of metrics that cover every aspect of a campaign, including the number of people who viewed your campaigns, the number of people who clicked on your ads, the number of conversions they resulted in, and many more. You need to understand how to gauge a campaign's efficacy and how to assess the outcomes to be able to decide on accurate facts.
Stay up-to-date with the latest marketing trends
Digital marketing is a rapidly evolving field, which some practitioners enjoy and others despise. The Facebook algorithm is continually changing, Google makes hundreds of adjustments to organic and sponsored searches every year, and the overall digital marketing environment is quite fluid. So, if you decide to pursue a profession in digital marketing, be aware that learning will be a part of your daily activities from the start, and always be updated with online marketing trends.
Getting a real job as a digital marketing assistant at a reputable company is another approach to developing your abilities and expertise quickly. This is highly recommended because you will learn how a modern digital marketing company functions and be able to use some of its strategies if you decide to start your own agency or work for another company as a digital marketing specialist in the future. Working with customers differs from performing digital marketing on your websites, and if you don't have the proper procedures in place, you'll waste time on tasks that aren't billable, which will lower your pay and revenue.
Important skills for a digital marketer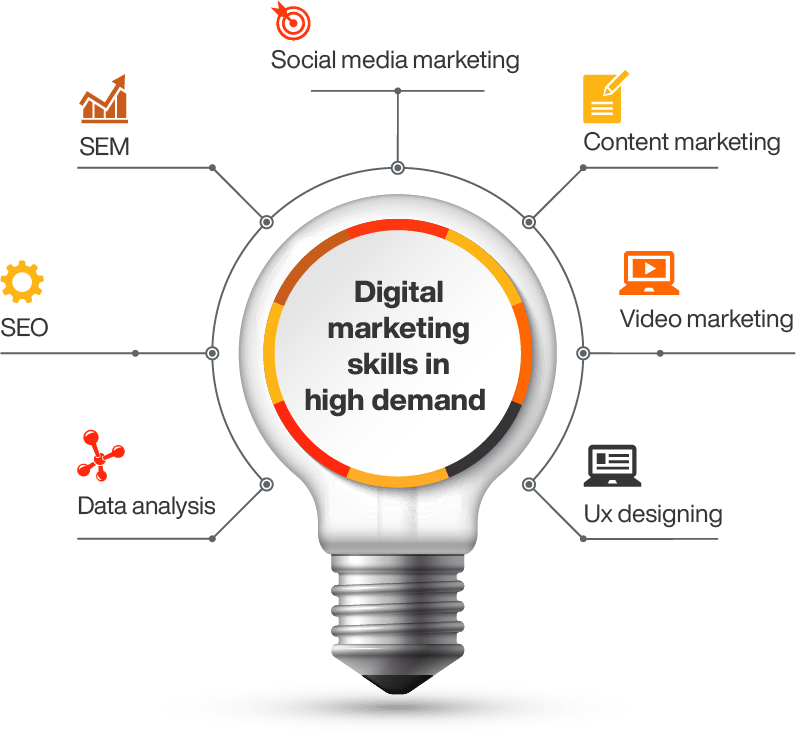 It's crucial to comprehend the primary specialties inside the sector when you begin your career in digital marketing. There are numerous digital marketing job categories to take into account, and each requires a unique set of talents.
Data analytics is the process of gathering and processing numerous types of information from multiple online transactions with your market segment using practical techniques and modern tools. It is becoming somewhat simpler for marketers to analyze data and make pertinent marketing decisions with the number of internet tools currently available to monitor data across various platforms.
Search engine optimization(SEO)
SEO will likely play a significant role in digital marketing, regardless of how much experience you have. Every published piece of writing has online visibility as its primary objective; hence it forms the basis of all online writing. Career prospects for SEO experts in digital marketing are highly favorable.
Search engine marketing (SEM)
Search Engine Marketing (SEM) involves sponsored methods, which is the main contrast between SEM and Search Engine Optimization (SEO). SEM managers perform keyword research to discover what users are looking for and calculate the appropriate amount to bid for such keywords in order for the company pages to appear in search results. SEO and advertising work together to increase website traffic.
Social media managers advertise brands on websites and social media platforms, including Facebook, Twitter, Instagram, LinkedIn, and others. They create videos and visuals for campaigns, design campaign tactics, and study audience patterns to reach the correct audience. It's a position that combines writing, design, and project management, and it frequently calls for the flexibility to work after hours to answer incoming communications.
Content marketing primarily concentrates on the longer-form content that draws visitors to the website and keeps them there throughout the sales cycle by providing eBooks, blog articles, whitepapers, and case studies that inform and induce readers to read more.
Customer relationship management(CRM)
Businesses can better grasp their target market's evolving needs by keeping track of customer experiences. Digital marketers must develop their competence in customer relationship management to track and enhance the user experience. A brand is always better off when it can relate to its customers on a personal and emotional level since it enhances the likelihood that the client will remain loyal.
A digital marketing plan acts as a guide for a business's use of online channels like social media and search engines to accomplish its marketing goals. Digital marketing strategies can take the form of a social media campaign that collaborates with experts, a content marketing plan that leverages online resources to generate leads, or a development marketing plan that employs email and social media to cultivate customer loyalty.
Web design and development
Digital marketers are in great demand for their web design expertise. This does not imply that all digital marketers should be proficient in both coding and creating websites from scratch. They ought to be able to design and develop simple websites, primarily landing pages, lead magnets, and web forms.
A digital marketer must be aware of PPC if their advertising budget includes money for that purpose. If a digital marketer has money set aside for marketing, they must know how and where to use it for the greatest influence. This covers social media ads and paid advertising in addition to the placement of ads on numerous websites across the internet, whether it's through advertisements or programs like Google Ads.
Sending emails to specific lists seems to be the essence of email marketing. Marketing emails are circulated to lists of clients and prospects to increase sales and raise awareness of goods and services. The email marketer must experiment with different subject lines, messages, and formats to see which emails garner the most attention.
Get a head start for a digital marketing career with an online MBA in marketing
An online MBA in marketing course covers topics including selling, negotiating, administrative behavior, fundamentals, and business communication. Marketing principles, mobile marketing, digital marketing, business communication, marketing analytics, accounting and finance, strategy development, international business, etc., are among the topics covered in the online MBA Marketing program.
Digital marketing has become increasingly commonplace as a result of clients' growing online presence on social media and other internet platforms. The employment of digital marketers by organizations and enterprises to carve out a position in the market due to changing online market criteria indicates that the future of digital marketing in India is promising. Some of the positions in digital marketing that are available to these graduates are listed below:
Market Research Analyst
Public Relations Manager
Digital Marketing Manager
Social Media Manager
Content Marketing Manager
Brand Manager
Advertising Manager
To know more in-depth about the course, check out Important concepts to learn during an MBA in Marketing.
Online Manipal is your preferred source for UGC-entitled online degrees
Your decision regarding your educational career heavily influences future prosperity. NAAC A+ accredited Manipal University Jaipur offers online programs such as BBA, BCA, B.Com, M.Com, and MBA that can advance your career and equip you to handle any future work-related issues. The value of these UGC-approved online courses is comparable to that of any traditional courses. With the online courses, students can finish their education according to their convenience and availability.
An online MBA degree with marketing as a choice will enable you to boost your career by unlocking the gates to executive and administrative roles and raising your potential earnings. It can help you build the necessary skill sets to enable you to land profitable roles, regardless of whether your professional goals are in brand management, entertainment, media, advertising, business development, or sales. It ensures that you succeed in your job by thoroughly covering all the significant and currently employed marketing components and tactics.
After completing this program, learners are prepared for the workforce, thanks to the curriculum's alignment with industry standards. All students receive placement aid for their careers in their chosen fields. Various payment options let students pay their tuition in installments. Additionally, students can look at simple financing choices like EMIs with no monthly fees and determine whether they qualify for a scholarship.
Check out the MBA marketing course syllabus to know more about the curriculum.
Conclusion
The Digital Marketing industry in India is evolving as every business seeks to have an online branding presence in the combative industry to maintain its brand's identity and appeal to the general public. Digital marketers are recruited by every business to fulfill the needs of customers and prospective clients as a result of the expanding economies and the expansion of companies in numerous domains.
An MBA in digital marketing allows you to explore various opportunities and prepare you for the industry, whether you want to begin a new career in digital marketing or simply want to add technology to your existing skill set. You can opt for an online MBA program with marketing as an elective from Manipal University Jaipur to understand and learn the subtleties of this sector and become future-ready.
Enrol with us
Interested to join our courses?
Share your details and we'll get back to you.