Management
Online Manipal Editorial Team | April 11, 2022
You are a working professional and looking at boosting your career graph by adding a new higher degree course to your educational qualification. If this is you and you have been contemplating enrolling in an online MBA course, this article will help you decide on how to manage higher studies while you continue to pursue your career at the same time. And above all, we will look at if an online MBA course is worth the effort and time.
As a working professional wanting to pursue an online MBA programme in India is no cakewalk but not impossible when you enrol yourself with a reputed institute that can help you along the way.
It is a proven fact, and many MBA professionals would testify that pursuing online MBA courses in India gives you better chances in increasing your income by over 30% – 40% on average. An MBA programme does create a significant impact on your career growth. It is a better time to decide to upgrade yourself!
Pursuing MBA? Benefits of online MBA course
Let's find out some of the advantages of getting an online MBA.
Online MBA is affordable: Online MBA courses in India are more affordable than full-time on-campus classroom MBA programmes. It is almost one-tenth the cost of a traditional MBA programme. After all, the expenses associated with a regular MBA programme like transport & travel, accommodations etc., make the total amount higher.
No need not quit your job: MBA online programs in India can be taken from the comfort of your home. You can access online course material at your best suitable time that helps you manage work and studies together without having to quit your current job. Moreover, it adds experience to your work profile without any break, and you are in touch with the industry.
Can pursue an executive programme or a specialisation: Most working professionals opt for an executive programme or a specialisation like data science and business analytics, entrepreneurship development, administration, business development, human resource management, supply chain management, marketing, etc. Majoring in these courses helps executives grow in their careers.
Expand your professional network: As you continue to work on your career and pursue your online MBA course, it gives you insight into interacting with your professors, who are also professionals in their fields. Working on MBA projects helps you interact with several interwork in various domains and help you gain better prospects in the industry with the connections you make.
No need to relocate: You do not have to go through the hassles of relocating your residence to pursue your dream MBA. The costs incurred with arranging accommodations & canteen etc are eliminated in an online MBA course.
The comfort of remote learning: Remote learning is the way to go, thus cutting off the major decisions of having to shift altogether, quitting jobs, taking hefty loans towards these studies and fees can be a whopping amount for simply pursuing an MBA.
An online MBA for a better salary?
We need to consider various factors to find out an answer to this question. Still, it is common understanding that MBA graduates earn higher than other degree holders.
Employers these days are on the hunt for the right skills backed with knowledge and certifications. There is no better way for working executives to do so than with an online MBA.
There is an increase in the payout structure on the remunerations ranging from a 30% – 40% average increase in the salary after mba.
It helps working professionals increase their level/grade in their designation and role, thus attracting better pay packages.
It helps achieve specific career goals after MBA because of subject specialisations available in online MBA courses in India. The scope of remuneration also gets better.
As per Forbes, the hike in salaries for professionals pursuing an online MBA has significantly increased the salary potential.
An MBA degree is one of the best ways to advance your career path and speed up your earning capacity.
MBA programmes open ample avenues for mid-level and higher-level management roles in an organisation.
The amount of money and time invested in pursuing an MBA pays professional dividends in the years to come since you stand out from the crowd with your experience and qualification.
It helps increase your earning potential where your prospect for promotion is higher or leads to a higher post in a new industry.
Companies are looking for working professionals who have that work experience and are also self-motivated to invest in themselves for their self-development. MBA online programs in India can be the best bet for working professionals who can maintain the discipline of a study routine, religiously prepare and expand knowledge along with good time management skills. And also ensure a good balance between work and studies.
Especially in these times when the pandemic hit the economy, remote work and learning are common. The whole world has had to switch to online operations. Remote working, therefore, changes the face of how people look at online education. More and more choices have been offered for pursuing education remotely.
Thanks to the flexibility of online learning, you can make major decisions without affecting your pocket steeply. Hence there are clear trends pointing to the most preferred option being online learning. There is definitely a substantial return on your investment in MBA online programs in India.
As per industry standards, the average starting pay is at around 6-10 LPA. Depending on the specialisation and industry, candidates receive lucrative packages.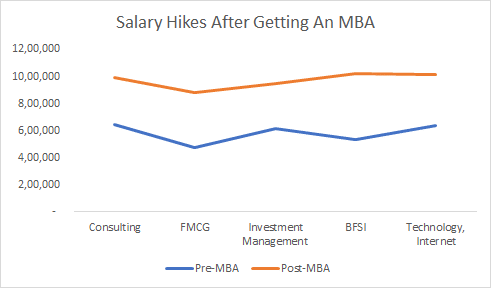 Why should one consider an online MBA from Manipal University Jaipur?
Manipal University Jaipur is a private university with NAAC A+ accreditation. Established in 2011, the university has gained fame for delivering quality education. MUJ widened its presence in the online space by offering a host of UGC-entitled online degree programmes.
Currently, the university offers online MBA, MCA, M.Com, and MA JMC in postgraduate programmes, and BBA, BCA, and B.Com in undergraduate. The online programmes are offered through Online Manipal. The online MBA at MUJ has a comprehensive curriculum that is delivered through the state-of-the-art learning management system (LMS). Online MBA comes with eight electives, including Finance, Marketing, HRM, Operations Management, Retail Management, Analytics & Data Science, BFSI, and IT & FinTech.
World-class faculty with extensive experience in the industry and academia take the live and recorded lectures. Students can access study material on the LMS with an internet-enabled device and learn from anywhere at their convenient time. Study material includes e-tutorials, live and recorded classes, quizzes, and an e-library. It also consists of a discussion board, where students can interact with their course instructors and peers on a variety of academic and non-academic aspects.
Additionally, students get free access to Coursera and INR 50,000 additional certificate courses with MUJ's online MBA, besides focused industry connect sessions and placement assistance.
How to get admission to an online MBA at Manipal University Jaipur?
Any graduate with at least 50% marks (45% for reserved categories) can enrol in an online MBA course on the Online Manipal portal.
The admission process is as follows:
You can enrol in an online MBA by entering your details on the Online Manipal portal. Our admission counsellor will contact you to help you complete the admission process.
You need to submit educational certificates, semester-wise mark sheets of 10+2+3 degree, graduation certificate, and CAT/MAT/CMAT/XAT/GMAT certificate.
In case candidates have not cleared CAT/MAT/CMAT/XAT/GMAT, they need to appear in an online aptitude test conducted by Manipal University Jaipur as per admission norms to the MBA programme.
The total fee for the online MBA at Manipal University Jaipur is INR 1,50,000, and students can pay INR 37,500 per semester. The university provides attractive scholarships and EMIs to ease your financial burden.
Conclusion
MBA has been the most preferred postgraduate programme across the globe. Having an MBA in your resume gives a competitive advantage to candidates for higher education and employment. Online MBA from institutions like Manipal University Jaipur opens avenues to people from different walks of life, such as working professionals, homemakers, students from remote regions and many more. With world-class faculty and intuitive LMS, the online MBA from Online Manipal will become a career game-changer in your professional life to advance to managerial and leadership roles with attractive packages. You also get access to Coursera and INR 50,000 worth of certificate courses that will help you earn in-demand certificates from international universities and leading organisations while doing an online MBA at Online Manipal.
Enrol with us
Interested to join our courses?
Share your details and we'll get back to you.