Management
Online Manipal Editorial Team | October 15, 2022
Individuals have various motivations for pursuing an MBA, but before starting their path, prospective learners should ensure they have addressed the gaps in their professional growth, have specific career goals, and feel prepared to add new skills from their MBA experience. Although there is frequently an inclination to jump right in, pursuing an MBA requires careful consideration.
Before starting the entry planning, carefully consider your reasons for pursuing the degree to ensure it's the best option for you. Deciding to return to college is not simple, notably if you are currently balancing work, family, and personal time. Even yet, there are sometimes indicators that indicate it's time to pursue a graduate degree. So if you are looking for the answer to how to know if an MBA is right for you? Read on.
To know more about how an online MBA is more affordable you can check out An affordable online MBA that doesn't break your bank.
How do you know if you're ready for an online MBA?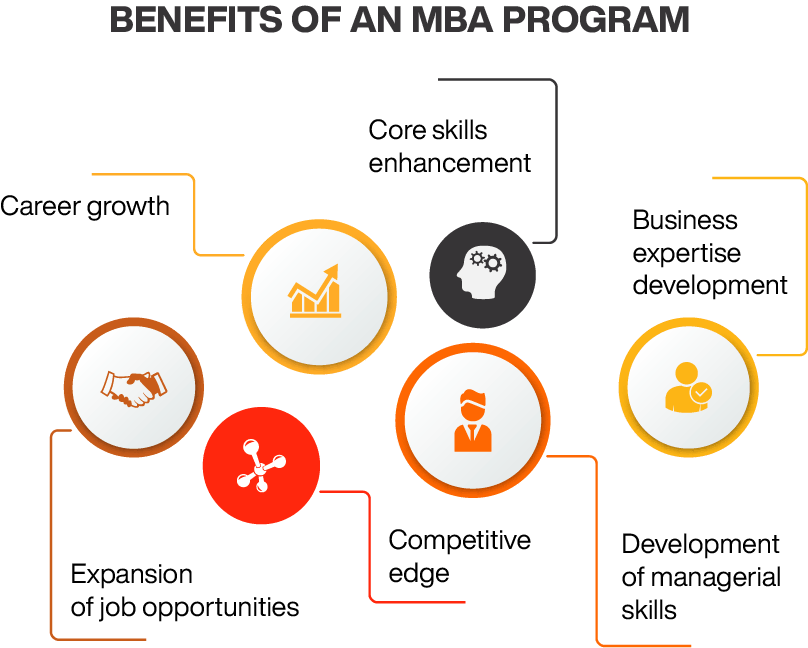 Let's check how you would know that an online MBA would be the right choice for you.
The data is unambiguous: those with MBAs have higher salaries. Is considering money too obscene? Naturally not. Making the most of your revenue is as essential a part of a professional career as any other aspect. Furthermore, those with master's degrees typically perform more effectively than those without.
If you want to get into leadership roles
You'll discover skills to plan proactively, evaluate challenges, and develop your leadership capabilities in an MBA program. Business schools provide a suitable environment for developing and honing these abilities in many contexts. An MBA will help you advance if you have strong technical capabilities but lack general managerial abilities.
If you're looking for a career switch
Getting an MBA might increase your alternatives if you wish to enter a new sector of the economy or business. MBAs do have a unique edge when they switch professions. In several instances, they will also be ready to access the expertise they have developed and tailored to the new market via pertinent MBA concentrations or specializations.
If you're looking for a career growth
Businesses are constantly reshaping. Develop various talents to make yourself valuable to your employers. It's a smart option to get your advanced education right away if you see that recruits at your firm tend to favor employees with them. Your program's lessons will make you a more productive and informed worker, thus ensuring your career growth.
An MBA can help you upskill if you feel intimidated in your present role or if there is little room for professional growtht. But before choosing the area of specialization, always think carefully, "Which MBA program is right for me?" An appropriate MBA curriculum will teach you how to align your skills, passions, and goals with the realities of the current global marketplace.
If you need a degree that offers diverse career options
An MBA will undoubtedly increase your alternatives if you're seeking a quick method to develop skills and a platform to kickstart your profession in a new way. When you're in business school, you have the chance to use the curriculum, student organizations, internships, or networking with alumni to determine how you fit in diverse career fields.
If you want to utilize your free time in a productive way
Some folks have always desired to earn an MBA but have not had the time. You can adjust your work schedule or daily routine accordingly to focus on your academics in your free time. Any adjustment to your calendar that will make way for pursuing a program should be considered.
If you want to improve networking
Those returning to school to earn their MBAs always have a plan. They desire to advance in their position, launch a business, or provide more at their current employer. Whatever the reason, taking classes with other business enthusiasts will help you create the foundation for a strong professional network. Working together as a team toward completing your MBA will establish a relationship you can rely on in the future.
If you want to stay competitive in the job market
Your industry knowledge and abilities can be improved by pursuing an MBA, and there may be extra advantages that will last throughout your career. You will master practical skills and explore in-depth managerial strategies and analyses during the program to stay ahead in the cutthroat industry.
If you're willing to learn while working
Professionals with MBAs frequently make more money than those without; many see the postgraduate degree as a wise investment. Instead of returning to school full-time, working professionals can acquire an MBA through part-time or online programs. Knowing how to combine your professional and personal obligations while working and taking classes can enable you to get the best of your experience.
Also read: MBA after B.Tech? It's a good idea
Things to consider before choosing an MBA program
Take into consideration these things before choosing an MBA program.
College accreditations, recognitions, and rankings
The institution of higher learning you choose to attend should be accredited on a national or international level. Such affiliations suggest that the courses given here are of high caliber, and an MBA from them would be quite valuable. Therefore, consider this before making any decisions about your specialism.
Various programs involve different curriculums, subjects, time frames, faculty, training methodologies, etc. It should meet your needs and produce the desired results in terms of takeout. Therefore, you should think about the quality of knowledge obtained, skills acquired, and other relevant perspectives before making a course choice.
Your MBA experience will be greatly influenced by the faculty, regardless of where you receive it. The caliber of a university's staff, students, and alumni determines that institution's genuine reputation. Regardless of your subject of study, MBA programs should have a respected faculty who can offer both a solid academic platform and practical, real-world experiences.
A business school's reputation and the ultimate improvement of its students can both be impacted by the academic support it provides. The majority of MBA programs offer academic assistance, giving each student individualized support. Also, they offer a variety of job placement sessions and workshops, in addition to hosting alumni panels where former students discuss their professional experiences and offer advice on how to land a job.
It goes without saying that without solid job offers, your education will not be worthwhile. As a result, make sure the specialization you want to pursue has a good employment outlook. The majority of Universities make them available by letting Big Giants conduct campus interviews. Therefore, pick a college that offers outstanding job placement possibilities and support.
Knowing you're not on your own when it comes to paying for your MBA is comforting. For all MBA programs, many online MBA programs provide a variety of financial aid options, such as scholarships based on merit and both public and private loans.
Return on investment (ROI) encompasses a range of factors and is uniquely individualized besides coveted base salaries. If the cost of the tuition tempts you to attend a lower-ranked institution, keep in mind that your return on investment can be less. Better programs cost more money upfront but typically yield bigger returns over time.
Check out: Are you eligible to study MBA online?
How does an MBA impact your career?
Young professionals can profit greatly from obtaining a vocational degree in business management. The management and leadership abilities you learn while obtaining an MBA will provide you with a diversified skill set, regardless of whether you have an analytical or creative mindset, originating from a business or non-business background, thus improving your professional trajectory. Read on to get the compelling reasons for "Why should I do MBA?"
Graduates of the MBA program are highly qualified and also have practical experience in running businesses. Of course, this puts them in a better position to hold senior managerial roles. In reality, practically all businesses require an MBA as a requirement for managerial employment. College grads can ascend the job ladder quite fast with an MBA from a reputable university and drive to push the boundaries, eventually landing in senior executive roles like directors or executive officers within a few years. These are challenging jobs with a lot of responsibility, but they are also well-known and well-paying job roles.
Following are some ways how an MBA may advance your career:
Honing crucial talents
Boosting your level of work stability
Exploring your business skills thoroughly
Building your connection with other people
Increasing your income
Helping you address more difficult business problems
Standing out from the competition
To know more check out: MBA – To do or not to do
Online Manipal is the best choice to pursue your online MBA
The online MBA degree from Manipal University Jaipur adds a prestigious reputation to your resume. This online MBA program is well recognized and acknowledged by recruiters and higher education institutes and is provided through a top-notch virtual e-learning platform. All prominent regulatory organizations in India and abroad have approved and accredited the course. NAAC has awarded Manipal University Jaipur an A+ rating. It guarantees students a seamless learning experience.
More significantly, the curriculum for the MBA programs has been thoughtfully designed while taking into account the requirements of students as well as working professionals. You may study at your own pace and convenience, thanks to the accessibility of the course materials. From the convenience of your home, you have access to highly esteemed teachers and a sizable alumni network. Online Manipal also provides placement opportunities with its placement assistance program. Join this innovative and cutting-edge learning method today to advance your profession.
Conclusion
As business and industry trends change, so do the prospects in various managerial fields. You must, therefore, thoroughly examine the potential relevance of an MBA you want to pursue. It will not only assist you in securing your future but also in assisting you in making the most suitable career decision. The compensation and sense of success you'll experience once you've decided to put in the time and effort to earn an MBA will make it all rewarding.
Enrol with us
Interested to join our courses?
Share your details and we'll get back to you.