Key takeaways:
Data analysts can be classified into quantitative, qualitative and business intelligence.
The quantitative type of data analysis focuses on collecting data and analysing it using mathematics, statistics and other quantitative methods.
The qualitative data analyst focuses on collecting and analysing data using qualitative methods such as interviews and surveys.
The business intelligence type of data analyst focuses on collecting, analysing and reporting information to aid decision-making by executives within companies or organisations.
Data analytics is a hot topic in the modern industry, and it is gaining more importance with time. To keep your business ahead of the curve and make sure you are making the right moves, you need to have data analysts on your team.
Data analysts are often tasked with many different responsibilities. They work to analyse large amounts of data and turn it into actionable insights for their companies. Each type of analyst has its responsibilities, skills, and personality traits that make them unique.
There are two main types of data analysts: business intelligence analysts and predictive analysts.
Business intelligence analysts focus on gathering data from multiple sources and putting it together to better understand how specific processes are performing within an organisation or company.
Predictive analytics focuses on concluding historical data trends so businesses can predict future outcomes based on what has happened before.
Different types of data analysts and what they do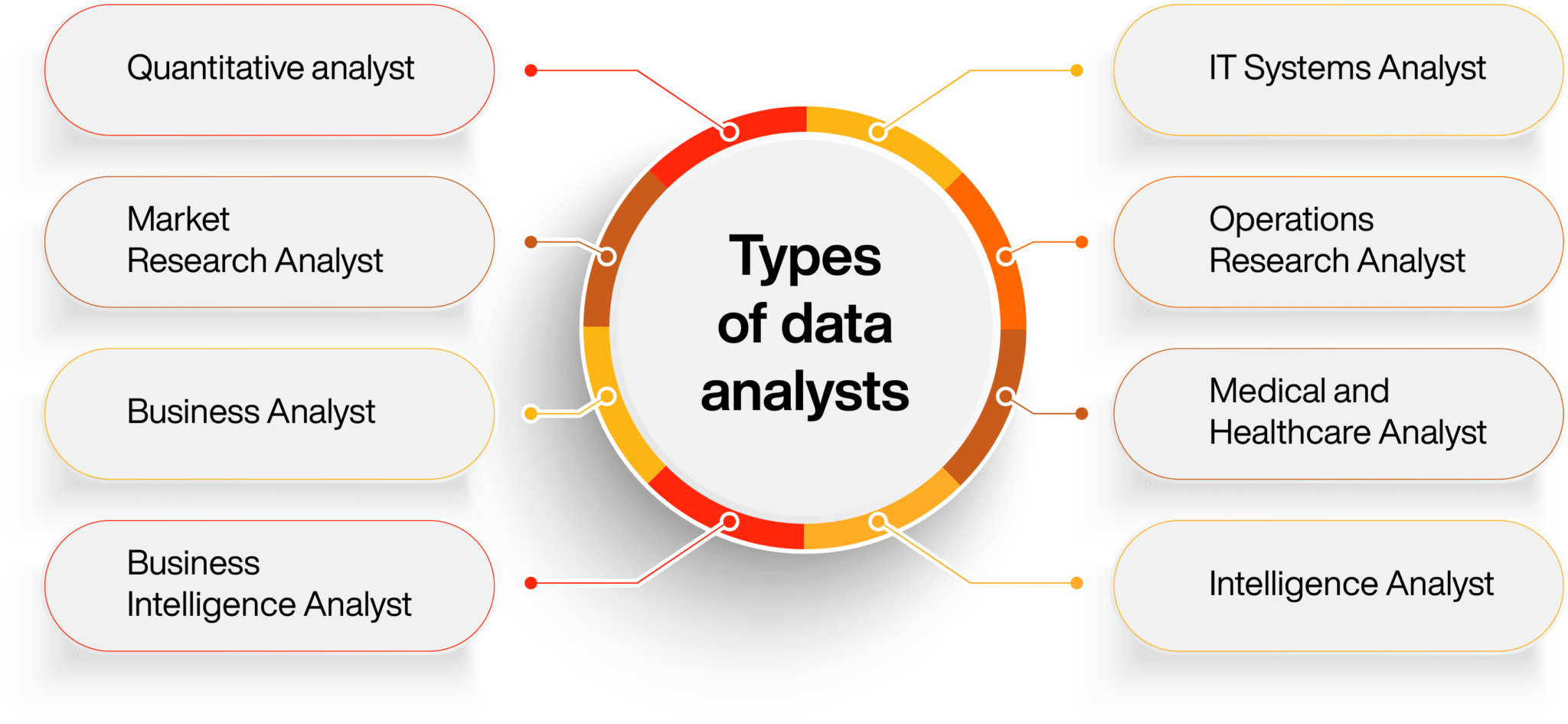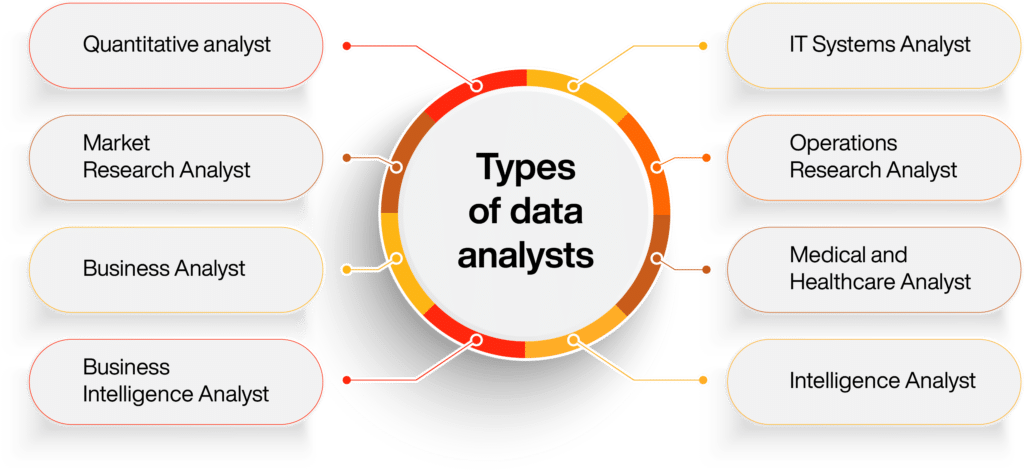 | Type of data analysts | What they do |
| --- | --- |
| Quantitative analyst | They use tools like Excel, Python, and R to analyse large datasets and find patterns within them. |
| Market research analyst | They work with quantitative analysts to help businesses understand the market they operate in. |
| Business analyst | They focus on using data as part of their job duties, but they are not necessarily focused on finding trends or interpreting data in any specific way. |
| Business intelligence analyst | They work specifically with large datasets that are provided by companies—often through partnerships between them and third-party analytics firms. |
| IT systems analyst | They use data to help create and maintain computer systems. |
| Operations research analyst | They use data to make decisions about operations, such as if a company should open or close a branch location. |
| Medical and healthcare analyst | They use data to analyse medical outcomes and improve patient care. |
| Intelligence analyst | They use data to analyse trends that could affect national security, like terrorist activity or the spread of disease. |
Quantitative analysts use mathematical models, statistical methods and computer programmes to analyse data. They may work in various industries such as finance, healthcare and telecommunications. The type of data they study depends on the industry they work in. For example, a financial analyst may analyse stock prices while an insurance analyst might look at claims data.
A business analyst researches to find out how a company's operations could be improved or if there are any problems in its operations. Business analysts collect data from various sources, such as interviews with employees and customers, surveys, market research reports and internal records. They then analyse this information and present it to management so they can make informed decisions on improving the company's processes or implementing new policies.
Market research analysts gather information about consumers' buying habits, preferences and behaviours through surveys or focus groups so companies can develop marketing strategies that appeal to their target audience. Market research can also be conducted online by monitoring social media activity around specific topics or brands. Hence, businesses know what their target customers are talking about online and offline.
Business intelligence analysts
Business intelligence analysts study the company's data, including customer and employee information and financial records. They use this information to identify trends and make recommendations for improving business operations.
Business intelligence analysts may also be responsible for creating reports or presentations that summarise these findings. For example, if they find that sales are declining in one region of the country, they might make an animated map showing how sales have changed over time so that executives can easily see what's happening with their business.
IT systems analysts work with IT professionals to ensure that computers and software are working correctly. They perform maintenance on existing systems and install new software and hardware when necessary. This role requires a high level of technical knowledge because most businesses rely heavily on technology for operations.
Therefore, IT systems analysts need to understand how different systems work together so they can make changes quickly when problems occur.
Operations research analyst
Operations research analysts (ORA) use mathematical models and statistical methods to find solutions to problems within businesses or organisations. An ORA might work in marketing by determining which marketing campaigns will most effectively bring in new customers. They might work in finance by finding ways to reduce costs without compromising the quality of service or products.
Medical and healthcare analysts
Medical and health care analysts are responsible for analysing medical data to help doctors and other healthcare professionals make informed decisions about patient care. They may be responsible for reviewing data from clinical trials, monitoring the outcomes of a drug or treatment, or reviewing the results of a clinical trial to determine whether it met its goals.
Intelligence analysts analyse intelligence data to assess potential threats, determine whether there is evidence that an attack has occurred or is about to happen, or determine whether there are any indications that an attack will appear soon. They may also use their expertise in statistics and mathematics to develop new methods for gathering information about specific threats or potential attacks.
What does a data analyst do?
Data analysts are responsible for analysing data, making sense of it, and presenting it clearly. Following are the six most important responsibilities of a data analyst –
Create actionable insights and ensure that data is collected, stored, and analysed in an easy way.
A data analyst is responsible for creating actionable insights and ensuring that data is collected, stored and analysed in a way that makes it easy for non-technical users to access.
The first step in this process is collecting data from multiple sources. Data analysts can pull information from internal databases or external sources like financial statements or social media posts. They then combine this information into spreadsheets which they save as data tables on their computer system.
Data tables should be organised to make sense to users unfamiliar with programming languages or software engineering concepts like SQL queries.
Interpret data and draw conclusions about what it means.
Data analysts are responsible for interpreting data and drawing conclusions about it. They identify trends in the data and patterns and anomalies that may indicate problems or opportunities.
Data analysts work with business leaders to help them make decisions that impact their organisations. They typically use software tools to analyse large amounts of data from multiple sources, such as customer surveys and sales records.
Data analysts must also have strong analytical skills, as well as excellent communication skills. The ability to interpret complex information and present it clearly is essential for success in this role.
Identifying trends in the data and patterns and anomalies that may indicate problems or opportunities.
Data analysts work with data to help companies understand their customers, identify trends and patterns, and find improvement opportunities.
Data analysts usually have one of two types of data analyst jobs –
Work as part of a team that assesses data collected by other departments within an organisation (for example, marketing or sales).
Work independently on projects related to collecting and analysing data on behalf of an organisation.
ALSO READ
Data analytics tools
If you are looking for the best Data analytics tools for your business, the following information can significantly help you.
Google Analytics is free and easy to use. It has got multiple valuable features that make it easy for you to track everything from how many people are visiting your website to where they are coming from, and so much more.
Adobe Analytics is another great option for businesses looking for a data analytics tool that's both powerful and affordable. It has all of the features that one might expect from an enterprise solution at only half the cost. It also has some great integration capabilities with other Adobe products like Campaign Manager, which allows users to connect easily with other Adobe products to access all of their data in one place.
A tableau is an all-in-one tool that lets you create data visualisations and dashboards that are easy to understand and easy on the eyes. The software has an intuitive interface that lets you focus on what matters most—your data while providing powerful features like advanced filtering and drill-down capabilities.
Alteryx is another excellent option for businesses looking for an easy way to start their analytics efforts. Alteryx offers three products: Data Preparation Toolkit, Data Quality Toolkit, and Modelling & Forecasting Toolkit.
How to become a data analyst?
Becoming a data analyst can be a challenging and exciting journey. But it is not something you just get by snapping your fingers. There are steps you need to take and skills you need to acquire before you can call yourself a data analyst.
Here's how to get started –
Data analysts come from all backgrounds, and many different paths can lead you to the same destination. You could choose to major in a quantitative discipline like statistics, computer science, or mathematics, or you could study business and focus on analytics as part of your degree programme.
Make sure that while you are still in school, you are doing projects and taking courses to help build your data analysis skill set. If possible, get involved with some volunteer work or internships where you can apply what you've learned. This will make it much easier for potential employers to see how well-rounded your skillset is!
Find an internship opportunity
One of the best ways to prepare for life after graduation is through internships—so once you've graduated from school (or even while still attending), find an internship with a local company or non profit organisation that does fantastic work with data analysis!
READ MORE: How to become a data analyst
Conclusion
Enrol in the Data Science programme at Online Manipal to gain the required skills to make sense of data and act on it. Offered by the prestigious Manipal Academy of Higher Education (MAHE), an institute of eminence with NAAC A++ rank, online M.Sc. in Data Science is the best suit for students who want to kick start a successful career. MAHE also offers online MBA with Data Science specialisation for those who have considerable work experience. These programmes will help you learn how to collect, manage, and analyse data using tools such as SQL and Python.You will also get hands-on experience with real-world datasets in your lab work. And when you finish the course, you will be prepared for a decent data analytics role in any industry.
Enrol with us
Interested to join our courses?
Share your details and we'll get back to you.