Key takeaways:
Here's why becoming a Data Analyst is a good choice:
You can make good money – Data analysts are some of the highest-paid professionals in the world.
You will help people solve problems. As a data analyst, you will be tasked with discovering patterns in data and helping people solve problems based on those patterns.
This could include anything from helping doctors find new ways to treat patients to finding new ways for companies to market their products more effectively.
A data analyst is a person who has deep knowledge of data analysis and can make use of it to solve various business problems. A data analyst is a professional who makes sense of what you have collected from your marketing efforts – from website traffic to app usage statistics or social media engagement.
Data analysts are responsible for analysing large amounts of data (big data) and turning them into actionable insights that help businesses make better decisions about their products or services to grow their business revenue.
Why is data analytics important?
In this section, we'll talk about four of the top advantages of data analytics:
Helps you identify growth opportunities
Data analytics can be a great resource if you are looking for ways to grow your business. Many companies use their own internal data to find new ways to generate revenue—and it works! The more information you have about how customers use your products or services, the better you can make them.
Enables you to optimise processes
Data analytics is also very useful in optimising processes within your company. For example, if you are having trouble with customer service calls or employee scheduling, data analysis can help you find solutions by identifying patterns in the way people are using your product or service.
Lets you predict future trends and patterns
Data analytics is great for predicting future trends and patterns within your industry. This allows companies to stay ahead of the curve, which is especially important for small businesses that don't have as much time or resources at their disposal as larger ones do!
Allows you to make better decisions
Data analytics is an important part of the business because it helps you make better decisions based on the data. It allows you to gain insights into your customers, competitors and market trends which are valuable when making strategic decisions.
Who is a data analyst?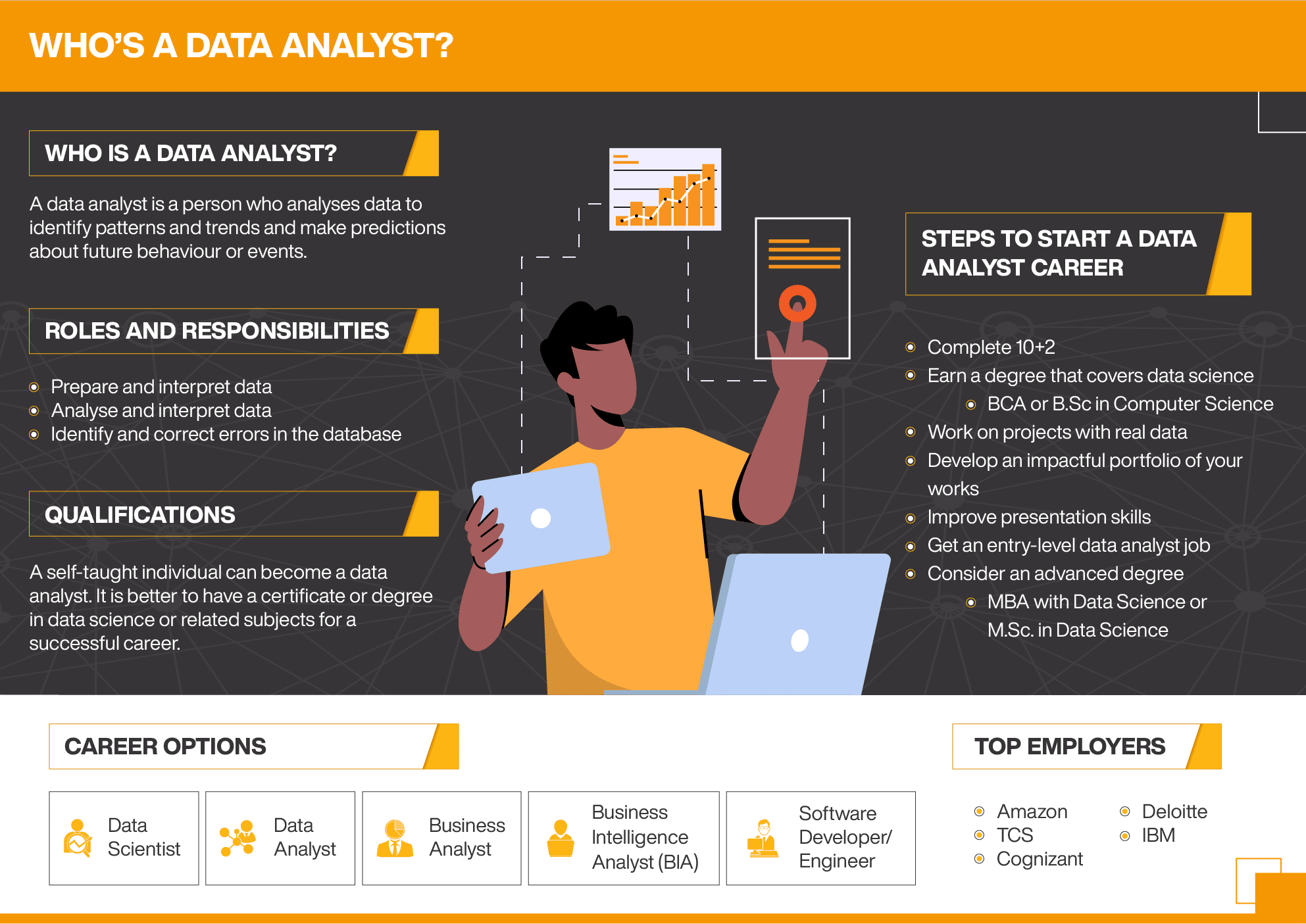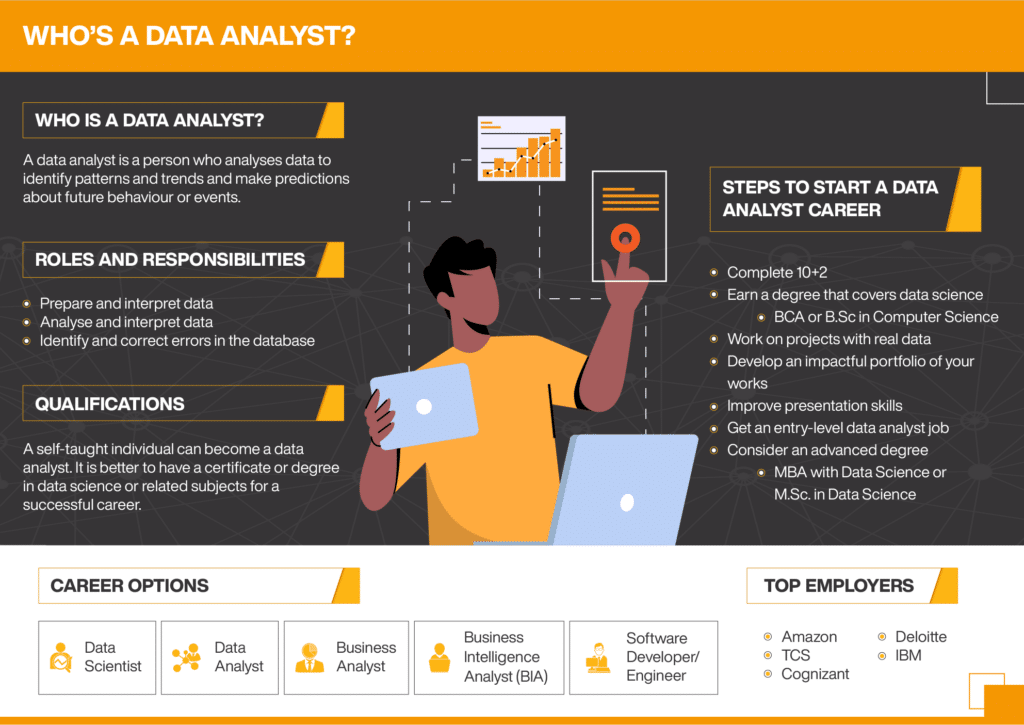 In simple words, a data analyst is a person who analyses data, including surveys, logs, or other types of information. They typically work with large datasets to identify patterns and trends. They may also use the results of their analysis to make predictions about future behaviour or events.
A data analyst will typically use statistical software packages and programming languages like R or Python to analyse their datasets. They may also need to use business intelligence software tools such as Tableau or Microsoft Power BI to visualise their findings to share them with others in the organisation.
Data analysts can work in many different industries, including finance, healthcare or education. However, they are most common at technology companies where they might analyse user behaviour patterns on websites or mobile apps so that designers can improve their user experience over time.
Roles and responsibilities of a data analyst
A data analyst's job description can vary greatly depending on the company or industry. Still, there are many commonalities that you can expect to see in most positions.
Prepare and interpret data
Data analysts are responsible for preparing and interpreting data to provide insights to help their organisations make better decisions. This can include creating reports, performing statistical analysis, or creating data visualisations.
Analyse and interpret data
Data analysts use various tools to analyse their datasets, such as pivot tables or interactive graphs. They also use their knowledge of the business context to understand how this information relates to their organisation's goals.
Identify and correct errors in the database
In addition to being able to accurately interpret data, a good analyst must be able to identify any errors.
ALSO MORE: Data Analyst vs Business Analyst: What's the difference?
What qualification should I need to become a data analyst?
To become a data analyst, you should have at least an undergraduate degree in computer science or another relevant field. You will also need to know how to use software such as R and Python for statistical analysis. Many companies also require that you have experience working with machine learning algorithms.
You should also have experience working with large datasets before applying for a data analyst job in India. This can be achieved through internships or part-time data analyst jobs in India where you are given access to large datasets or by taking classes on data science or big data management at your university.
Steps to start a data analyst career
When you are looking to start your career as a data analyst, it is important to take the right steps from the beginning with the data analytics roadmap. Here are seven steps to start a data analyst career much quickly and efficiently:
The first step to becoming a data analyst in India is completing a 10+2 course. In this course, you will learn the fundamentals of mathematics, science, and English. You will also get an introduction to computer science, which will be helpful if you want to pursue a career as a data analyst or data scientist.
Earn a degree that covers data science (BCA or B.Sc in Computer Science)
After completing 10+2, you will need to earn a degree that covers data science in detail. This could be either a Bachelor's Degree in Computer Science (BCA) or Bachelor's Degree in Computer Science (B.Sc CS).
Work on projects with real data
To become an expert at analysing data and making recommendations based on it, you need hands-on experience! Employers will want to see examples of projects you have worked on and the results they yielded before they consider hiring you as their new employee.
Build and develop a lucrative portfolio of your works
A data analyst career is all about analysing data and presenting it, so you will need to build a portfolio of your work. This can be as simple as putting together all your projects in a document or creating a website with your profile to feature your works and experience.
Improve presentation skills with your findings
When you are trying to get hired for a data analyst position, you will need to show employers that you know how to present your findings effectively. This means ensuring a clear connection between what you have found and what the audience needs to know about it.
Get an entry-level data analyst job in India
The first step to getting started as a data analyst is to get an entry-level data analyst job in India. This will give you hands-on experience in the field, which will help you gain valuable skills that might not be taught in school. It is also a great way to make connections and learn about what's expected at different levels of data analyst jobs in India.
Consider an advanced degree
If your goal is to advance quickly and grow your skill set, consider getting an advanced degree. A Master of Science in Data Science (M.Sc. DS) or another relevant degree may provide you with more opportunities for advancement than an undergraduate degree alone. In addition, an MBA with a concentration in data science can provide greater insight into management issues and strategic planning processes used in business today.
Is data analyst a good career to start with?
There are many reasons why you might be considering a career as a data analyst. Some of the benefits include:
Data analysts are in huge demand across the globe
Data analysts are in high demand. This is especially true for those skilled at data visualisation tools like Tableau, which allow users to quickly filter, sort, and visualise large amounts of data. Because these tools are so popular among companies today, there is no shortage of data analyst jobs in India who want to work in this field.
It is a great career for people who love to solve problems
It is a great career for people who love to solve problems. Data analysts spend most of their time working on projects requiring them to solve complex problems by analysing various types of data and coming up with solutions based on their findings. If you enjoy using your brain power to solve problems and help companies make better decisions, then being a data analyst may be right for you!
You will work with cutting-edge technology and new tools daily
You will get to work with cutting-edge technology and new tools every day. Working as a data analyst means that every day brings something new—new software or new ways of analysing big data sets—and that keeps things interesting!
Data analysts can choose an area of focus
Data analysts are often called upon to work with different data types, including medical records, financial statements, customer surveys, etc. This means that there's a lot of variety in what you will do as a data analyst. It is not just about crunching numbers all day long.
You will be able to impact how businesses operate, and consumers interact with them
As a data analyst, you will be the person who determines which questions businesses need to be answered and how they can solve problems. You will also be the person who helps them understand what those answers mean, how they can use them to improve their business practices, and how they can apply that knowledge to their customers' experience.
Different job roles in data analytics
Data analytics is a broad field that encompasses many different types of jobs. Here are five of the most common roles you will find in data analytics:
| | |
| --- | --- |
| Data Scientist | Responsible for analysing, interpreting, and communicating complex data. Use statistical methods and computer science principles to make sense of large datasets, which can be difficult or impossible for humans to read by themselves. |
| Data Analyst | Experts at collecting, organising and interpreting data from multiple sources to discover patterns and trends. Use their findings to help organisations make better decisions about marketing campaigns or manufacturing processes. |
| Business Intelligence Analyst (BIA) | Analyse business intelligence information.Help companies make informed decisions about how best to reach their target market or improve customer service operations. Work on projects like implementing new marketing strategies for designing new product lines based on customer feedback from surveys or focus groups. |
| Software Developer/Engineer | Develop software and algorithms for the organisation. Work with the IT team, data engineers, and other business members to create applications to help employees understand the data. |
Top recruiting companies
Many companies hire data analysts, but only a few have a reputation for being the best. The followings are four of the top recruiting companies for data analysts:
Tata Consultancy Services is one of the most well-known companies for hiring data analysts. They have an extensive background in analysing and making sense of data, which makes them an ideal place to work if you want to get into the field of analytics.
Cognizant Technology Solutions is another fantastic option for people interested in becoming data analysts. They have been around for many years and have been growing steadily. The company has a global presence and offices located worldwide, so they are well equipped to handle any size project or client request that comes their way.
Amazon is another great option for those seeking a data analyst job in India. What makes this company unique is its focus on customer service; they believe being responsive and helpful is just as important as providing accurate information about your product or service needs.
Do I need to pursue a degree to become a data analyst?
The short answer is no. Many professions require formal education, but data science is not one of them. That said, having a degree does open up some doors that wouldn't otherwise be available.
For example, it is common for companies to require new hires to have either a bachelor's degree or a master's degree in computer science or something similar.
If you don't have such a degree and still want to work for this company, you will need to prove that you have the skills necessary for the data analyst jobs in India —and having your degree will help demonstrate those skills.
Which is the best degree?
One of the best ways to figure out where to start is by talking with people who have been there—and MAHE's M.Sc in Data Science is one of the best degrees for getting your foot in the door and learning from industry leaders.
The programme is an intensive, full-time programme that will prepare you to enter into data science roles immediately after graduation. You will learn from top industry leaders and professors with real-world experience in machine learning, natural language processing, genomics, and more. You will also have access to exceptional facilities like state-of-the-art artificial intelligence laboratories (AI Lab).
Also, when it comes time for job hunting, we'll help you find opportunities where our graduates have been successful before: Google, Facebook, Amazon, and Microsoft (just to name a few).
Master your data skills with Online Manipal
Manipal Academy of Higher Education (MAHE) provides a wide range of programmes in data science through Online Manipal. The M.Sc. in Data Science is a two-year programme that will help you gain the skills required to navigate the field of data analytics.
The curriculum covers various aspects of data science, including Database Management, Programming with R and Python, Probability and Probability Distribution, Linear Regression Models, and more. You will also learn how to apply these skills across verticals such as marketing, manufacturing, finance, etc.
Online Manipal offers you access to high-quality content from leading academics worldwide! You can also access all course materials through their LMS platform, which has features such as recorded lectures, bite-sized videos, quizzes and assignments. Moreover, you get access to industry experts who will help guide you through every step in the future.
Final word
MAHE offers courses online through its Online Manipal, which allows students from all over the world to access high-quality education without having to physically attend college classes. Students can choose from over 60 courses offered by this programme and several specialisations within each course category. Enrol today!
Enrol with us
Interested to join our courses?
Share your details and we'll get back to you.