The M.Sc. in Data Science is a course for those who wish to master in the data science domain. This course aims to provide students with the skills and knowledge to succeed in their professional life across industries. Data science masters programme offers a variety of disciplines, allowing students to choose the discipline they are most interested in.
Data scientists are well-equipped to understand and develop products and solutions by gleaning and analysing big data. Their innovative and analytical techniques improve the efficiency and performance of operations and functions in various organisations.
What is an M.Sc. in Data Science degree?
M.Sc. in Data Science focuses on imparting key data skills and knowledge to learners to build them in-demand professionals in the modern workforce. The comprehensive curriculum is a perfect blend of machine learning, big data analytics, and statistics. Students can gain hands-on experience in machine learning applications and predictive modelling, solve problems with real-world data, learn how to efficiently work in teams, develop strategic and tactical recommendations, and manage processes, work and people.
Why masters in Data Science getting Popular?
The world is now generating a huge amount of data, which is useful for improving human life. This big data helps companies to develop products, offerings and strategies in order to meet the expectations of the target audience. Organisations across sectors are adopting Data Science to ramp up their businesses in the ever-changing economy. This cutting-edge field is the prime driver of most niche technologies, including AI, ML and neural networks, because all these technologies depend on a vast amount of data.
Scope of M.Sc. Data Science in India
There is so much scope in Data Science Programs in India. Data Scientists are in great demand in the following industries-
E-Commerce: Retail brands analyse customer profiles, profits, losses, and consumer behaviour based on data analysis. This helps you sell the right products and influence customer behaviour.
Manufacturing: Helps you increase productivity, minimise risk, and increase profits. You can improve productivity and processes and predict trends.
Banking & Finance: Data analysis helps banks and financial institutions acquire patterns of the customer journey and customer loyalty, and gain new customers. Transaction data available at banks is also useful for fraud and risk management. It enables them to build FinTech products and solutions.
Healthcare: Promote better patient care after reviewing and learning previous patient records. Analysing the data optimises all aspects of healthcare.
Transportation: The industry also produces large amounts of data every day. The transport network can be better planned and managed. As a data scientist, you can improve the reliability of your service and mitigate risk.
In India, the economic boom, rising start-up numbers, rising e-commerce, customer-centric markets, and a huge population create high demand for data science professionals.
List of top data science careers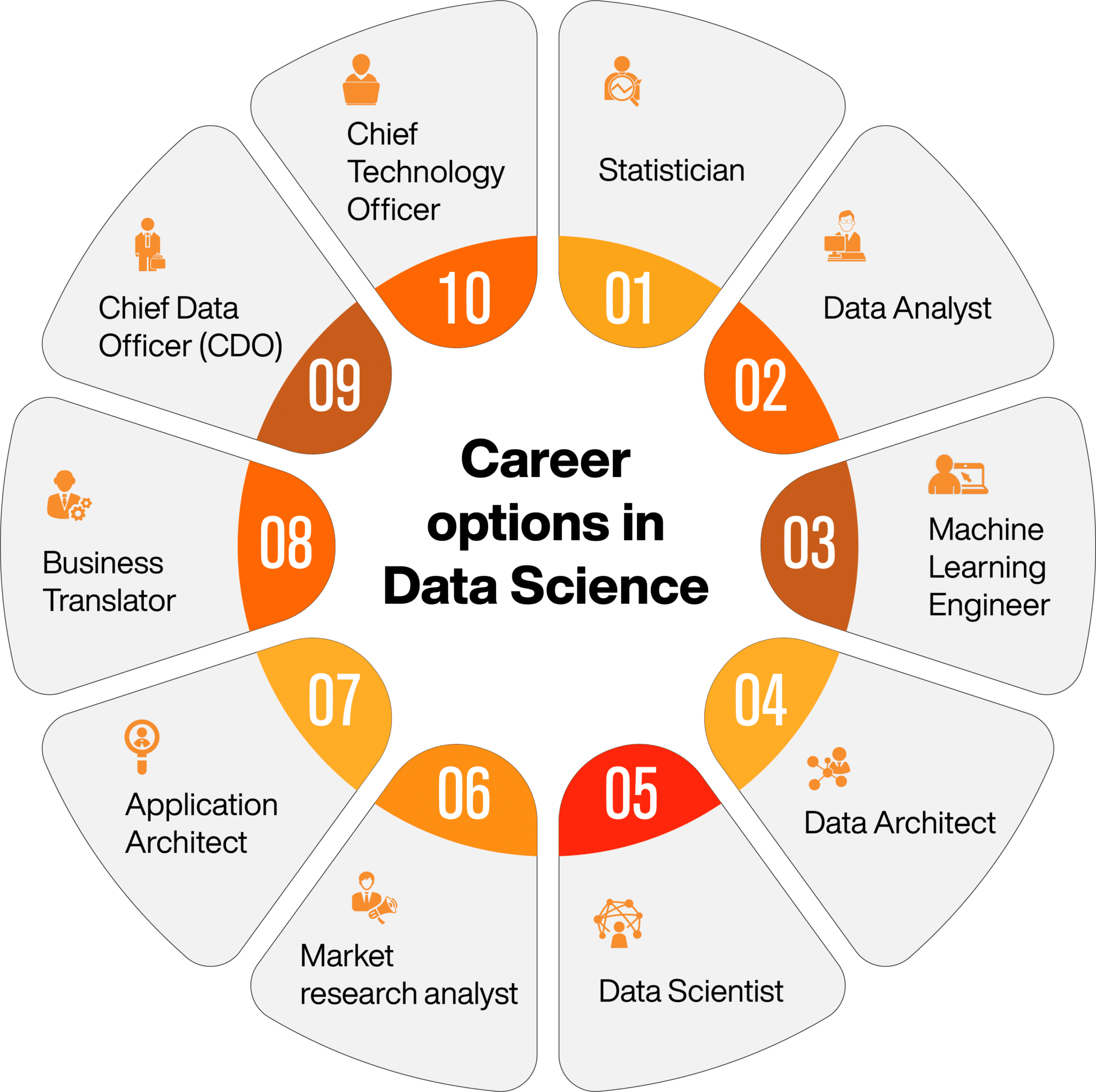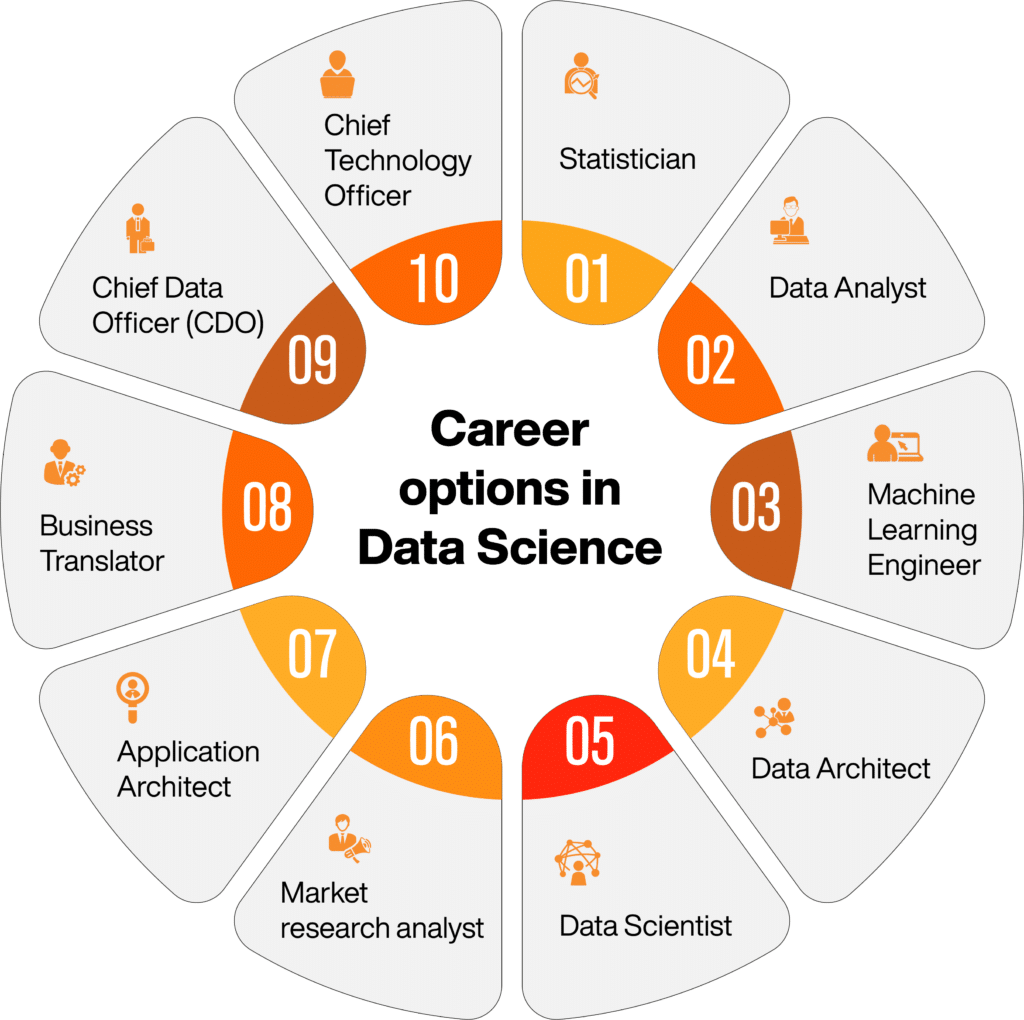 Data science is one of the fastest-growing and best-performing careers today. Learning skills in this domain is an exciting way to expand or transform your career. Many industries require data scientists, data engineers, analysts, and more. The number of jobs increases as companies create more and more useful data.
Here are some top careers you can go with:
Statistician: Statisticians collect, investigate, and evaluate quantitative data from surveys and audits to help associations develop functional guidelines and encourage realistic answers to questions. If you need to work in this area, your key skills and industry experience are fundamental.
Data Analyst: Data analysts are curious, logical, and have a special talent for numbers. Whether it's marketing forecasts, adjustments, statistical surveys, or shipping costs, all associations and all companies collect information. Data analysts need to collect and evaluate this information and gain a clear experience of how associations can evolve their business methodologies and make better business decisions in different regions.
Machine Learning Engineer: Machine learning engineering is a professional job that is still in its infancy. Machine learning engineers work with the association's data science group to programme, perform calculations, and enable machines to make decisions, move, and experience customers virtually without human assistance. Communicate your product and governance. Examples of this are naturally moving vehicles and custom online media and news channels.
Data Architect: Data architects use various programming devices to configure and secure information systems for monitoring large electronic data sets for organisations. This is a professional task of ensuring that the information is applicable, accurate, and open to the organisation. This allows staff to access this data, such as financial records and presentation data, from anywhere, anytime.
Data Scientist: Data scientists use algorithms, artificial intelligence, machine learning, and other statistical tools to identify complex raw data from various sources and transform it into meaningful, transparent information to develop new solutions, business strategies and improve operations.
Market research analyst: Market research analysts combine complex reports, spreadsheets, surveys, and public opinion ratings to collect and evaluate key market knowledge that helps associations sell their items or controls in the ideal way possible to do. Information includes buyers' socio-economic conditions, types and business patterns of cash management, needs, interests, trends, and more. This is another area that falls under the scope of a professional with an M.Sc. in Data Science in India.
Application Architect: In this fast-paced work, application architects have a good professional vision, the ability to provide experience and answers to improve, use, and support programming, as well as solid insights, critical thinking, and problem-solving. It consistently handles various tasks, such as building better applications, building models, running programming tests, and generating special reports for application programming.
Business Translator: Business/Analysis Translators focus on cutting-edge, innovative innovations such as artificial intelligence (AI) and machine learning, leveraging their power to increase business efficiency.
Chief Data Officer (CDO): The central information officer should consciously direct the association's information and create a business reputation from perhaps the association's most important resources. The Chief Data Officer is business-oriented and has amazing IT skills. To become a Chief Data Officer, you need a professional master's degree like a master's degree in data science, industry experience and key skills such as maths and analysis.
Chief Technology Officer: This post needs technical level information about how they can be implemented in mechanical patterns and business method construction. The Chief Technology Officer is an expert who discusses and leads technical investigations, considering ways to ensure that the company is depending on to build and maintain the technological innovations.
Earn M.Sc. in Data Science from Online Manipal
Online Manipal is now offering an online M.Sc. in Data Science from the prestigious Manipal Academy of Higher Education (MAHE). This UGC-entitled online postgraduate programme from one of the top-10 institutions in India is one of the best
s there is today. The intuitive learning management system (LMS) enables uninterrupted anywhere, anytime learning, where you can learn at your own convenient pace and time from MAHE's expert academicians. The bite-sized learning material, short videos, recorded lectures, quizzes, discussion forum, and e-library make the learning effective.
Graduates in Statistics/Mathematics/Computer Science [BSc/BE/BTech/BCA] or an equivalent degree studying the subjects for a minimum of two years from universities/institutions recognised by the Association of Indian Universities (AIU) with a minimum of 50% of marks or equivalent grade can apply to the M.Sc. Data Science programme.
The programme covers all the concepts related to data science to ensure students better job opportunities in data science and leadership roles.
Conclusion
In this article, you've learned about the evolution of data science, industry demand, and the skills that top recruiters are looking for. We also looked at various career opportunities after doing a data science masters in India. With all these details in mind, you can make informed decisions about embarking on a data-focused degree. Therefore, if you are interested in using technology to analyse information and interpret the results, enrol now in M.Sc. in Data Science at Online Manipal.
Enrol with us
Interested to join our courses?
Share your details and we'll get back to you.