Management
Online Manipal Editorial Team | April 27, 2022
Investment banking is a specific type of financial service where a company helps institutions and organisations raise enough capital and provides them with consultancy services on how to raise capital. Investment bankers support new startups to go public by buying their shares at an appraised price and reselling them later. Investment bankers may work with trade security firms, governments, and corporations.
Full-time investment bankers offer underwriting, mergers and acquisitions,  sales and trading, equity research, asset management, commercial banking, and retail banking services. The role of an investment banker is very diverse, and their job is to advise clients on how to reach their financial goals successfully. 
Institutions hire investment bankers to provide a wide range of financial services to banks, governments, private corporations, and companies. Building a career in investment banking can be challenging yet rewarding. We will discuss everything there is to know about becoming an investment banker, including what the job entails, what qualifications you need, and whether it's a lucrative career.
Who is an investment banker?
Investment bankers are the missing link between companies and investors. They assist public and private companies in securing funding for business requirements, buying stocks and bonds, planning mergers and acquisitions, and deciding the rates for securities. An investment banker provides consultancy services to private firms for all kinds of financial needs.
What does an investment banker do?
An investment banker is a highly trained professional who has several responsibilities, including managing company finances, overseeing transactions and advising on financial matters. Investment bankers need to be flexible with their work timings based on the company's schedule and business requirements, and extended hours are typical.
The investment banker job descriptions have the following duties:
Researching market reports and financial databases and gathering relevant industry data for making critical monetary decisions
Monitoring current investment trends and climate, identifying financial risks associated with business projects, and delivering insights to clients by reviewing the data
Creating financial models, company valuations, and identifying new business opportunities based on market research
Preparing presentations for clients, responding to emails, phone calls, queries, pitching new investment ideas, etc.
Underwriting tasks, initiating mergers and acquisitions between companies and delivering maximum business value to clients
Ensuring legal compliance with rules set by financial regulatory agencies
What qualifications do I need to be an investment banker?
Professionals usually need a bachelor's degree in accounting, commerce, economics, or business to land an entry-level job role as an investment banker. There are chances of improving prospects by applying for a master's degree later or doing a doctorate to add to your investment banker qualifications. Investment bankers must also improve their soft skills, such as interpersonal and communication skills.
Is investment banking a good career?
Investment banking is one of the highest-paid job positions in the finance and banking world. For professionals who are skilled and have the opportunity to travel abroad, firms on Wall Street are willing to pay upto $110,000 as a base salary to entry-level analysts and to CEOs and managing directors to $10 million and above. Earning such a high salary is possible in this profession with years of work experience.
Investment banker salary in India?
The average starting monthly salary of an investment banker in India is INR 45,000 for freshers. It is not uncommon for professionals to earn between INR 25 lacs to INR 50 lacs per annum after acquiring a few years of work experience.
Top recruiting companies for investment bankers
Some of the top investment banking companies in India that hire investment bankers are:
Avendus Capital
Axis Capital Limited
Edelweiss Financial Services Limited
JM Financial Institutions Securities
IDBI Capital
Veda Corporate Advisors
J.P. Morgan
Accenture
Wipro
Goldman Sachs
HSBC
Citigroup
Education criteria to enter the investment banking industry
The following is a list of key education criteria required for entering the investment banking industry:
MBA (Finance)
MBA finance candidates are among the top profiles for investment banking positions in the industry. Many recruiters prefer MBA applications because an MBA degree covers all the foundations such as business acumen, finance, accounting, marketing, management consulting, and others. If a student graduates from top-tier universities, it becomes easier to land lucrative jobs.
CFA
Chartered Financial Analyst (CFA) candidates can also enter the investment banking industry if they are CFA Level 3 or CFA Level 2 candidates. Hedge funds, management consulting, investment and brokerage firms, investment banking, etc., are some sectors that hire CFAs.
CA
Chartered Accountants (CAs) are eligible to work as investment bankers and are shifting to this industry because of high pay scales. Investment banking is becoming a popular job choice for many CAs.
Graduation
The bare minimum requirement to become an investment banker is to have a Bachelor's Degree in any finance discipline. It is easy to get a job in the industry and work as an Analyst or a Junior Analyst after graduating from a reputed institute.
Do I need a master's degree for a career in investment banking?
A Master's degree is not required to get hired as a Junior Analyst by companies in India. Many banks these days hire students directly after undergraduate courses, and there are many internship programmes available for students. However, having a master's degree on your resume will improve your chances to land a lucrative career in a top position.
How to become an investment banker
How to get into investment banking? If you're wondering on how to become an investment banker in India, here are the different ways to get started in the industry:
Complete your 10+2
You need to complete your 10+2 and pick a stream relevant to finance, such as commerce. You need an aggregate of 50% marks or more from a recognised board for graduation. Students who finish their 10+2 benefit from studying mathematics, accountancy, computer science, economics, and business.
You will also have to sit for national-level or state entrance tests such as the Common Entrance Test (CET), State Eligibility Test (SET), Delhi University Joint Admission Test (DU JAT), and Christ University Entrance Test (CUET).
For gaining admissions into master's degree programmes, you can take additional tests like:
Graduate Management Admission Test (GMAT)
Narsee Monjee Institute of Management Studies Management Aptitude Test (NMAT)
Symbiosis National Aptitude Test (SNAP)
Common Admission Test (CAT)
Xavier Aptitude Test (XAT) are needed.
A doctorate programme requires aspirants to clear exams such as the University Grants Commission National Eligibility Test (UGC NET) and the Council of Scientific and Industrial Research University Grants Commission National Eligibility Test (CSIR UGC NET).
Earn a bachelor's degree
Earning a Bachelor's degree is mandatory for students who wish to enter the investment banking industry. Candidates need to complete a three or four-year undergraduate programme and get a degree such as a Bachelor's of Commerce (B.Com), Bachelor of Arts in Finance (B.A.), and Bachelor of Business Administration (BBA). While the syllabus structure for these investment banking courses may vary, they all cover core investment banking subjects such as corporate finance, accounting, finance management, data analytics, business administration, etc.
Obtain a master's degree
A two-year master's degree programme in finance is ideal for candidates who want to advance their careers after completing an undergraduate programme. Students tend to pursue their MBA online while holding a job in the investment banking industry. Some may choose to study full-time on-campus directly after finishing their undergraduate programme.
Get a CFA certification
A Chartered Financial Analyst (CFA) certification can significantly improve one's career prospects after completing an undergraduate degree. CFA certification provides intensive and practical hands-on training in various concepts in finance and investment. Courses can run anywhere from one to four years, and some of the core subjects covered in these programmes are economics, corporate finance, derivatives, alternative investments, and equity investments.
Pursue an internship to gain experience
Internships offer graduate students a pathway to direct employment from companies and many opportunities to upskill, thus acquiring relevant work experience. Landing an internship at a top firm can give students ample exposure and build credibility as a professional. Internships also provide several networking opportunities, and employers are impressed by students who choose to intern while studying or after graduation.
Find a job as an investment banker
After graduating from the programme, you can find a job by applying to companies directly.
Aspirants can apply to the various online job postings shared by companies on platforms like LinkedIn and AngelList to get recruited. The best way to break into the industry is by getting referrals or client recommendations during internships. That's why it's so important to focus on networking opportunities during the course or on-campus placements.
Generally, investment bankers receive good bonuses, and their salary goes up with the number of years of work experience. Some companies may offer a permanent position as an investment banker depending on the candidate's expertise and negotiation skills.
Things to improve to enter investment banking industry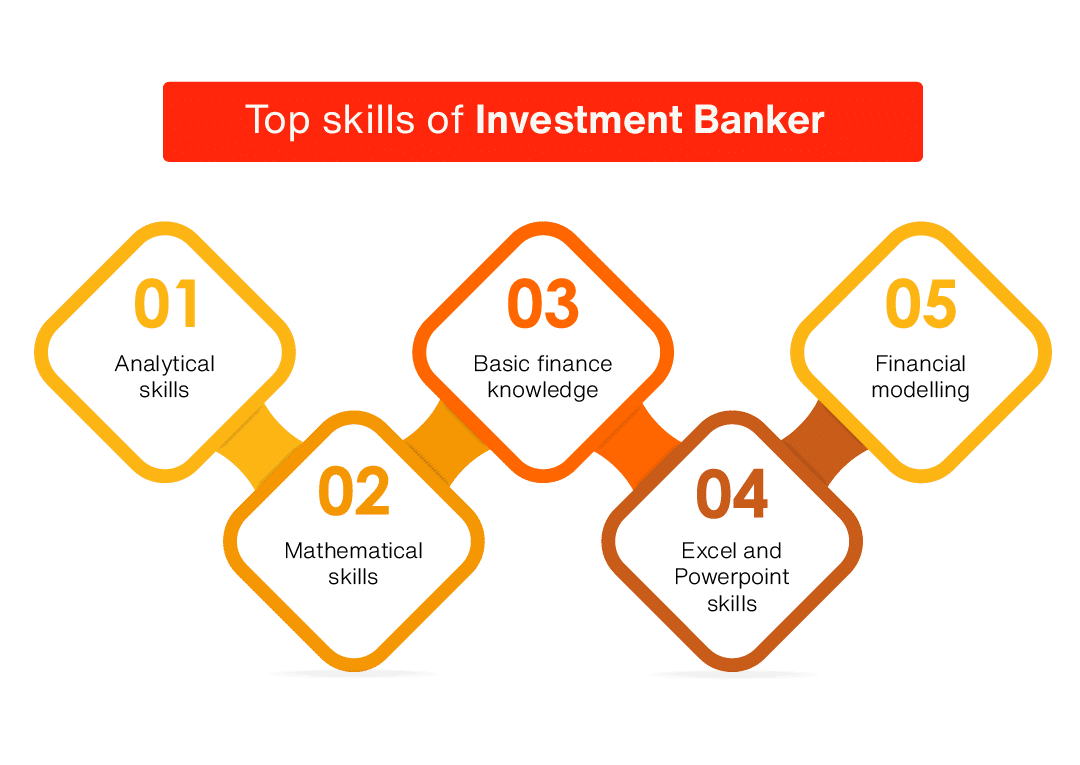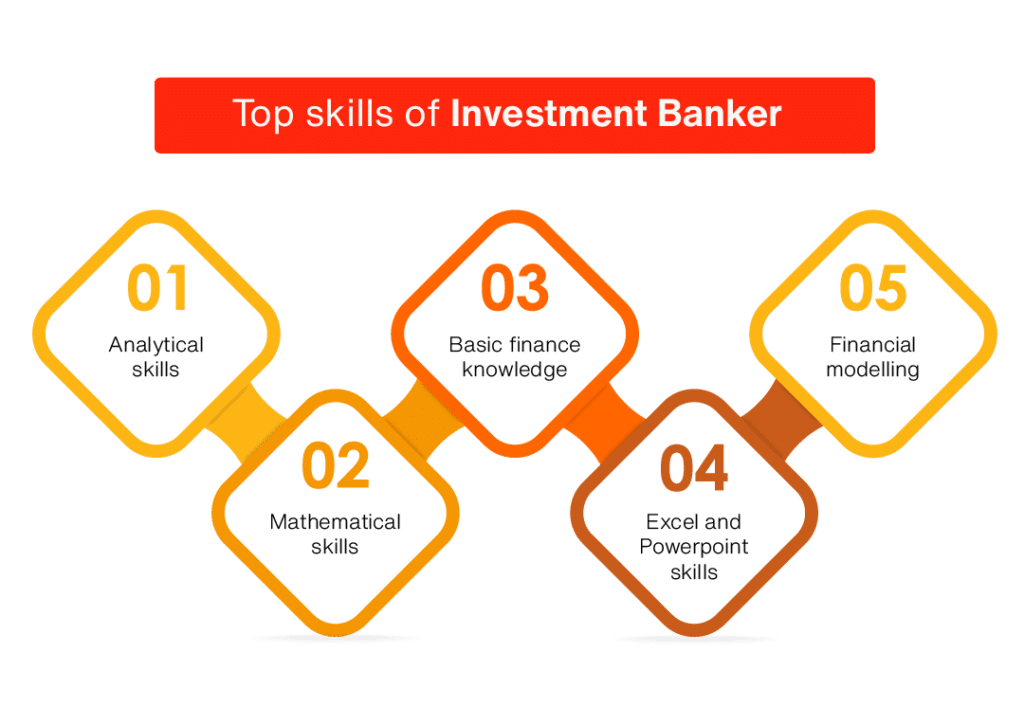 The salary of an investment banker depends on credentials, job location, company profile, and experience. However, besides these factors, these professionals need to work on other soft skills. To succeed as an investment banker, you need to focus on the following areas:
Analytical skills play a critical role in professional success as an investment banker. You need to improve skills related to problem-solving, interpersonal communications, presentation, and creating reports. Therefore, you need to work on your market research and financial analysis skills to improve your expertise.
Investment banking is a career where aspirants need to work with plenty of formulae and mathematical equations. Therefore, you need to have a solid foundation in Mathematics.
All aspirants need to be familiar with these basics: cash flow analysis, knowledge of banking transactions, statements, profit and loss calculations, and how to analyse balance sheets.
Excel and Powerpoint skills
More than 80% of investment banking projects are presented in Excel sheets and Powerpoint presentations. Basic and advanced working knowledge of these tools is needed, and this will make aspirants job-ready and not worry about being unorganised with financial metrics.
Companies look for investment banking professionals who can build and deploy financial models from scratch. It is a bonus to have financial modelling skills, and recruiters actively look for someone with this knowledge.
Master your investment banking skills with an MBA from Online Manipal
Online Manipal offers students the opportunity to pursue their MBA finance degree from anywhere in the world and study at their own pace. With an enhanced digital learning platform, experienced faculty, and career support, students can access over 1000+ hours of content when enrolling in our courses.
Online quizzes and practice tests prepare students for the final examination, and there are financial aids and scholarship options available for meritorious applicants.
Online Manipal also offers placement assistance to students. Online Manipal's MBA programme has been hailed as one of the best master's degrees for investment banking in India. Students can attend mock interviews to prepare for hiring rounds, and mentors offer personalised coaching.
Conclusion
Online MBA programme in finance from Manipal University Jaipur is UGC-entitled and accredited by NAAC A+. Investing in an investment banking career can be a gratifying experience, and candidates can enjoy accelerated learning by doing an online MBA course. For more details, be sure to contact our academic advisor or email info@onlinemanipal.com
Enrol with us
Interested to join our courses?
Share your details and we'll get back to you.