Management
Online Manipal Editorial Team | June 07, 2022
A B-school or a business school is a university-level institution which grants an educational degree in business administration or management. A B-school can offer its students a lot of courses to choose from. These include economics, business administration, accounting, supply chain management, business analytics, public relations, real estate, logistics, finance, entrepreneurship, etc.
The B-schools in India provide quality education, and the degree from Indian B-schools are recognised by most institutions and companies in the world. These factors have led to an increase in the popularity of Indian B-schools. Let's learn more about the skills one should acquire before joining a B-school.
Why should one join a B-school?
If you want to pursue a career in Business Management, Supply chain, Logistics, or Finance, or you want to start your own business, you can opt for a B-school. They are specialised institutions which teach business management-related subjects to students, whereas a college or a university offers a broad spectrum of subjects to its students. B-schools provide access to their broader network of alumni and industry experts for students to connect with compared to a normal university. However, B-schools are comparatively much more expensive than a regular college or university, but the Return on Investment is also higher in the case of a B-school.
Other than the above benefits, B-schools offer career assistance in the form of college placements, career workshops, etc. Since most B-schools are privately owned, the management takes good care of the infrastructure by investing in it. Most B-schools make sure that the students are well versed with the latest technology stack. A graduate from a good business school can easily land a placement with a package ranging from 10 lakhs to 18 lakhs per annum.
Skills required before enrolling for a course in a B-School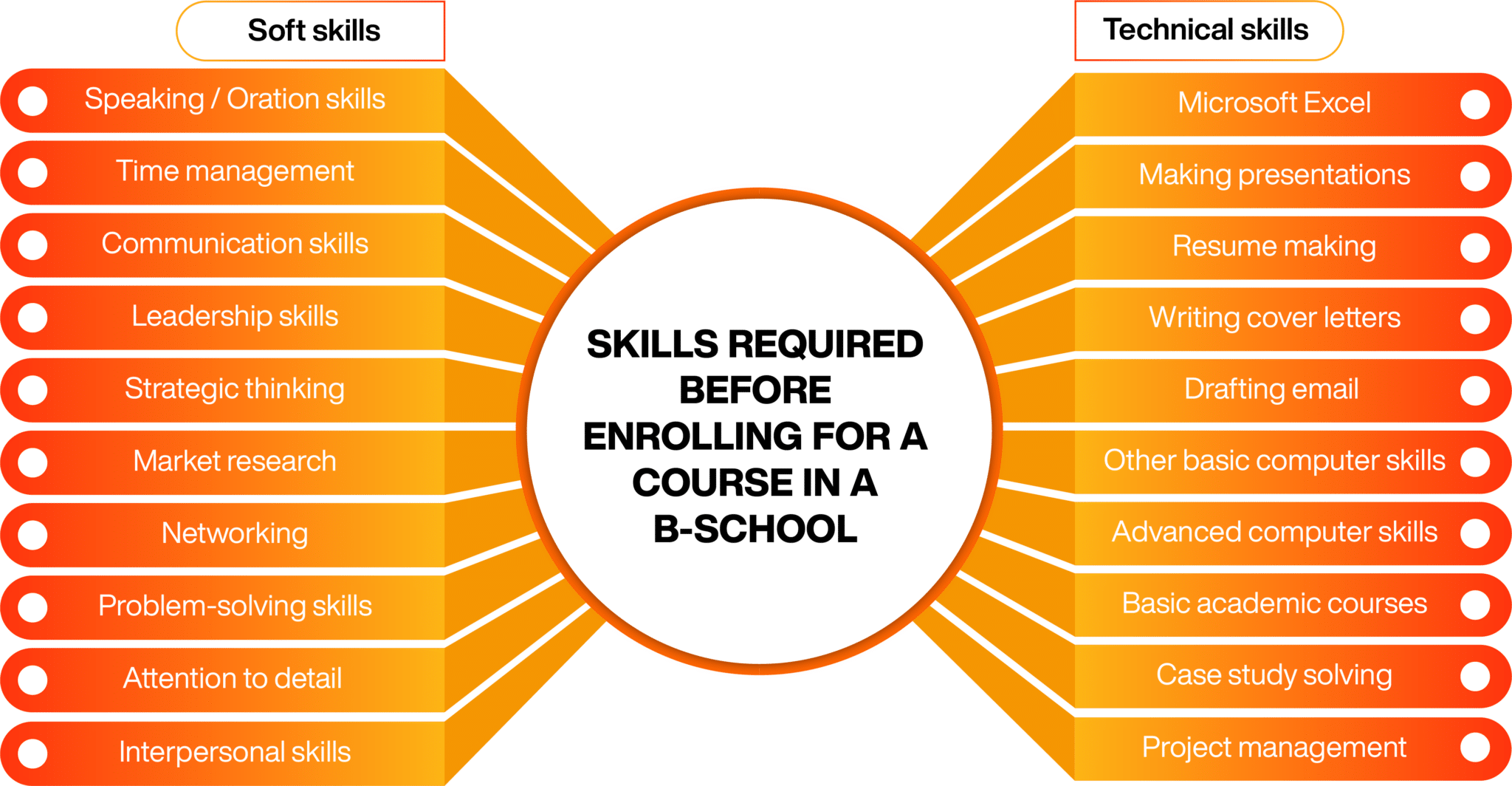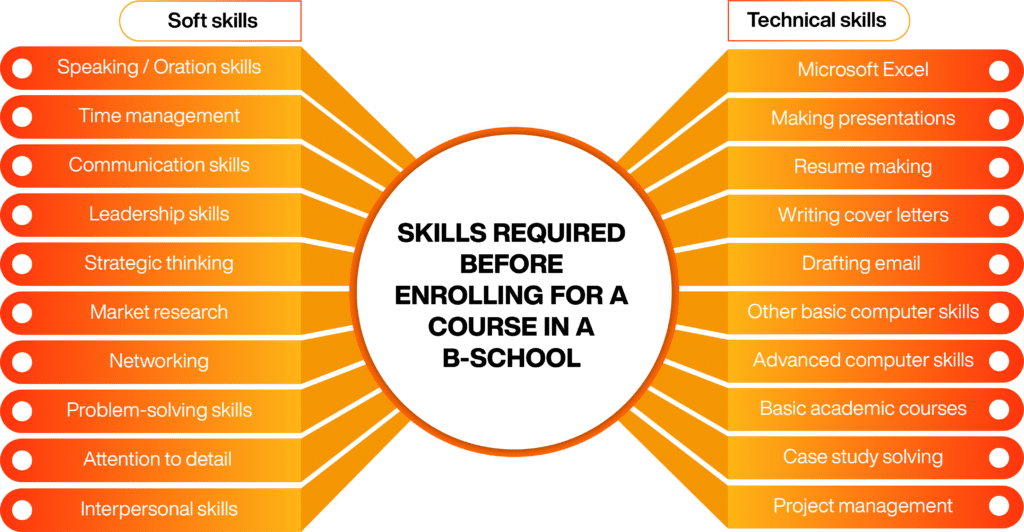 An aspiring MBA student should learn many soft skills and technical skills before joining the B-school. Some of the skills required for MBA students are:
Soft skills
Soft skills, also known as people skills, comprise a multitude of social, communication & people skills, character traits, etc., which are attractive to any B-school or company.
Speaking / Oration skills – To improve your speaking/oration skills, you need to practice interacting in a formal setting. You can also read newspapers and journals to enrich your vocabulary. If you want to pursue a life abroad after your MBA, you can learn foreign languages like French, Spanish, Mandarin, etc. You can take online courses for foreign languages with Coursera. Online Manipal offers free access to Coursera to its postgraduate students.
Time Management – When you enter a B-school, you will realise that you need to manage more than one subject/project simultaneously. This is when time management skills help you perform multitasking efficiently, increase your productivity, keep a tab of timelines, etc.
Communication skills – Communication skills are among the most sought after skills in B-schools. It helps you mitigate conflicts, improve work relations, promote project ideas, etc.
Leadership skills – B-schools appreciate candidates who reflect leadership skills. These skills help you establish your goals, promote accountability in your team, and facilitate efficient collaboration.
Strategic thinking – Most executives are not in charge of making the reports or presentations, and they are expected to make strategic decisions based on available data. Strategic thinking is one quality that will help you save business case studies with ease.
Market Research – During a product launch or the launch of a start-up, one of the first things that we do is Market Research. Practising this skill in advance will help you to excel in your class.
Networking – Networking is a skill that is not taught in schools, but everybody has their approach. However, you can improve your approach by joining forums that you like. When you attend such forums, you tend to communicate with people and improve your networking skills. This can also be applied to online networking, for e.g., LinkedIn.
Problem-solving skills – When you enter a B-school, you will be asked to solve different problems in varied situations. Therefore, if you try to upscale your problem-solving skills before joining a B-school, it can help you stand out from the crowd.
Attention to detail – Attention to detail is the ability to finish a task with utmost accuracy and precision, and it helps you to improve your performance, efficiency, and productivity.
Interpersonal skills – These are specific types of social skills that help you communicate, interact and collaborate with others effectively.
Technical skills
Technical skill is the ability of an individual to solve a practical task or problem. These are a set of hard skills which can be learnt by taking courses or watching tutorials.
Microsoft Excel – Everyone who uses a computer has some skill in MS Excel. But to excel in a business school, you should get yourself acquainted with some advanced spreadsheet functionalities like VLOOKUP, LOOKUP, INDEX etc. You should also learn advanced excel tools like Pivot Table, Data Validation, etc. These tools and functionalities are the basis of any form of data analysis.
Making presentations – Making simple presentations is not a very difficult job. But sometimes, if you want to add animations and effects to make the presentation more impressive, it can take up a lot of time. Make sure you learn how to make an effective presentation to stand out from the crowd.
Resume making – You should learn how to make properly formatted and should update them regularly. This skill can be easily learned through video tutorials, and this particular skill will be very useful for applying to internship positions, jobs, etc.
Writing cover letters – Cover letters are sent along with your resume to companies as your candidature for a position. These letters describe you, your motivation to join the position/company, etc. You will need this skill while applying for internships.
Drafting email – The professional world communicates mostly through emails. So, you should learn how to draft to the point and grammatically sound emails. Some things you should take care of while drafting emails are punctuation, sentence structure, grammatical errors, salutation, etc.
Other basic computer skills – Other than Excel and PowerPoint , you should learn other basic computer skills to make your life in a B-school less hectic. These skills include formal report writing, VBA, efficient internet research, etc.
Advanced computer skills – If you already know the basic computer skills, you can dive into some advanced computer skills to stand out from the crowd. These skills include Data Analysis and Visualisation, Coding with Python, Coding with Matlab, etc.
Basic academic courses – If you are from an engineering background but are joining a B-school, you should make sure that you learn some basic commerce subjects to keep up with other students. Some of the subjects you need to focus on are Economics, Marketing and Statistics, and you need not delve very deep into the subjects but should know the basics.
Case study solving – Case studies are presented to students as difficult situations in businesses, and they are asked to come up with solutions to overcome the difficulty. There are some specific approaches to solving case studies that you can learn before joining a business school.
Project management – Project Management is the process of achieving all the goals of a bigger project within the agreed deadline and other constraints. This topic is one of the most popular subjects among MBA students. You can learn the basics of Project Management from Coursera or from other resources available online..
Why should you be skill rich before joining a B-School?
It is always better to get a head-start before a race, simply because it improves your chances of winning. The same concept applies to attending B-school. If you hone your existing skills and learn some new ones before joining a B-school, it will separate you from the crowd and increase your chances of landing a well-paid job or establishing a successful business. The B-school itself will brush up on the listed skills for you, but you need to learn the basics about them beforehand.
How to prepare for an MBA in a B-School?
Many students wonder what is required for an MBA degree. Most of the B-schools in India require the candidates to clear either the CMAT or CAT entrance examinations. You should start preparing for these entrance examinations well in advance because these exams tend to get so competitive that you might be out of the merit list by one mark. Other requirements for admission to a B-school are:
Bachelor's degree or equivalent (in any discipline)
Valid test scores of CAT/CMAT/GMAT/GRE
For some institutions, you might be asked to submit valid test scores for English exams like TOEFL, IELTS, etc. This is required only if the medium of study during your bachelor's studies isn't English.
Some institutions require their candidates to gain some work experience before joining the B-school.
These are some of the general requirements for admission into a B-school. However, some B-schools might require specific documents or have a subject-wise cut-off for admission. Read all the eligibility criteria carefully before applying for an MBA program.
Why Manipal University Jaipur (MUJ) is the best institution for an online MBA?
The online MBA program offered by Manipal University Jaipur (MUJ) will help you become an industry expert in your domain. MUJ's online MBA course offers its students a wide range of electives. For example, finance, marketing, HRM, Operations Management, IT & FinTech, Analytics & Data Science, and BFSI. It also offers free access to Coursera, which can be useful to upscale your skills according to the industry you want to join.
The faculty is experts in their subjects and help you in all academic and non-academic endeavours. The state-of-the-art learning management system contains all the study material, including readings, concept videos, recorded lectures, quizzes, discussion forum, and an extensive e-library. The placement assistance by the NAAC A+ university is commendable. You will get career-oriented skill development sessions, resume building sessions, interview tips, access to the prestigious Manipal alumni, and regular industry connect webinars.
Conclusion
A business school or a B-school is a higher education institution which confers an educational degree in the field of Business administration or Business Management. There are lots of benefits in joining a B-school. As the great business author Zig Ziglar wrote, "Success occurs when opportunity meets presentation" the set of skills that you acquire before joining a B-school will determine your career trajectory.
It is highly recommended that you learn and practise the set of soft skills and technical skills mentioned in the article above to make your B-school life easier and help you stand out from the crowd. You need to verify that you fulfil all the requirements demanded by the B-school. MUJ's online MBA course lets you choose from various electives and offer free access to Coursera.
Enrol with us
Interested to join our courses?
Share your details and we'll get back to you.