Commerce
Online Manipal Editorial Team | May 16, 2022
A postgraduate degree in commerce is a career trend for individuals who wish to take a master's degree after graduation. A Master of Commerce is a renowned two-year postgraduate credential provided by several well-known Indian universities. Its curriculum is more advanced than what you would learn in a B.Com programme. Typically, students pursue an M.Com degree to understand better the areas of accounting, taxation, bank, finance, and insurance. This course enables them to improve their financial management skills and gain specialised competence in their chosen field. Individuals who aspire to be business specialists must have a strong interest in statistics and outstanding computer skills. They must possess abilities such as rational thinking, strong erudition, precision, the capacity to operate under pressure, and the commitment to execute on time.
M.Com also qualifies you for lucrative jobs in a variety of fields. Many students choose this degree since it is easy to find a suitable institution for the course. It is a highly valuable degree programme and opens up a variety of professional opportunities. M.Com can be pursued in various modes such as traditional classroom approach, online, and distance education mode.
Key differences between an online or distance M.Com course
The distinction between online and distance learning is sometimes muddled, with people misunderstanding the two. Although they are two distinct instructional methods, the names are frequently used interchangeably and erroneously. So, let's put all the scepticism about online learning and remote education to rest. So, if you're considering pursuing an M.Com via distance education, think about the following major distinctions between online learning and distance learning before reaching a choice:
Online learning is a terrific way to increase student involvement because it comprises a wide variety of educational resources and instructional methodologies to deliver content virtually. Distance Learning is a method of providing teaching-learning experiences by bridging the gap between instructors and students via a range of media, including electronic, online, and, on occasion, immersive face-to-face consultations with students.
The curriculum design of the M.Com online course is similar to that of traditional on-campus programmes, with the added benefit of shortened assignment completion deadlines. It's essentially the same curriculum, but the instruction is done entirely online. Videos, e-books, quizzes, live classes, simulations, and other forms are used to provide the curriculum.
While distant education provides a more straightforward course curriculum with more flexible deadlines, students can extend the course if necessary and complete tasks at their leisure. Distance learning courses are ideal for students who have a busy schedule because of family obligations or a demanding job and lack reliable access to the internet.
In a virtual environment, online classes emulate in-class education. This online M.Com degree programme's instructional strategies are quite similar to what one would learn in a traditional classroom setting. Innovative teaching approaches are used in an M.Com online course to vary things up and make studying exciting and engaging. The teaching approach in online education is frequently straightforward, and you receive the learning resources and learn at your speed. Certain distance courses use thumb drives to transmit recordings with students, but the teaching technique is less engaging.
The online M.com programme is structured into four semesters over two years. The M.Com distance learning course takes at least two years to complete. However, you get the choice of finishing the degree in two to five years.
An online M.Com course costs between INR 40,000 to INR 1,00,000 PA on average. The cost of an M.Com distance education programme ranges from INR 5000 to INR 38000.
Admission to an M.Com online course is limited to a set period. You must submit the application forms by the specified deadlines. There is no set time limit for applying to a distance M.Com programme.
The application process is straightforward and completely online. You have to fill out the application form, submit your supporting documents, and pay the cost to begin your course. The application process for a Distance M.Com is substantially more simple. You just need to complete the application form, pay the course money, and get accepted into the distance M.Com programme.
Regular workshops and intriguing online sessions with industry experts, veterans, and alumni provide insight to students in online M.Com programmes. The exchange of digitally formatted materials is included in the online method, and universities develop online data repositories where all the learning materials are stored.
Distance MBA does not include a formal industrial or site trip, so education is limited in exposure. Physical study materials, such as books, are still used substantially in distance education, and these books are frequently couriered or mailed to the student.
Digital universities provide a variety of placement and employment aid programmes. There is no pre-determined placement process; instead, you must conduct your job search.
There is no appropriate communication between students and instructors in distance education, or even amongst students themselves, as there are no classes. Students in online courses can use LMS to engage with their classmates and lecturers.
In many ways, online learning is superior to distance learning. For starters, when one chooses a master's in commerce online for working professionals, they can benefit from the flexibility of self-paced study without sacrificing the immersive classroom experience. So, there's no doubt that online learning is the way to go.
Online M.Com vs. conventional M.Com salary in India
M.Com salaries range between INR 300,000 and 12LPA, according to Payscale. In India, the pay earned after completing an M.Com is determined by the graduate's learning, grades, and needed qualifications.
Why is online M.Com better?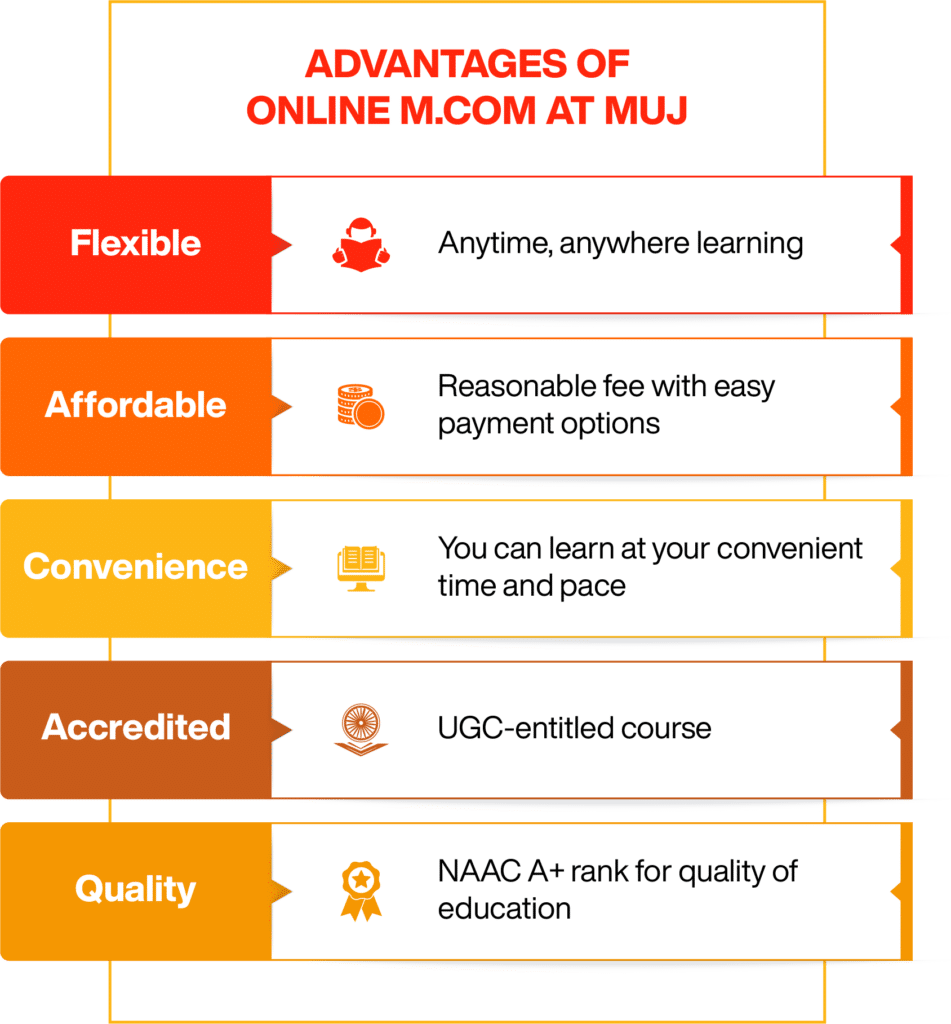 The way of education has changed because of technological improvements. Online education is a fantastic option for individuals who cannot study in traditional classes and allows them to learn better. Students can learn self-discipline and time organisation skills through online education.
So, we can say that online learning can be a highly effective instrument in the right hands. It has the potential to help kids learn at breakneck speeds while also saving them a significant amount of time. The efficient utilisation of multimedia elements, allowing pupils to pick up concepts quickly, is one of the main reasons online education has grown so popular. So, apply for M.Com online at a reputed institute without second thoughts.
Pursue online M.Com from Manipal University Jaipur
The online Master of Commerce course from Manipal University Jaipur is a comprehensive curriculum that will equip you with various skills necessary to manage a successful business in today's competitive environment. Wherever you are, you can attend live or recorded classes. Learn when and where you want from the best professors. Take proctored online tests from the comfort of your own home. Governments, corporations, and institutions of higher learning all acknowledge Manipal University Jaipur's M.Com online degree as qualifications for jobs, further education, and future opportunities. An online M.Com from Manipal University Jaipur can help you to advance your profession.
Frequently asked questions (FAQs)
Q: Is it possible to get my master in commerce online degree?
A: Yes. Many institutions with virtual M.com degree programmes are associated with the UGC-DEB. Students receive complete online support from counsellors/mentors following their online admission. Students can enrol in an online M.Com degree programme directly based on their area of interest.
Q: How much does an M.Com graduate earn on average?
According to Payscale, M.Com graduates in India earn an average of INR 372,913 per year.
Q: What are the advantages of M.Com?
A: With an M.Com, you can work in corporate finance in various businesses, including investment banks, equity research and advisory firms, mutual funds, and stock brokerage organisations. It will benefit you to take a professional finance course, such as CFA or ICWA, to increase your possibilities.
Conclusion
The advantages of online education are obvious when you are committed to striving toward a promising future. Online degree programmes are a terrific alternative for individuals seeking an educational choice other than classroom learning. You can make use of technological innovations and engage in interactive learning.
Manipal University Jaipur, a well-known leader in learning, offers M.Com online courses to students worldwide. You'll develop a thorough understanding of key business concepts, allowing you to tackle real-world problems and provide meaningful answers. So, go ahead and enroll in an online M.Com course for a promising career ahead.
Enrol with us
Interested to join our courses?
Share your details and we'll get back to you.