Commerce
Online Manipal Editorial Team | May 13, 2022
M.Com, also referred to as Master of Commerce, is a two-year postgraduate study designed for applicants interested in the BFSI sector (banking, financial services, and insurance) and accountancy and commerce. The two-year course digs further into the economy's functioning, capital, revenue, trade, taxes, and other topics covered in B.Com. M.Com is an extremely adaptable subject that allows students to pursue professions across various industries. It is the most common degree among aspiring professors and scholars in finance, accounting, and related domains.
M.Com is an appropriate option for you if you are interested in financial studies and want to study monetary transactions to manage the business. We'll go over all of the questions regarding M.Com in this article, including:
What is an M.Com course?
What are the eligibility criteria for an M.Com course?
How to get admission in an M.Com course
Types of M.Com courses
Subjects covered in M.Com
M.Com syllabus semester-wise breakdown
Jobs after M.Com course?
Scope of M.Com graduates in India
Why should you consider online M.Com?
Key points for M.Com course
M.Com is a two-year postgraduate degree in Masters of Commerce, which is a higher level of study after a bachelor's degree in commerce.
| | |
| --- | --- |
| Particulars | Details |
| Degree | Masters |
| M.Com full form | Master of Commerce |
| Duration | 2 years |
| Age limit | No specific age limit |
| Minimum percentage | 45-50% |
| Subjects required | Graduate degree in Commerce |
| Average fee incurred | INR 50,000- 1,00,000 per annum |
| Similar options of study | M.Phil (Commerce), MBA, CA |
| Average salary offered | INR 4 Lakhs per annum |
| Employment roles | Accountant, Account Executive, Finance Manager, Operations Manager, Financial Analyst, Senior Account Executive, Senior Accountant, Financial Controller, Cost Accountant, Accounting Manager, and many more. |
| Placement opportunities | EY (Ernst & Young), Genpact, Accenture, WNS Global Services, Tech Mahindra Ltd., J.P Morgan, Chase & Co., HDFC, BNY Mellon |
What is an M.Com course?
The M.Com course equips learners with high training that suits the requirements of corporate executives. It also functions as a research and education tool in management studies. The course enhances rational thinking, analytical ability, language skills, statistical and mathematical expertise, management ability, education and research skills, and business acumen. As a result, those interested in becoming teachers, lecturers, or professors and seeking further education (Ph.D.) frequently enrol in this programme.
For Master of Commerce degree holders, UGC-NET/JRF and Ph.D are two common possibilities. Aspirants need to clear entrance exams for M.Com admissions at elite universities, and many colleges provide admission to the programme based on merit.
How to get admission to an M.Com course?
M.Com is a popular degree choice among students. Aspirants must have a minimum of qualifying marks in their bachelor's degree for M.Com admission. The following is a full description of the admissions procedure:
M.Com course eligibility criteria
The M.Com eligibility standards may vary in terms of overall aggregate from one college to the next. Below are the vital criteria for an M.Com programme:
A minimum of 50 per cent in B.Com or B.Com (Honours) or comparable from an accredited institution.
Some colleges additionally accept students who have finished Economics (Honours), BBA, BFIA, or BBE with a minimum average score of 60% or higher.
Students in the reserved category are offered a 5% grade relaxation.
Home-state applicants are also given a lot of leeway at state universities.
Admissions to an M.Com are based on the results of the B.Com graduate programme and the availability of seats. Applicants must have a least 50% in a Bachelor of Commerce (B.Com) degree from a reputed institute.
M.Com admission is based on merit or entrance exams conducted by the institute.
Most universities admit students based on their qualifications for the M.Com programme. Applicants are chosen for the course if they meet the M.Com qualifying standards set out by the concerned college.
Entrance exams admissions:
Admission to M.Com programmes is based on entrance tests at various institutes. Applicants who clear the entrance test will be deemed eligible for the M.Com course at their preferred institution.
Types of M.Com courses
M.Com programmes in India are available in full-time, part-time, distance learning, correspondence, and online formats.
Full-time M.Com programmes last for two years. In India, the full-time M.Com programme has been the traditional choice. Admissions to M.Com courses are based on merit or an admission exam. Accounting and finance, financial management, business management, statistics, and other M.Com specialisations are available.
Part-time M.Com programmes are available for two years. Admissions are offered on the grounds of a merit list, which is compiled based on graduation grade point averages (GPAs).
Working professionals and aspirants who cannot attend university daily prefer distant M.Com courses. Applicants should check with the Distant Education Board and the UGC before enrolling in a distance education course. The programme lasts between two to five years on average.
The online M.Com course is an excellent learning resource for those who want to learn more about corporate financial transactions without leaving their current work. This course will assist students in either upgrading their current employment status or applying for suitable positions in other firms. Many reputed institutes and platforms such as Online Manipal offer M.Com courses in a completely online mode of education. The online M.Com programme lasts two years and is divided into four semesters. The cost of an online or distance M.Com course is reasonable, ranging from Rs. 50,000 to Rs. 1,00,000.
M.Com course details
M.Com is among India's most recognised educational programmes. The M.Com course details offer a variety of specialities and several course versions that students can follow based on their availability, skills, and qualification.
M.Com programmes cover five core disciplines, as well as specialisations and electives. The two-year study focuses on finance, economics, accounting, and banking modelling. Aspirants can choose electives depending on their talents and choices. The final year is devoted to capstone, real-world trade, and demo projects. Internships are also available during the programme. The M.Com course details are as follows:
Two years
Core and specialization subjects
Elective courses
Capstone projects and real-time projects
Internships and workshops
Subjects covered in M.Com
The M.Com course comprises core and elective subjects. While the core M.Com subjects deal with the principles of commerce, the elective topics give students a practical grasp of various areas. The M.Com subjects may differ depending on the university. The most frequent subjects included within the M.Com curriculum are:
Compulsory subjects
Organisational Behaviour
Economic Analysis
Financial Management and Policy
Statistical Analysis
Business Environment
International Business
Marketing Management
Strategic Management
Accounting Theory and Practice
Corporate Tax Planning
Security Analysis and Portfolio Management
Business Environment and Business Decisions
Managerial Accounting
Research Methodology in Commerce
Financial Institutions and Markets
Advertising and Sales Management
Consumer Behaviour
Optional subjects
Banking & Finance
Entrepreneurial Management
Financial Markets
Financial Bank Management
International Finance
Investment Management
Quantitative Techniques of Business Decisions
Human Resource Management
M.Com syllabus semester wise breakdown
The Master of Commerce course syllabus covers a wide range of Commerce disciplines, from accounting to economics, to assist students in delving further into the specialities that this field of study entails. Universities guarantee that the disciplines in this postgraduate degree's curriculum are versatile to enable students to explore the various job options available to them after completing this programme. Let us glance over the M.Com course's semester-by-semester syllabus.
First semester
Organisational Behavior and Management Process
Marketing Management
Computer Applications in Commerce
Business Environment & Policy
Corporate Governance
Second semester
Management and Financial Accounting
Managerial Economics
Research
Management of Non-profit Organizations
Research Methods & Statistical Techniques
Third semester
Financial Management
Management of Financial Services
Managerial Communication
International Trade – Theory & Practice
Fourth semester
Elements of Income Tax
E-Commerce
Mergers & Acquisitions
Research and Internships
Jobs after M.Com course
After completing an M.Com degree, there are several career options in both the private and public sectors. Individuals can work in commercial banks, government banks, civil services, education, etc. You can work as:
Assistant Accountant
Accountant
Senior Account Executive
Cashier
Personal Finance Consultant
Business Consultant
Teachers/Lecturer
Executive Assistant
Financial Analyst
Business Analyst
Corporate Analyst
Investment Banker
Marketing Manager
Finance Manager
Operations Manager
Sales Manager
Scope of M.Com graduates in India
M.Com is a degree programme that assists students in establishing a career in a rapidly changing corporate world. Aspirants for the corporate sector benefit from the M.Com specialisation subjects. In India, there are many career prospects for M.Com Computer Application graduates. The range of options available after earning an M.Com is expanding all the time, such as
Finance Industries
Insurance Industries
Stock Market
Banking Sector
Corporate Sector
E-Commerce Sector
Gaming Industries
VR Industries
Higher education opportunities after M.Com
The following are among the professional certification programmes that learners can undertake after earning an M.Com degree:
Certified Financial Planner (CFP)
Chartered Global Management Accountant (CGMA)
Certified Public Accountant (CPA)
Chartered Certified Accountant (ACCA)
Chartered Alternative Investment Analyst (CAIA)
Financial Risk Manager (FRM)
Financial Modeling
Before picking which studies to pursue following your M.Com, all young minds should consider the course duration, difficulty level, and cost. Any of the finest courses after M.Com on this list will likely land you a great job and allow you to start your professional career.
Career/Job options with salary
The potential to obtain a postgraduate degree in M.Com is excellent in India and overseas. In India, the scope of Master of Commerce is determined by the speciality and demand. The payscale for M. Com graduates is high because of this demand. Both the private and public sectors have plenty of opportunities for M. Com graduates. Let us look at jobs after M.Com in both the private and public sectors.
Private jobs after M.Com
Graduates with a Master of Commerce degree have many options in the private market. The average income for M.Com grads in India is roughly INR 3.9 – 12 LPA, as per PayScale. The following are the jobs for M.Com graduates with titles and their associated salaries:
| | |
| --- | --- |
| Job roles | Average annual salary |
| Risk Analyst | INR 6.06 LPA |
| Management Consultant | INR 7 LPA |
| Finance Bookkeeper | INR 6.24 LPA |
| Finance Analyst | INR 6.94 LPA |
| Stock Broker | INR 12 LPA |
Government jobs after M.Com
M.Com graduates have many opportunities in the public sector. The most common central government employment for M.Com graduates is working in the RBI and the FCCI. The banking sector is also an area with many opportunities. M.Com grads in India earn between INR 2.8 and INR 9 LPA, as per PayScale. The following are some government jobs for M.Com graduates that pay well:
| | |
| --- | --- |
| Job roles | Average annual salary |
| Auditor | INR 4.1 LPA |
| Bank Accountant | INR 8.85 LPA |
| Lecturer or Professor | INR 4.11 LPA |
| Budget Analyst | INR 8.1 LPA |
| Account Assistant | INR 3.8 LPA |
M.Com vs MBA: Which is a better choice?
In an era where practically every candidate prefers an MBA, the question remains: is an M.Com worth it?
Similarities between M.Com and MBA
To begin with, M.Com is significantly less expensive than other professional degrees like MBA and PGDM. While an MBA is a multidisciplinary programme, the M.Com programme concentrates solely on a single facet of the business. However, this does not rule out the possibility that the M.Com programme will include business management topics.
Organisational Behavior, Organisational Management, and Management Principles are just a few of the disciplines covered in the M.Com degree, preparing individuals to compete with MBA graduates. In addition, the duration of the M.Com course is comparable to that of an MBA and is far less than that of a CA course.
Difference between M.Com and MBA
| | | |
| --- | --- | --- |
| Feature | MBA | M.Com |
| Cost | MBA is generally an expensive course. Depending upon the college, you may have to spend INR 10-12 Lakhs on an MBA course. | M.Com is an affordable course, especially in government colleges. Learners can usually complete an M.Com course within INR 1 Lakh. |
| Recognition | Widely recognised in the Indian as well as the global marketplace. | A recognised course in India but not as much international recognition. |
| Who is it for? | Great for candidates who wish to take up management positions in private industries. | Best for candidates who either want to take up teaching or research in Commerce or Finance. |
| Core recruiting domains | Marketing, Advertising, Analytics, Business Administration, Private Organisations, Specialised Sectors | Financial Research, Stock Market, Taxation, Banking & Insurance, Government Jobs |
M.Com vs MBA in Finance: syllabus
MBA and M.Com courses have various curricula for different specialities. Learners will notice that the MBA and M.Com curricula share several identical subjects. The MBA course content is tailored to industrial requirements, whereas the M.Com course content is constructed from an academic standpoint. The table below compares the MBA in Finance and M.Com in Finance curricula.
| | |
| --- | --- |
| MBA finance subjects | M.Com finance subjects |
| Financial Management | Banking & Technology |
| Portfolio Management | Risk Management |
| Financial Accounting | Quantitative techniques for business |
| International Finance | Business Economics |
| Organisational Behaviour | Financial Markets and Services |
| Corporate Investment | Investment Management |
| Management Borrowing | Marketing Management |
M.Com vs MBA: Career scope
The most important element for candidates to evaluate before enrolling in any degree programme is the potential for a professional future. Certain degrees provide fewer alternatives than others, and you should be aware of this before choosing your preference. The following is a comparison of MBA and M. Com career options.
MBA career
The MBA degree provides you with a wide range of job options. MBA grads are in high demand and are at the top of employers' lists. Along with technical competence on all topics linked to business, you will go through a series of personal growth. You will learn various soft and technical skills over the duration of the course. You can even plan your course, launch your own company, and work for yourself.
M.Com career
Master of Commerce graduates have access to some of the most prestigious positions in the workplace. The disciplines in this course will prepare you to be a business expert. If you pursue an M.Com., you will have no difficulty getting a job that pays well and offers good perks. Jobs after M.Com will lay a foundation for your bright future.
Online M.Com: New generation course
The online M.Com course is developed to meet the existing or contemporary educational system's requirements and to assist remote learners. Students can get an M.Com degree while working or participating in other activities that will help them advance their careers through online learning. Working individuals who wish to achieve one of the following goals are turning to online courses of study:
Extend their knowledge horizons
They can either improve their current job profiles or start a new one
Explore an entirely new field.
Why should you consider online M.Com?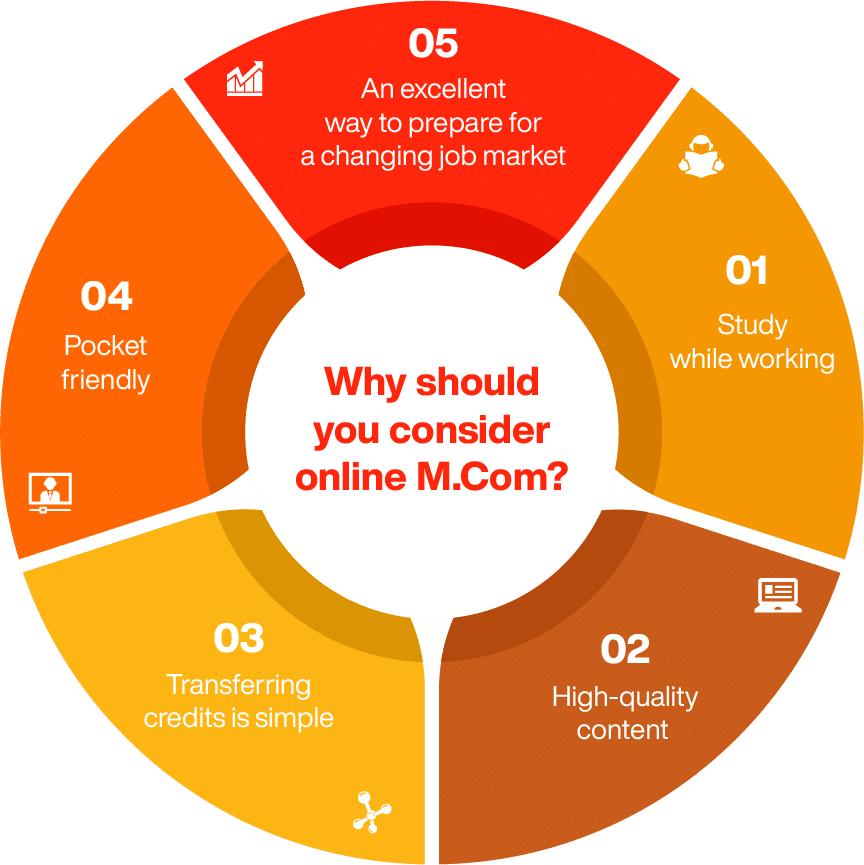 The M.Com programmes are in significant demand because of the financial advantages for students. M.Com courses are offered in various formats, and the extensive M.Com specialisation allows candidates to carve out a speciality in a variety of industries. Here are the main reasons why online degree courses are one of the most popular learning options in India:
The most significant benefits of an M.Com online course are that students do not have to quit their jobs to take classes. Students pursuing online courses can access their learning material from anywhere and gain knowledge in a virtual classroom, and they only require functioning internet service. If they still cannot attend online lectures when they are scheduled, they can view the session at a later stage and re-watch it if they do not grasp particular content. For many who want to study at their own pace and in their very own surroundings, online M.Com from Manipal University Jaipur provides a flexible educational experience.
The accessibility and level of the coursework available via e-learning courses have improved. When these programmes first began, the content quality was lower than that of an offline class, owing to the lower average standard of educators who taught in an offline setting versus those who created curriculum content for virtual courses. As a result, these courses paled in comparison to offline training and were deemed untrustworthy. However, more reputable institutions hit the marketplace as time went on, bringing expert coaches who were further driven to develop high-quality stuff for these platforms. Most professionals today who intend to advance their careers choose online courses. These factors have combined to make degrees more accepted in the workplace now than they were previously.
Transferring credits is simple
Transferring credits from one institute to another is simple with online programmes. For example, if a student wishes to transfer from one university to another while pursuing the same course, they are not required to start over. If a student has undertaken a normal M.Com course and wants to enrol in online M.Com classes, they can transfer credits, and they'll be able to resume where they left off easily.
Compared to their traditional equivalents, M.Com online courses are far less expensive. The absence of infrastructure and travel costs makes these programmes extremely cost-effective over their offline counterparts. Thus, the associated costs for both the student and the institute are drastically reduced. Additionally, you can occasionally obtain learning materials such as books and periodicals online at no extra cost.
An excellent way to prepare for a changing job market
Learning to use technology is a fantastic side benefit of online education. Workforces are becoming more scattered as technology develops. Whether interacting with someone across the street or across the globe, mastering technologies for video conferencing, communicating, gathering data, and interacting is a skill set you'll likely require. The gap, which was wide a few years ago, is diminishing, and more working professionals in India are opting for e-learning courses.
Online learning options will become increasingly popular as costs decrease and the standard of education grows, thanks to improving technology. Digital training will become the norm rather than the exception soon.
Get an online M.Com from Manipal University Jaipur
Manipal University Jaipur not only meets one's academic demands but also emphasises its students' overall progress. The Department of Commerce at MUJ offers a two-year M.Com professional programme with four semesters. This online M.Com is an extensive course that will provide you with a wide range of skills necessary to run a successful firm in today's competitive economy. You'll develop a thorough understanding of key business concepts and principles, allowing you to tackle real-world problems and provide meaningful answers. A wide curriculum covering comprehensive accounting and finance leadership, the legal system of a company, export and import legislation, economic policies, and other factors that impact commercial transactions will help you gain a better grasp of essential business operations.
Online M.Com course from Manipal University Jaipur highlights
UGC-entitled degree from a NAAC 'A+' accredited university
Advanced digital learning platform for immersive learning
Top-tier faculty & real-world mentors
Career counselling and placement assistance
Contact faculty through the student portal
Broader worldview
Better job opportunities
Online M.Com course syllabus
Online M.Com subjects list for Manipal University Jaipur is as follows:
First semester
Performance Management
Managerial Economics
Research tools and techniques
Professional Accounting and Reporting
Taxation
Open Elective/ MOOC
Second semester
Financial Management
Governance, Risk and Ethics
Corporate Reporting
International Financial Reporting Standards
Seminar – I
Open Electives/ MOOC
Third semester
Advanced Financial Management
Business Analysis
Advanced Performance Management
Tally/ Other Financial/ Statistical software
Seminar-II
Open Electives/ MOOC
Fourth semester
Option 1- Dissertation / Internship (16 weeks)
OR
Option 2- Study Abroad
MOOC
What is the online M.Com degree duration at Manipal University Jaipur?
The online M.Com course duration at Manipal University Jaipur is two years, i.e., four semesters.
What is the delivery mode for online M.Com programmes?
The M.Com programme is entirely accessible via the internet. Teaching and learning take place on an LMS (Learning Management System), which enrolled students can access.
What are the fees for an online M.Com degree?
The online M.Com fees are INR 1,00,000 (all-inclusive), which means INR 25,000 for each semester.
What are the career choices after an online M.Com degree?
This course provides complete educational opportunities that build and expand skill sets that are required across businesses and may be applied to a variety of career roles such as:
Accountant
Financial Analyst
Market Analyst
Business Manager
Investment/ Asset Manager
Financial Risk Manager
Required skills for an online M.Com course
The M.Com course is mostly about statistics, graphs, and computations, so an aspirant must possess strong analytical abilities and a passion for figures. To pursue a job in the associated industry and advance your career in M.Com, the following abilities are required:
Logical thinking
Proficiency in memorising facts and figures
Strong analytical abilities
Capacity to deal with pressure
Strength in Maths
Strong communication skills
Eye for detail
Leadership qualities
Understanding of financial sector
Good with computers
Will I receive the certificate after completing Manipal University Jaipur's online M.Com degree programme?
Yes, you will receive a certificate after the course completion. MUJ's online certificates are acknowledged by governments, corporations, and higher educational institutes as qualifications for jobs, further education, and future opportunities.
Is Manipal University Jaipur's M.Com degree valid?
Manipal University Jaipur (MUJ) gets an A+ NAAC rating, with a 3.28 CGPA. This honour validates MUJ's academic model, world-class amenities, teaching techniques, and educational quality and establishes it as a prestigious institution.
Manipal online M.Com eligibility for Indian students
Candidates must hold a bachelor's degree in 10+2+3 years from a recognised university/institution or a comparable certification approved by the Association of Indian Universities.
Candidates must have earned at least 50% of their class's grade to be considered (45 per cent for reserved categories)
Manipal online M.Com eligibility for international students
Students and professionals with NRE, PIO status who reside outside of India are termed 'international students' and are eligible to enrol in MUJ's online degree programmes.
As part of the application process, all such students and professionals pay an international fee for their degrees. They may be required to submit papers such as a CV, address proof, valid visa, PR card, and passport copy.
Conclusion
The M.Com course is designed for both fresh students and those currently employed at entry-level positions and interested in advancing their careers. It is possible to specialise in any discipline, and after earning this certificate, one can pursue research or doctoral studies. All organisations are looking for employees with specialised knowledge and skill in a certain subject to make room for better, higher-paying employment more efficiently.
Getting your online M.Com is a fantastic way to expand your learning and professional credentials. It broadens your skills and gives opportunities for academic assignments and conferences, allowing you to expand your knowledge while also assisting in developing an analytical mind. M.Com graduates have a bright future, particularly in advertising, corporate development, and e-commerce.
Hope all your queries regarding M.Com course details, M.Com eligibility, M.Com admissions and M.Com career options have been answered. So hurry up and enrol in an online M.Com course for your lucrative career.
Enrol with us
Interested to join our courses?
Share your details and we'll get back to you.