Management
Online Manipal Editorial Team | April 30, 2022
Retail management is the management of the day-to-day operations of retail outlets that involve the sale of goods and services to customers. It ensures that customers are satisfied with the services and goods they buy and that retail outlets are profitable and run smoothly.
As the Indian economy is growing, retail management has become one of the fastest-growing careers in the industry. There is no better place to invest your money than India's retail market. In recent years, there has been an increase in the demand for trained professionals. Many reputable institutes offer MBA in Retail Management programmes to help professionals advance to management positions in the retail sector. The programme aims to nurture smart retail professionals of good calibre and capable of implementing the best practices worldwide with its MBA syllabus.
What is an MBA in retail management?
Retail management is a sub-discipline of management that deals with the management of the distribution and sale of products and services directly to consumers in specific points such as chain stores, shops, markets, and malls.
An MBA in retail management helps gain skills in managing or streamlining retail business operations. Retail management covers the entire supply chain, from when a product leaves the factory to when it reaches the customer. A retail management specialisation programme aims to mould a new generation of smart retail professionals who are well-versed in the best retail management practices worldwide. Services, accounting, marketing, and business analysis are all included in the Retail Management MBA.
Considering how urban consumers change their shopping habits, the course emphasises implementing cutting-edge management practices in the supply chain, sales promotion, customer service, and creating new products and marketing materials. It is a fairly new specialisation; however, graduates of this specialisation are in high demand due to the recent boom in the retail sector. A wide range of job opportunities is available in this dynamic sector.
What are the subjects in MBA retail management?
Students can learn about the changing landscapes of the retail business. They will also understand the mental tools and frameworks they will need to anticipate and capitalise on future trends in the retail sector. The following MBA subjects are covered under the Retail Management curriculum:
International retailing
Rural retailing
Entrepreneurship in retail business
Operations management
IT in retail
Retail Marketing Environment
Online MBA in retail management – semester-wise syllabus
MBA in retail management is a two-year postgraduate course with four semesters. Introduction to the fundamentals, core subjects, electives, and projects make up most of the MBA syllabus. In the first two semesters, MBA subjects cover the fundamentals of business management and the principles that underpin it, and learners will also need to complete the required core courses. Final-semester students have the option of completing internships or completing independent research projects.
Below are the semester-wise details about the concepts covered during the two-year MBA programme at Manipal University Jaipur.
| | | | |
| --- | --- | --- | --- |
| First Semester | Second Semester | Third Semester | Fourth Semester |
| Management Process and Organisational Behavior | Productions and Operations Management | Research Methodology | Strategic Management and Business Policy |
| Business Communication | Financial Management | Legal Aspects of Business | International Business Management |
| Statistics for Management | Marketing Management | Four elective courses in the chosen area | Business Leadership |
| Financial and Management Accounting | Management Information System | | Four elective courses in the chosen area |
| Managerial Economics | Operational Research | | Projects |
| Human Resource Management | Project Management | | |
The final two semesters cover the fundamentals and specialised topics in retail management. The Third and Fourth semester MBA syllabus for elective Retail Management is as follows:
| | | |
| --- | --- | --- |
| Elective | Third semester | Fourth semester |
| Retail Management | Enterprise Resource Planning, Retail Customer Relationship Management Operations Management, IT in Retail | International Retailing, Entrepreneurship in Retail Business Rural Retailing, Retail Marketing Environment |
Retail management projects for MBA students
Doing a project in your area of interest encourages you to keep learning and developing the skills needed to land a good job. You will be able to see the programme specialisation from a broader perspective. Some project/thesis ideas for gaining knowledge in the field of retail management are:
Impact of retail store design & layout on customer mind
Study of retail store operations
Effectiveness of promotional schemes in retail stores
A study on loyalty programmes in the organised retail sector
Emerging retail formats and strategies
Role of FDI in the Indian retail sector
A study on effective supply chain practices in the organised retail sector
Impact of retail IT application on effective store operations
Is an MBA in retail management a good option?
Retail management focuses on brick and mortar retailing, omnichannel retailing, and online retailing. Retail management has many sub-fields, including store management and commodities, sales markets and markets, market segments, diversification, advertising and campaigning, marketing research, and even e-commerce.
Enrolling in an MBA in retail management is one of the top career options for the following reasons:
Excellent job opportunities: The retail industry has expanded rapidly in recent years, and the presence of multinational corporations and FDI in India has benefited the retail sector. Retail management professionals who can oversee all aspects of the business are in high demand to propel the industry forward. According to current projections, over 2 million retail management positions will become available worldwide soon.
Better earning potential: The industry pays well due to a shortage of qualified retail management personnel. A few years into their careers, retail management professionals can rise through the ranks and earn higher salaries.
Emergence of big players in the sector: H&M, Reliance, Spencers, Aditya Birla, Tatas — these conglomerates with diverse businesses are looking for individuals with skills ranging from sales to market analysis, inventory management, store management, and customer relationship management. As a retail management professional, you will have the skills to reduce the customer's time to locate their preferred product.
Career in e-commerce: An e-commerce career may pay off handsomely in the long run, given how online retail is growing faster compared to brick-and-mortar stores.
What is the scope of an MBA in retail management?
Retail management students with master's degrees are in high demand. The organised retail sector provides huge employment opportunities for educated youth. 
Retailing is a dynamic industry, comprising a wide variety of sectors and home to some of the world's biggest companies. Candidates with retail management can start careers in supervisory, client communication, merchandise shipment, sales, management, and administrative services. Retail management offers more than 2 million job opportunities across the globe.
Some of the renowned companies that hire in this segment are

ITC retail
Aditya Birla Group
Lifestyle international
Tata Groups
Reliance Group 

Work opportunities include brand manager, retail manager, marketing executive, store manager, senior operations manager, department manager, supply chain distributor, warehouse manager, etc.
The salaries depend on the factors like experience, institute of learning, and the hiring company.
Fresh MBA graduates in retail management can earn salaries ranging from INR 3 lakhs to INR 6 lakhs.
Salaries of mid-level executives can range between INR 7 lakhs to INR 12 lakhs per year 
Salaries of experienced senior executives can go up to INR 27 lakhs per year.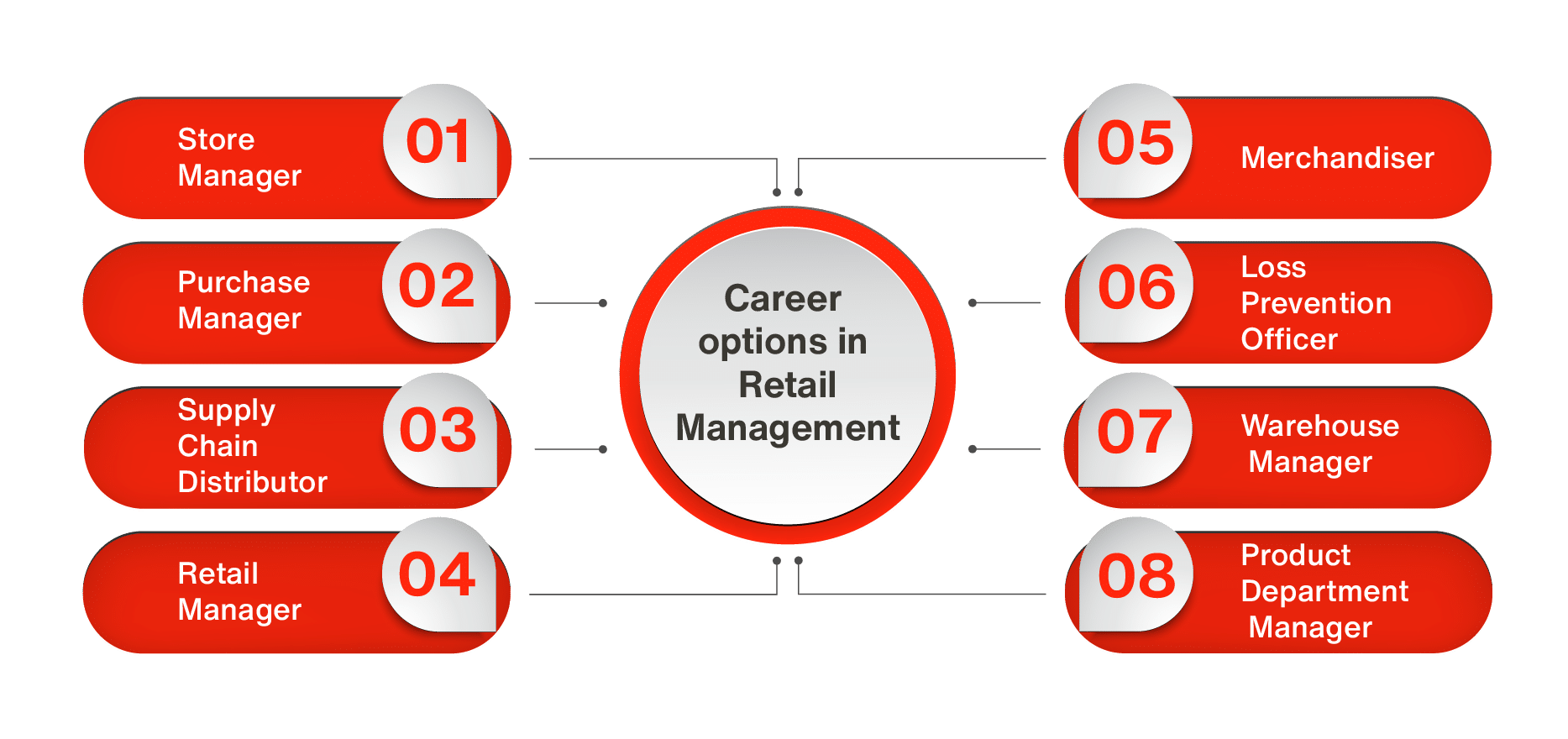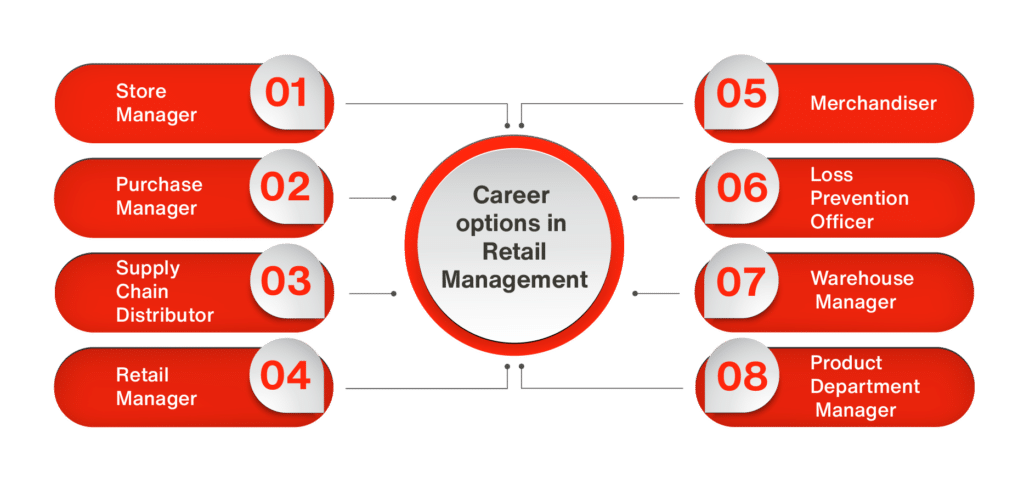 Master your retail management skills with an online MBA from Online Manipal
Organisations in today's business world are looking for the next generation of leaders who can propel them to success. The online MBA programme at Manipal University Jaipur on Online Manipal will help you strengthen your business acumen, develop leadership skills, and expand your professional network.
Students can benefit from Manipal University Jaipur's placement assistant programmes. The vast network of professionals, academics, and alumni can assist students in building their professional network and preparing for interviews.
Free courses access for online MBA
There is free access to paid courses on 'Coursera' for online MBA students at Manipal University Jaipur. Students can explore over 4500 cutting-edge courses from leading universities worldwide to upskill in the in-demand domains.
For students to be prepared for the industry, Manipal University Jaipur provides them with tools and resources. Additionally, it offers access to INR 50,000 worth professional certification courses, and lectures by industry leaders.
Some of the certification programmes are:
Domain
Courses
Management Courses
Management Foundation Courses – Finance, Marketing, others

New Age Management Courses – Digital Marketing, Business Analytics & others
MBA course eligibility
10 2 3-year bachelor's degree from a recognised university/institution, or an equivalent qualification as recognised by the Association of Indian Universities or other competent bodies, in any discipline
Minimum of 50% marks in aggregate (45% for reserved categories)
A valid score from any aptitude test (CAT/MAT/CMAT/XAT/GMAT).
Candidates without an aptitude test score need to appear and clear the online aptitude test conducted by Manipal University Jaipur as per admission norms to the MBA programme
MBA course fee structure
INR 1,50,000 (all-inclusive) or INR 37,500 per semester (includes an examination fee of INR 5,000)
Students can pay the fees semester-by-semester through Online Manipal's flexible payment options. The students can also check their eligibility for a scholarship and look into simple financing options like no-cost EMIs.
Duration
Minimum 2 years divided into 4 semesters
Maximum 4 years
Affiliations
The Manipal University Jaipur is accredited by NAAC, WES, AICTE, and ICAS and recognised by the UGC. These certifications serve as evidence of the quality of their academic model, pedagogy, and curriculum, as well as a means for employers to verify the credentials of their graduates.
University Grants Commission (UGC) Regulations 2020 are used to design Manipal University Jaipur's online degree programmes, which are recognised on the same level as on-campus programmes. Governments, corporations, and higher education institutions widely accept their online degrees for jobs and education.
Conclusion
An MBA in retail management as an elective course will produce retail management professionals with the necessary skill sets to deal with the ever-changing market. It will provide a much-needed boost to one's career, both in income and the opportunity to enter the retail industry. Manipal University Jaipur is the place to go if you want to become a retail management expert and take your career to the next level.
Enrol with us
Interested to join our courses?
Share your details and we'll get back to you.