In today's technological epoch, computer specialists are in high demand. Most computer professionals aspire to work for organisations like Google or Adobe. Getting a position in such a high-profile organisation is no effortless task. In terms of job opportunities, many consider landing a job at Google as the ultimate destination. Around a million people apply for jobs at Google every year, but only a few are hired. With such fierce competition, your skillset must stand out even more.
A degree in computer applications like BCA opens many doors for job advancement. It is a three-year undergraduate degree course that takes you through computer application basics. It equips students with basic knowledge about computers and the systems necessary for an IT corporation. The BCA course has grown in popularity in India, but the demand for BCA has grown even more in international markets, opening doors for several jobs in the USA for BCA freshers. They have a plethora of options available to them, and they can find a decent career by applying for jobs in MNCs. With a degree in computer applications, you can work in software engineering, systems engineering, computer security, animation programming or engineering, and many other fields.
READ MORE: Can I get a job after BCA?
Can a BCA graduate get a job at Google?
Yes, after BCA, you could find work at Google. However, you must be exceptional, for Google to hire you. And you can do it if you have top-notch expertise and talents. Google is notorious for hiring people with unusual abilities.
A pressing topic is the several changes and requirements in the IT business, particularly for BCA graduates working on the same initiatives as degree holders. Many IT organisations are shifting their hiring priorities toward BCA graduates, claiming that BCA graduates can do most of the tech requirements. So, in India and globally, the demand for IT specialists is rising. BCA starting salary in India is expected anywhere from INR 3-6 LPA on average, whereas BCA salary in the USA in the early stages of one's career is $68,600 on average.
What qualifications do I need to get into Google?
Knowing what abilities Google is looking for in candidates is a great starting point. You can emphasise them on your CV and make them stand out during the interview.
Google is a location where individuals collaborate on challenges with uncertain answers. This necessitates open-mindedness, cognitive daring, a strong work ethic, and a high level of self-discipline. You have to illustrate that you value teamwork and you can work effectively in a group setting.
Being at ease with ambiguity
Employees must be comfortable dealing with unpredictable circumstances. The challenge is that Google does not know how its venture will develop, and therefore they expect a lot of ambiguous circumstances. As a result, a candidate should be at ease dealing with such events when there are no simple fixes.
Google strives for individuals who can inspire and encourage others to pursue their thoughts, regardless of their rank. Management is more about being present when a problem arises and then moving away once resolved. In a nutshell, you must recognise when it is suitable to show leadership or when it is not.
Skill to take on challenges
What counts most are your problem-solving abilities because mastering them implies you'll be able to handle practically any scenario. The recruiters will be interested to see how competent you are at fixing issues by posing role-related queries to you. It is preferable to provide creative solutions rather than give the correct response in this situation.
Excellent technological abilities
You must have excellent tech skills. Don't just learn programming languages; understand them. Don't just memorise algorithms; understand why and how they function. Learn why data structures work the way they do, not just how they work—master mathematics rather than memorising trigonometric formulae. Most hiring managers can recognise people with competence; therefore, your qualification will become less important as you get older.
You don't have to be a genius to get employed at Google. Intelligence is important, but it is not the most important factor. If you exemplify a trait like "Inventive genius," you'll have a high chance of finding employment at Google. It combines a technologically-oriented mindset with an infinite supply of ideas and approaches to challenging problems. Analytic cognition and the power to reflect on a topic from various perspectives are required for smart creation.
Types of job roles you will get at Google
The job roles at Google require you to think out of the box. People with strong creativity always explore both sides of an issue, using the knowledge they gather to come up with answers and approaches that others might not have considered. The key job roles are:
Cloud Technical Solutions Engineer
Cloud Engineer
Developer Programme Engineer
Technical Solutions Specialist
Expected BCA salary in Google
On an average, a BCA graduate working for Google gets anywhere between INR 10-11 lakhs per annum. However, this number can vary based on several criteria, the most important of which is the institution where they earned their degree.
Key skills required to get into Google after a BCA degree
A job in Google after BCA requires abilities that should be the perfect blend of technical and non-technical skills.
Technical skills – Networking, Google App Engine, issue resolution, HTML, HTTP, OpenStack, Troubleshooting, and Open source
Soft skills – Customer support, interpersonal skills, time management, etc.
Steps to get into Google after BCA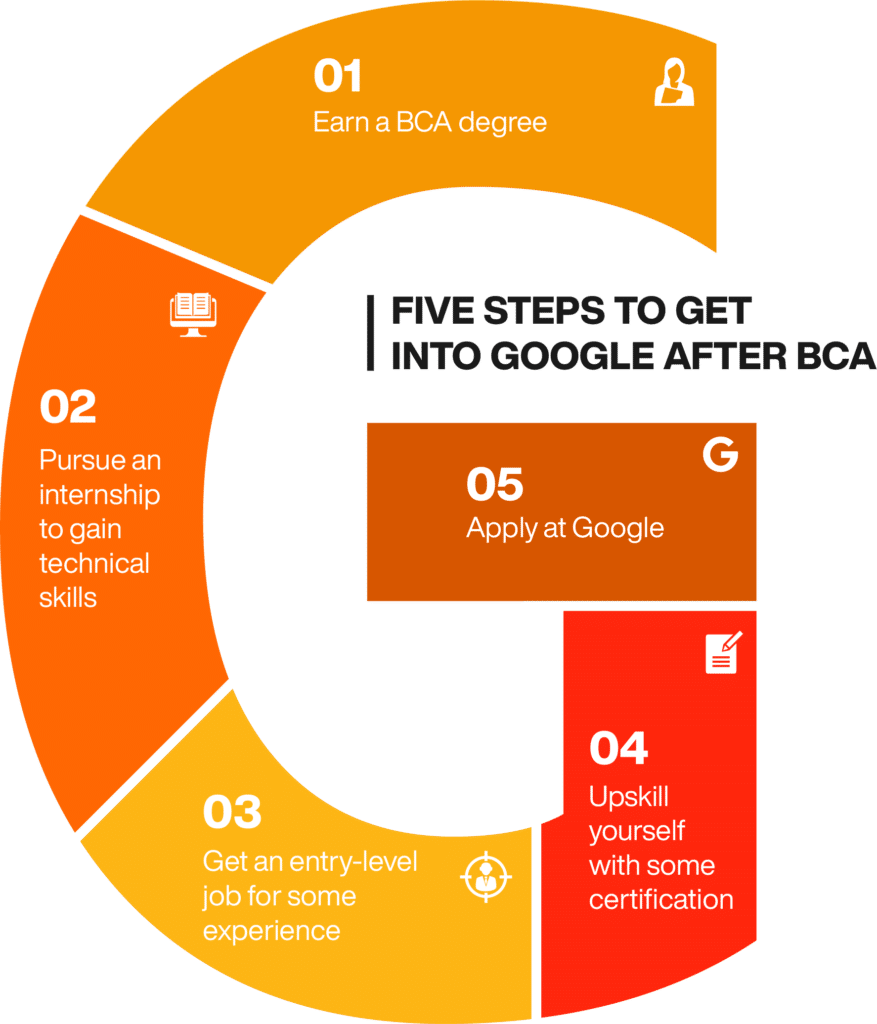 Scroll down to get an answer to the question "How to get job in Google after BCA?"
The foremost step is to earn a BCA degree from a reputed institute. The focus of BCA is to improve students' software skills and develop their computer application skills. This prepares students for industry requirements, allowing them to succeed in the IT industry. It gives students a strong theoretical basis and practical skills in several sectors.
Pursue an internship to gain technical skills
Entering the workforce can be difficult, especially if you have no prior experience. Internships are a fantastic method for college students, recent graduates, and anybody thinking about changing careers to gain vital job experience. It gives you a glimpse of the career you aspire to explore. You may be exposed to a variety of parts of a company's operations to assist you in discovering the work you want to do full-time. Internships can help you get useful work experience, complete an education assignment, and contribute to your CV. They also stand you in good stead for the challenges of today's jobs in the following ways:
Acquire practical job experience
Consider your choices for a career
Get a competitive advantage in the employment marketplace
Develop and improve your abilities
Obtain monetary compensation
Make connections with experts in the field
Boost your self-assurance
Get an entry-level job to gain experience
An entry-level position is a vital step in the right direction in your pro career. Entry-level positions allow you to gain experience and learn new skills that you can apply to future jobs and lead to advancement within your firm. In addition, entry-level professions encourage personal growth through responsibilities, commitment, and teamwork.
Upskill yourself with certifications
The advancement of technologies has culminated in recurring emerging requirements and demands of various industries. It creates new and evolving employment positions that require employees to be up-to-date on their niche skills. You will become more informed of industry patterns and advancements in your career if you routinely take courses and workshops that will help you expand your knowledge repository. Upskilling yourself will open up more career prospects, allowing you to progress up the corporate ladder.
Finally, it's time to apply for BCA jobs at Google. Before that, have a solid idea of what job would be a perfect match for both you and your background. If you want to work in the tech field, ensure you put your talents to the test by practising digitally through side projects. Ensure that you know what types of jobs suit your abilities and that you're expanding your expertise by working on projects or taking classes that align with your goals.
Google interview questions
During a Google interview, prepare to use a whiteboard to describe your responses to logical, programming, and algorithm queries. You'll also have to answer certain Google behavioural interview questions. Let's have a look at some Google interview questions on the procedure.
Which Google product is your favourite, and how would you enhance it?
Explain the difference between coding and programming.
How do you stay accountable?
Tell me about a time when you set and achieved a goal?
What is DEADBEEF?
Explain the two-sum problem. In how many ways you can solve it?
Is it possible that five minus two equals 4? How?
How to explain programming and programming languages to a 10-year-old?
How many ways can you find all the triplets in a given array of n distinct elements with a sum equal to 0?
Write code to search if an array has a majority element. If you answered yes, you should print it.
Top companies which hire BCA graduates
After completing a BCA, the possibilities are infinite, with professions ranging from software analyst to computer programmer. The tremendous advancement of the technology sector necessitates the hiring of BCA graduates, and hence, demand is rising. Companies are looking for young people who are very efficient. Apart from Google, the finest companies for a BCA graduate to work for are Microsoft, Amazon, Adobe, etc.
Top Indian companies which hire BCA graduates
In India, the IT sector is growing faster, with more and more MNCs hiring computer specialists and establishing employments that require an understanding of computer applications. Companies recruit BCA students on a broad scale, so graduates have a lot of work opportunities. These well-known corporations frequently send representatives to top institutions with attractive packages to recruit top students who are also skilled communicators. If you want to know which companies hire BCA graduates, below mentioned are the leading Indian companies that hire BCA grads:
Wipro
HCL
TCS
Cognizant
Aricent
Infosys
HP
Master your technical skills with an online BCA degree from Online Manipal
The online BCA curriculum at Manipal University Jaipur produces tomorrow's geniuses by combining the most recent breakthroughs in digital technology, a focus on logic and innovation, and the marketplace's growing norms. The programme includes The Google Cloud Computing Foundations curriculum, which covers topics spanning from cloud architecture to application development, and will expose you to the range of cloud technology through ideas, hands-on exercises, exams, and a capstone assignment. You can take live sessions from the comfort of your own home, study around your speed, and take online proctored tests.
This online BCA programme, delivered through the Online Manipal platform, adheres to the most up-to-date pedagogical standards, backed by a staff that is well-versed in the industry's ins and outs. It provides advanced training opportunities that build and expand competencies that are necessary across professions and may apply to a wide range of career roles. The total programme fee for online BCA at Manipal University Jaipur is INR 1,20,000. Students are provided with various payment choices to pay their expenses in semester-by-semester instalments.
Conclusion
Without a doubt, Google is a fantastic organisation in many aspects, and there are many reasons to choose to join there. Do not expect your mere college education to suffice. Learning from your college textbooks and terminologies would never get you into a company like this. Take the initiative to think in a fresh way. A BCA degree will surely help you land your dream job, provided you are focused and determined to get the best. Many top recruiters are looking for recent BCA graduates to offer better career opportunities. Hope we answered all your queries about "Can a BCA student get a job in Google?" So go ahead and make a wise professional decision by enrolling in the Manipal University Jaipur's online BCA programme.
Enrol with us
Interested to join our courses?
Share your details and we'll get back to you.