The BCA (Bachelor of Computer Applications) is an undergraduate degree programme that prepares students to work as software developers, systems designers, computer programmers, and other professionals in the tech world. A syllabus gives students all-encompassing expertise spanning the techniques and key domains of computer science in theoretical and practical ways to achieve this goal.
Such a course framework also encompasses the BCA final year project which is aimed to integrate practical and theoretical knowledge to solve real-world challenges. This final year project is quite important in a student's life. Many things depend on it, and hiring managers also use it as a benchmark. There will be several bends in the path during the duration of your project. This post will assist you in gaining powerful insight into how to proceed with your BCA project topics. We've put together important ways to assist you in acing the final year assignment. 
Pick your project topic carefully
Selecting the correct topic for your final year project is critical. With so many options accessible nowadays, making this selection might be difficult. Pick a suitable project topic that applies to your area of interest. It is also recommended that you choose a topic with powerful motivation. For example, a project that benefits humanity will be unrivalled. Another thing to remember is to choose themes that aren't overly popular.
Select the appropriate project mentor
Project mentors heavily influence the process and outcome of your final year project, and they should be fantastic instructors and subject matter experts. It will be helpful if your mentor is undertaking experiments on the same topic or has previously written research articles. By employing your guide's experience and expertise, you can add tremendous value to your BCA project. If you're working on a collaborative project, you'll need to pick the right team to work with besides the practical project guide. It is critical to select project participants that are amicable and consistently dedicated.
Make a thorough project plan
It is as basic as it seems, yet it's crucial. Once you've decided on a proposed BCA final year project and a mentor, you'll need to establish detailed plans for the entire procedure. A BCA project plan covering the aim, study, specifications, cost estimates, execution, and presentation is ideal. Plan and stick to it, maintaining timeframes in mind; this will assist you to optimise and avoid last-minute uncertainty. The best strategy is to split up your development schedule and then execute them. A well-thought-out project strategy can perform more effectively than one might expect.
Examine the published research papers
If you read research papers directly relevant to your subject, you will gain various benefits. For example, you'll see what information is already accessible and what isn't. In this manner, you may validate that your project provides data not found in other projects. Reviewing research articles might provide suggestions, a solid basis, and a plan for completing your final year project.
Prepare and submit a research report
Among the few strategies to give your project more legitimacy is to submit a research paper for review. This boosts your self-assurance when you deliver your product. Research articles frequently provide new prospects. When you've finished your research article, ensure to reference it, review it, and change it properly. Evaluate your document for redundancies, grammatical mistakes, and adherence to quote guidelines.
Publishing a research paper in peer-reviewed publications that provide global recognition to students, organisations, and institutions is strongly advisable. This also aids in the enrollment of students for higher study at reputable institutions.
Test and execute your project
It is vital to test and execute your final year project before delivering it. This gives you a chance to correct any inaccuracies that may have occurred. You can undergo the cycle using trials and experiments. You might use test scenarios to see if your product is producing the desired outcomes. Ensure the outcome is in line with the project's objective and that there are no variances.
Presentation
If you can't execute it successfully on the last day, it's worthless to have worked so hard on your final year project. As a result, it is critical that you are well-versed in your topic and can provide an engaging, in-depth, and engaging demonstration about it. You can communicate the project findings effectively if you use data visualisation in your presentations. Make preparations to address the panel's queries thoughtfully and quietly throughout your session. With a great deal of effort, you can perfect the art of giving a presentation.
Those were the essential project tips for the easy completion of your year-end project. Now that you better understand the best project suggestions, you can plan around them and strive hard to finish a fantastic final year project.
Top BCA Project Ideas
Let's look at the top 10 ideas for the BCA final year project.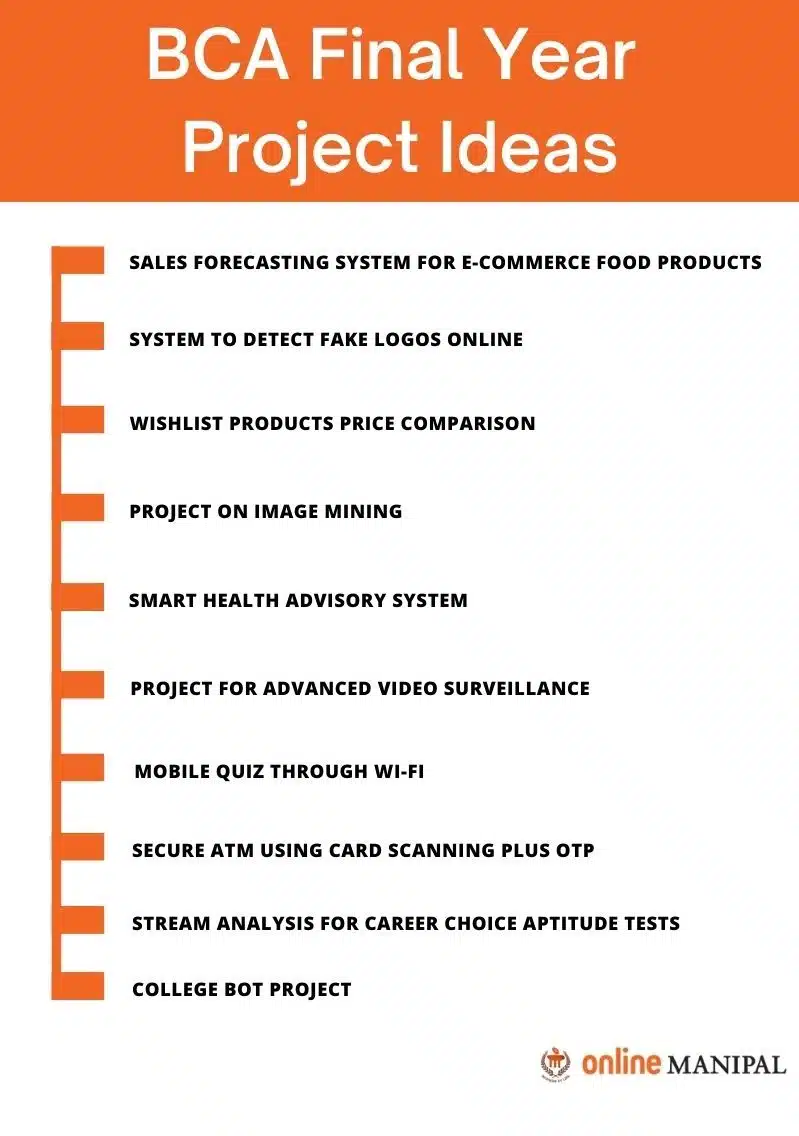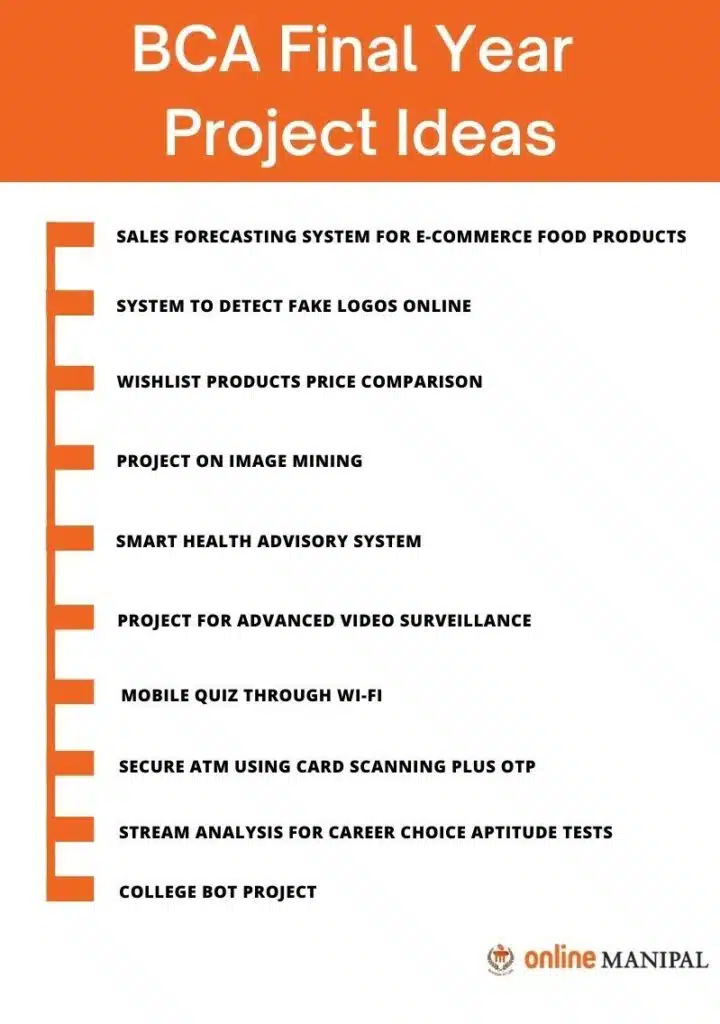 1. Sales forecasting system for e-commerce food products
E-commerce has progressed to help people find and buy things through online stores and platforms; because of factors such as the latest trends, quality of food, and so on, online food sellers' sales chart changes. The forecasting system assists by preserving historical sales data and estimating future sales based on recent sales. Admin and User are the two modules in this sales forecasting programme. Admin can insert goods, view products, users and view the generated sales predictive analysis report. Users can examine the products added by the administrator, add products to their cart for purchase, track orders, and view past order history.
2. System to detect fake logos online
Every year, unlicensed knockoffs and counterfeits cost brands a large number of their revenues. Because fake goods are typically lower quality, they end up tarnishing the brand's reputation. Consumers are frequently defrauded of their hard-earned money when paying an extravagant price for a bogus product. This Logo Detection software for the final year project in BCA assists buyers in distinguishing frauds from genuine products. A consumer can use this approach to determine whether a product is genuine. This tool can also assist brands in their fight against counterfeit goods. By evaluating the logo on the goods, this Logo Detection project seeks to assist users in identifying frauds.
3. Wishlist products price comparison
Since the e-commerce revolution, price comparison websites have grown in popularity. Price comparison services provide data and values that help users save money while buying online. Several price comparison sites compare product prices, but none compare the prices of items in the wishlist. This topic aims to develop a price comparison mechanism that compares the prices of only the products that customers are interested in buying. The system contains an advanced feature that sends notifications when the price of a product that has been added to a wishlist changes. This price review site is quite useful for frequent online buyers who want to compare costs from many online businesses in one spot.
4. Project on image mining
It focuses on improving image search. Typically, we find solutions that give an effective data mining capability. This includes looking for information by comparing it to text data. We can easily mine this text data because we just match the words to the words in the databases. For photos, most systems rely on data mining to find images using the image alt property or title, which is the text linked with the image. This system compares images visually to establish a connection between image colour values, using image pattern and graphic approaches to locate a fit. This effective image mining system uses graphical pattern matching approaches and algorithms for rapid and approximation image retrieval.
5. Smart health advisory system
Such a project topic helps to build a tool to keep patients' medical data and even schedule visits with different providers for appropriate treatments. The user must become a member of the system to keep her/his medical information up to date. Patients can then choose from a list of expert doctors at specific locations for certain treatments, such as dentists, skin specialists, ENT specialists, cardiologists, and so on. Patients can also choose when they want to meet and when they don't want to meet.
6. Project for advanced video surveillance
This BCA final year project is a novel approach to video surveillance software development. Video cameras are commonly found in strategic areas and even in residential buildings, which record and keep surveillance video for days or months at a time. A considerable battery capacity and storage capacity are required to save these huge video clips. This project focuses on developing a video surveillance programme that is an improved version for security to watch and record only odd changes. When the system detects odd behaviour, it takes action and notifies the user by:
Sending a text message to the user informing them of unusual activity
Sending an image of the action to the user's email address so that he can assess the severity of the problem and respond appropriately
The system's key benefit is that it immediately warns the user if there is any suspicious behaviour at the location and needs considerably less storage space than typical surveillance systems.
7. Mobile quiz through Wi-Fi
Mobile quizzing is an Android gaming app that introduces a new way to play quizzes on mobile phones. It presents the gamer with a worthwhile challenge, and the software comes with an admin login that has complete control over the server's quiz system. The query and answers are entered into the system by the admin. These questions are chosen at random and delivered to users' Android handsets. To play the quiz, users must first register an account with the system. The system will check all the answers at the finish of the quiz and provide a brief report with feedback.
8. Secure ATM using card scanning plus OTP
This project presents a secured ATM system that includes a card scanning system coupled with an OTP password system through SMS for better security. For money withdrawal, standard ATM systems do not include the OTP capability. This suggested system includes both an ATM card reading process and an OTP. Users can log in to the system by scanning their cards. However, once the users have completed the authentication process, they can read details but will be prompted to enter an OTP as soon as they select the cash withdrawal choice. The user's password is set and given to their phone. To withdraw money, she/he must now enter the OTP into the system. With two levels of protection, this system offers a comprehensive, secure way to conduct ATM transactions.
9. Stream analysis for career choice aptitude tests
The necessity for such an online IQ test emerged primarily because of the current system's shortcomings. Here, the major goal is to provide users with more dynamic and user-friendly software. The IQ test creates a more enjoyable working environment, increases the clarity with which appropriate information is presented to the user, and allows for faster access to and retrieval of data from the database. Questions can be saved and retrieved using this system, eliminating the need to prepare question papers each time. The system verifies the answer by comparing it to the database's predetermined answers. If the candidate receives a high score, the algorithm will switch the queries to expert level and ask questions about the candidate's subject of interest. Admins can add and remove queries from the database. Each user's results are saved in the database, and the system produces a spreadsheet report from them.
10. College bot project
The college bot BCA final year project is powered by artificial intelligence algorithms that evaluate user searches and comprehend their messages. This programme is a web application that responds to the student's questions. Students only need to ask a question through the bot used for talking. They can chat in any format they want; there is no need to adopt a thematic structure. The system's built-in artificial intelligence answers the queries and gives responses. The system allows the user to inquire about any college-related activity. The user is not required to visit the college in person to get information.
Read more – B.Com final year project topics and ideas
Conclusion
Design your BCA project for the sake of learning, not for the sake of getting good grades only. If you don't put your effort layered with problem-solving skills, you may develop the project, but you won't be getting something valuable out of it.
Define yourself with the habit of discovering and exploring something new. No one is extraordinary, but the ones who know how to work smart, if not harder. We have provided you with information regarding the latest BCA project topics through this post. Select the suitable BCA final year project topic as per your interest and keep pushing yourself to learn new things.
Read more – 5 reasons to study online BCA at Manipal University Jaipur
Enrol with us
Interested to join our courses?
Share your details and we'll get back to you.