Data science is one of the major domains to prosper this era. It's an exhilarating experience to be thinking about a career in data science, but how would you begin? Prerequisites have changed now, and most people now need a relevant degree to work in this industry. Several institutes provide online degrees in data science courses that concentrate on the knowledge and methodologies that data scientists need currently in the workplace. Institutions have recognised the importance of giving a postgraduate programme in data science because of the enormous expansion of data science across various industries such as retailing, health, banking, tourism, and governance. They've opened up multiple doors for anybody interested in learning data science and pursuing a prosperous future.
Data science degree vs data science certificate
Whether you've been studying for long or just thinking about making the switch, you'll need the correct toolbox to excel in the data science sector. The sector is demanding and challenging, requiring entrants to remain updated on the latest information and data science approaches.
You can learn data science anywhere, and a degree in data science is not required to work as a data scientist. The best data scientists worldwide might not have a master's degree in data science. Professionals interested in learning data science can specialise in one or two topics of expertise, build experience in those domains, and absorb the remaining in the field. Let's look into two different qualification ways – i.e. data science degree and a data science certification course. We will go through the advantages and disadvantages of both to help you decide which is best for you.
Data science certification course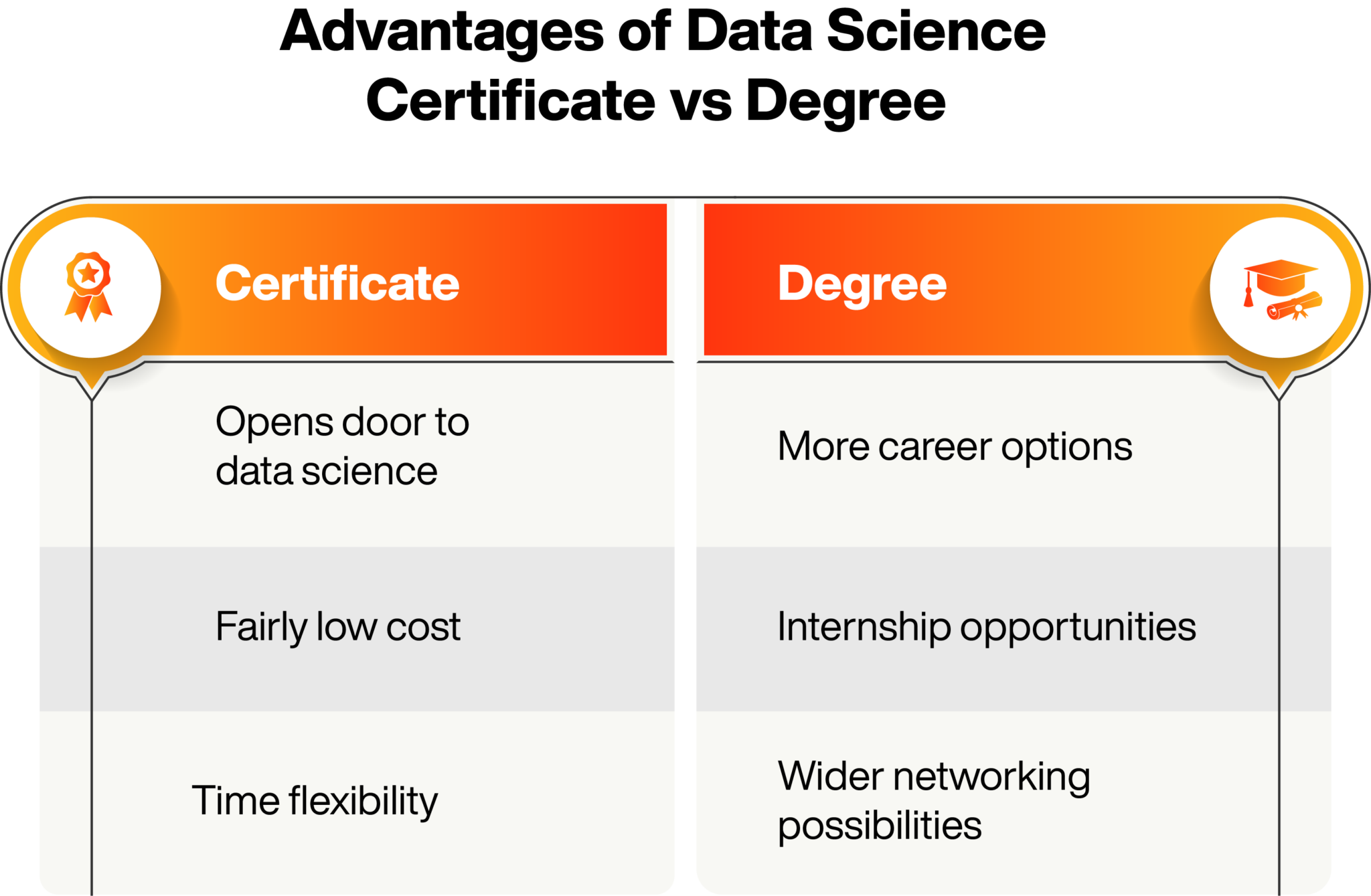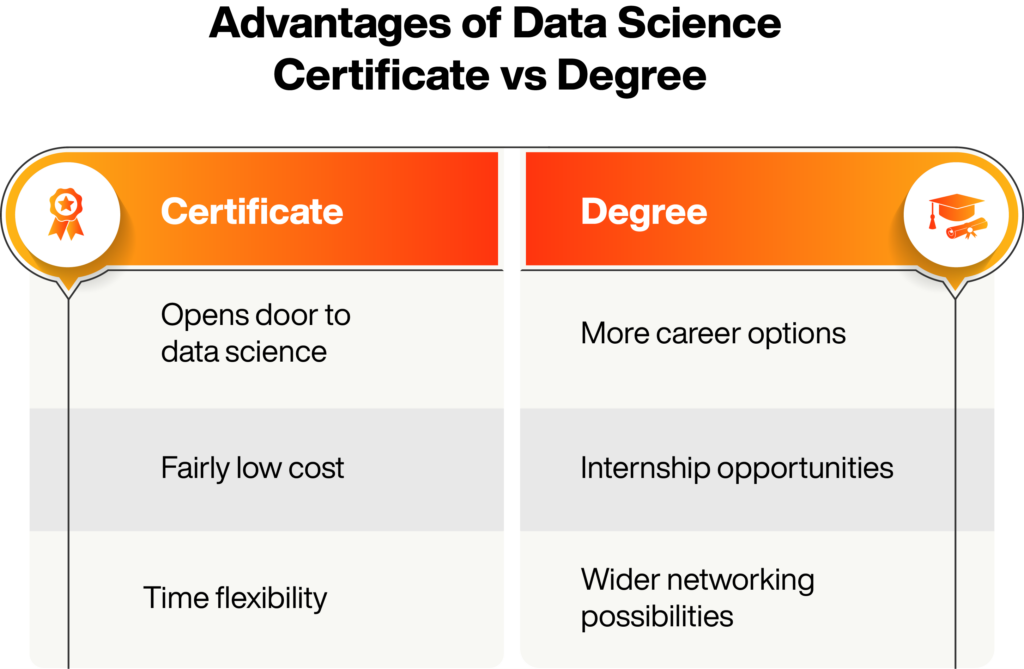 A data science certification course is a professional credential that educates data science fundamentals. Many institutions and universities provide these certifications, which might help with recruiting in a range of data-related tech professions.
Advantages:
Portfolio developer
Without a suitable portfolio, you won't find a career in data science. A data science certificate can assist you in achieving this goal. Even though the certification only provides core information, it will assist you in laying the framework for solid portfolios in the future.
Fairly low cost
Data science certificates can be achieved at a low cost, compared to data science boot camps and graduate degrees, which demand tremendous investment. This is ideal for people looking to expand their level of expertise and portfolio on a budget.
Time flexibility
You can complete some certifications within just a few sessions. Students can expect to finish these credentials quickly without abandoning existing obligations because of the minimal complexity.
Disadvantages:
Basic curriculum and doesn't help with careers immediately
While data science certifications are excellent for people just starting in the area, they aren't the best option for more complex IT positions because the information taught in these credentials is usually only basic. As a result, data science certificates do not immediately assist in a career as no firm will engage you just based on certification. Rather, you'll require a lot of work expertise and further professional qualifications.
Data Science degree
Individuals may want to explore pursuing a degree in data science. These degrees are the most popular and proficient of all the choices, but they are the most costly and take an extended time to complete. Even then, in the challenging field of data science, a degree is prized above all else.
Advantages:
Higher Career and Networking Possibilities
The initial thing that recruiters will observe in your resume is whether you have a degree in the field, and a data science degree will significantly increase your job prospects. It also offers fantastic networking possibilities, as you may connect with industry leaders while developing a portfolio that can aid you in the practical world.
Internship opportunities
Degree programmes provide fantastic internship possibilities that will significantly improve your prospects. Internships are one of the most common ways to get real-world experiences and create a portfolio that employers value. Those who have the time and finances should seriously contemplate enrolling in a graduate programme.
Disadvantages:
More expensive than certificate programme
Completing a degree programme comes at a steep price compared to a certificate programme. Based on your location and institution, you may need enormous investment. This, combined with the programme's elevated demand, implies you'd be paying a lot of funds with no assurance of gaining employment right away. A degree in data science might take many years to complete, implying that you won't be eligible to join the industry anytime in the foreseeable future.
Do online data science courses equip you with the abilities you'll need to succeed as a data scientist?
Data science certifications give all the competencies for being a data scientist, and online courses are of a superb standard. At Online Manipal, we recognise the necessity for a data science skill-set and provide a thorough an M.Sc. in Data Science online programme developed by expert academicians from Manipal Academy of Higher Education (MAHE) with inputs from industry professionals. Learners can benefit from one-on-one mentorship and extensive curriculum to better grasp the full data science methods. The placement assistance and projects help you find a decent job and excel in your career.
Will data science online degree help in finding employment as a data scientist?
A data science degree or course will not help you gain a career as a data scientist – it is your talents that will. While earning a data science degree isn't a bad thing, it's hard to catch a data scientist's position at a leading technology firm lacking previous exposure and an internship. But, having a data science master's degree with several hands-on assignments and projects and an impressive portfolio proving your real technical skills assists you to show that you are keen to be a data scientist. Practical learning and hands-on project knowledge illustrate to recruiters that an applicant can perform tasks in the field.
ALSO READ: Top opportunities with M.Sc. in Data Science in India
Conclusion
Both a certificate course and degree programme in data science is beneficial for students to learn the foundations and land a job. However, a degree in the domain is more advantageous for professional development than a certificate course. M.Sc. in Data Science from the Institute of Eminence MAHE is the best course for everyone, who wishes a bright future in the data science field.
Enrol with us
Interested to join our courses?
Share your details and we'll get back to you.