Data Science
Online Manipal Editorial Team | October 21, 2022
Key takeaways:
Data analytics is a process to examine datasets and draw conclusions from their information.
Data analytics requires raw data to uncover patterns and extract meaningful insights for future purposes.
Data analysts analyze raw data for trends and insights.
You must acquire technical and soft skills required to become a data analyst.
The increasing demand for data analysis and its related processes has resulted in demand for data analysts in multiple industries. The data amount generated every day has grown in the past decade and will exponentially grow in the future. Earlier reports state that 44 zettabytes of data got stored electronically by 2020. However, recent estimates display around 2.5 quintillion bytes of data generation.
However, if you want to choose the profession, you must know the skills required to become a data analyst and a few steps to follow. You must learn the key skills for freshers to understand the in-depth data analyst roles and responsibilities.
Here is a comprehensive guide to data analytics, the related skills, and other information to help you begin your career in the profession.
What do you mean by data analytics?
Data analytics is the process of analyzing raw data and drawing meaningful insights from specific information. The actionable insights help inform and execute better business decisions. The data analytics techniques and processes get automated into mechanical systems and algorithms that work on raw data for human consumption.
Data analytics requires examining multiple data sets to find trends and information and draw conclusions. Commercial industries, scientists, and researchers use data analytics tools and techniques to verify or disprove theories, hypotheses, and project models.
The process includes assortments of applications like business intelligence (BI), reporting, online analytical processing (OLAP), and advanced analytical research and development.
Data analytics encompasses diverse data types that can get subjected to specific techniques and gain insight into relevant information. The information can help optimize processes to increase the efficiency of a system or a business.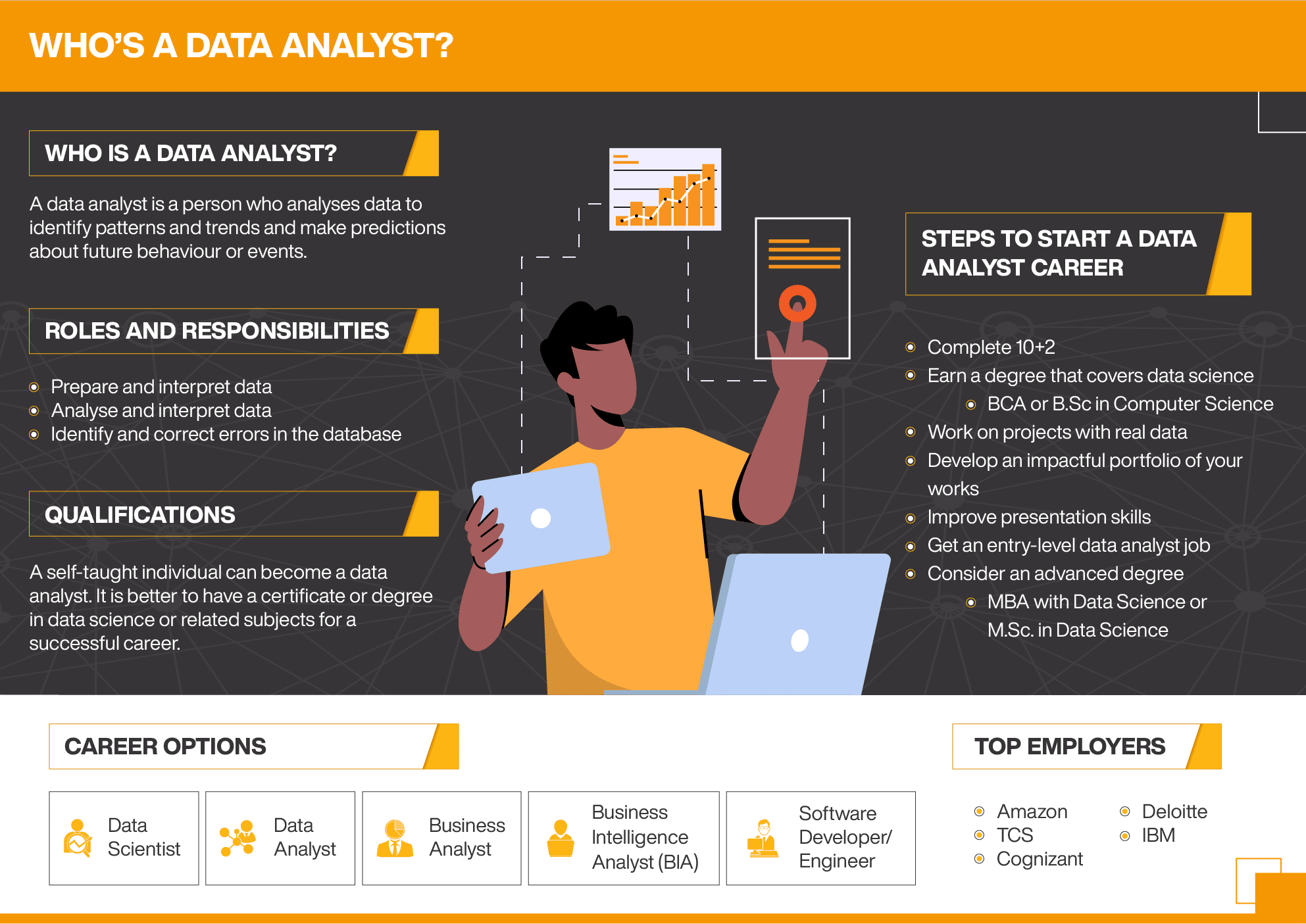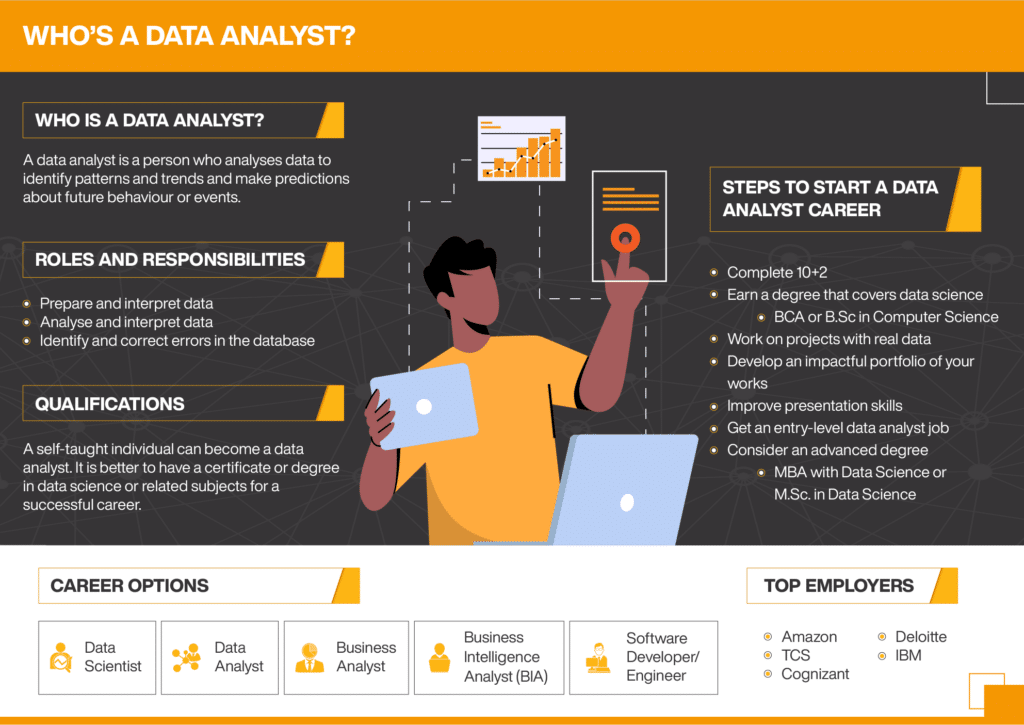 Top data science skills you should master
Spreadsheet
Programming
Math and statistics
Structured Query Language (SQL)
Visualization
Data analysis skills offer an enticing career path for students and professionals who want to enter the field. A data analyst performs different tasks and activities, such as refining product development processes, improving customer retention, and analyzing data for new business opportunities.
However, you must master the top data analytical skills to become a professional data analyst. Here is a breakdown of the skills that can offer insight into what the industries expect from the profession.
A spreadsheet is one of the most significant data entry applications you must know to ace your skills for a data analyst role. The application software acts as your database for all data requirements and helps you work faster on sorting, pivoting, filling values, and other complex tasks.
It provides entry summaries and performs data analytics, such as linear regression models. So, the excel skills needed for a data analyst role will help you conduct pre-analysis on whatever the requirement is for the data examination and execution. You can learn excel and the work of spreadsheets through multiple courses to work with their best potential.
Data analytics is about programming and requires a combination of all fundamental skills that can help transform raw data into meaningful and actionable insights. R and Python are among the most preferred programming skills required for junior data scientists. Moreover, an experienced professional must know multiple programming languages like C, C++, SQL, Perl, Java, etc., to master the coding skills required for data analyst roles.
You cannot excel in data analytics without efficient coding knowledge or Therefore, you must brush up on your programming skills, start building codes, and start with your profession.
A data analyst or scientist must be better at math and statistics than other programmers and statisticians. Math and statistics form the foundation of multiple machine learning algorithms and data-driven approaches that help you understand in-depth programming languages.
Data science revolves around concepts related to math and statistics. From linear algebra and calculus to central tendency and variability – you must know everything to improve data analysis skills before choosing the profession.
The knowledge of such concepts will help you conduct computationally complex tasks and use machine learning algorithms for efficient data analysis processes.
Structured Query Language (SQL)
Structured query language or SQL is for all relational databases that help extract, study, and analyze data for further processing in data analysis systems. SQL is the best for business intelligence tools, CRM, and relevant office operations. Most database platforms get modeled after SQL and consider it the required standard for their functionalities.
You must, therefore, know SQL to master modern data systems like Spark and Hadoop to improve your interactive query capabilities and dataset skills.
Data analysts or scientists can gather all relevant information in existence. However, the information will have no use if the clients or users do not understand it. It is where data visualization comes into the picture. The process helps you to present data in easy-to-use formats for the layman to understand instantly.
Data visualization helps communicate and translate information and data into visual context and communicate all relationships between multiple data sets. Understanding the visualization process will help you improve your data analytical skills and find, identify, format, manipulate, and deliver information in the best way possible.
Key soft skills for data analysts
| | | | | |
| --- | --- | --- | --- | --- |
| Communication | Critical Thinking | Creativity | Design Thinking | Collaboration |
Soft skills for data analysts play a significant role in harnessing the power of data, analyzing it, and using it to improve business or systems. Data analysis goes beyond technical, statistical, or mathematical work because it requires imagination, creativity, and vision.
The attributes help data analysts use big data and make intelligent business decisions. Hence, you must demonstrate efficient communication, empathic leadership, and offer insights into others to become a prominent data scientist.
Here is a breakdown of the soft skills required to become a data analyst.
Data analysts must have excellent communication skills across multiple mediums, such as verbal, written, and specialty visualization software. Your team cannot understand your findings on raw data if you lack communication abilities.
You must know how to link business orientation processes with technical, analytical, and scientific facets. You should communicate your findings to decision-makers and business users and explain the value the insights will bring to the business. All the technical and non-technical audiences must get informed about the research to promote data literacy within an organization.
You must be a critical thinker if you are a data analyst because it enables you to analyze problems objectively and empowers you to frame the right questions. You require the thinking skill for a data analyst role to help determine how your findings can bring an organization closer to the desired action course.
You must analyze problems objectively during data interpretation before establishing an opinion over the information. The objectivity will encourage you to examine the data source and problematic angles and remove bias from the output.
Data science creativity involves the following tasks.
Innovative modeling
Unique ways to collect data
Develop new tools and techniques
Visualize data processes to extract relevant information
Creative thinking helps you understand the goals related to data analysis and choose the algorithm, test, or methodology to conduct your research.
It requires creative thinking to measure unmeasurable data and convert raw information into relevant statistics. So, you can foster innovative techniques to enable business or system growth with the best creative data analytical skills.
The design thinking methodology helps you gain insights from multiple data sources. It helps deliver data science projects to create business values within a short period.
You can assess client or user needs and preferences in the empathy phase and make internal creative decisions if you practice the design thinking methodology. It is one of the most qualitative and multi-faceted tools for strategies for subjects, audiences, and customers.
Design thinking is one of the key skills for freshers to ace if they want to become successful data analysts. The problem-solving method can apply to multiple projects and services to offer better solutions to the target audience.
You never work alone as a data scientist because you are part of a professional team that works towards the same goal. So, you will need to interact with managers, marketing professionals, designers, clients, etc., during your work.
Therefore, collaboration is one of the best soft skills for data analysts like you to grow and prove yourself in the working environment. You must be a good team member who is open to listening to ideas and welcoming constructive feedback on your work. Striking a balance between objective and open-mindedness and maintaining your unique perspective will help you ace your collaboration skill.
How will I learn all these skills?
You can enroll in relevant courses and programs to become a professional data analyst. The training programs will help you learn the tools and techniques to perform data analysis for multiple projects. You can further know how to work on SQL databases, Python, and R, create data visualizations, statistics and predictive analysis, and other skills required to become a data analyst.
The Manipal Academy of Higher Education (MAHE) with Online Manipal offers the following courses and programs to help you develop the skills for a data analyst role.
The Master of Science program in data science equips you with relevant technical skills to build a career in data analytics. You can learn multiple programming and skill sets under the course, such as big data analytics, machine learning, statistics, etc. The program also helps you develop soft skills for data analyst roles by preparing you for analytical and leadership experiences in multiple industries.
You can also choose to learn predictive modeling and machine learning applications, develop real-world data, and develop strategic and critical recommendations to manage processes and people after completing the course.
You can choose the postgraduate program in data science as an elective to enter the professional data analytics domain. The program will help you improve your skill sets in data analysis, math, statistics, and relevant learning languages to become an experienced data analyst.
You can choose the data science specialization under your MBA program for better earning potential and career advancement opportunities.
Nutshell 
You must learn to apply graphical and statistical techniques to discover information and data, and analyze them to enhance business processes. It will help you identify the underlying facts, reasons, or principles by breaking down the raw data or information into parts and analyzing it for future proceedings. So, you must undertake training, courses, and programs to develop the skills required to become a data analyst.You can choose relevant programs from Online Manipal to help prepare you to master the concepts in data analytics and execute its services to multiple industries and business organizations.
Enrol with us
Interested to join our courses?
Share your details and we'll get back to you.