The integration of data and analytics is essential for sustaining a market edge and economic relevance in a digitally revolutionised industry. Our world generates, uses, and absorbs an infinite amount of data every moment. The transmission and retrieval of data have evolved to be among the most lucrative 21st-century businesses as every smartphone has internet access. It has fostered the expansion of existing industries in addition to helping to generate new ones. Data is now a key tool for businesses and organisations, regardless of their industry, to fine-tune their operations and increase profit. The way that existing businesses function and formulate their strategies has also been significantly impacted by data analytics.
You may now find data analytics being employed worldwide, from airline route management to advanced predictive analysis in production plants, thanks to its adoption in a variety of diverse industries. Even sectors like retail, which you might not typically identify with big data, are joining in, using analytics to increase consumer loyalty and customise special promotions. As more firms and industries join the trend, the significance of these abilities will only increase in the coming years, which explains why there is currently such an emphasis on data analytics in higher studies. Data Science and Analytics are quickly moving to the top of the list of preferred MBA specialisations in India as individuals join MBA programmes predominantly to leverage the advantages of their degrees to advance their careers.
The specialised curriculum of the MBA in Data Science and Analytics programme prepares students to take on complex business issues in the future that require the incorporation of data-driven decision-making components into IT, modern technology, and mobile apps. This MBA specialisation is more than worthwhile, given the potential career benefits, improved salary and employment options, and skills and information you'll gain that will only become more valuable in the future. You will have a variety of possibilities once you earn this postgraduate business degree, as it will improve your knowledge of advanced analytics and help you start a job in the data science domain. Read on to learn more about the important topics of data science and analytics.
What are the subjects covered in an MBA in Analytics and Data Science?
The three primary curriculum elements of the MBA in Data Science and Data Analytics course are the core subjects, elective subjects, and lab subjects. The core subjects are mandatory, while the students can choose the elective subjects based on their field of interest and the practical work. The course structure is as follows:
Core subjects
Elective subjects
Lab
Seminars
Workshops
Research paper analysis
Internship
Project work
The core MBA in Analytics and Data Science subjects that are taught over a period of 2 years include:
| Year 1 | Year 2 |
| --- | --- |
| Econometrics | Applied Business Analytics |
| Financial Analysis and Reporting | Foundation Course on Predictive Analysis |
| Macroeconomics in the Global Economy | Foundation Course in Descriptive Analysis |
| Foundation course in Business Analytics | Stochastic Modelling |
| Spreadsheet Modelling | Ethical and Legal Aspects of Analytics |
| Applied Statistics for Decision Making | SAP FICO |
| Organisational Behaviour | Social and Web Analytics |
| Applied Operations Research | SAP HCM |
| Project Management | R Programming |
| Research Methodology | Project Work |
Check out the complete MBA in Analytics and Data Science syllabus
Key concepts one needs to learn during an MBA in Analytics and Data Science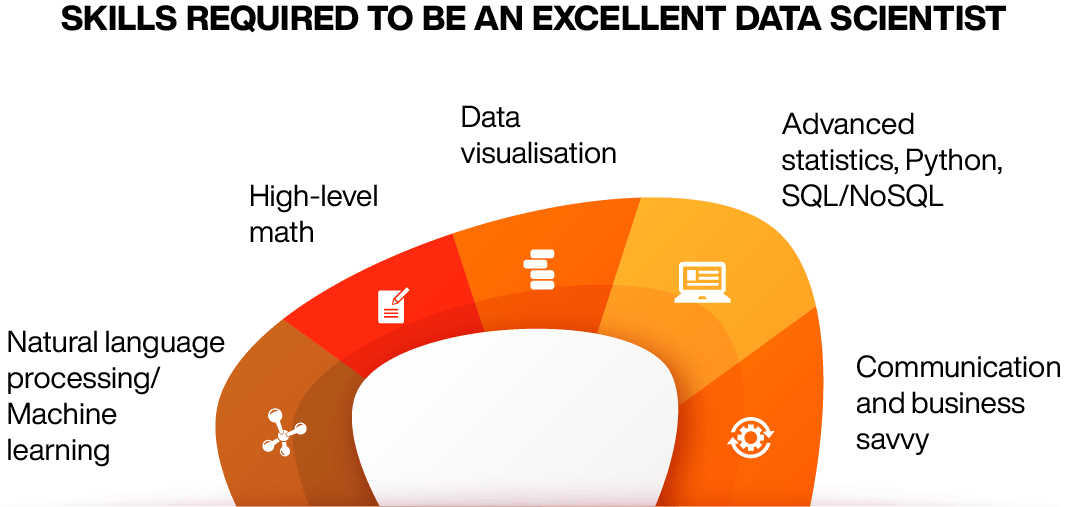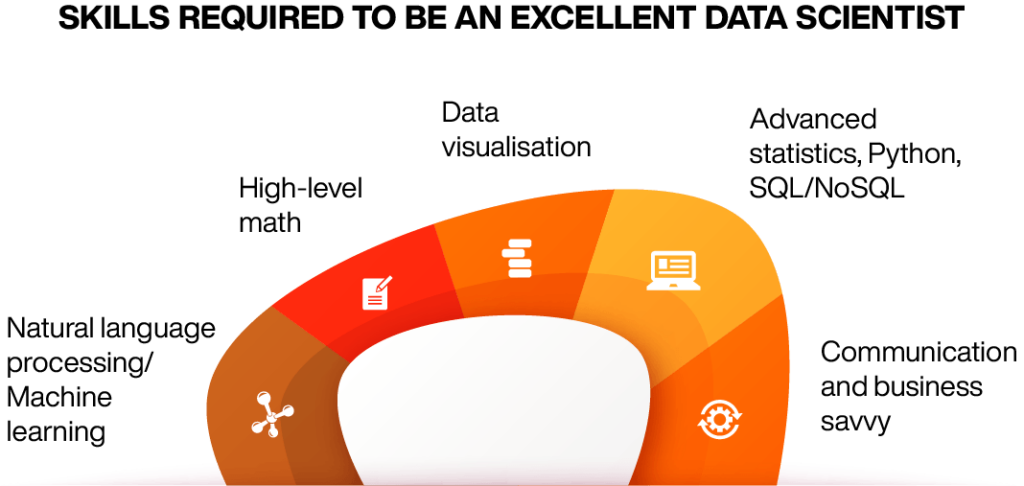 With the progress of the digital era, it is possible to collect and analyse enormous amounts of data. The dependence of businesses on data as a resource is growing rapidly along with the need for individuals who are specialists at producing valuable outcomes by processing and analysing raw data. An MBA in Analytics and Data Science equips you with the conceptual knowledge and understanding of the latest technologies and tools employed in this rapidly changing industry. The following are some of the key concepts and topics for data science and analytics you need to learn during your MBA course.
Managing data structures
Management of data structures is among the key data science concepts. It is essential to structure the data to improve the efficiency and speed of your searches and complete the analysis as quickly as possible. Because of this, managing data structures is very important in analytics. Data structures provide a method for gathering and organising data so that you can use it to take action. Most crucially, data structures frame how information is organised so that machines and people can understand it. It enables the efficient usage, persistence, and exchange of data by logically combining the data parts. It also serves as the foundation for more complex applications and offers a formal model that outlines the arrangement of the data items. An MBA in Analytics and Data Science makes you well versed with this concept with practical case studies and illustrations.
Cluster analysis
A multivariate data mining approach termed cluster analysis groups items (such as goods, responders, or other entities) depending on a collection of user-selected traits or features. It is the first and most crucial step in data mining and a widely used method for statistical data analysis. It is employed in a range of fields, including data compression, machine learning, pattern recognition, information retrieval, etc. Any firm that intends to identify distinct groupings of clients, sales transactions, or other types of behaviours and items can find cluster analysis to be a compelling data-mining method. For instance, banks employ cluster analysis for credit rating, and insurance providers use it to spot fake claims.
Machine learning
Machine learning enables computer programmes to forecast outcomes more accurately without being expressly taught to do so. Machine learning algorithms forecast new outcomes using previous data as input. Business process automation (BPA), predictive maintenance, spam filtering, malware attack detection, and fraud are a few additional typical applications. It is significant because it aids in the creation of new goods and provides businesses with a perspective of evolving customer behaviour and operational business trends. A considerable portion of the operations of many of today's top businesses, like Facebook, Google, and Uber, revolve around this concept. Also, for many companies, it has emerged as a key competitive differentiation. With an MBA in the Analytics and Data Science specialisation, you can have a more practical and deeper understanding of such important topics in the data science and analytics domain.
Predictive and prescriptive analytics
Predictive and prescriptive analytics can help analyse the vast amounts of data that firms routinely accumulate. It is seen as crucial to managing a small firm effectively. In contrast to prescriptive analytics, which examines prospective outcomes and uncovers additional possibilities, predictive analytics aids in identifying potential outcomes. Any small firm may stay on top of the game by using either sort of analytics. They are instruments for transforming descriptive measures into perceptions and choices.
However, you shouldn't rely on just one kind of analytics; by combining them, you can change your business plan and achieve the greatest results. Predictive modelling, decision analysis, optimisation, and transactional profiling are the cornerstones of predictive analytics. This strategy uses trends in transactional and prior data to find possibilities and related risks.
Big data
Big data is a grouping of organised and unorganised data that businesses collect for knowledge and insights to utilise cutting-edge analytics tools like machine learning and predictive modelling. It is used by businesses to enhance operations, deliver better customer experience, develop individualised marketing strategies, and carry out other tasks that can eventually enhance the revenues and profits of the organisation. Businesses that effectively use it have a prospective competitive edge compared to those that don't can act more quickly and decisively.
Big data, for instance, offers insightful information about customers that businesses can utilise to improve their marketing, advertising, and promotions and boost customer involvement and conversion levels. Firms can be more reactive to customer demands and needs by examining past and real-time data to gauge the changing consumers' preferences or corporate clients. Big data is a vast field encompassing an array of components that affect the working of businesses. One can master this concept with an MBA in Data Science and Analytics course.
Data Scraping
The process of "data scraping," sometimes known as "data extraction," allows for the automatic extraction of data from websites, databases, business applications, and legacy systems. Large volumes of pertinent information, including product reviews, contact details for specific companies or people, posts on social media, and online content, can be gathered for use by businesses through data scraping. Web data is gathered and exported by custom software into a programme, where it is then integrated with the assets and processes of your business.
Professionals can use a variety of tools to deal with data using the data scraping technique, including tools for obtaining, analysing, and integrating data. Data scraping is a productive method for replacing time-consuming and frequently ineffective programmes or tasks that humans are currently carrying out. It can be used to proficiently retrieve data from various websites or to pull information from an existing system if no API is available. Data and web scraping are used by many businesses across various industries for market analysis and content, making it an effective business automation tool for today's business owners, who use it to boost efficiency and drive the advancement and profitability of their organisations.
Big data analytics
Big data analytics is the extremely intricate technique of poring over large amounts of data to find information such as patterns and insights, correlations, market dynamics, and consumer expectations that might assist businesses in making wise decisions about their operations. It is a type of complex analytics which includes advanced features that incorporate aspects like statistical algorithms, what-if analysis, and predictive models. Big data analytics technologies and software can help organisations make data-driven choices that can enhance the results of their business operations.
The advantages of using big data analytics may include enhanced consumer personalisation, increased operational effectiveness, and more successful marketing. Applications using big data analytics frequently incorporate information from both internal and external sources, such as weather information or customer demographic data gathered by outside information service providers. As users want to execute real-time insights on data streamed into Hadoop systems via stream processing engines, like Spark, Flink, and Storm, streaming analytics apps are also becoming more prevalent in big data contexts.
Business analytics
Business analytics (BA) is the systematic, iterative examination of data within an organisation with a focus on statistical analysis. This thorough, iterative investigation of data within an organisation places a focus on statistical analysis. It is a collection of approaches and tools for applying data analysis, statistical modelling, and other quantitative techniques to address business issues. Data-driven businesses proactively seek out ways to use their data as a strategic edge and consider it a valuable corporate asset.
Business analytics' success depends on high-quality data, knowledgeable analysts who comprehend the industry and technologies, and a dedication to leveraging data to uncover conclusions that guide business choices. Every area of the company will benefit from business analytics and can reap profits. Everyone involved in the end-to-end process is in sync when data from several departments are combined into a single source. Ensuring there are no information or communication gaps opens the door to advantages like easy visualisation and data-driven decisions.
Database management system
It is among the essential MBA data science topics you need to grasp to work in the data science domain. DBMS is the system software used to create and administer databases. End users can create, protect, read, update, and remove data in a database with the help of a DBMS. It serves as a connection between databases and individuals or application programmes, assuring that data is uniformly organised and is always accessible.
The database engine, which enables data access, locking, and modification, and the DBMS, which controls data management, define the logical organisation of the database. The DBMS can provide logical and physical data independence to shield applications and users from having to comprehend where data is kept or from worrying regarding modifications to the physical structure of the information. Developers won't have to adjust programmes merely because modifications have been made to the database if programmes use the application programming interface (API) for the database that the DBMS provides.
Learn why an MBA in Analytics and Data Science is a trending career choice
Data scientists and analysts currently have one of the strongest career prospects in the field and are among the top-paid professionals in India's corporate companies. Rising startups and businesses that offer digital services via smartphones are particularly looking for highly qualified applicants with an MBA in Analytics, a Diploma or Certificate in Data Science, or any other relevant or comparable course. Candidates who are skilled in data management and analysis can use their abilities to assist companies and institutions in developing better strategies and decisions based on feedback or survey results. There are many opportunities to work in the business and marketing industries because they are fields that are constantly evolving with new opportunities. The best plan of action for those who wish to make a career in the analytics or data science domain would be to get an MBA degree in Analytics and Data Science. Graduates with an MBA in Data Science and Analytics are in charge of data analysis and making critical business choices. The following are some of the crucial reasons why one should pursue an MBA in Analytics and Data Science:
Emerging business data roles
There is a tremendous need for Business Analysts and Data Scientists with an MBA degree since the quantity of data that businesses collect is continually and quickly expanding. Organisations must be able to investigate, identify, interpret, and display data patterns to analyse the benefits of data. An MBA in Analytics and Data Science equips and trains students in applying statistical methods, using technology to extract useful data, and employing data to improve overall productivity.
Proficiency in related skills
Excellence as a business analyst and data scientist depends on having a thorough awareness of the sector you operate in, expertise in your field, an understanding of the critical performance measures that must be considered, and the capacity to assess the task's intended outcome. Some of the highly important yet non-technical skills needed in this sector include business sense, communication abilities and interpersonal skills. You will receive training and certification for these abilities in addition to theoretical understanding if you pursue an MBA in Analytics and Data Science course.
Opportunities for professional growth
Working in analytics and data science entails daily hurdles. Depending on the requirements of the client, you learn how to function and respond to various situations and roadblocks. You must maintain communication with individuals from numerous other departments and fields, each with their own special set of abilities and knowledge. Thus, it broadens your horizons and provides room for professional development by giving you the chance to learn about every department and how the company runs.
Opting for an MBA in Data Science and Analytics provides you with an array of job prospects at your disposal. There are several career options, ranging from business intelligence executives to analyst-level employment. Some of the popular career opportunities include the following:
Management Analyst/Consultant
Data Analyst/Scientist
Business Intelligence Analyst
Market Research Analyst
Operations Research Analyst, and many more
With the development in the data science domain, there is a fast-rising demand for data scientists and business analysts. But there is a dearth of business analytics and data science specialists in the market while people are increasingly turning to data for decision-making. Thus there is a potential for higher salaries and increased wages for skilled individuals in the domain because the sector is lacking these individuals.
Multidisciplinary course structure
Data science is becoming more relevant in all parts of various industries, and organisations are seeking experts who can analyse anomalies and offer insights that call for quick responses and workable solutions. The programme's course structure is created to meet the industry's present needs and anticipated future demands. Keeping in mind the impact that these innovations will have on how the business operates in the future, various topics related to analytics and data science are becoming popular. Artificial intelligence, machine learning, the internet of things, "R" analytics, Python programming, design thinking, fintech, and sector-specific (retail, sports, and healthcare) analytics are among the topics that are increasingly gaining importance.
Vast job opportunities for MBA in Analytics and Data Science graduates
The MBA in Analytics and Data Science degree aims to establish solid conceptual and application design underpinnings that will allow learners to rethink their career paths and open up new career growth options. The curriculum will equip graduates for various positions such as data analysts, business analysts, data engineers, and data scientists. Graduates with an MBA in Data Science have a plethora of employment options, and corporate demand in the field is only growing as the worldwide data analytics market is predicted to rise exponentially in the coming years. Organisations are increasingly eager to use data to forecast the future and make wiser decisions and are looking for capable individuals with knowledge and relevant skills. Some of the frequently sought-after job positions by business analytics graduates are.
Business intelligence analyst
Big data analyst
Management analyst/consultant
Market research analyst
Data scientist
Marketing Manager
The table below shows some of the job roles with te average salaries that an MBA in Analytics and Data Science graduate can pursue:
| Job role | Salary |
| --- | --- |
| Data Analyst | ₹ 4.7 LPA |
| Data Science Manager | ₹ 30.0 LPA |
| Senior Product Analyst | ₹ 12.5 LPA |
| Data Science Consultant | ₹ 19.0 LPA |
| Business Analyst | ₹ 7.0 LPA |
| Data Engineer | ₹ 8.1 LPA |
| Data Architect | ₹ 23.0 LPA |
| Business Intelligence Analyst | ₹ 7.0 LPA |
| Database Administrator | ₹ 10.2 LPA |
An MBA also increases your chances of landing high-level management positions across industries because data comprehension is appreciated regardless of your position within an organisation. Students who enrol in the MBA in Analytics and Data Science programme are prepared for careers in corporate management and data analytics. Due to the rapid job growth in data analytics, the MBA programme's scope is vast. The course provides exciting career opportunities in a variety of industries, including IT, advertising, and sales, product-based enterprises, aviation and banking, among others. Employing data handlers is necessary because every organisation has a data management division to store its content. The employment market in this area will have a lot of vacancies as demand rises. Below are some of the sectors where graduates with an MBA in Analytics and Data Science are actively recruited:
Hotels and restaurants
Product-based companies
Banking sector
IT companies
Hospitals
Retail stores and shops
Educational institutions
Pursue an online MBA from a reputed university like Manipal University Jaipur
Online Manipal is the online platform offered by Manipal University Jaipur that allows students to take up and complete courses online from the comfort of their homes. Manipal University Jaipur is a NAAC A+ accredited institution that offers UGC-recognised MBA programmes in various specialisations. A 2-year online MBA programme in the Analytics and Data Science specialisation from Online Manipal can help you launch your career in data science and analytics. The approach used for this programme is a combination of theoretical principles, case studies, projects, simulation, and hands-on practical sessions. Interactive live lessons provide you with the opportunity to interact with your peers and the professors in real-time, creating a lively and engaging learning environment. Self-paced education is the most efficient way to adapt the material to your learning style and offers a training experience with detailed illustrations giving you complete control over how frequently you read the content.
An online MBA in data science programme builds leadership, analytics, and data science skills to prepare you for any managerial role. The course will be helpful to both entrepreneurs who seek to create tech products and learners who want to begin careers in tech fields. Professionals who want to change careers or advance into management positions should enrol in this programme. Graduates from any field are eligible to enrol in this course, which has a total fee of INR 1,50,000 for 2 years, that is INR 37500 each semester. After completing the online MBA programme from Online Manipal, students are prepared for interviews through their placement assistance programme. Online Manipal also organises job fairs during the final year of the postgraduate programme and many reputable companies participate in it to recruit suitable candidates.
Conclusion
The field of analytics and data science is currently experiencing a surge. Today, we have access to a wealth of data, and there has never been a better time to use that data to get insights. It will lead to improved work possibilities and alternatives for career advancement. In India, the discipline of data science and business analytics is still considered to be in its infancy. Even though the topic has recently gained popularity among management aspirants and many Indian universities have begun to offer data science degrees, there is still a significant need for Data Science and Business Analytics graduates in India. Thus, this provides space for growth in the number of colleges that deliver top-notch data science and business analytics courses and the number of students opting to sign up for these courses.
Data has become the new fuel for organisations' operations, and it has become essential to stay up to date on business trends and job opportunities. An MBA in Analytics and Data Science seeks to provide students with the knowledge and understanding necessary to interpret data and use various communication, statistical, human behavioural, and cognitive models, as well as information technology and analytical tools, in functional areas or domains of their choice. Even though pursuing an MBA will give you the fundamental management skills you'll need to move to leadership positions, concentrating in business analytics is a terrific approach to future-proof your career and gain insight into how businesses use data. So, without any second thoughts, enrol in an online MBA in Analytics and Data Science from a reputable institute like Manipal University Jaipur, and carve a niche for yourself in this competition-driven world.
Enrol with us
Interested to join our courses?
Share your details and we'll get back to you.