Key takeaways:
The cloud computing system is the delivery of online services via the internet.
Hosts run every cloud application. Based on this, it can be bifurcated into three types: public cloud, private cloud and hybrid cloud.
The advantages of cloud computing are centred around access at ease and high-security measures.
Cloud computing is a term for executing computing services on the internet. Computing services include servers, storage, databases, analytics, intelligence, software and networking. PHP is the programming language used in development and cloud computing because of its ease of learning and employment. So, while you don't initially have to know how to code, you can still achieve knowledge of programming skills at the time of studying cloud. Today, the advantages of cloud computing have grown manifolds, and we shall explore those as we progress in the article.
General skills for cloud computing –
Platform expertise
Programming languages (AWS)
Application programming interfaces (APIs)
Database management
Network management
Development and operations (DevOps)
Machine learning and artificial intelligence (AI)
Cloud Security
Hybrid cloud
How cloud computing works
The cloud is a broadcasted platform to share data all over the world via satellite networks. As a host for each cloud application exists, the hosting companies are accountable for maintaining gigantic data centres. Any error in this will lead to a massive downfall in security, storage capacity and the huge power supply required to run all the data users share across the cloud.
The hosting companies own the privilege to sell their cloud rights so that they can operate and save data on their private networks while providing the end user with an ecosystem for the communication between devices and applications.
Given below in tabular format are the different types of clouds and how they function:
| Public cloud | Private cloud | Hybrid cloud |
| --- | --- | --- |
| It guarantees public cloud access everywhere. | It is similar to public cloud, with the exception that infrastructure needs are offered by the company of the user of the service. | A good old combination of both public and private models. |
| Examples of users: Amazon, Microsoft, Apple and Google | Examples of users: VMware, Microsoft Corporation, AWS, Cisco Systems, Red Hat Software, Dell, OpenStack | Infinidat, Ensono, Threat Stack, DataCore Software Unitas Global |
Benefits of cloud computing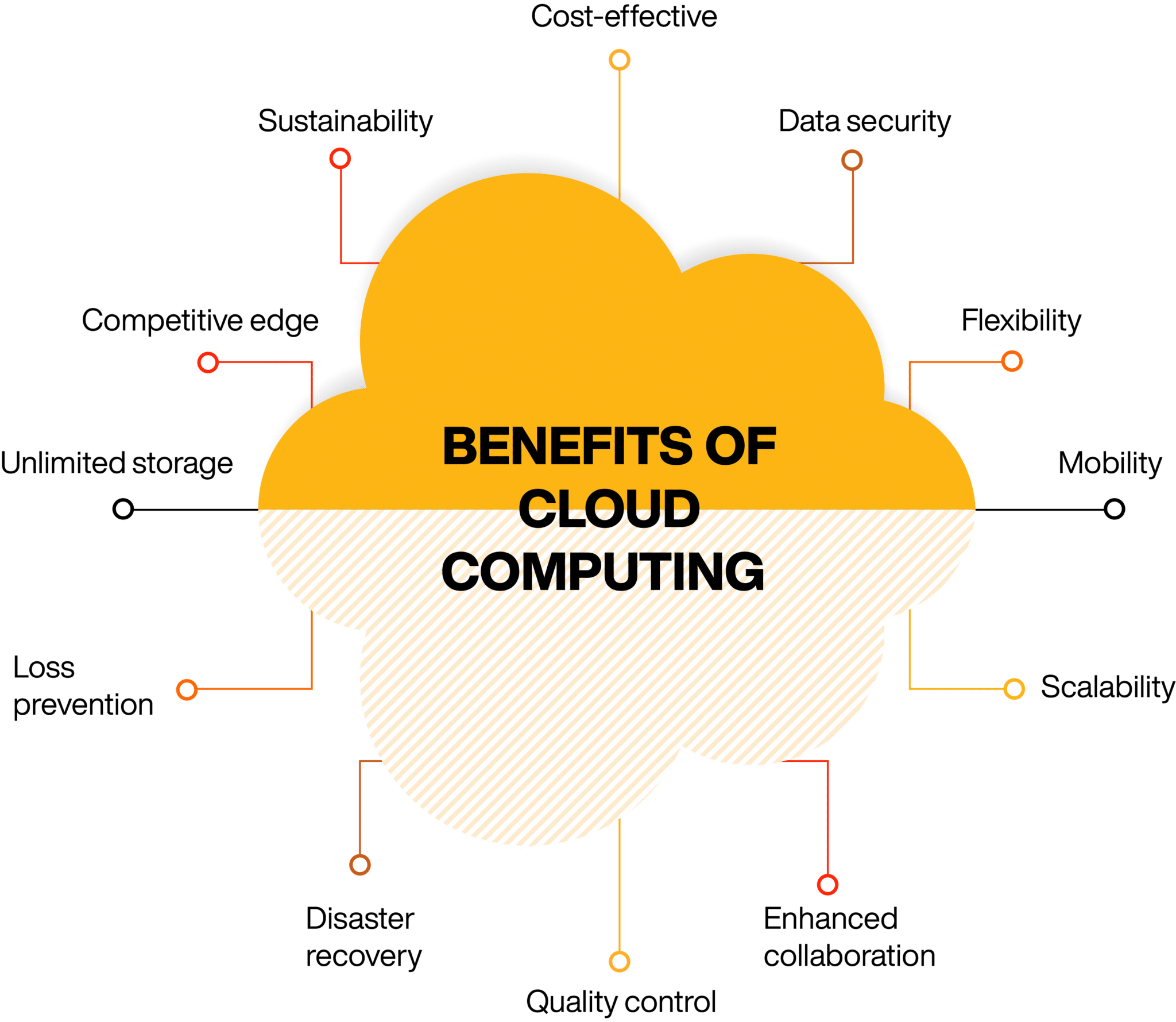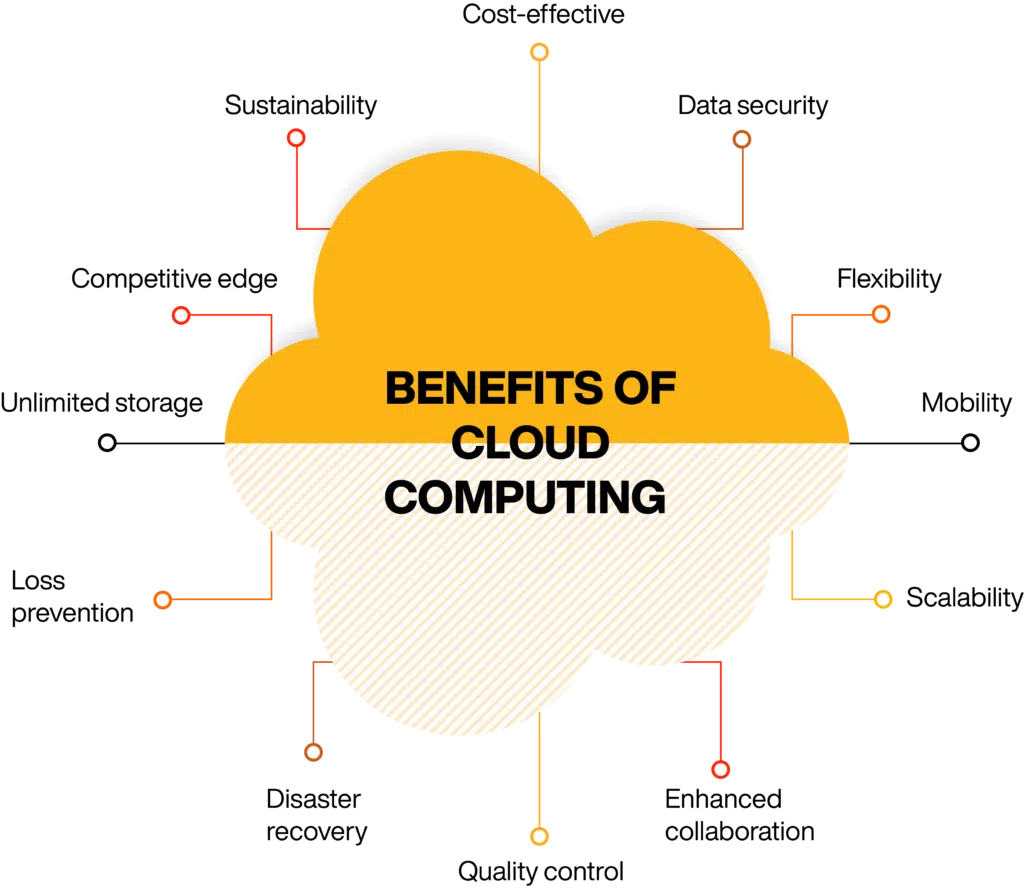 With the cloud computing technology ageing for almost two decades now, there still remains a large enough chunk of the business community that continues to function without the cloud.
An international data group study claims that 69 per cent of the business are pre-existing users of the cloud in some of the other forms, while 18 per cent admit that they aspire to implement it soon. Also, Dell reports that businesses investing in huge data, the cloud, mobility, and heavy security boast up to 53 per cent of the increased growth rate of revenue in comparison with their competitors.
Companies and industries identify the benefits of the cloud computing trend as a factor that puts them ahead in the market. A result of this is a rise in profit margins, leading to happy customers and equally joyous employees. The advantages of cloud databases are as follows:
Because huge servers take the weight of complex technology remotely, customers do not need to invest in expenses such as hardware that demands regular upgrades. The cost is sparsely distributed across all cloud customers. Operations conducted in this manner give customers access to increased speed and capable hardware at a cheaper rate.
Building a database is no overnight success, which is why cloud computing systems fully grasp the importance of securing data. The years that the company has toiled to create a brand position to earn customer loyalty and revenue are all at the risk of cyber crimes. Cloud provides you with features like granular permissions and access management through federated roles that restrict the direct access to sensitive information to the employees who require it for work.
With a limited amount of focus to divide among your various business-related responsibilities, relying on an external organisation to manage IT hosting and infrastructure will help you concentrate more on aspects of your business alone. This takes off pressure building up from issues with respect to computer and data storage.
Cloud computing can now be accessible on smartphones. This is truly a revolutionary step in ensuring no one is left out. A healthier work-life balance can be achieved through the cloud as it offers easy access to information on travelling sales staff, freelance employees and remote employees.
Scaling up and down your business needs is no more your responsibility as your cloud service provider will take care of it as per what you prefer. This gives way to easy operation and management of storage concerns. It grants you all the more time to single-mindedly focus on the running of your business.
Businesses with two or more employees must prioritise collaboration, and cloud computing comes to your aid on collaboration. While collaboration is very much possible without a cloud-computing solution, it would not be as simple.
With specialised services like collaborative social spaces (for example connecting employees all over the organisation, hence magnifying interest and engagement), collaboration is made extremely accessible.
Businesses can slow down because simple aspects have gone wrong. This implies low quality and unreliable reporting. The cloud system's organisation skills beat every other system as all documents are stored in one commonplace consistent format. Such an approach enables one to maintain uniformity of days, prevent human errors, and have crystal clear ideas of upcoming updates.
You could spend an overload of time planning your business to crispy minute details, ensuring it is absolutely foolproof. Yet, some factors will never completely be in your control. This downtime—lost productivity, lost revenue and brand reputation tampered, may be a bigger hit to your business than you could ever imagine.
While this cannot be fully avoided, cloud computing helps to recover. It is equipped with speedy data recovery for catastrophic events from natural disasters to massive power outages.
Without the cloud, all of your indispensable data is hopelessly encased in the office computers it was entered in. This problem will be more prominent when one of your local hardware gives up, erasing that only copy of your data. On a cloud server, however, your information can offer comfortable access through any computer on any inherent connection, regardless of abrupt malfunction.
Cloud has an infinite amount of space to hold any kind of data in various cloud types. It depends on the availability, performance level and frequency of the information that needs to be accessed. Based on these, the rule of thumb says that the expense of storage keeps going up with use and time.
If surpassing the business limits, this cost can be brought down through the creation and optimisation of the cloud expense structure policy.
Some businesses choose to keep it local by sticking to the old ways. This can give you a headstart and put you ahead of your competitors with the cloud at the other end of your fingers. A recent Verizon study reflects that 77 percent of businesses sense that this technology served them with a competitive edge. Also, 16 percent of these believe it is true.
Just dumping a recycling bin in some corner of the breakroom is no longer enough to claim that organisations are acting up on saving this planet. Real action involves solutions that address eco-friendly ways at every level of the organisation. Fewer carbon footprint is an environmentally sound result of hosting on the cloud.
Uses of cloud computing technology
Cloud Computing Technology has several uses specific to Information Technology. They are listed below –
Data backups
Recovery of lost data
Email services
Virtual desktops
Software development and testing
Massive data analysis
Customer-facing web applications
Disadvantages of cloud computing
No system is devoid of flaws and outbreaks, and cloud computing isn't either –
Data confidentiality threat
Heavily relies on internet connection
Security levels
Compliance deviation
Vulnerability to attack
Mobility of data
Technical issues
How can I launch a career in cloud computing?
Follow this step-by-step process to become a cloud professional –
Get a bachelor's degree in any technical field
Get yourself enrolled in a cloud development course
Study a programming language
Work on cloud-focused projects
Get relevant experience
The Manipal Academy of Higher Education (MAHE) with Online Manipal offers professional certification courses in cloud computing, logistics and supply chain management, management, and business analytics. Enrol with Online Manipal today to get the best experience at a well-reputed institution.
ALSO READ: Benefits of learning cloud computing courses online
Sum up
A benefit of cloud computing is that it makes accessing information umpteen times easier and more convenient. It offers the most speedy innovation, incredible flexibility of resources, along with economies of scale.

Enrol with us
Interested to join our courses?
Share your details and we'll get back to you.