Programme
benefits
Here's what you can expect from this programme
Empowering you to
succeed
Learning Outcomes

Learn to migrate legacy applications to cloud

Learn to deploy truly cloud-native applications

Preparatory programme for four industry cloud certifications (AWS & Azure)

Experience hands-on learning with case studies, mini projects, and a capstone project

Roles you can explore

Cloud Practitioner, and more

Why we stand out

Programme taught by cloud instructors, mentors and agile coaches with 20+ years of experience

Industry-relevant curriculum covering AWS, MS Azure and other essential cloud computing concepts

Access to cloud lab (for practice and to work on capstone project)

Application-based learning

100% placement assistance*

Candidates who have graduated in Science with a minimum of 50% marks from a recognised institute/ university

Aspirants with minimum 4 years of IT Developer experience

Candidates with good command over any one programming language (Java/Python)

Ideal for aspirants (preferably from a technical background) having a minimum of four years of IT Developer, Administrator, Network Engineer, Project Manager, Product Owner or Architect experience with a keen interest in building a career in the Cloud Computing domain
Sample
certificate
MAHE's online degrees and certificates are widely accepted by governments, corporate organisations, and higher education institutions for jobs, higher education, and future prospects.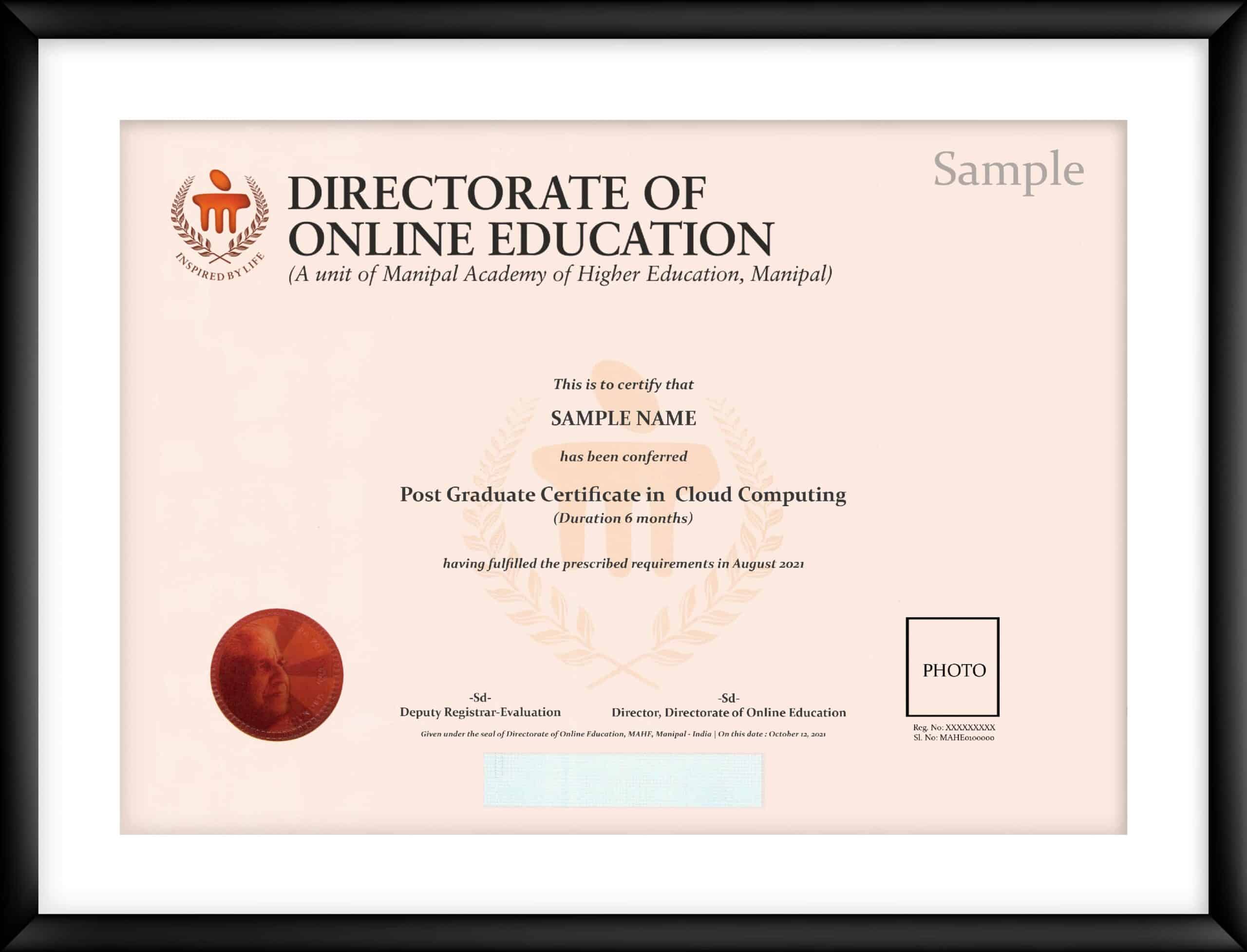 Is it an online or classroom programme?
This Cloud Computing training programme will have online live sessions with experts on weekends.
I have scored less than 50% in classes 10 & 12 but have scored more than 50% in graduation. Am I eligible to enroll in the programme?
Yes, you are eligible to enroll in this cloud certification course.
Will I get a 100% placement guarantee?
No. We provide placement assistance but there will be no job guarantee.
Are there any instalment facilities in the Cloud Computing fee structure?
We do have an instalment facility in the programme. Please reach out to your counselor for further detail.
Can there be a refund of fees after admission or if I withdraw from the course?
Learners can initiate a refund for the programme for upto seven calendar days from the date of fee payment. However, a small processing fee will be deducted from the same. In the case of instalment payment, only first instalment  is refunded. No refund request will be processed for further instalments. Please go through our refund policy on our website for more details.
What all are included in the programme fees?
The programme fee includes the cost of tuition, online courseware, respective cloud labs, final assessment, and the programme certification.
What hardware configuration is required for my PC or laptop to take up the course?
We recommend a personal computer or laptop with a 1.3 GHz Processor, 4 GB RAM, 40 GB free HDD space, and the latest browser installed. The device should also have a good & uninterrupted internet connection of a minimum 2 Mbps.
What are the cloud-based labs?
The student will receive access to cloud labs to practice hands-on as specified in the Lab Guide. This will ensure that you work in a live environment and get the actual hands-on experience. Guided Lab exercises are provided in the course.
Enrol with us
Interested to join our courses?
Share your details and we'll get back to you.