Key takeaways:
Supply chain management process, or SCM, entails managing the flow of products from supplier to customer. It deals with inventory, production scheduling, and the procurement of raw materials (or "supply").
Operations management, or OM, focuses on optimising the process of converting inputs into outputs—in other words, how to produce a product at the lowest cost while maintaining quality standards.
It is important that these two functions work together because they share many common elements: Both deal with inventory levels; both require people who are skilled in planning and organising; both require knowledge about how to manage material flow, and both require an understanding of cost accounting.
Operations and Supply Chain Management is a vast field that includes procurement, materials management, production scheduling, distributing, shipping, commerce, demand forecasting, order fulfilment, and more. It encompasses both manufacturing as well as service industries. It includes everything related to the route that things take as they move from suppliers to final customers.
What is Supply Chain Management?
The supply chain management discipline oversees how companies distribute their goods and services to clients. Supply chains, which include inventory management, warehouse management, and supplier management, are how organisations distribute what they sell to clients. Professionals who oversee this procedure for their organisations are called supply chain managers.
Supply chain management may collaborate with a supplier to ensure the appropriate amount of goods is delivered at the appropriate time. They might oversee the warehouse personnel that receives deliveries and arranges for storage. Additionally, they ensure that the supplies and stock in the warehouse are used for any production requirements of the company before storing and shipping the finished product to clients.
So that their organisation can produce the computers as needed, a supply chain manager, for instance, may be in charge of identifying vendors, placing orders, and coordinating component delivery with suppliers. The manager would oversee the computerised inventory and shipping orders to clients and retailers.
Various positions in Supply Chain Management


Although not every organisation will offer every role, the following are some of the supply chain-related positions that are open:
| Position | Description |
| --- | --- |
| Inventory Clerk | They keep track of all the inventory that a business has and needs, and to make sure that the business has enough of each item. |
| Logistics Coordinator | They manage the flow and distribution of goods, as well as oversee the delivery of those goods. |
| Inventory Associate | They keep the inventory of a company up to date, and make sure that no item is out of stock. |
| Warehouse Manager | They are responsible for ensuring that their warehouses are safe and secure. |
| Logistics Manager | They plan, organise, and oversee the transportation of goods from one place to another. |
| Supply Chain Supervisor | They manage the flow of goods and materials within a company. |
A warehouse clerk's main responsibilities include shipping and receiving goods, including orders for the company's clients and supplies for the company. Under management's guidance, they might assist with tracking inventory, arranging the warehouse, and packing and unpacking trucks.
A logistics coordinator's main responsibilities include overseeing the logistics portion of the supply chain, organising shipments with suppliers, and ensuring that colleagues are informed of logistics-related information. They might also examine purchase orders as they attempt to maintain all orders on schedule.
An inventory associate's main responsibilities include keeping track of new shipments, maintaining inventory process, and managing inventory data on a computer to manage the inventory in their area or warehouse. They may also use technology to track and enhance inventory procedures more precisely.
To ensure everything in the warehouses is correctly handled and structured, a warehouse manager is a supply chain expert who supervises other warehouse staff. They might oversee workers, teach them, handle incoming or outgoing cargo, and ensure quality.
The main responsibilities of a logistics manager, often known as a distribution manager, are controlling the flow of goods into and out of a warehouse. They might coordinate the sending and receiving of goods, oversee the management of warehouse workers, keep up in contact with suppliers and clients, and manage inventories.
A supply chain manager's main responsibilities include overseeing a company's whole supply chain operation. This position may be integrated with operations, the supply chain specialist may be the only one in the organisation, or they may be in charge of a sizable group of supply chain specialists. They coordinate client shipments, manage inventory, plan supply chain process improvements, manage business partnerships, and supervise workers.
What is Operations Management?
The field of operations management oversees a company's day-to-day operations, including how its facilities are maintained, how its manufacturing processes function, and how to guarantee that orders are fulfilled on schedule through efficient production of goods and services. Operations in the context of a business refer to anything about how the company runs, particularly how people spend their time in the office.
In order to increase the company's production output, an operations manager could develop more effective manufacturing procedures. They may also oversee the company's hiring requirements and financial demands. They might collaborate with the other managers to plan the company's long-term objectives and business strategy. To ensure that proactive maintenance results in equipment that lasts longer and experiences fewer issues, they might develop a timetable for upkeep of manufacturing equipment.
The importance of operations management at a firm can be easily illustrated. They might find that streamlining the production process would speed up the process of making the computers and collaborate with their coworkers to put that change into place. They work in tandem with supply chain management to ensure stock will be provided and adhere to the company budget. They oversee the manufacturing area's workforce to ensure enough workers create computers to satisfy client demand. They collaborate with other business managers to develop a plan for the company's future.
Various positions in Operations Management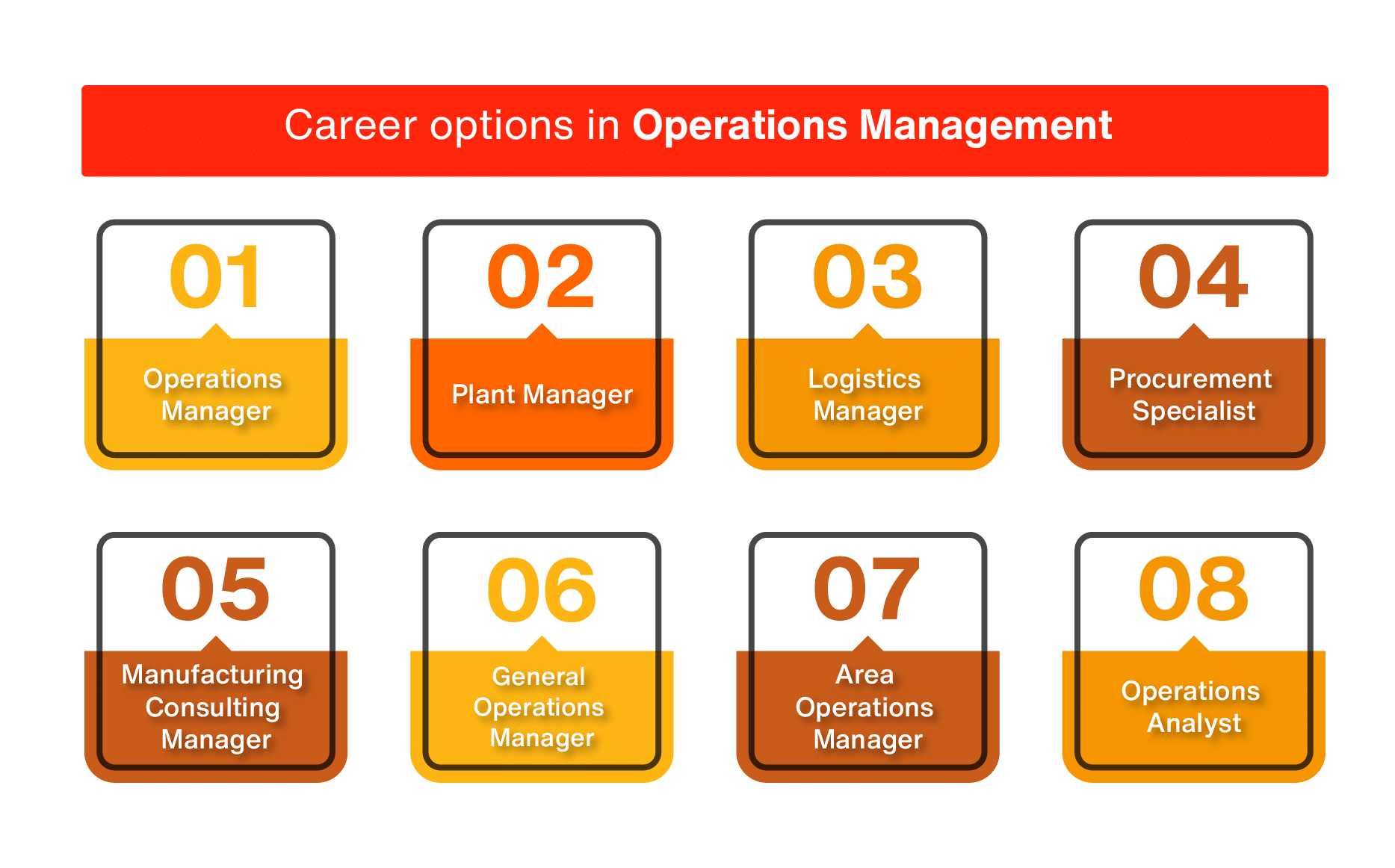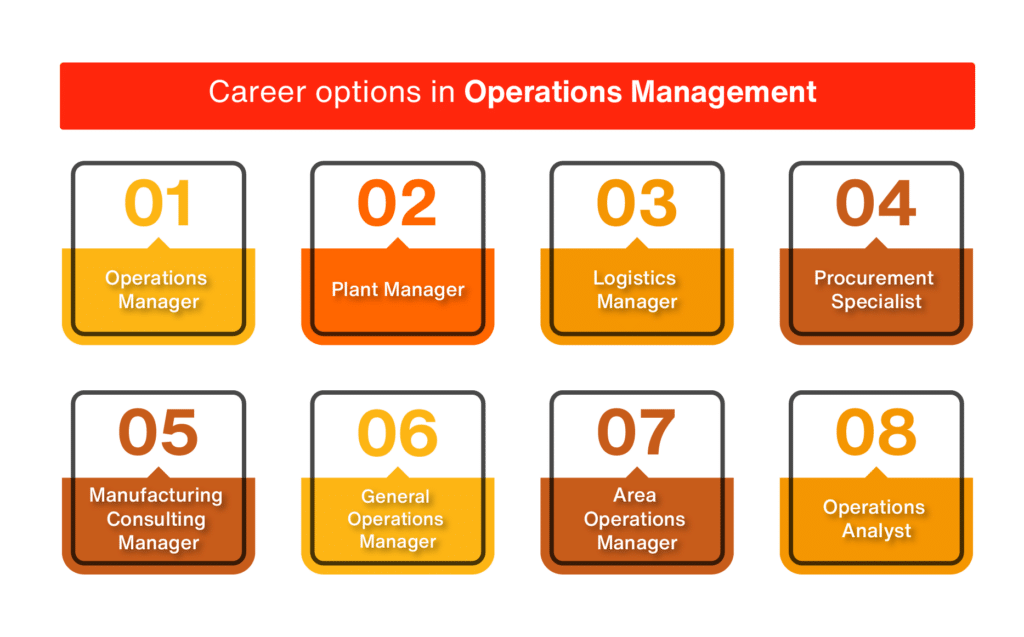 Although they are related to supply chain employment, the following occupations fall under the category of operations; however, not all businesses provide these kinds of positions:
| Position | Description |
| --- | --- |
| Operations Coordinator | They make sure that everything goes smoothly at your company. |
| Operations Manager | They are in charge of hiring employees, training them, and making sure their work is done correctly. |
| Business Analyst | They gather and analyse data, then use it to construct solutions for problems within the company. |
| Operations Director | They are high-level executives at a company that manages the day-to-day operations of a business. |
| Principal Operating Officer | They oversee the day-to-day operations of a company. They are responsible for the financial health and growth of the company. |
Primary responsibilities: The operations coordinator is indeed a person who frequently supports the operations management process by organising office activities, providing clerical assistance, enhancing efficiency, and interacting with clients.
The operations manager is a professional in operations who could be the most senior member of the department. They oversee personnel, handle finances for the company, decide on strategies, interact with employees and business partners, and establish plans for the organisation.
An operations analyser is an analytical expert who maintains pertinent data as an operations team member. They might be in charge of streamlining workflows, developing operational procedures, suggesting workforce adjustments, analysing data, and making suggestions based on it.
The director of operations is an operating expert who frequently works for larger organisations with a larger operations management department. They typically supervise a group of operations personnel. They oversee personnel, offer suggestions for corporate staffing plans, plan for the company's future, streamline workflow, and analyse operational data.
Principal Operating Officer
The chief operating officer is a senior operations executive typically found in large organisations with a large operations workforce and various operational challenges. They typically oversee business plans, develop performance reports and analyse relevant data, formulate business objectives, and collaborate with other executives to operate the company.
ALSO READ: MBA Operations Management course syllabus
Why is supply chain management important in operations management?
Overall operations and supply chain management are generally anticipated to enhance the company's operations, promote more productive procedures, and ultimately increase income. In actuality, the two positions are intimately connected to achieving those goals. Operations management wouldn't have a product to monitor operations without supply chain management, which manages the process of getting the product created.
Whether the organisation is transferring services, commodities, raw materials, information, or money into the hands of its consumers, many sectors require supply chain management and operations management simultaneously.
Because the required skill set for both professions is comparable, it is also possible for both roles to overlap in smaller organisations or be filled by a single individual or department.
Difference between supply chain management and operations management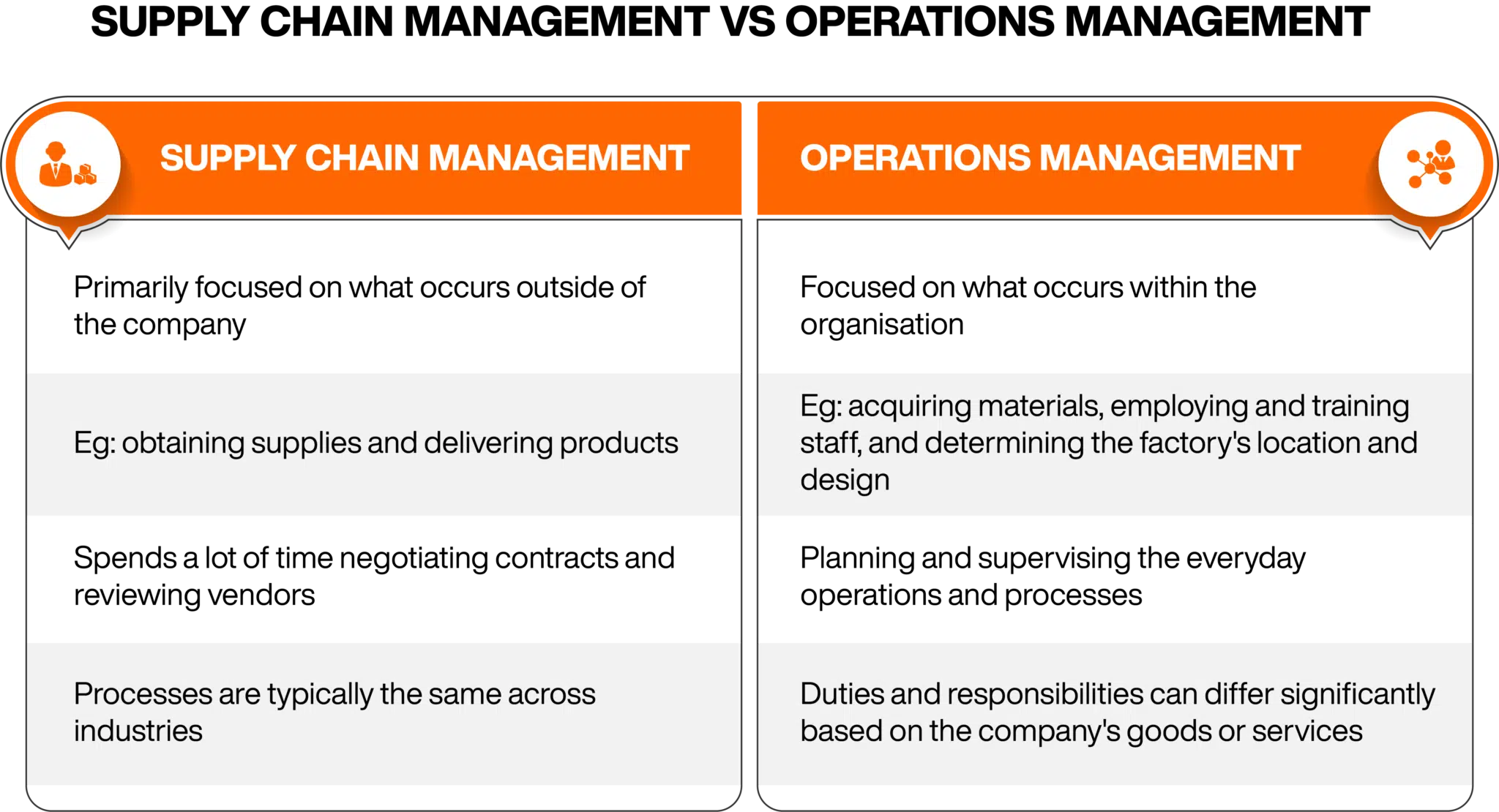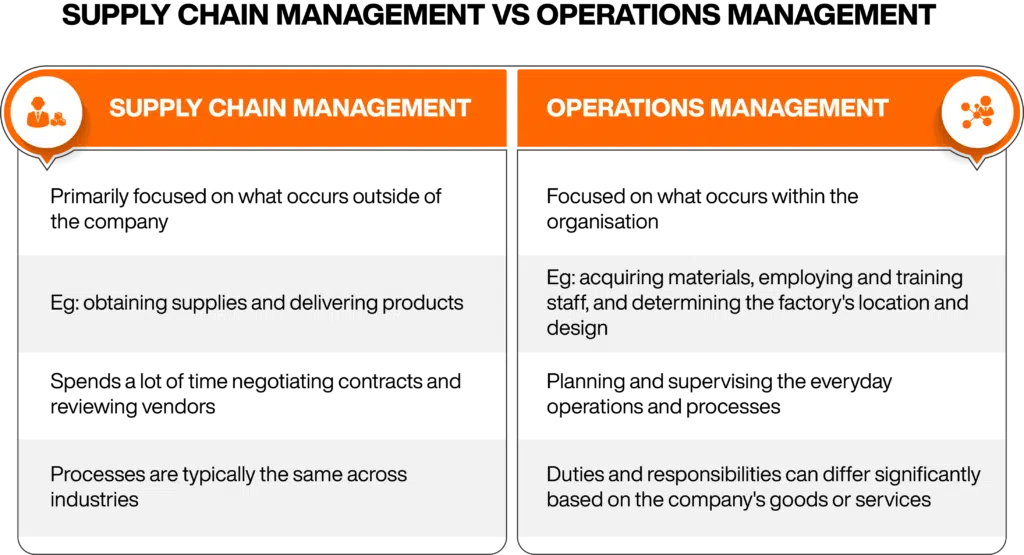 Recent happening in the field
Most freight companies are not just focusing on the distribution side. They also aim to increase the value of the products offered to their customers. While modern SCM allows any business organisation to experience the value of building partnerships, traditional SCM allows public companies to follow a single path.
Organisations operating under modern SCM create and deliver value to products that the end-customers consume. In contrast, traditional SCM has no such strategy to increase the value of the final product. The latest technology and strategy flow into the modern SCM. However, traditional SCM follows the old method.
To further explain, consider the example of a book that has not yet been published. Traditional systems collect raw materials, deliver them to manufacturers, create books, print content, pack, ship, and deliver. Modern supply chain management simply shuts down all of these processes by publishing an ebook. The latest SCM enables faster progress than traditional SCM.
Future of SCM and OM
Various aspects of the supply chain might be expected to increase personalisation. Your supply chain may need to be segmented, with a unique strategy and method developed for each segment.
As more customers place a higher value on the environment, more companies have stepped up their sustainability initiatives, which are now permeating the supply chain. You'll need to customise your efforts to meet your company's particular requirements since there are various ways to concentrate on sustainability.
Automation and the usage of artificial intelligence are becoming more prevalent in many supply chains. Automation makes it possible to streamline routine operations, and AI, which makes an effort to imitate human intellect and "learn," can help with trickier, more difficult tasks.
The Internet of Things (IoT) is a connection of actual physical things that are linked to the internet via sensors and software. Even if the IoT now contributes significantly to the supply chain, notably in terms of logistics, its significance is anticipated to increase in the future due to its more varied uses. IoT and other cutting-edge technologies may be used by 50% of major corporations to assist supply chain operations within only a few short years.
Bottom line
Aspiring professionals should think about whether they would want the outward emphasis supply chain managers to embrace or the inner lens of an operations manager, even though these professions have many overlapping abilities.
You might want to study supply chain management through an exceptional programme offered by the Manipal Academy of Higher Education (MAHE) through Online Manipal if the designing value for the supply chain, quality assurance, international markets, transportation, and logistics, or these topics interest you more. Alternatively, you might succeed as an operations manager if you'd prefer to oversee manufacturing, scheduling, workflow, and personnel. 
A degree is required in management, business administration, or a closely related discipline for entry into either field. The ability to compete with additional degrees or certificates that can give you an in-depth understanding of the fundamentals of these professions is frequently sought after by professionals.
Enrol with us
Interested to join our courses?
Share your details and we'll get back to you.