System administrators have traditionally worked in the background for years to ensure the continued availability of your most critical IT systems. While the emergence of DevOps and cloud computing has resulted in more workers with mixed SysAdmin/Developer skills and experience, organisations will always need system administrators. They are skilled in both equipment and software, building durable, secure infrastructure to ensure the company's success.
Who is a system administrator?
A system administrator (sysadmin) is an IT specialist who manages a multiuser computational setup and assures that IT operations and support structures run at peak efficiency. Sysadmins are in charge of ensuring that their company's systems, databases, and networks are up and running, essentially avoiding business interruptions. This covers configuration settings and upkeep, such as deploying and repairing equipment and software and evaluating technological advances for their company.
Systems administrators collect data from network clients to describe and resolve issues, debug systems, hardware and software, and collaborate with contractors to learn more. To locate the remedy to particular network problems, a systems administrator generally needs to monitor various troubleshooting efforts.
What does a system administrator do?
A system administrator oversees and reports events and issues throughout your apps and systems based on your toolchain and technology base. Sysadmins can notice an event by analysing essential system and network metrics such as CPU, disc use, DNS, lag, and ETL. Then, depending on tracking criteria, they can set reminders to obtain on-call alerts in the event of any major incidents. Sysadmins assess the health of their systems using both external system outputs and metrics, resulting in a more transparent design.
System administrators typically handle user rights and management for all apps and services. Sysadmins can grant user roles and administer the complete IT stack for an organisation, ensuring that everyone has safe access to the required software and tools.
The sysadmin is in charge of password management and SSO policies and practices. They can update passwords and guarantee that all security criteria are satisfied. The system administrator is responsible for handling SSO and two-factor verification and assisting users in gaining access to the network they require.
System administrator job description
When an organisation's network users have technical difficulties, a systems administrator is the first person they will approach. Computer system administrators, for instance, guarantee that the company's internet access is operational and that the mail server is fully functional, handling emails sent and received by all members of the firm or organisation.
Systems administrators guarantee the efficiency and safety of the machines they oversee and satisfy the network users' expectations while staying within the specified budget. They may consider buying, installing, or improving components of a computer system to meet business requirements; offer additional regular automation; uphold security measures; debug; prepare and oversee the work, and provide tech assistance for initiatives to address these needs.
Types of system administrators in India
Network and computer systems administrators
A network administrator is in charge of the company's mobile, server, and PC equipment. They determine the company's computer and network system requirements and install the needed components. They may do any maintenance or improvements that are required for any system. They ensure that data storage networks, emails, and the employees' desktops run smoothly and virus-free. Network administrators ensure that the devices and users are constantly linked to the computer network's mainframe. Administrators are occasionally in charge of communication systems also.
Database administrators
Database administrators (DBAs) are typically in charge of the subsystem's databases. DBAs in some firms are granted the sysadmin special class permission, which allows them to do nearly anything in the subsystem and provides them control over all of the subsystem's databases. In some companies, a DBA's authority is restricted to specific databases. The DBA develops the data object structure, starting with the database to tablespaces, tables, and any other required indexes or analytics. They also establish the referential integrity requirements and any restrictions that may be required.
Web administrators
Web administrators employ their technical expertise to programme networks, their artistic skills to design, and their collaborative skills to troubleshoot problems. Web administrators are a valuable asset since they have such a wide range of talents. They are crucial to an organisation's online presence. Above all, they guarantee a convenient and effective experience for users. A few examples are establishing security standards, altering programmes, establishing backups, fixing software issues, and upgrading information. They may develop, programme, and maintain websites for various clients or a single business.
Telecommunications administrators
A telecommunications admin plays an important role in maintaining and enhancing company networks that link data and various voice services, including telephone, desktop, and voicemail services. A telecom administrator's primary task is to guarantee that the company's telecommunications are working smoothly without any problem. This task necessitates each telecom administrator's familiarity with computers and modern technology. They must be capable of solving mistakes and resolving issues that develop in any communication system.
Cloud administrator
Operating in a combined Windows and Unix software environment is the responsibility of a Cloud Systems Administrator. They are responsible for managing the instances of cloud infrastructure services and many cloud servers. They also manage, supervise, and administer a multiuser computing system as per requirements. A good technical understanding of virtual servers, writing code, and software as a service is required for this job. The underlying cloud systems will be developed, configured, implemented, and managed by the cloud systems administrator.
What qualifications do I need to be a system administrator?
A bachelor's degree in Computer Science, a bachelor's degree in technology or a bachelor's degree in computer applications (BCA) can land you system administrator jobs. Also, IT, IT systems management, or a similar discipline is the minimum requirement for a system administrator. Certification programmes focusing on equipment, computer systems, and network administrator skills are also some qualifications necessary for the job as employers can assess your abilities more quickly with upgraded professional qualifications.
Can I get a system admin job after BCA?
BCA or a bachelor's degree in computer applications is one of the most favoured qualifications for the system admin jobs. The system administrator will have to be aware of various operating systems and programmes, including Microsoft, Unix, Linux, and Oracle. Organisations require system administrators to conduct troubleshooting activities on time, and thus they should be knowledgeable about computer applications and programming.
Is a system administrator job a good career start?
With so many businesses adopting the latest technology, having a solid IT foundation is more important than ever. Downtime is not only inconvenient for companies; it can also quickly put them out of business. The estimated price of IT downtime is $5,600 per minute, as per a Gartner report. Therefore, companies require system administrators to keep their business software updated and working. In India, the system administrator's salary rounds up to an average annual income of INR 692,255.
Benefits of becoming a system administrator
Listed some of the advantages of becoming a system administrator.
Gain technical knowledge and skills
A system administrator has a strong understanding of the fundamentals of technology, especially systems and networks. Full-time workers are generally in charge of computer system maintenance, configuration, and debugging, and they understand everything about networking, operating systems, web servers, and databases.
More job opportunities
Companies rely largely on their computer networks, which must be quick, dependable, and updated regularly. System administrators will become increasingly important as more businesses rely on and encourage innovation.
Good start for your career
Are you ready to leap from a physically or mentally demanding profession to a coworking space job with benefits? Rather than working irregular hours, finding individuals to cover your work, or freelancing on commissions, this career path may provide a steady and consistent compensation with standard office working days, allowing for a good work-life combination.
Demonstrate your communication and problem-solving skills
You'll contact people at various levels of the business and be required to explain complicated issues in this position. Interaction abilities are essential. You will be collaborating with others and providing excellent customer service. You will also need to resolve issues, think rationally, and think rapidly. When a network goes down on a slightly elevated day, it's your opportunity to impress, but you'll have to keep your cool and act quickly.
How much is a system administrator's salary?
The yearly income for a System Administrator's salary in India ranges from INR 2.0 lakhs to INR 8.0 lakhs, with an average of around INR 7.0 lakhs. In India, a Senior System Administrator's salary can round up to INR 8 lakhs per year with the right education, qualifications, and 2 to 5 years of work experience. Meanwhile, in the United States, with suitable expertise of up to 5 years, you can easily make around USD 75,000 and USD 95,750. According to Glassdoor.com, the following are the national average wages in the US for system administrators depending on their years of professional experience:
$57,974 for three years of experience
$69,097 for four to nine years of experience
$79,400 for ten to fourteen years' experience
$89,306 for fifteen and more years of experience
Top recruiting companies for system administrator roles
Tata Consultancy Services, Wipro, IBM, DXC Technology, HCL Technologies, Infosys, Oracle, Tech Mahindra, and Capgemini are some of the top recruiters for system administrators. PayPal, eBay, Liberty Mutual Insurance, Boeing, Accenture, and the US Department of Veteran Affairs are just a few of the other international major employers that need system administrators from time to time. PayPal pays roughly USD 130,968 per year, whereas Accenture pays USD 111,208 to qualified workers.
How to become a system administrator?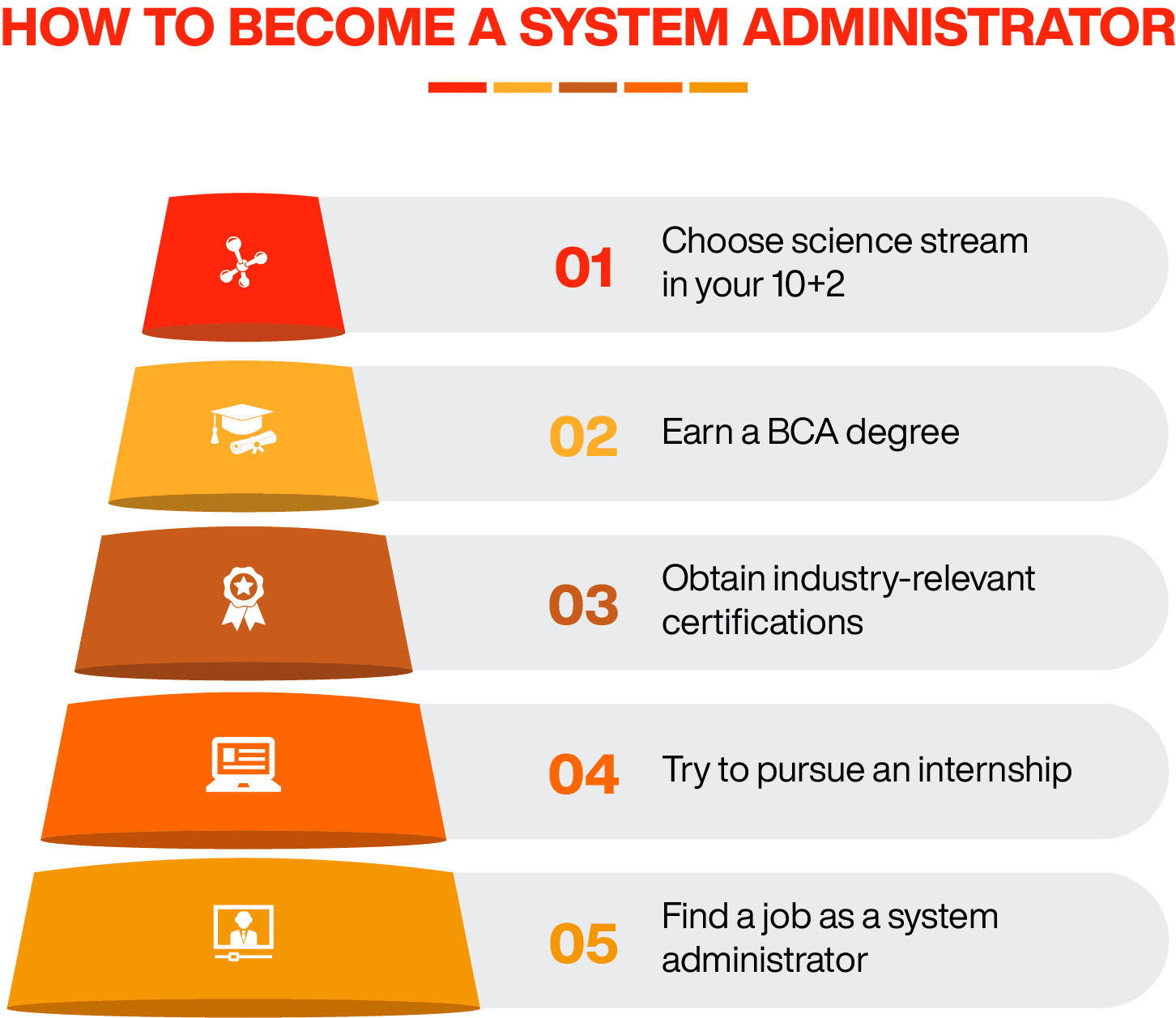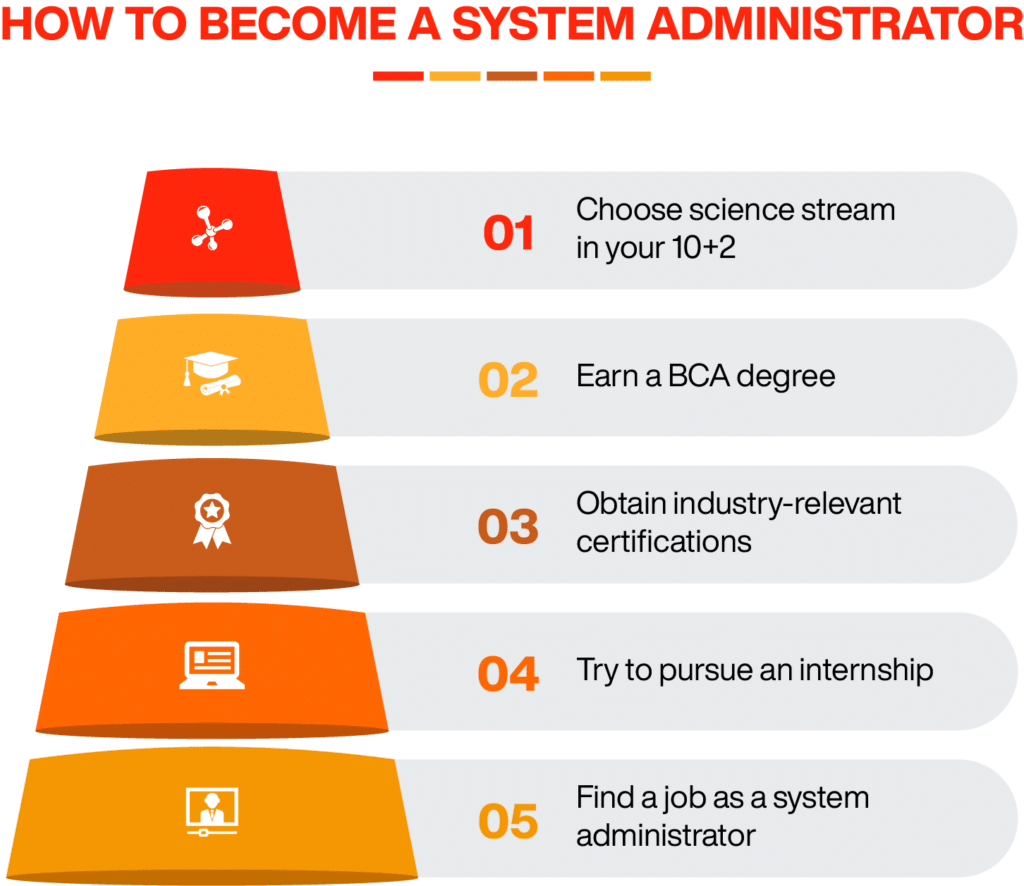 Here's a step by step guide toward becoming a great system administrator
Complete your 10+2
The first level is, of course, graduating from high school. In addition, if you want to be a system administrator, it's critical to study sciences in high school. The reason for this is that the work itself necessitates a great deal of technical knowledge, which you may obtain through degrees such as BCA, B.Tech., and B.Sc., and the admission tests for these degrees are solely based on mathematics and sciences.
Earn a BCA bachelor's degree
Obtaining a bachelor's degree in computer application computer science or a similar discipline is the second stage. Completing a three- or four-year degree programme will provide you with a solid base and understanding of networks, hardware devices, programming, servers, and other topics.
Obtain certifications for getting upskilled
You can get the necessary certification to start your system administrator career with or without your bachelor's in computer applications degree in a relevant discipline. Based on your degree of knowledge, you might prioritise a relevant qualification such as AWS for Beginners and Microsoft Azure AWS for Beginners. Microsoft Azure credentials will provide you with real-world experience and specific abilities to help you transform into a professional system administrator. These certificates are available in both online and offline formats.
Try pursuing an internship
You can prepare for entry-level jobs after earning a bachelor's or master's degree and taking a certification course. But before choosing a job as a system admin, you can apply for an internship and get practical experience to get exposure to real-world problems.
Find a job as a system administrator
After completing your internship, you can begin working as a system administrator at an entry-level job. You can continuously develop your abilities and earn expertise to be ready for higher-paying senior-level employment, such as Senior System Administrator or Senior Technical Advisor.
What are the top skills for a system administrator?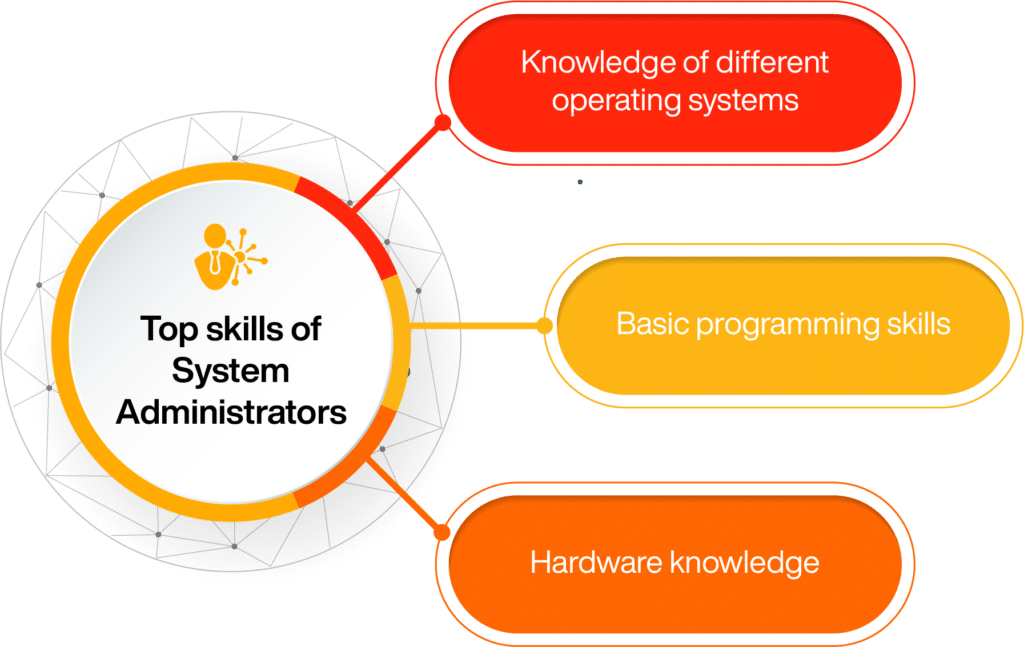 Knowledge of different operating systems
Being a system administrator necessitates a thorough understanding of several operating systems. Whether it's Windows, Linux, or Mac, hiring managers are looking for people who can manage their organisation's OS. Windows and Linux are popular operating systems, although your company may prefer one over another.
Basic programming skills
Sysadmins are increasingly writing scripts and coding to accomplish their objectives. This demand for system administrators who write programmes regularly has given way to a new push in site reliability engineering (SRE). Due to the code handed to them by programmers, SysAdmins have always been very responsive to issues in operation. Nonetheless, if SysAdmins and ARE teams begin to write code more frequently and work with programmers sooner in the release cycle, they will be able to discover and solve things more regularly.
Hardware knowledge
It's critical to understand how to handle the many hardware components at a corporation as a systems administrator. This comprises both the network management and maintenance gear and the individual computers and gadgets that employees use to connect with the network. A systems administrator is in charge of both setting measures in place to reduce the possibility of mistakes in the company's hardware and supervising the correction of any problems that arise.
Master your skills with an online BCA from Manipal University Jaipur
Manipal University Jaipur's online BCA curriculum aims to produce tomorrow's visionaries by combining the most recent breakthroughs in computer technology, a focus on logic and innovation, and the evolving ways of the sector. This 36-month course will be tutored by experienced faculty. Over 50 per cent of the MUJ faculty have earned a Ph.D in their respective fields. They boost the value of practical knowledge and enable you to chart your course to success confidently. The course is available for both Indian and international students with general eligibility criteria of 10+2 from a recognised board with at least 50 per cent marks in aggregate.
The course fee is INR 1,20,000 (20,000 per semester). Students who enrol in this programme gain knowledge and abilities in skills such as communication, organisation, management, and computer technologies. Computer programmer, web and system administrator, web developer, and other positions are open to BCA graduates.
Conclusion
A system administrator is a critical and in-demand position in the technical business. If you want to get your feet in the gate of IT operations, the SysAdmin position is a wonderful place to begin and pays well. You can start a SysAdmin career with a BCA degree. Online Manipal offers a cutting-edge online BCA programme to build skilled SysAdmin candidates. With the Google Cloud Computing Foundation curriculum, you will get hands-on training on cloud technology, labs, assessments, and capstone project.
Enrol with us
Interested to join our courses?
Share your details and we'll get back to you.