Creative Economy is a new evolving concept, and the term was first popularised by John Howkins in 2001. He used it in relation to arts, cultural goods, services, games, research and development. Creative Economy doesn't have a fixed or single definition as such. It is an economy that combines human creativity and management aspects. It includes creativity, intelligence and ideas with the finance and revenue aspects.
You might have heard the term creative industry and wondered what it meant. In simple terms, it means the commercialisation of creative art. It is doing business that involves art and intellectual property. An artist creates art, but the process of finalising the creative product and making it available in the market for final buyers involves various steps and people.
MBA in Creative Economy combines the creative part along with the management aspect of the creative industry. It provides a great opportunity to work with creative people. An MBA in Creative Economy will equip you with the necessary skills required to manage and handle licensing, promotion, retail and marketing of your client. You will be able to effectively use your communication and managerial skills in the creative industry.
Anyone who has an interest in the creative industry and wants to make a career in it can enrol in a two years MBA programme. The candidate either should have a relevant undergraduate degree or have relevant work experience in the creative field to enrol in the programme.
What are different creative industries?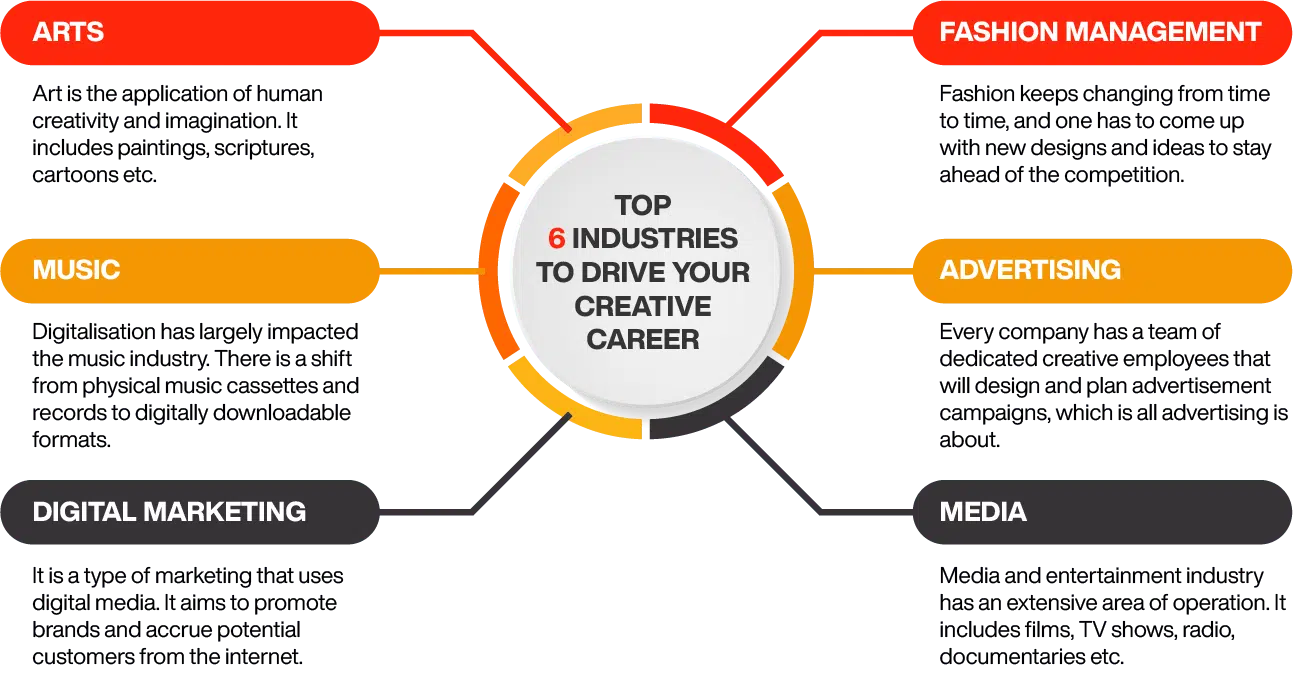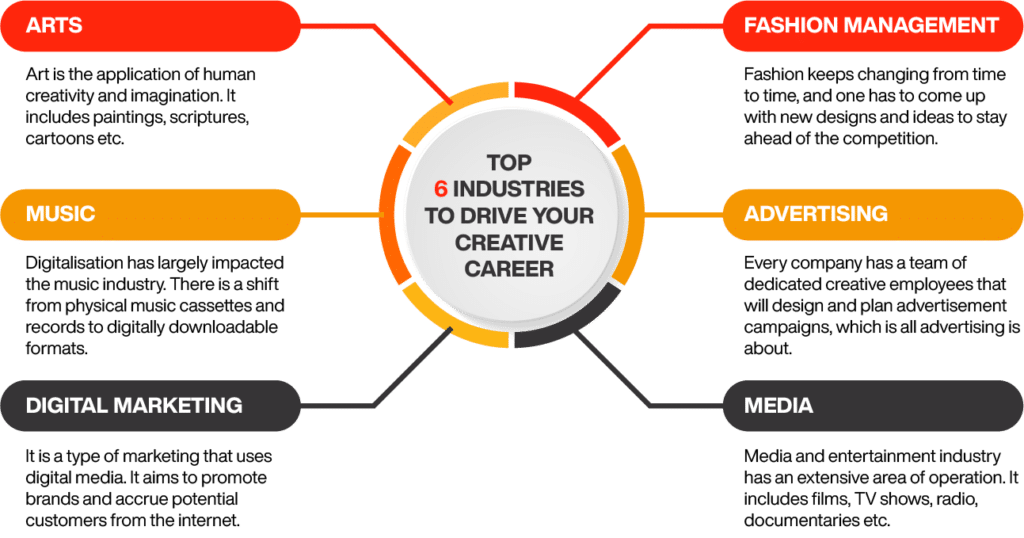 The Creative Economy is one of the most important factors in a nation's Economy. It has different industries, and each industry is unique and special. Let's look into some of the types of creative industries.
Arts: Art is the application of human creativity and imagination. It includes paintings, scriptures, cartoons etc.
Music: Digitalisation has equally impacted the music industry. There is a shift from physical music cassettes and records to digitally downloadable formats. The launch of music streaming services has further revolutionised the industry.
Digital Marketing: It is a type of marketing that uses digital media. The aim is to promote brands and accrue potential customers from the internet.
Social media Apps: Social media has become an integral part of our daily lives. We use social media to connect with our loved ones to search for our next best job. It has made our life convenient. Creating and maintaining new social media apps is also a blooming career choice.
Fashion Management: Fashion keeps changing from time to time and one has to come up with new designs and ideas to stay ahead of the competition. Fashion industry is one of the trending creative industries across the world.
Publishing: This industry primarily consists of publishing houses, writers, editors and a marketing team. Self-publishing is a new concept that gives writers greater creative freedom, but they still need a team to reach the final stage. The new technology era has introduced digital forms of publications like ebooks, audiobooks etc.
Architecture: It includes interior designing, building planning, structure development, town planning and preservation of monuments.
Media: Media and entertainment industry has an extensive area of operation. It includes films, TV shows, radio, documentaries etc. This industry is dynamically evolving with streaming services and the launch of different production houses. We are in the era of the best creative media products.
Advertising: Every company will have a team of dedicated creative employees that will design and plan advertisement campaigns. It is a continuous process that companies undertake. It could be in-house or can be hired from outside. Their responsibility is to create good appealing advertisements.
Entrepreneurship: It is the art of setting up and running a business. Planning, organising and managing a business along with uncertainties need lots of creativity and skills.
Stay ahead of the competition with an MBA in Creative Economy
Whether you are a student or someone working in the creative industry, an MBA in Creative Economy will give you that career growth advantage over other candidates. As it is a relatively new programme, the pioneer students will have an advantage over others. The benefits are numerous; let's look into a few of the benefits of the MBA in Creative Economy programme.
Existing professionals: If you have experience working in the creative industry, this MBA will help you climb the corporate ladder. The combination of degree and experience will provide various new opportunities in industries like music, tv, publishing house, etc.
Increase your earning potential: An MBA holder generally is highly paid compared to his contemporaries. So enrolling in a master's in the creative industry will increase the chances of getting high-paying jobs.
Sharpen your skills: The programme is designed to provide real-life experiences and case studies from the industry's current scenarios. These case studies prepare students for the future. They will be able to apply the knowledge gained during the course and effectively perform their duties.
Network expansion: The MBA programme will provide an opportunity to network with industry personnel. The course content is designed by experts and industry leaders. It is a great opportunity to interact with them. Many universities conduct project trips to help better understand and develop relations that will help in the future.
Enhance knowledge: Life is a continuous learning process. Nothing can beat the experience one gains in the field. It is very crucial to stay up-to-date with the latest developments in any field. Pursuing a degree in the creative economy will surely enhance your knowledge base.
Emerging domain: Creativity has become one of the core aspects of the economy. Companies like Netflix, Hulu etc., are hiring efficient candidates to manage their different fronts. So there is a requirement for the professionals that can apply a combination of managerial and creative skills simultaneously.
In-demand skills: The MBA in Creative Economy course is packed with skills and experiences that are widely popular among employers. Gaining these in-demand skills will make you a desired candidate in the eye of the prospective employer.
Professional development opportunities: The MBA programme enhances the overall personality of the student. It helps individuals develop a proper professional outlook.
Varied job roles with lucrative salaries: The MBA degree will open doors to new opportunities. The candidate will be able to explore new job roles and profiles which might not have been available without this specialisation.
Uninterested in regular domains of work? Choose the right creative specialisation
There are numerous advantages to pursuing an MBA in the Creative Economy.
Managerial skills: It will provide necessary skills and training to facilitate managing creative work. The product of creative work is similar to other products, and they need to be marketed and managed just like any other goods or services.
New industry: Creative industry is evolving at great speed, as MBA in the Creative Economy is not yet popular. There are untapped opportunities that one can explore with higher education.
Excellent communication skills: Working as a manager for a singer or painter, or any creative person, you will mostly interact with different people and represent your client. The MBA course will help you develop the required communication skills.
Opportunity to work with creative people: The creative industry is loaded with creative people and famous personalities. This MBA programme will open new avenues and opportunities for individuals to work with them.
Creative thinking: Working in this field will help in developing innovative and creative thinking. As the industry is evolving and changing rapidly, candidates must be updated with the changing industry. The MBA will develop and train important industrial skills.
Career change: If you are someone looking to take a leap and want to try something different, the creative industry provides amazing and challenging opportunities. To start a career in this field, an MBA in Creative Economy will provide the necessary platform to launch your career.
Popular job roles for MBA in Creative Economy aspirants
Art director
The art director is responsible for the visual elements such as images and graphs. Their main motive is to create a visual aesthetic component that properly resonates with the theme of the topic.
Advertising manager
They are responsible for managing the advertising strategy of the company. They focus on developing company-specific and brand-specific advertisements. They work with other staff members and set visions and goals for the team. They are responsible for directing, controlling and monitoring the operations of the advertising department.
UX designers
They are responsible for designing the user experience of any app, website or product to make it smooth, enjoyable and accessible. They are responsible for overall user satisfaction. Their key responsibilities involve:
Understanding the user: It is like stepping in the shoes of the users and thinking about what problems a user might face and how to solve them.
Conduct research: They conduct research about users' needs, demands, preferences and behaviour.
Analyse the data collected in the previous step.
Design: At this stage, the UX designer will build a design, prototype, site map, etc., which will help the team better understand the final product.
Testing: it is a test run of the product. It helps in finding out how a real user will interact with the product and tracking any problems.
The final stage is submitting the final product to the company.
Interior designer
Interior designers use their creativity in managing and designing the interior of a home, office, or any commercial space. They create aesthetic and pleasing indoor spaces. Their main aim is to make the available area functional, comfortable, and visually appealing as per the client's needs. They discuss with the clients and understand their requirements and expectations and use their creativity to deliver the final product.
Marketing director
A marketing director is the head of the marketing department. They provide guidance and make all important decisions for the marketing team. They continuously evaluate and coordinate different marketing projects. They are responsible for making marketing strategies for promoting products and services. They organise trade events, meetings, promotional events etc.
PR director
They interact with media persons and are representatives of their client or company. It is their responsibility to maintain a positive image for their clients. They conduct conferences and interaction events to build a favourable reputation in the market.
Brand manager
The brand manager studies the target market and consumers and designs brand strategy accordingly. They aim to capture maximum attention and use tactics that make potential customers relate to the brand.
Front-end web developers
A front-end developer creates websites and web applications using web technologies. Their main objective is to ensure that the website visitors can easily understand and interact with the website.
Online Manipal leads the way for online MBA aspirants
Online Manipal, the online platform offered by Manipal University Jaipur, lets you pursue an online MBA degree from the comfort of your home with a wide range of specialisations. You can select the specialisation as per your interest from the available options. The Online MBA degree from the UGC accredited and NAAC A+ rated Manipal University Jaipur opens up doors of new opportunities. The MBA programmes are designed to impart the necessary skills and training for students to help them excel in their career. Online Manipal provides various specialisations for their MBA programme, such as Finance, Marketing, Retail Management, Human Resource Management, Analytics and Data Science, BFSI, IT & Fintech.
Individuals who want to advance their careers can opt for online MBA programmes. Once you enrol for the MBA programme, you get trained by the best faculty at Online Manipal, gain free access to Coursera courses, attend webinars of highly-qualified industry experts, interact with alumni and other advisors for career guidance The real-life based case studies will prepare students to face any challenges in the the future.
Online Manipal provides placement assistance for students to help them land their dream jobs through internal skill assessment exams, resume building workshops, and interview preparation. The online MBA course fee is very affordable and varies from specialisation to specialisation. The University also runs various scholarship programmes, thus making MBA accessible for everyone.
Conclusion
We are living in an era that sees continuously evolving trends and technologies, and it is the best time to embark on a career in a creative industry. A career in creative avenues might initially sound intimidating, considering it is an unconventional career prospect. But with the right degree, one can surely excel in this new evolving domain. Join an online MBA programme from a reputable organisation such as Manipal University Jaipur and add relevant skills, experience, and credentials to your resume.
Enrol with us
Interested to join our courses?
Share your details and we'll get back to you.