Management
Online Manipal Editorial Team | May 24, 2022
There is a need to revise a company's operations after a certain point. An improvement assessment gives employees feedback on their work and motivates them to deliver better results. Therefore, businesses use tools to measure their performances. These strategies help in an efficient flow of work so that it does not affect the company's delivery of products and services in the market.
What is benchmarking, and how does benchmark analysis work?
Benchmarking is comparing the company's services with the other competitors. It includes the quality of product, cost per unit, production cost, and customers' reliance on the product. Various businesses set benchmarks in the market, and every company tries to form a strategy around the set bar. For instance, if expenses are more than the sales, the business needs to fill the gap. In simpler terms, if your product price and your competitor's price are the same and your production cost exceeds the actual price, the other company performs better and has huge revenue. Thus evaluation and revisions of decisions are necessary to achieve goals in time. Therefore, a company can improve its performance through proper benchmarking analysis with the following process:
Planning
The principal phase of benchmarking is planning. Highlight areas of improvement and divide the work accordingly. Good planning leads to a better understanding of work by team members.
Collect information
The collection of information will be the primary phase after planning. Now that the plan is ready, you have to gather information to execute the plan. Look out for your competitors' strategies and understand how they reach their goals for better results.
Review data
When you believe you have all the data you can accumulate, you can begin to plot it and comprehend the inadequacies you might have. It is essential to recall that you should have a receptive outlook on which strategies are going wrong. Examine everything so that you can draft a report for better execution than before.
Execute the plan and observing results
Adapting to changes is not easy in businesses. Still, it is beneficial when you can execute changes and better the organisation simultaneously. As a result, you will be back on track with the execution of plans if every possible step is given importance. The execution stage notices improvement and objectives for progress inside a period. Observing these is the main approach to knowing the viability of the changes, and monitoring your progress after the planning and execution give you insights into your decisions.
Why is benchmarking important?
Benchmarking is essential for the business to be in balance with the expected results of the market. It does not mean you are trying to imitate other organisations to achieve your objectives. Benchmarking helps understand what is acceptable to customers and other stakeholders, and companies should accept their failures to meet the desired results. Companies cannot avoid using benchmarks after a certain point.
Benchmarking is important for a company to work efficiently and keep growing. It is not always possible that traditional methods of the company will achieve results, and you need to change your trends according to the market's demands and momentum.
What are the benefits of benchmarking?
Benchmarking assists the organisation in making its products and services the best in the market, and its benefits in improving the quality.
It helps in making team members handle the situations as a group. The coordination and trust among employees increase as they work together to make their organisation a better workplace.
The improvement of performance by each individual to their capabilities is a plus point of benchmarking. Employees try to find new ideas for better performance, and they tend to push their limits to sustain the growing business.
Benchmarking makes sure that the company earns more profit and the costs reduce to the maximum extent without compromising the quality. The sales also tend to increase with analysis of benchmarks.
While businesses use benchmarking to revise their plans, it highlights the areas that are doing good and need more focus. Sometimes, it might be uncertain where to begin improving, but benchmarking assists with distinguishing those regions. Benchmarking gives a clear understanding of the performance of the products and services.
What are the five types of benchmarking?
If benchmarking is done with a proper detailed review, your hard work and efforts that go into it will be worth. There are different types of benchmarking explained for a better understanding:
Internal benchmarking:
This is the simplest form of benchmarking. Internal benchmarking helps in comparing the services within the company. Companies process the products and services of one department with a similar department, which gives insights into where they can do better. This kind of benchmarking is powerful because it helps set and fulfil guidelines. It tracks the company's Key Performance Indicators (KPI) before comparing them with others.
Competitive benchmarking:
You can also refer to it as external benchmarking that exclusively contrasts your cycles and measurements with those of direct competitors. This benchmarking gives you a bigger picture because you can distinguish precisely why a consumer prefers their services more.
Strategic benchmarking:
After looking at your competitors' benchmarks, your strategies come under strategic benchmarking. The new organisations trying to settle in the industry need this benchmarking. The focus is on planning, and other things will be sorted accordingly.
Practice benchmarking:
Practice benchmarking ensures that the company is revising its plans and strategies according to its needs. Mapping your process consistently helps in a good flow of work.
Cost benchmarking:
As the name discusses, cost benchmarking analysis focuses primarily on expenses. It compares the price of the product with set market norms. The purchase and production of the organisation's products and services and the Cost of Goods Sold (COGS) are evaluated.
Ten-step process in the benchmarking analysis
Here are the ten-step process in the benchmarking analysis: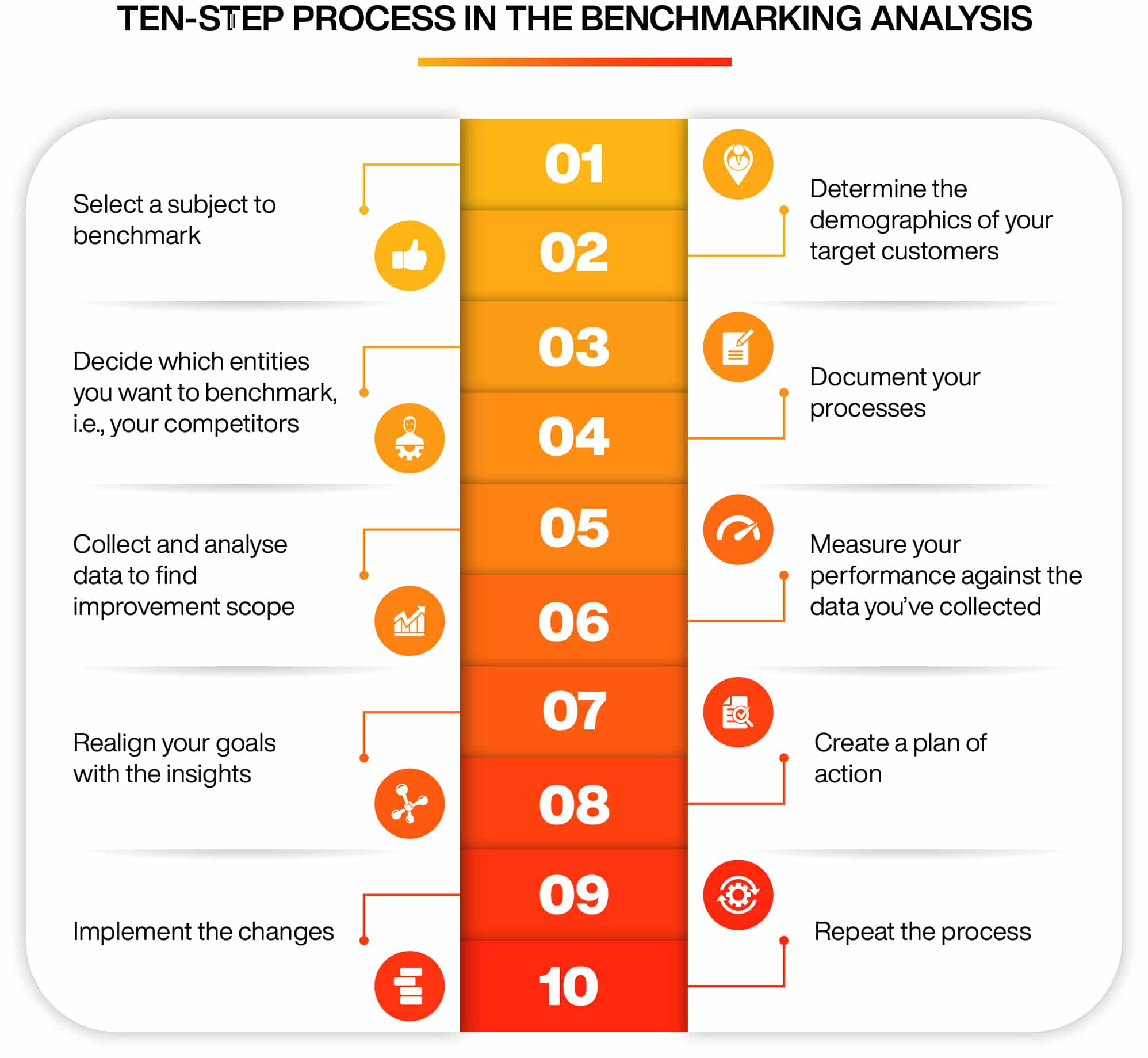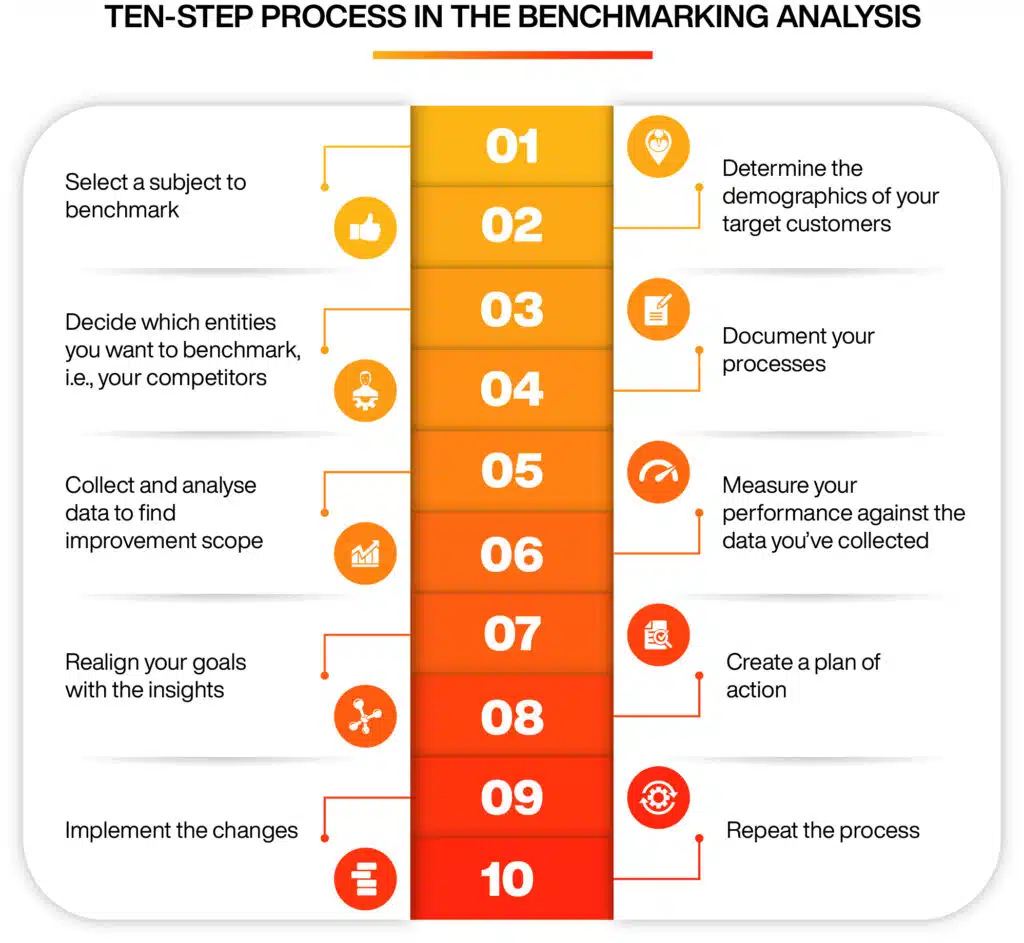 Step 1: Select a subject to benchmark
Take a look at all the subjects but circle the important ones critical for a company's growth. Managers and executives should discuss prioritising what is important.
Step 2: Determine the demographics of your target customers
Understand the needs of your target customers. Make accurate data of ideas that can make your services simple yet easy to use. Remember, completing the customers' demands will ultimately change your view about the services you are giving.
Step 3: Decide which entities you want to benchmark, i.e., your competitors
Shortlist your competitors to benchmark to fill gaps in your performance and services. It is impossible to grasp all the information about each competitor but try to study different organisations every time when you do benchmarking.
Step 4: Document your processes
Please keep track of all your processes to make it easier to benchmark further, be it internal or external.
Step 5: Collect and analyse data to find improvement scope
Get primary (interviews, research, etc.) and secondary (websites, blogs, etc.) data to have a pool of options for further analysis. It is a vital step because all your decisions will depend on your analysis of the collected data.
Step 6: Measure your performance against the data you've collected
After collecting all the important data, monitor your metrics to figure out what was lacking in your performance and what needs to be done.
Step 7: Realign your goals with the insights
The final destination is the company's desired objective, which is set initially, but it may shift in between the process, so realign your goals with the strategy.
Step 8: Create a plan of action
Planning is a must to take out every action. The meetings and discussions with executives and team members make it easier to do the work with clarity. Everyone should know why they are doing a specific action.
Step 9: Implement the changes
No matter how good your plan is, sometimes its execution does not make a difference in the performance. So, observe what needs to be done immediately and be ready with the substitutes. Employees take their assignments seriously and coordinate to remain in a loop.
Step 10: Repeat the process
If everything goes well according to the new measures, try to implement the same plan in a different area. Don't halt the programme; rather, add new ideas to the current success of the project so that the benchmarks remain good at their pace. Start following the same steps to cover standards.
Earn an online MBA degree from Online Manipal
A Master of Business Administration degree comprises the skill you will need in benchmarking. Online Manipal, the platform that offers online degrees from the prestigious Manipal Group, is now offering two MBAs with 12+ electives from Manipal University Jaipur and Manipal Academy of Higher Education (MAHE), an Institute of Eminence.
The online MBA programme from Manipal University Jaipur is the leading online course in India that helps aspiring business professionals to implement good ideas in situations like benchmarking. It gives insights into all the pros and cons one can face and thus nourishes their skill for the real world. You can pursue this UGC-entitled course from the comfort of your home. Top faculties from Manipal University JaipurA+ NAAC accredited institution leads the classes. With an online MBA, you can learn other in-demand skills from leading international universities and organisations using your free Coursera access.
Conclusion
Benchmarking comes as a leading aspect of a company's growth, and it is the tool that will help you when you are stuck. Comparing your company's growth with others is necessary to design your strategies wisely, and benchmarking makes sure that development should not stop. Coming up with new approaches in business might be difficult for some to cope with as it requires starting and assessing the process from the start. Benchmarking helps differentiate departments and efficiency, which is easier to carry out changes.
Enrol with us
Interested to join our courses?
Share your details and we'll get back to you.