Data Science
Online Manipal Editorial Team | October 03, 2022
Data Science domain has expanded in the last few years. The application of data science has been applied to several industries, including banking, healthcare, education, and marketing.
Mathematical research in the field of data science focuses on the discovery of hidden knowledge in data. It is a relatively young area that came about because of the fusion of statistics, computer science, and machine learning.
We can use data science to analyse large data sets for trends and patterns. In addition, the behaviour of individuals and technological equipment is also understood through data science. To enlighten you more on this topic, below are the top 10 applications of data science.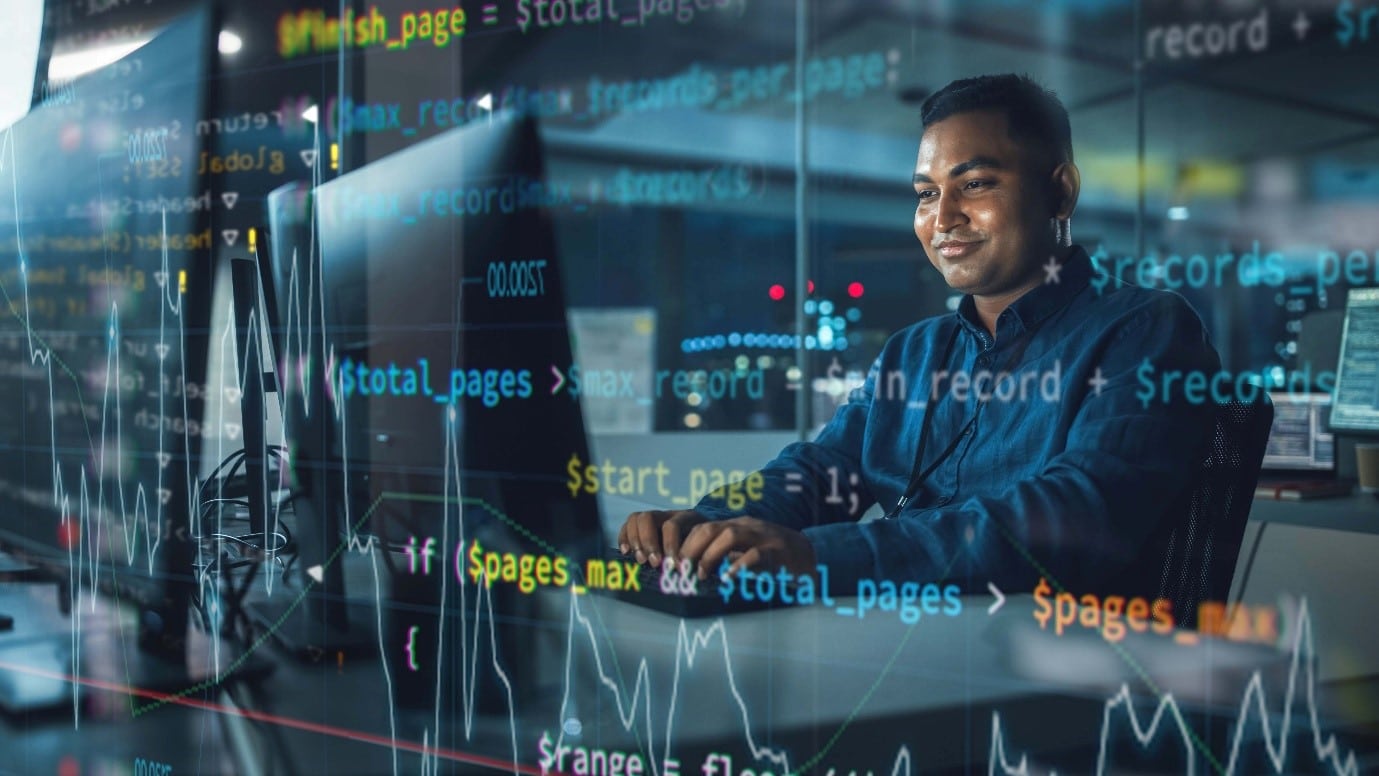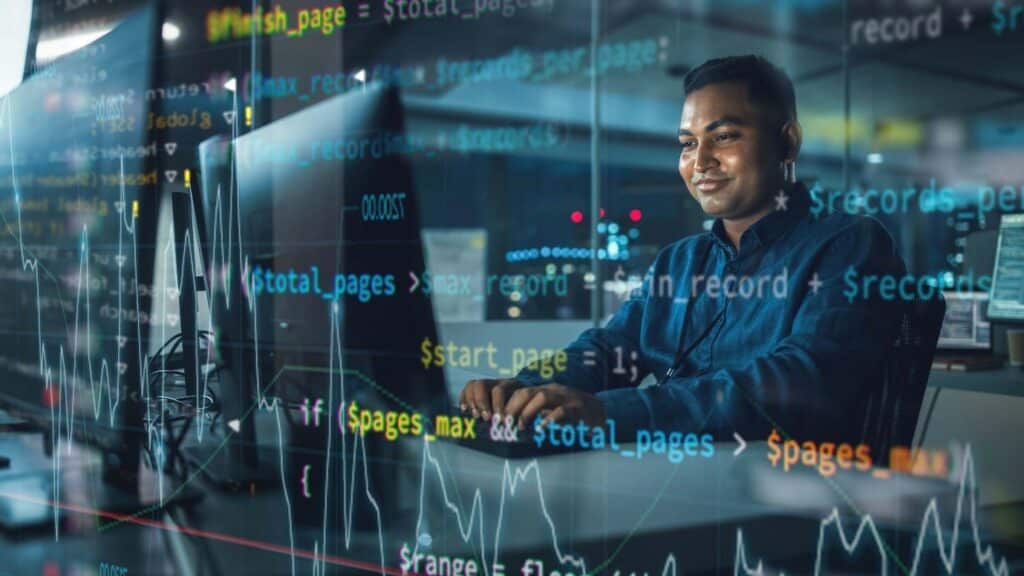 Image Source: https://www.shutterstock.com/image-photo/concept-shot-visualisation-running-computer-code-2083365997
Ten applications of data science that extend the ideas of data science and explore numerous fields, including the following:
Detection of fraud and risk
The field of finance saw the early uses of data science. Businesses were sick of suffering losses and bad debts year after year. However, they had a lot of information gathered during the initial application process for loan approval. So, to prevent losses, they decided to hire data scientists.
Banking organisations have mastered the art of data division and control through consumer profiling, historical purchases, and other crucial factors to calculate the likelihood of risk and default.
The application of data science have a significant positive impact on the healthcare sector.
Image Analysis of Health Care
To identify the best criteria for jobs like classifying lung texture, procedures like recognising malignancies, artery stenosis, and organ delineation use various approaches and frameworks like MapReduce.
Genetic and genomic research also enables highly customised medicine through data science tools. Finding personal biological links between genetics, diseases, and treatment response is the aim of this research, which also aims to comprehend how our DNA affects our health.
Developing new drugs takes many disciplines, which is extremely hard. The most brilliant ideas are frequently constrained by continuous testing and enormous time and money costs. A perspective is added to each phase of this process, from the initial screening of medicinal compounds to the prediction of the success rate based on biological parameters, using data science applications and machine learning algorithms, making it simpler and quicker.
Virtual patient and customer support
The idea that it is often unnecessary for patients to see doctors in person is the foundation for optimising the clinical procedure. A mobile application can provide a more practical option by bringing the doctor to the patient. In addition, mobile AI-powered apps, typically chatbots, can offer simple healthcare support.
Now, when you think about data science applications, this is likely the first thing that comes to mind. Google comes to mind when we talk about Search. Right? However, many other search engines, like Yahoo, Bing, Ask, AOL, and others, exist. All of these search engines, including Google, use data science algorithms to provide the best answer to our search query fast and accurately.
The entire digital marketing spectrum competes with the notion that Search would have been the most powerful data science application. Nearly all of them, from display banners on various websites to digital billboards at airports, are chosen using data science algorithms. Digital ads have achieved far greater CTRs (Call-Through Rates) than traditional marketing. Based on a user's previous actions, they may be targeted.
Aren't we all accustomed to Amazon's recommendations of similar items? They significantly improve the user experience and assist you in finding appropriate products among the billions of available products. This engine is zealously utilised by many businesses to market their goods on user interest and the accuracy of information.
Superior Image Recognition
People start suggesting who to tag when you post an image on Facebook with friends. An algorithm for face recognition is used in this automatic tag recommendation feature. Facebook recently provided an update on the extra progress they have achieved in this area, highlighting their image recognition accuracy and capacity improvements.
Google Voice, Siri, Cortana, and other top speech recognition products are just a few examples. Even if you cannot compose a message, you can still carry on with your life using speech-recognition capability. We can translate the message to text by just speaking it aloud. You would soon learn that speech recognition does not always work correctly.
It is well known that the airline industry experiences significant losses on a global scale. Companies have trouble keeping their occupancy ratios and operational earnings, except for a few aviation service providers. Airlines firms quickly began utilising data science to pinpoint critical areas for improvement. The airline companies can now:
Predict a flight delay
Select the kind of aircraft you want to buy
Whether to make an immediate landing at the destination or a stopover along the way.
If the landing should be a direct one at the destination or should make a stop en route.
Alternatively, it may decide to stop at any halt.
Modern video games are created utilising machine learning algorithms that improve/upgrade when the player advances to a higher level. In motion gaming, your adversary (the computer) also studies your prior moves and adjusts your game accordingly. With data science, EA Sports, Zynga, Sony, Nintendo, and Activision-Blizzard have elevated the game experience.
It is the last of the most intriguing potential uses for data science. Given that a VR headset comprises computer expertise, algorithms, and data to provide you with the optimal viewing experience, there is a tie between data science and virtual reality. Pokémon GO, a viral game, is a tiny step in that direction.
The area of data science is still developing, but it has many potential uses. With the applications of data science in various domains the market will witness the revolution and advancement in various sectors. Online Manipal, the online platform of Manipal Academy of Higher Education is providing Master of Science in Data Science to the learners. The 24-month long course offers self-paced learning, industry-oriented curriculum, and placement opportunity to the learners. So, now that you know about the applications of data science and want to pursue M.Sc. in Data Science, head to Online Manipal's website and enrol today!
Enrol with us
Interested to join our courses?
Share your details and we'll get back to you.