Higher education is crucial for success in your career, and it all starts with choosing the right degree for yourself. Given the vast array of options, it's normal to feel confused when choosing a postgraduate program. MBA and MCA are both great choices for post-graduation after a BCA. This blog helps you decide which PG degree is ideal for you by weighing in the pros and cons of both MCA and MBA.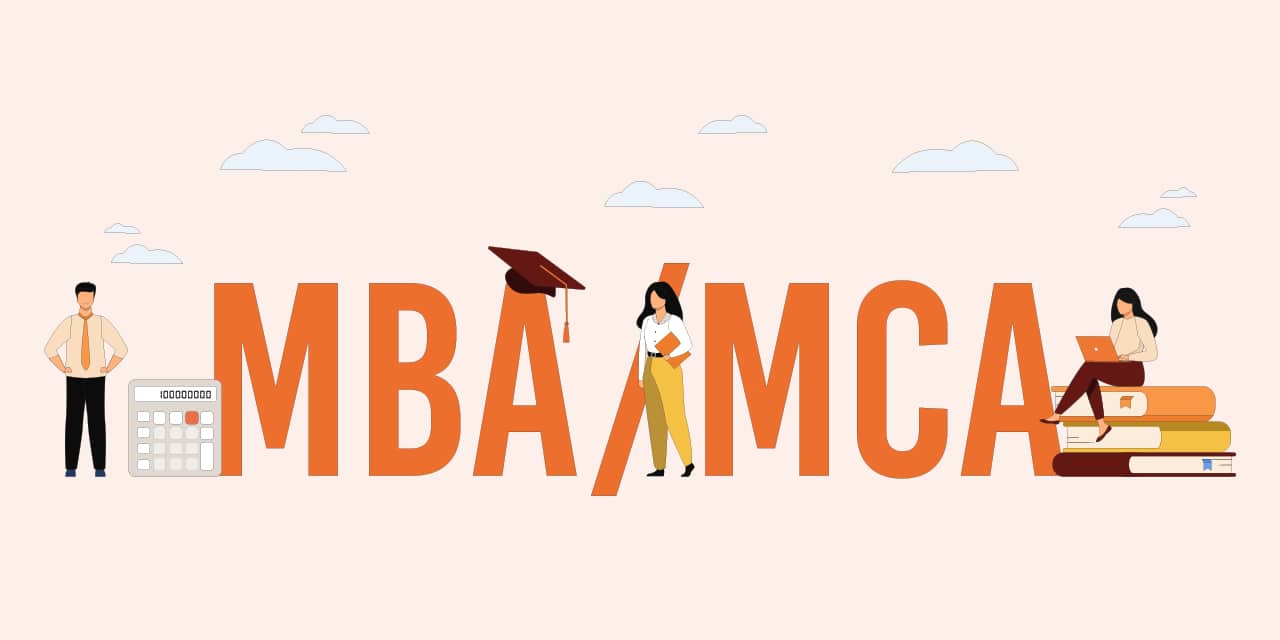 MBA after BCA
There are many reasons why choosing an MBA after your BCA can be a great move.
Business exposure: One of the main advantages of getting an MBA after completing a BCA is that you will be exposed to some of the top business concepts, both in terms of dealing with and developing them. Therefore, choosing the ideal paths to a better job with an MBA can be aided by the computer scenarios.
Management skills: An MBA helps you develop the managerial skills you need to perform at managerial positions in the corporate sector. Managers are required for all kinds of organisations irrespective of the industry you wish to work for. An MBA is a great option for those who wish to get into managerial and other leadership roles.
Makes you job-ready: : Today, the job market is very competitive. An online MBA can give you the edge to stay ahead of the competition. . It not only equips you with the subject expertise but also imparts analytical thinking, problem-solving, leadership abilities, interpersonal skills, decision-making and other essential skills that make you job-ready
Huge scope: An MBA opens up a wide range of career options. Depending on your field of interest, you can choose from a variety of specializations available such as Finance, Information systems, HRM, Marketing, etc and pursue a career in it.
High salary: An MBA helps you get into some top administrative positions in the business sector. Since it is one of the most in-demand post-graduation courses, you can expect high salary packages too.
Fosters career growth: Getting an online MBA from a good university helps you grow in your career. Whether you want to grow in a particular industry or want to start your own entrepreneurial venture, an MBA will stand you in good stead.
Read more: 10 reasons why you should choose an online MBA in India
MCA after BCA
Now let us look at why an online MCA can be a good choice after BCA.
Perfect for tech geeks: A good career advice is very objective. If you are someone who loves technology and the industry interests you very much, then this is the degree you should opt for. It opens up a lot of opportunities in the field of computers and technology and if you feel that is your career goal, then an MCA is the ideal choice.
Higher pay scale: An online MCA from a reputed university will get you a higher pay scale. Ultimately, most people work for a good financial pay out and if that is important to you, then choosing an MCA after your BCA can be a better option.
The tech industry is in an upswing: Technology as an industry has never seen bad times. A career in computer applications can be your chance to be a part of this great industry. You can expect to do well in your career if you are ready to work hard.
Great career scope: when you get into one of the colleges for MCA, you unlock a world of opportunities for yourself. The ever evolving technologies and the rapid spread of digitization increases the demand for IT professionals who are offered high-level positions and great salary packages. .
Also read: Top 5 MCA job choices you have after getting a UGC-approved online degree?
Differences in MBA and MCA
Both the MBA and the MCA are regarded as prestigious degrees that are relevant in today's corporate world. But generally speaking, an MBA is a better option for candidates who are more likely to hold leadership and management positions, whilst an MCA is more suitable for students who wish to focus on their technical talents.Here are a few pointers that will explain the MCA vs MBA debate:
While an MBA will be more managerial-based, where you are expected to supervise and direct staff members, an MCA is a tech-related job profile.
An online MBA can be the right option for students who have leadership skills and team-building skills. An online MCA is a better choice for those who are good with technology and those who want to do something in this industry. Of course, an MCA degree holder will also be expected to work in the team, but his tech-related skills will be more important than his ability to handle a team.
Another thing that can settle the MCA vs MBA debate for some is the money factor. After all, you want a career that is going to pay well. With an MCA degree, you will be able to command a better pay out in the company you choose to work for. There are different MBA specializations you can choose from. The average salary for MBA in India is 4 to 6 lakhs per annum depending on experience and specialization. Similarly, the salary for MCA ranges from 4 to 6 lakhs per year.
What should a BCA graduate do?
The best career advice that any student can get is to choose something that goes with their personality and likes and dislikes. While MCA can be a wonderful choice for someone whose interest in technology is massive, an MBA will be the right choice for someone great with people. Choosing the right postgraduate degree will help you get the best career opportunity.
Conclusion
When it comes to an MCA vs MBA debate, the best choice is always one that suits you. Choose the degree that will help you pave the way for future success. At Manipal University Jaipur, you'll get the taste of a world-class education at a UGC-recognized and NAAC A+ accredited institute. The university is known for its wide variety of courses, including online MBA and online MCA. Not only does it offer full-on training and placement assistance, but you also get the benefits of an advanced and user-friendly Learning Management system, FREE access to Coursera, highly qualified and experienced faculty. Manipal University Jaipur on your resume will certainly take you places career-wise.
Enrol with us
Interested to join our courses?
Share your details and we'll get back to you.