Management
Online Manipal Editorial Team | May 10, 2022
The current competitive business environment has placed a greater emphasis on formulating and implementing strategies, which can help a company keep up with its competitors while increasing overall profitability and client base.
Operations management (OM) is a specialist field that improves productivity, quality, cost, and delivery schedule while giving value to the end customer.
Inventory management, vendor management, purchase management, and enterprise resource planning (ERP) are all part of it, and they all help a company's supply chain work smoothly.
An MBA in Operations Management teaches students how to efficiently manage the procedures that lead to a successful product's manufacturing and distribution inside a company. Students are taught to manage the whole supply chain, from product development through production and delivery to retail outlets.
What is MBA in Operations Management?
An MBA in Operations Management is primarily concerned with the planning, coordinating, and supervising elements of production and manufacturing.
Operations management is a business function that focuses on creating, planning, and managing resource capabilities that a company uses to create products or services. Typical operations management responsibilities allow you to work with a diverse group of people, including engineers, researchers, marketing experts, and everyone in between. If you want to be involved in various business processes, this is the appropriate career option for you.
There are various reasons to study operations management, all of which will assist you in establishing a successful career.
One of the biggest reasons to seek a career in operations management is to increase productivity. Operations management ensures that workforce is appropriately matched to resources to get the best possible results. One of the most effective ways to ensure productivity is through operations management.
One of the most appealing aspects of pursuing operations management is the high pay. According to the payscale.com, the average compensation of an operations manager in India is INR 7.5L. It is significantly more than the average yearly salaries for MBA Marketing and MBA HR, which are INR 7L and INR 6L, respectively.
Another aspect of working in operations and management is the ability to switch jobs and industries. An MBA in operations and management will teach you all you need to know about obtaining raw materials, manufacturing, and delivering the finished product to clients.
Operations management is a secure position with plenty of prospects and provides different options. Every firm needs a specific employee who will be able to simplify their operations, ultimately resulting in maximum profit. Many people aspire to work in prestigious companies. An MBA in operations management allows you to work for notable organisations like TATA Group, Reliance Industries, ICICI Bank, and other international corporations.
MBA Operations Management course syllabus
MBA Operations Management subjects and curriculum are designed so that students learn to focus on both basic business management and operations management specialisation.
The students are educated in both academic and practical aspects of logistics and supply chain management. The MBA Operations Management programme is a two-year, four-semester postgraduate course.
Students learn the fundamentals of business management and its principles during the first two semesters. Elective subjects that focus on the course specialisation are offered in the second and third semesters.
Aside from that, academic courses such as business English, leadership abilities, seminar, research, and projects are offered to improve students' practical knowledge.
What are MBA Operations Management subjects?
The subjects covered in the course provide the candidate with a thorough understanding of the course's aspects. The topics covered are designed to provide the candidate with in-depth knowledge of how operations management works.
Main subjects:
| | | | |
| --- | --- | --- | --- |
| Managerial Economics | Project Management | Management of Organisations | Business Skills Development |
| Production Management | Demand and Business Forecasting | Corporate Legal Environment | Business Skill Development |
| Corporate Environment | Quantitative Techniques & Methods | Business Communication | Accounting for Managers |
Elective Subjects:
| | | | |
| --- | --- | --- | --- |
| Production Planning and Control | Operations Management and Strategy | Enterprise resource planning | Logistics & Supply Chain Management |
| Industrial Marketing | Sales Management | International Marketing Advertising | Organisational Change and Development |
| HR Planning and Development Management | Retail Marketing Management | Services Marketing Research Sales and Distribution management | Consumer Behavior |
Online MBA Operations Management – semester-wise syllabus
The MBA in Operations Management curriculum includes core subjects such as corporate management, business management, business communication, human resource management, and many more. Finance management, sales and marketing, business administration, statistics, production, logistics and supply chain management, and many other subjects are available as electives. The curriculum is divided into four semesters that teach the fundamentals, core, electives, and project. The following is a semester-by-semester MBA in Operations Management syllabus:
| | | | |
| --- | --- | --- | --- |
| Semester 1 | Semester 2 | Semester 3 | Semester 4 |
| Management Concepts | Production Management | Logistics & Supply Chain Management | Seminar |
| Managerial Economics | Enterprise Resource Planning | Operations Management and Strategy | Management of International Business |
| Corporate Environment | Production Planning and Control | Projects | Projects |
| Business Skills Development | Business Process Modeling | Finance | Finance |
| Quantitative Techniques & Methods | Project Management | Marketing | Operation Management |
| Demand and Business Forecasting | Business Policy and Strategic Management | Material Management | Information Technology |
| Communication Skill Development | Corporate legal Environment | Human Resource Management | Sales |
Is an MBA in Operations Management a good option?
Because operations management is multifunctional, it frequently bears responsibility for a company's performance. Operations management is a goal-oriented process that assures a sustainable and efficient conversion of corporate inputs to outputs. Raw materials, equipment, technology, and human resources are all examples of inputs.
Supply chain management and logistics are the two major categories of operations management. In both domains, Operations Management is well-versed.
Because business now grows alongside technology, this MBA program is in high demand in every industry. Every product or service has a digital presence, which necessitates hiring Operations Managers who can function as a liaison between technology and production. These managers ensure that the quality of goods and services is maintained and improved and that business efficiency is maintained and improved at a reasonable cost.
You can earn a nice living after completing the course and earning a master's degree in operations management. Their experience and qualifications also determine the remuneration of candidates. If you are a graduate with a master's degree from a college or university, it will add value to your resume and assist you in obtaining a good wage.
In India, the typical monthly remuneration for an Operations Manager with an MBA in operations management and excellent communication and leadership abilities is between INR 50,000 and INR 85,000 per month.
What is the scope of an MBA in Operations Management?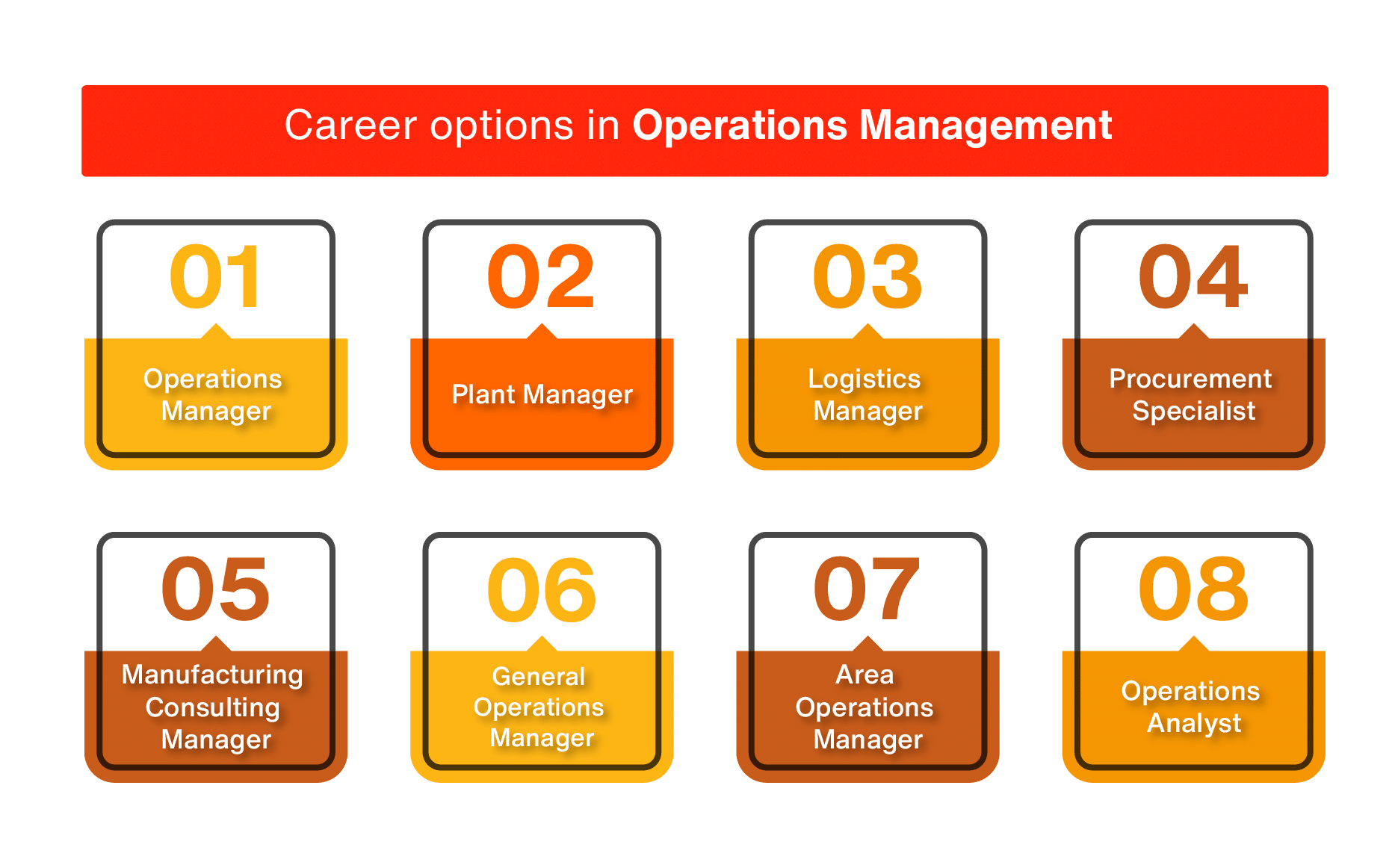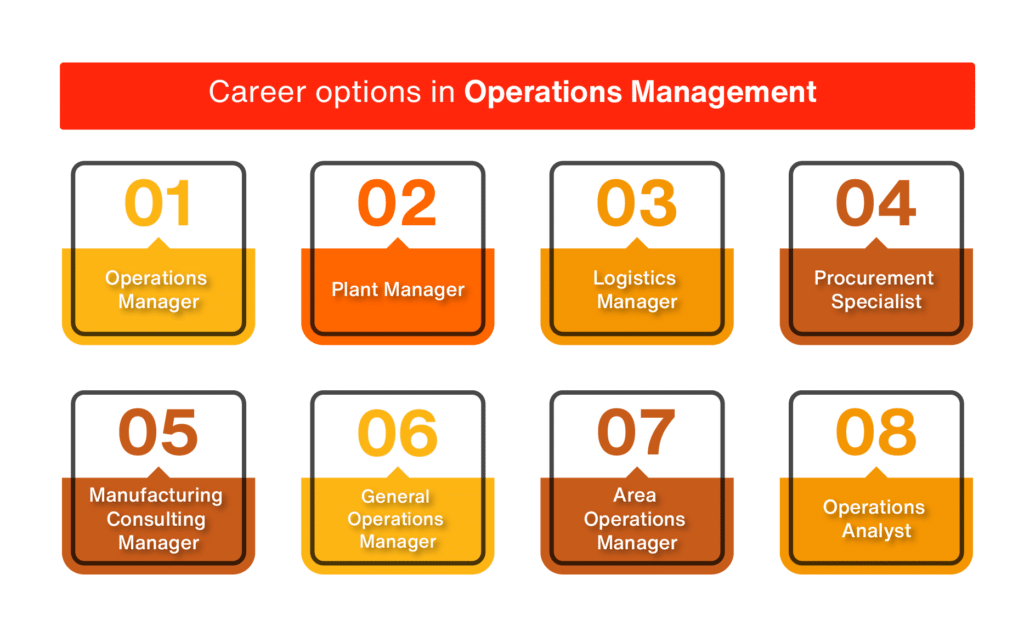 MBA in Operations Management is a course that focuses on the management side of things while also looking after the operations. Individuals' professional opportunities continue to expand the scope of this field.
The Operations Management course assists the individual in comprehending the planning, synchronisation, and monitoring of production and manufacturing. The candidate must ensure that they understand all components of the course to operate in the field.
Though few people are aware of Operations Management, it is regarded as one of the most excellent courses for pursuing professional job roles.
After completing this course, the individual is hired as an Operations Manager and Supply Chain Manager. As a result, taking a course in this sector is advantageous because it opens the door to various job options. As a result, the scope of this course is extending not just in India but also internationally.
Master your Operations Management skills with an online MBA at Online Manipal
The Master's degree in Business Administration with Operations Management as an elective offered by Manipal University Jaipur will provide students with the necessary career boost in terms of earning potential and admittance into operations management roles.
Admission requirements include a minimum of 50% in graduation, as well as a variety of other factors such as job experience, MBA entrance test scores, and so on.
Candidates who choose the Operations Management elective will have a better chance of landing top jobs in reputable companies. Our curriculum is based on industry standards and prepares students to enter the workforce upon completion of the programme. We also assist all students with job placement.
The entire cost of enrolling in the programme is INR 1.5 lacs. We provide various payment options, allowing students to pay their fees in instalments of INR 37,500 semester by semester. Students can also look into simple financing solutions such as no-cost EMIs and see if they qualify for a scholarship.
Free courses with an online MBA at Online Manipal
To ensure that our students are industry-ready, we provide additional tools and resources to each of them. We also provide free access to professional certifications worth of INR 50,000, regular presentations by industry leaders, free access to Coursera, wherein students can pursue courses from premier universities worldwide, and e-learning materials for the programmes.
Conclusion
Organisations are changing the role of Operations Management in the field. Everything is now available online, so the candidate must ensure that their product is distinct from others. Operations Management is one of the many trending job functions in the volatile world
Students with an MBA in Operations Management will be able to utilise their newly gained skills across a wide range of tasks and responsibilities. From product conception, execution, and development to diverse technical tasks and logistics and supply chain management data analysis.
MBAs in operations management prepare students to face logistics, supply chain design, and supply chain management issues and teach them how to improve the efficiency and usability of operating systems and procedures. All MBA programs, especially those that allow for specialisation, strive to provide a well-rounded education to prepare students to be future-ready. Graduates with an MBA in operations management degree will be equipped with a wide range of basic business abilities and the opportunity to emulate their leadership attributes and attitude.
Enrol with us
Interested to join our courses?
Share your details and we'll get back to you.