Management
Online Manipal Editorial Team | May 10, 2022
Currently, India is one of the world's fastest-growing Financial Technology (FinTech) markets. There are many ways the FinTech revolution has changed people's lives in this country. FinTech has enabled the use of artificial intelligence and machine learning to assess investment opportunities, reduce risks, and much more. According to industry estimates, India's FinTech market is expected to grow to $140 billion by 2023. FinTech's global impact is one of its most notable features; it's not just in India anymore; it's spreading to countries like China, North America, Europe, etc.
With such a broad scope, the opportunities for people interested in a career in FinTech are virtually limitless. MBA in FinTech programmes offered by many reputable institutes assist professionals in achieving their goal of advancing to management positions in the FinTech sector. FinTech Management is a thorough understanding of the logical structure of business, new and old management, and marketing concepts, theories, and ideas. MBA in FinTech Management is a cutting-edge course that many students and working professionals are interested in.
This article will go over all pertinent information about Manipal University Jaipur's MBA IT and Fintech programme to help you make an informed career decision.
What is MBA in IT & FinTech?
MBA (Masters in Business Administration) in IT & FinTech is a programme that enables students to bridge the gap between management and cutting-edge financial technology innovation and its applications in banking, finance, and insurance. Professionals who want to work in the information technology or financial technology sector in a management capacity should consider pursuing an MBA in information technology and FinTech as an elective option.
In terms of earning potential and gaining entry into this rapidly evolving industry, it will provide students with the much-needed career boost they need. This will explain all the FinTech innovations such as blockchain, design thinking, digital advisory, trading systems, artificial intelligence and machine learning, equity crowdfunding, peer-to-peer lending, and mobile payment systems. As a result of this elective, you'll be able to land a high-paying position in the burgeoning FinTech startups, banking, and non-banking financial companies.
What are MBA IT & FinTech subjects?
As part of the programme, students can expect to learn about the changing landscapes of financial markets and the mental tools and frameworks they will need to anticipate and capitalise on future FinTech trends. MBA IT syllabus covers the following subjects:
Technology Management
Business Intelligence and Tools
Software Engineering
Database Management Systems
E-Commerce
Fintech Payments and Regulations
Enterprise Resource Planning
Cryptocurrency and Blockchain
Online MBA IT & FinTech – semester-wise syllabus
An MBA in Information Technology course is divided into four semesters that focus on information technology and business. The syllabus is structured around the core and elective subjects.
The first year of an MBA in IT typically focuses on the fundamentals of management theory. Aspirants can tailor their electives to their specific areas of interest or specialisation within the field of work in which they hope to land a job after graduation.
The specialisations are a way for employers to better understand your strengths and match them to their job openings. MBA Information Technology students can work on their projects during final year projects, which will serve as a final test of all their knowledge and skills learned in the course of study.
Given below are the semester-wise details about the concepts covered during the two year MBA programme at Manipal University Jaipur.
| | | | |
| --- | --- | --- | --- |
| First semester | Second semester | Third semester | Fourth semester |
| Management Process and Organisational Behavior | Productions and Operations Management | Research Methodology | Strategic Management and Business Policy |
| Business Communication | Financial Management | Legal Aspects of Business | International Business Management |
| Statistics for Management | Marketing Management | Four elective courses in the chosen area | Business Leadership |
| Financial and Management Accounting | Management Information System | | Four elective courses in the chosen area |
| Managerial Economics | Operational Research | | Projects |
| Human Resource Management | Project Management | | |
The Third and Fourth-semester course syllabus for elective IT and Fintech is as follows:
| | | |
| --- | --- | --- |
| Electives | Third semester | Fourth semester |
| IT and Fintech | Database Management System, Software Engineering Technology Management, Business Intelligence / Tools | E-commerce, FinTech Payments, and Regulations Cryptocurrency and Blockchain, Enterprise Resource Planning |
MBA in IT & FinTech Management Projects
Doing a project in their chosen field of interest will encourage students to continue learning and develop the necessary skills to land a good job. They will be able to see the holistic perspective of the specialisation and programme they've chosen. Some of the project/thesis ideas one should do to gain knowledge are:
Digital Banking
Digital Wallets
Blockchain and cryptocurrencies
Crowdfunding solutions
Is an MBA in IT & FinTech a good option?
FinTech MBA from Manipal University Jaipur is one of the top career options because:
Excellent job opportunities: An exciting new market is emerging in the field of IT and financial technology. The IT & FinTech industry is expanding at a breakneck pace, thanks to the prominence of digital payment systems, e-wallets, instant loan options, and cryptocurrencies. There are many job opportunities for Fintech management professionals, with a wide range of global opportunities as well.
Better earning potential: FinTech jobs in the banking and financial sectors can pay the highest wages, making it an excellent choice for MBA graduates to begin their careers. Students can look forward to better benefits and increased earning potential.
Become future-ready: The IT and FinTech elective in the MBA programme provides students with the opportunity to gain practical experience in the field. Some of the technologies that will change the way the financial sector operates are database management systems, technology management, software engineering, e-commerce, blockchain, FinTech payment systems, and ERP. The FinTech industry requires adaptable and creative managers who can assist banks in identifying and meeting new customer needs. Students who complete an MBA in IT and FinTech will be able to progress in their careers and remain relevant for the rest of their lives.
What is the scope of an MBA in IT & FinTech?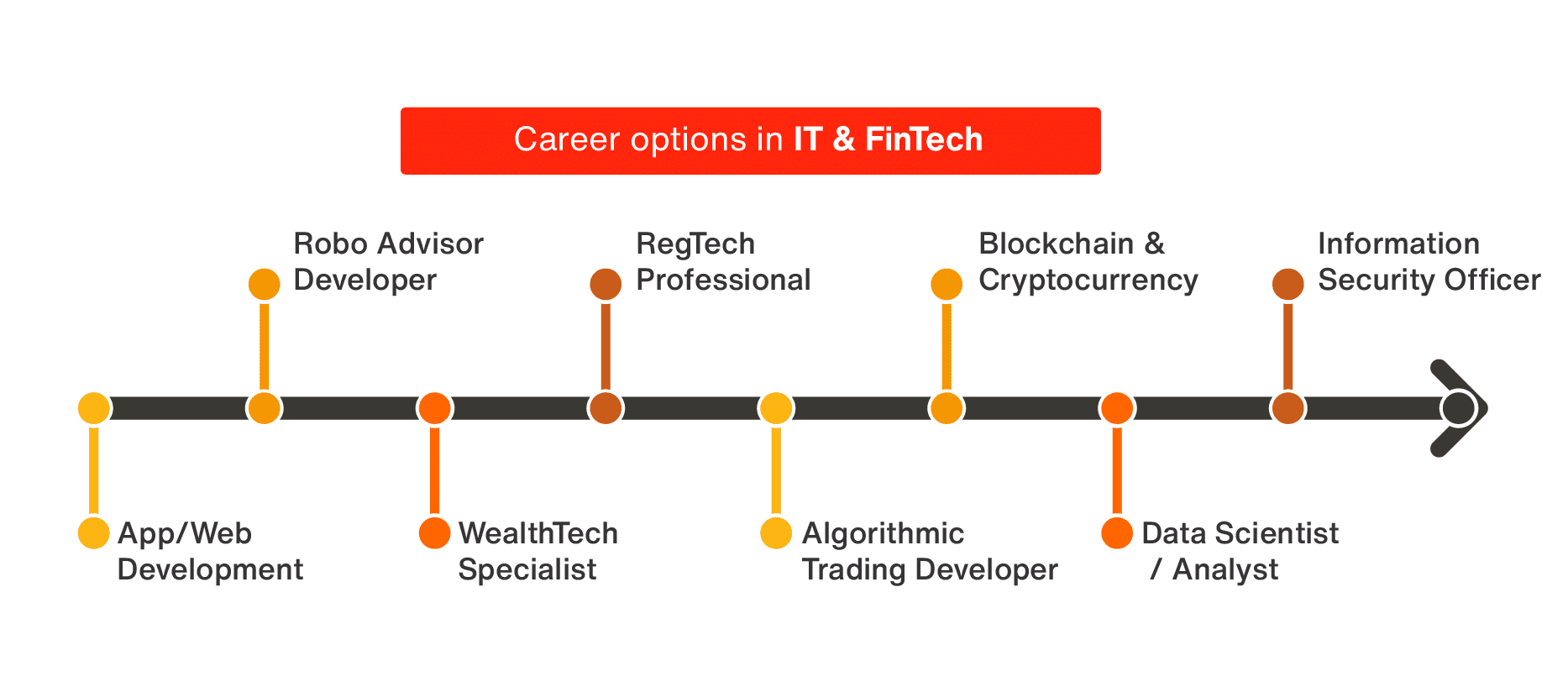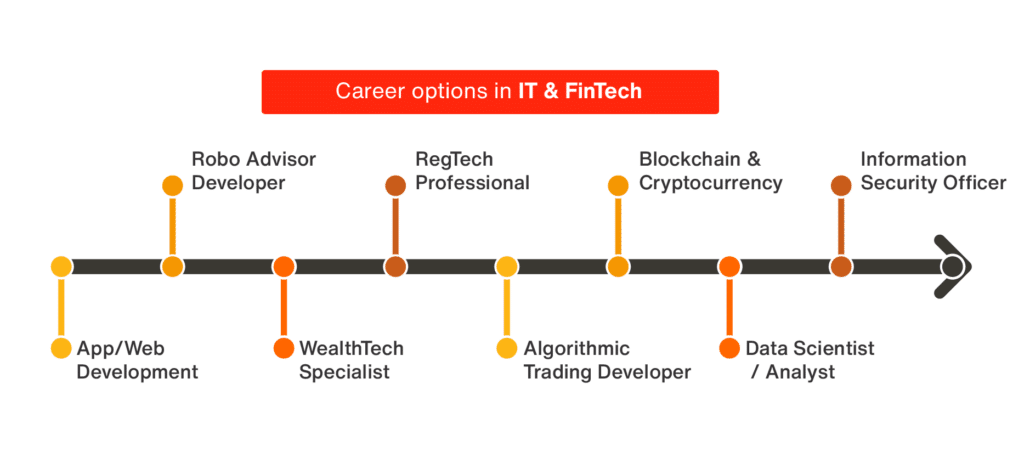 FinTech is a good career choice because of the rapid advancement of technology and the growing demand for it. FinTech management professionals will have twice as much scope in the coming years as they do now, as the demand grows rapidly.
For MBA in IT and Fintech graduates, there are many career opportunities in different fields such as:
Data Science
Artificial Intelligence and Machine Learning
Data Analysis
Wealth Tech and Robo Advisors
Risk and Compliance
Cybersecurity
Blockchain and Cryptocurrencies
Mobile App Development
Digital Lending
E-wallets and Payments
Billing
Money Transfers
Peer to Peer lending
Crowdfunding
Master your FinTech skills with an online MBA at Online Manipal
Organisations in today's business world are looking for the next generation of leaders who can propel them to success. The online MBA programme at Manipal University Jaipur will help you strengthen your business acumen, develop leadership skills, and expand your professional network.
Students can benefit from Manipal University Jaipur's placement assistant programmes. The vast network of professionals, academics, and alumni can assist students in building their professional network and preparing for interviews.
Eligibility
10+2+3-year bachelor's degree from a recognised university/institution, or an equivalent qualification as recognised by the Association of Indian Universities or other competent bodies, in any discipline
Minimum of 50% marks in aggregate (45% for reserved categories)
A valid score from any aptitude test (CAT/MAT/CMAT/XAT/GMAT).
Candidates without an aptitude test score need to appear and clear the online aptitude test conducted by Manipal University Jaipur as per admission norms to the MBA programme
Fee structure
NR 1,50,000 (all-inclusive) or INR 37,500 per semester (includes an examination fee of INR 5,000)
Student fees can be paid semester-by-semester through Manipal University Jaipur's flexible payment options. The students can also check their eligibility for a scholarship and look into simple financing options like no-cost EMIs.
Duration
Minimum 2 Years divided into four semesters
Affiliations
Manipal University Jaipur is accredited by NAAC, WES, AICTE, and ICAS, and is also recognised by the UGC. These certifications serve as evidence of the quality of their academic model, pedagogy, and curriculum, as well as a means for employers to verify the credentials of their graduates.
University Grants Commission (UGC) Regulations 2020 are used to design Manipal University Jaipur 's online degree programmes, which are recognised on the same level as on-campus programmes. Manipal University Jaipur's online degrees are widely accepted by governments, corporations, and higher education institutions for jobs and education.
Certification programmes for Online MBA
For our students to prepare for the industry, Manipal University Jaipur provides them with additional tools and resources. Additionally, it provides free access to professional certifications, lectures by industry leaders, and courses from leading universities worldwide.
Some of the certification programmes are:
Management Courses
Management Foundation Course- Finance, Marketing, others
New Age Management Courses – Digital Marketing, Business Analytics & others
IT Courses
New age technology courses – Cloud computing, Data science & others

Programming & Testing – Java, Advanced C Programming & others
Conclusion
A decade ago, FinTech was non-existent. Currently, the sector is influencing the financial services industry around the world. Taxation, compliance, advisory services, and analytics are just a few of the many job opportunities. FinTech has the potential to provide massive employment opportunities for MBA graduates, ushering in a new era of financial innovation. Manipal University Jaipur is the place to go if you want to become a FinTech management expert and take your career to the next level. New-age FinTech managers must begin their training as soon as possible.
Enrol with us
Interested to join our courses?
Share your details and we'll get back to you.