Journalism and Mass Communication have opened a plethora of career opportunities in India. Your voice is your work, and this field truly is the path to generate your voice, but still, people lack the knowledge of what options this field can offer them. Journalism and Mass Communication offers a wide range of employment opportunities in print & electronic media, audio-video production, radio & broadcasting, photography, advertising, public relations, event management, filmmaking, and the new media. The degree course enhances students' skills and gives practical learning to be more efficient in their chosen careers. It develops a sense of teamwork among students and improves their communication skills. 
What is a Master's in Journalism and Mass Communication?
Journalism refers to the collecting, making, creating, surveying, and presenting of news and data. Because it gives transparency to governance by questioning the political leadership, journalism is considered as the fourth pillar of democracy related to information about current affairs and recent developments in the world.
Mass communication means spreading information to a huge audience through a different method of communication. We daily get involved with one or the other media platforms. Whether it's the most recent information or a piece of entertaining news, or cricket, we get to know it. It is all a result of mass communication and innovation.
A Master's in Journalism and Mass Communication is a two-year postgraduate degree course specialising in print, electronic, and new media. It helps students enhance their skills with more practical knowledge that gives them a deeper understanding of the concepts and the way to tackle tricky situations with strategic thinking.
Why should you study journalism and mass communication?
Journalism and Mass Communication have various opportunities for those who can stand out from the crowd. The uniqueness in your creativity leads you to more elevated levels.
Journalism is the way for those astute about the various socio-economic and political changes and can communicate them effectively. Studying journalism and mass communication will provide you with opportunities for a rewarding career. You can also create a wide network which can provide you with ample prospects.
The more you know people, the wider your network and varied your opportunities. Social prestige, travel and gaining new experiences, social networking, glamour, creativity, skills, and freelancing are the perks of this field. Further, you get a unique perspective on the world, having access to places inaccessible to most.
Scope & career opportunities after doing an MA in Journalism & Mass Communication in India
In the 21st century, we connect with almost everyone through different platforms. Therefore, the scope of Journalism and Mass Communication is wide in India, and the career opportunities are rising with its increasing use. Students get the chance to strengthen their technical and creative skills during the course. If researching and writing on various topics interest you, the field of journalism and mass communication would be a good fit. You can work as a content writer, reporter, anchor, journalist, etc., on a newspaper, or channel or online media.
You can also look forward to advertising and public relations opportunities, where you can work as a script and copywriter, PR executive, and advertising professional. There is an increasing demand for photographers, videographers and editors in this field. With the advancement of technology, there is a boom in employment opportunities. The understanding and handling of the camera, audio-video consoles, and editing softwares can open doors for you in the sectors of television, radio and films. Be it a news channel or a film industry, the production teams are the main source of giving content for the public.
Journalism and Mass Communication allow people to work as freelancers based on their interests and skills. They work and earn money on a per-task basis with various organisations. They do not have permanent jobs because they work on specific contractual projects. Those interested in exploring their creativity and desiring to impact social issues can work as filmmakers and directors and produce and direct their films.
Advantages of studying journalism and mass communication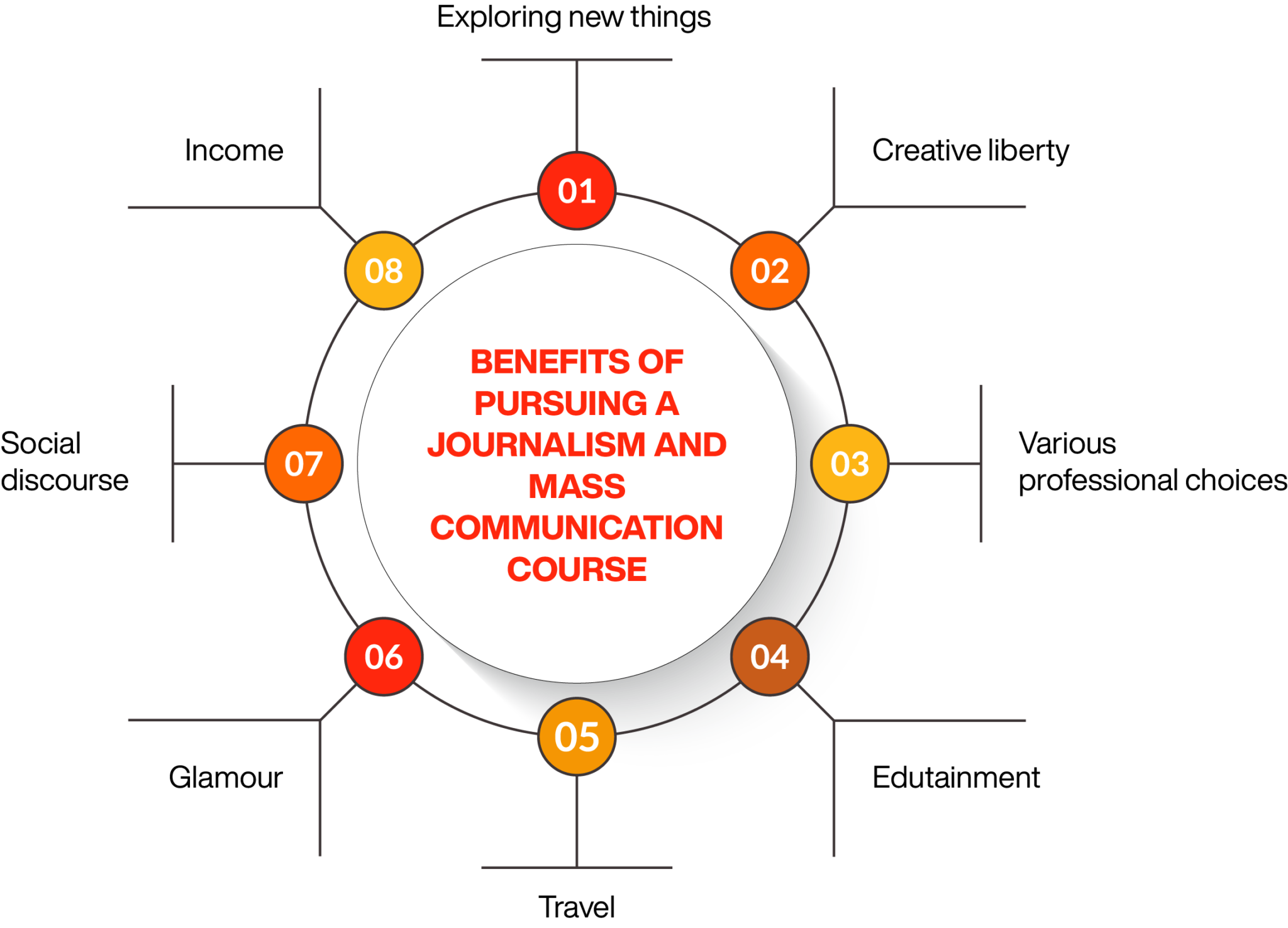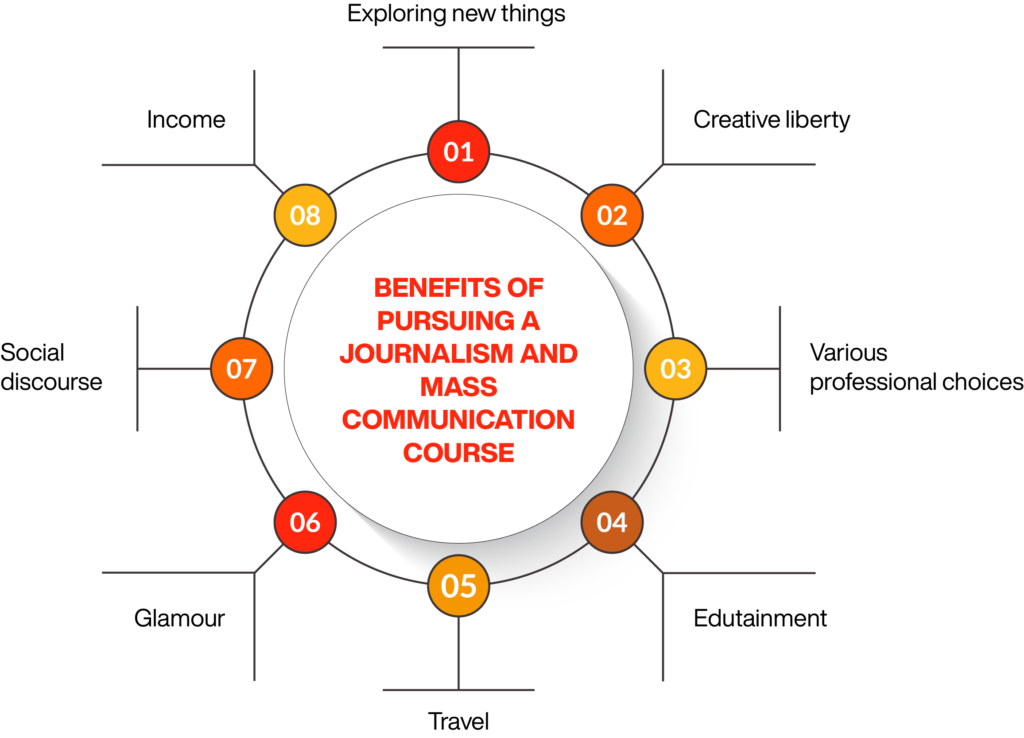 The world is like a canvas to the media, which paints it with every colour possible with new technologies. The comfort we have in our lives with the sorted engagements is the best example for pursuing Journalism and Mass Communication. Here is a list of advantages to making it more clear for you:
1. Exploring new things: A master's programme assists the students in getting exposure. You get the freedom to work on different stories, and it allows the students to utilise their imaginative abilities. Besides depending on your work, there may be possibilities to travel, explore and earn.
2. Creative liberty: You gain the knowledge and learn the application of aesthetics for your work. You get to know how to use artistic freedom and creativity to shape your mind and your work, tackle issues, settle clashes rapidly, work in a group, and talk publicly.
3. Various profession to choice: When your interest lies in mass media, you can apply for entry-level positions in news, magazines, FM channels, production houses, and PR firms and launch your profession from that point. You can choose to be a journalist, press reporter and editor, publisher, photographer and videographer, public relations executive, script and copywriter, filmmaker, event manager, advertising professional, newsreader and anchors, orators, marketing professionals, film critics, fashion communicators, corporate PR professionals, and many more. Having numerous skills and abilities and updated information could assist you with going truly far in this field.
4. Edutainment (Education and Entertainment): You will find mass communication students feeling exceptionally happy constantly as their field is getting exposed to different things. They generally make enthusiastic conversation and involve themselves in discussions in the class to practise and improve their skills. Education cannot be boring if their learning is fun.
5. Travel: A degree programme in Journalism and Mass Communication is extremely cool, and it does not require learning in the study hall; you move to different places and explore new things. So, if you're someone with wanderlust, your job can also satiate this need and make it satisfactory.
6. Glamour: People dream of being famous and getting viral in the social world. Journalism and Mass Communication is a course that gives opportunities to meet famous and well-known personalities. You can get access to celebrities, politicians, and others at various glamorous and glitzy events.
7. Social discourse: Media study is a domain especially centred around the advancement and shifts of society. Media is the fourth pillar of democracy, and its impact on the general public comes with great responsibility. Therefore, journalists and other media professionals have the power to steer social discourse on important issues.
8. Income: People in the media hold great positions with attractive pay packages. New media and freelancing opportunities can give real quick gains to freshers. The increasing demand for social media managers also has a wider scope of career growth.
Is mass communication and journalism a good career in India?
Overall, journalism and mass communication fields are advancing at a staggering rate. All media, including print, TV, radio, film and the web, have been developing simultaneously and keep filling new ideas within a reasonable time frame. Consequently, looking for a master's certification in Journalism and Mass Communication can help you get into an incredibly worthwhile profession and provide avenues for future growth.
As almost everyone has access to a mobile phone, digital media like YouTube and OTT platforms are options for disseminating content to get a wider reach. Therefore, there are a lot of opportunities to create content for various media requirements.
What is the scope of an MA in journalism and mass communication in India?
There are multiple opportunities for aspiring artists because of the progression in innovation and increased broadcasting options like TVs, radio broadcasts, online entertainment, news channels, and digital platforms. An MA in Journalism and Mass Communications degree opens numerous valuable doors for individuals who need to make their profession in journalism, advertisement, radio, television, film industry, etc.
MA JMC course salary packages
After completing the degree, students can apply in public relations, reporting, media management, advertising, content marketing, corporate communication, television and film production. The average entry-level compensation with a MA JMC degree in India lies between INR 4,78,000-6,00,000 lakh per annum. However, these figures could fluctuate according to your capability, experience, work profile, etc.
List of top 10 career options in the journalism and communication sector
Followings are the 10 career options for graduates in Journalism and Mass Communication.
1. Journalist
The most widely recognised professional choice after a degree in journalism and mass comm is that of a journalist. Journalism, one of the course's main focus areas, gives candidates every necessary ability and information, supporting them to convey the true story responsibly to the general public.
2. Television and film industry
Working in the television industry is the right profile for those who have the talent to engage individuals through films. You can get into the media world and explore different things. Experts with this degree can likewise fit the profiles of scriptwriters, video editors, 3D animators, illustrations, graphic designers and many more.
3. Content creator/ developer
You could create your video or written content , and you can also create your blogs and websites and create content for social media platforms.
4. Radio Jockey (RJ)
Radio station personality is an arising field, budding with much professional potential as a career choice. With an MA in Journalism and Mass Communication degree, you learn and upskill with different capabilities and a talent for narrating, innovativeness, thinking out of the box, etc., and go a long way in your career as a Radio Jockey.
5. Digital marketing expert
A degree in Journalism and Mass Communication furnishes students with skills that you expect a budding professional in digital marketing would have. In the present innovation-driven world, you get to explore different avenues regarding diverse professional routes in multiple areas, including content writing, graphic designing, marketing, social media marketing, and web analytics.
6. Social media executive
Social media helps spread considerable information and content as most people spend significant time on social media platforms. With the right content and strategy, you can turn their attention to your causes, products and services. As a social media executive, you are answerable for creative undertakings from advertisements to events to noble causes and sharing videos and other content.
7. Public relations professional
A degree in Journalism and Mass Communication empowers you with great correspondence, discussion, relational, and executive abilities that are the most appropriate for jobs connected with public relations.
8. Advertising industry
Students have been instructed about commercials and their utilisation in their Journalism and Mass Communication classes. Your creative licence is put to work to sell your products and services in this profession. Different situations, products and services require different approaches and need you to think out of the box to capture your target group's attention.
9. Broadcasting and production
A degree in Mass Communication can likewise get you into the broadcasting and production sector. There are various career opportunities in different areas like filmmaking, TV production, video editing, screenwriting, and art direction.
10. Event manager
Event Management firms are growing step by step. A Journalism and Mass Communication graduate can work for an Event Management Company as an Event Manager or set up own an event management company. It's a lucrative industry which needs people who are good at building networks and have amazing communication skills. 
Top companies for journalism and mass communication graduates
There are a lot of organisations from the private and government sectors that give good opportunities after the completion of the MA JMC degree. Here are some top recruiters:
HT Media
NDTV Network
Balaji Telefilms
Zee TV Network
DDB Mudra Group
Times of India Group
Viacom
Reliance Entertainment
Network 18
Sahara One Media & Entertainment Limited
INDIA TV
Indian Express
Dainik Jagran
Why study MA in Journalism and Mass Communication from Online Manipal
Manipal University Jaipur's online Master of Arts in Journalism and Mass Communication is a two-year post graduation degree that comprises four consecutive semesters. The course incorporates theoretical and practical learning that enables students to be more useful, imaginative, and innovative, from writing to introducing their stories in the media. The curriculum of the MA JMC involves the expertise of teachers that caters to real-world experience.  Students get an active involvement in the areas that incorporate media, script and screenwriting, essentials of photography and videography, sound video altering, anchoring, camera handling, and other things. 
Online MA JMC programme highlights
The term MA JMC isn't limited to local work opportunities; however, it offers potential options to students in the different media across the geographies.  
The online MA JMC offers instruction and mentorship by qualified professionals that intensify this course's  worth. 
The online MA JMC programme drives you to stroll on the correct way and field, for example, print media, editing, advertisement and PR, directing, journalism and reporting, anchoring, video editing, photography and videography, cartooning, research, radio, broadcasting, and so forth. It makes sure that the student is specialised in every field so that it opens various opportunities.
The course material of MA JMC is accessible on the Online Manipal after you log in.
Is the Manipal University Jaipur online MA JMC degree valid?
Yes, the programme is valid and generally accepted by all the government and private sectors for employment and higher education in India or abroad.
What are the eligibility criteria for a Master's in Journalism and Mass Communication?
If you're interested to enrol in MA JMC, you should complete the following criteria –
Candidates must have 10+2 from the recognised boards.
Candidates must have graduated with BJMC (Bachelors in Journalism and Mass Communication) or any stream or from an authorised university/ institution recognised by AIU (Association of Indian Universities).
What is the total cost of the online MA JMC programme?
The Manipal University Jaipur's MA JMC programme costs INR 1,30,000 (inclusive of all taxes); INR 32,500 is the fee for each semester, including an examination fee.
What is the duration of the Online Master of Arts in Journalism & Mass Communication Programme?
The course's minimum duration is two years, which means four semesters, and the maximum duration is four years, if you're unable to complete the course on time.
Conclusion
The world is changing rapidly, and so are the media technologies. The media has the power to change public perception in seconds. Earlier, the information about recent developments was accessible only through radio, newspapers and televisions, but now you can get knowledge about anything within seconds on various media. You can have great opportunities with the help of a Journalism and Mass Communication degree. Organisations are looking for people from media backgrounds to communicate more effectively with the general public. More minds create more ideas, and the industries are looking forward to MA JMC graduates so that they can collectively create some new content with their skills. Enrol in an online MA JMC programme at Online Manipal.
Enrol with us
Interested to join our courses?
Share your details and we'll get back to you.