What is Data Science?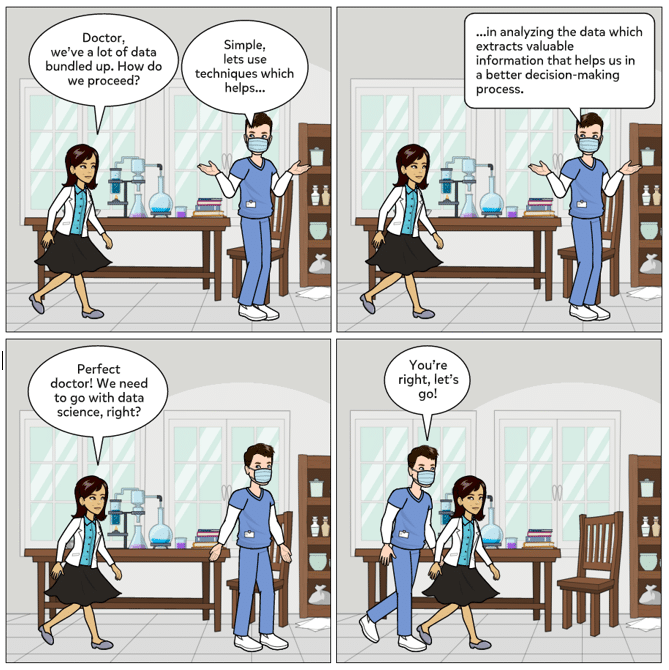 Why Data Science is important?
Data is one of the most crucial aspects of any company since it allows us to make decisions based on facts, statistics, and trends. Data science, a multidisciplinary field, emerged because of the expanding scope of data.
For proper and efficient management and utilisation of data, data science has a major scope in India and abroad. As per the tweet by Ronald Vanloon, every 60 seconds voluminous data is getting generated, which requires the usage of proper techniques for analysing, which in turn helps in better management of data at various data centres.  
This tweet even covers the aspects of all the 'four Vs' of big data –
Volume which deals with the multiple scales of data
Variety which highlights the different forms of data coming from tweets, emails, mobile users, and many more
Velocity where-in data getting generated from various sources at a faster rate
Veracity which refers to the correctness of the data. 
Scope of Data Science in the Indian IT market
Data science is a relatively young multidisciplinary field concerned with gathering, preparing, analysing, visualising, administering, and preserving vast volumes of data to extract value from the data. It helps in simplifying and analysing complex data. 
The Government of India has come up with encouraging initiatives under NITI Aayog's National Policy on Artificial Intelligence 'AIforAll', an Industrial collaboration between India and Sweden, which meant for technology leadership in Artificial Intelligence for accomplishing the betterment of society. 
The Department of Science and Technology initiated the Data Science Research wing to investigate the nature of data and scientific challenges around data and potential real-world applications. Mathematical foundations, machine learning and knowledge discovery, storage, retrieval, search, privacy and security, and data science applications are among the wide areas of research on which DST focuses. Many works are announced in the healthcare sector to provide affordable and accessible services. These were to mention a few initiatives taken up by our government, which mark the expansion of the data science domain in the current IT sector.  
Below are a few additional points to be considered:
● Assists with the decision-making process
● Increases data security in the organisation
● Helps sales and marketing with target group optimisation
● Optimise recruitment process by automation
● Provides real-time business intelligence
● Helps optimise organisation process and workflow
Master's in data science: Panchatantra strategies to take up Data Science career
Stand out of the crowd: There is an information explosion in the field of data science. Hence, self-study will require many disciples. This is where courses, especially a Master's in Data Science programme, come in handy. A master's degree will help you set a path, define sub-goals, allow you to evaluate your progress, and create opportunities to interact with stalwarts in the field. Besides this, it would open avenues to job opportunities in this field.
To become a scholar: A master's degree in data science can help you learn how to collect, organise, and analyse data, spot trends, and offer accurate results. Data science is one of the world's fastest-growing professions, and to stand out, you must have extensive knowledge and abilities in the field.
Obtain an impressive salary: You can earn a good wage in your career if you have advanced abilities and expertise. In India, the average income for a data scientist is roughly INR 7 lacs per year. While entry-level experience can earn you INR 6 lacs per year, mid-level expertise can make you INR 10 lacs and more. And, because the need for data scientists is growing by the day, the salary is expected to rise by 10% by 2025.
Acquire credibility with employability: A master's degree, especially one that includes completing and defending a capstone data science project, will give the student who completes the programme credibility. The successful completion of such a project can demonstrate to potential employers that you can use data to solve real-world challenges. Right today, data science is relevant to almost every industry. Data scientists are in high demand in banking, healthcare, and technology. They work in academia, government agencies, and private non-profit organisations, among other places. This means that data science master's degree graduates who are skilled and educated will be valuable additions to employers in nearly every field. 
Transitional and Prescient field: Data science is, without question, a fascinating topic of study. You will have the opportunity to go further into data science in your master's degree than in your undergraduate studies. This means looking into issues you may not have the chance to look into before – and possibly discovering a field of expertise that truly excites you.
Conclusion
Data science is an important element of technological advancement in today's world. It plays a key role in the Information Technology sector as the digital transformation is in full swing in the sector. Being the biggest service industry in the world, the Indian IT sector is undergoing this tremendous change and now hunting for skilled data science professionals. The scarcity of talents is the major challenge they face in recruitment. Online degree providers like Online Manipal offer data science-focused programmes from prestigious universities like the Manipal Academy of Higher Education (MAHE). Currently, Online Manipal offers a UGC-entitled online M.Sc. in Data Science from MAHE that equips you to become a future-ready data professional. You can pursue the programme at your convenience using any smart device. You can learn more about the course on the Online Manipal website.
Enrol with us
Interested to join our courses?
Share your details and we'll get back to you.