Management
Online Manipal Editorial Team | June 06, 2022
Working for a product-based firm may be one of the most satisfying career options because it offers time and location freedom, personal appreciation, and an excellent chance to enhance your talents. Firms like Google, Adobe, and Cisco enable consumers to form strong relationships via their network of hardware, software, and service offerings. Job options at these comapnies vary from communications manager to security research engineer. Marketing, design, and even product development may all be done by creative directors.
There are several procedures to follow while seeking a job in a product-based firm to stand out among hundreds of other applicants. Before applying in a product-based company, you should do a background investigation of the organisation, collect information about previous projects and technology stacks, and perhaps speak with current workers. After completing all of these steps, prepare a few questions to ask the interviewer.
Keep these methods on how to get into a product-based firm close at hand since this article will assist you in having all of your questions addressed in one place.
What is a product-based company?
A product-based firm develops and manufactures its products. Product-based businesses often have significant sales and profits but need large initial expenditures. Furthermore, these organisations are more customer-centric, which means that workers often work with a single job and do not shift their attention from one product to the next.
Product-based enterprises in India provide various products that fulfil various functions. They include software, hardware, and services utilised by billions of people throughout the globe. In India, the organisations have offices in Bangalore, Chennai, Hyderabad, Gurgaon, and Mumbai. Internet-related tools, cloud computing, software and hardware, and consumer electronics are among the services provided by the firms. The followings are some of the best product-based companies in the nation –
Flipkart is one of the country's most successful businesses. This e-commerce business began as a platform for selling books and then extended to consumer electronics, home goods, food, and lifestyle items.
Uber is another well-known corporation. It was established in 2006 and now has over three million users across the world. The organisation operates over 80 fulfilment sites and 21 automated sort centres. It employs more than 66,000 people.
IBM, headquartered in Palo Alto, California, is the world's largest company operating across India. IBM manufactures computer hardware, software, and middleware and provides hosting services. Its products are utilised by individuals from many industries all around the globe.
Mohalla Tech, which owns the Moj short-video site, is another example of a product-based company. Moj has millions of users and is one of India's most popular video applications. By providing developer-friendly APIs, a fully functioning current account, and working capital loans.
How do product-based companies work?
Product-based companies create and sell items that people want. Companies such as Amazon, Flipkart, Adobe, and McAfee continually upgrade and enhance their products. As a consequence, they have more pleased consumers. Here's how product-based businesses work:
Recruit through DSA interviews
Most product-based businesses recruit employees via data-structure and algorithm (DSA) interviews. This exam assesses your problem-solving abilities. As a result, you'll need to be proficient in DSA. Furthermore, you might consider studying basic coding fundamentals to prepare for this interview. Java or C are recommended languages.
Customer-friendly company culture
Companies focused on offering the most excellent customer experience fall into the trap of developing a corporate culture that prioritises customers above workers. This customer-focused culture helps employees to understand the end-user behaviour and fine-tune their products for the masses.
Product-centric marketing strategies
A marketing approach that focuses on a product or service is an effective way to target customers who are already interested in a product or service. Companies that use this method include Sears and Staples, which expect buyers to seek a particular product and make it simple to discover.
Product-based firms' scalability
Technology is a vital part of scalability for product-based businesses. Companies may boost their capacity with superior technology without recruiting more workers or establishing new plants. However, to develop effectively, organisations must guarantee that they are scalable.
Cost of working in product-based companies
Product-based businesses create their items before contacting a customer. They also concentrate on the most recent innovations in their sector. As a result, they are often more costly than typical firms.
Top product based companies in the world
You can consider working for a top 10 product-based company in India if you want a wide employment scope. Check out these ten top product-based companies.
If you're into software, you should look at Adobe, its most popular Acrobat Reader is the king in accessing PDF documents and Photoshop is the unchallenged product in graphic design. In your life, you would come across many applications from Adobe from time to time. Adobe looks at the client's needs to organise a project's activities.
Amazon is a product-based firm, not just a service-based one. It develops its software and goods. Initially, it started as an e-commerce firm but developed into a tech company that has branched out into various other sectors, including but not limited to streaming (Amazon Prime), cloud computing (AWS), etc.
In addition to IoT devices, CISCO specialises in energy management and domain security. It has workers throughout the world.
Amdocs is a software firm that specialises in CRM solutions. Welsh Carson Anderson & Stowe, Morris Kahn, and SBC Communications are among the investors in this Guernsey-based product business. With over 250,000 employees worldwide, with a cash-to-debt ratio of 1.48, this is a high number for the IT sector.
Minimum viable products (MVPs) are critical in software development. Meta started with Facebook for social media networking and now has Instagram and Whatsapp. They acquired Oculus for the development of Virtual Reality based content.
Search engine giant Google dominates in various areas of technologies with several innovative products. Their flagship Google Suite is bundled with many Google products for office, communications, and digital marketing, such as Gmail, Google Meet, Drive, Google Tag Manager and more. With proper preparations, any professional can enter Google.
ALSO READ: How to get a job at Google after BCA?
Microsoft is one of the world's biggest software corporations, best known for its Windows operating systems, Office suite, and Internet Explorer (now Edge) web browser. It owns social networking sites like LinkedIn, which millions of professionals use to network, and its Xbox game consoles continue to sell in record numbers. Customers include individuals, small enterprises, and some of the world's biggest corporations.
Bill Hewlett and David Packard launched HP in 1947. They began in a Palo Alto garage and quickly bought other enterprises. On November 6, 1957, HP went public with an IPO price of $16 per share. The firm acquired facilities and extended its product range to consumer markets around the globe. It bought a graphic recorder company, F.L. Moseley, and set up a marketing office in Switzerland.
If you're searching for a data integration business, you've probably come across Informatica. Founded in 1993, the firm has become an industry leader in data integration. This programme can integrate data from many systems, maintain master data, and schedule data activities. In addition, its back-end allows for custom data processing.
Gordon Moore and Robert Noyce, creators of the integrated circuit and Moore's law, formed the firm in 1968. Arthur Rock, who aided with fundraising, chaired the board. The arrival of the IBM personal computer revolutionised Intel's business strategy. As per the company website, Intel's innovation in cloud computing, data centre, the Internet of Things, and PC solutions is powering the smart and connected digital world we live in.
John McAfee created the firm in 1987 to provide digital security products. And he was up against Intel, the world's top PC processor manufacturer. Based in Santa Clara, California, the firm creates digital security products for desktops, servers, and mobile devices.
What are some job roles in product based companies?
Companies that produce products have a defined budget for filling certain positions. These firms have a broad range of employment positions and frequently conduct technical interviews.
Here are some occupations you should consider while applying for product-based positions. Let's look at each.
Business advisor
Product Manager
Business Development Associate
TA Manager
Programme Manager
How much salary can one expect from a product-based company?
An experienced working professional is often paid four to five times more than a novice in a product-based corporation. A developer with two years of experience may be paid less than a newbie with no prior experience. However, the remuneration will be comparable to a two-year seasoned software engineer. Let's check out the generic salary structure –
Associate Product Manager: USD 80,000
The simplest way for a recent graduate or someone to change jobs to enter product management is to be an associate product manager.
Product Manager: USD 110,000
It takes three to five years as an associate product manager or an equivalent role (such as engineering or sales manager) to be considered for a product manager position.
Senior Product Manager: USD 146,000
Senior product managers often have five to eight years of product management experience. Senior product managers may be in charge of a product portfolio or several products.
Lead Product Manager: USD 170,000
Most organisations demand a director-level product manager to have seven years of experience in both product management and human management.
VP of Product Management: USD 190,000
The VP of product management is generally always on the leadership team and is in charge of the company's product vision. They also coach and nurture the product team.
The Chief Product Officer (CPO) role is becoming increasingly popular in large organisations. This entails developing an overall product strategy and aligning it with the company's vision and goals. While the average CPO base salary is more than USD 199,000, annual bonuses and stock options may greatly enhance total pay.
Why should you join a product-based company?
You'll be able to work with new technology, gain new skills, and do meaningful work. Most significantly, product-based businesses are often accompanied by skilled employees who contribute to the company's success.
Here are some of the benefits of working in a product-based company.
You get ownership to work – Having a stake in a product-based firm is more than simply a job title; it is a way of life.
You get to learn and be creative at work – Product-based companies tend to prioritise efficient time use. They tend to cater to tech-savvy product managers as well as non-tech product people. They invest in creative product visions and empower non-technical product people.
You get an opportunity to grow – Product-based companies hire freshers from reputed colleges. This process is known as campus recruitment. Product-based companies have a fixed budget for hiring freshers, so they visit various colleges for hiring. Unlike the average engineering college, product-based companies prefer to hire only those with an excellent academic record and interest in the field.
Innovation – There are several ways to foster innovation after joining a product-based firm. Changes in business processes and information technology can create a climate conducive for innovation. For example, Google employees work on self-directed projects for 20% of their time.
You get skilled – If you are a dedicated programmer looking to create a career in software development, you should look into a product-based organisation. Product-based companies provide an exponential learning curve and the ideal setting for skill development.
Product-based vs Service-based companies: Key differences
The critical difference between product and service business is the nature of the labour. A product-based firm sells a tangible product, while a service-based company does not sell anything but instead works on behalf of another organisation or customer.
Let's examine the difference between product and service based company depending on a variety of parameters:
| | |
| --- | --- |
| Product-based companies | Service-based companies |
| Product-based organisations often recruit people with significant topic or domain knowledge and familiarity with cutting-edge tools and technology. | Communication skills are equally as necessary as technical competence if you want to work in a service-based organisation. |
| Product-based businesses frequently have more job stability than service-based businesses. | An employee in a service-based organisation feels increased strain because of the tight deadlines and expectations. |
| Product-based companies are all the businesses that have their items to offer. Google, Alphabet, Facebook, Adobe, and others are instances. | The service-based firms may well not offer items, but their core competency is service. They work for different organisations or customers. Infosys, Wipro, TCS, and Cognizant are a few examples. |
| Since consumers often make spontaneous and rapid purchases, product-based firms have short turnaround times. | According to service-based firms, many iterations and discussions are necessary before a contract or transaction is signed. |
| A product-based company will frequently invest a large amount of money and time in branding to increase customer awareness of their products. Product firms will advertise their products globally. | Service-based firms will aim to directly target a specific set of people or a local audience. They will typically use customised marketing language and put a more significant focus on customer experience and pleasure. |
| Product-based companies may market and sell their products all over the globe. | On the other hand, service-based enterprises often cater to the local market. |
| Product-based firms create or develop their items or apps even before contacting clients. | The business can only function when a consumer approaches a service-based firm with specific needs or expectations. |
How do I get into product-based companies?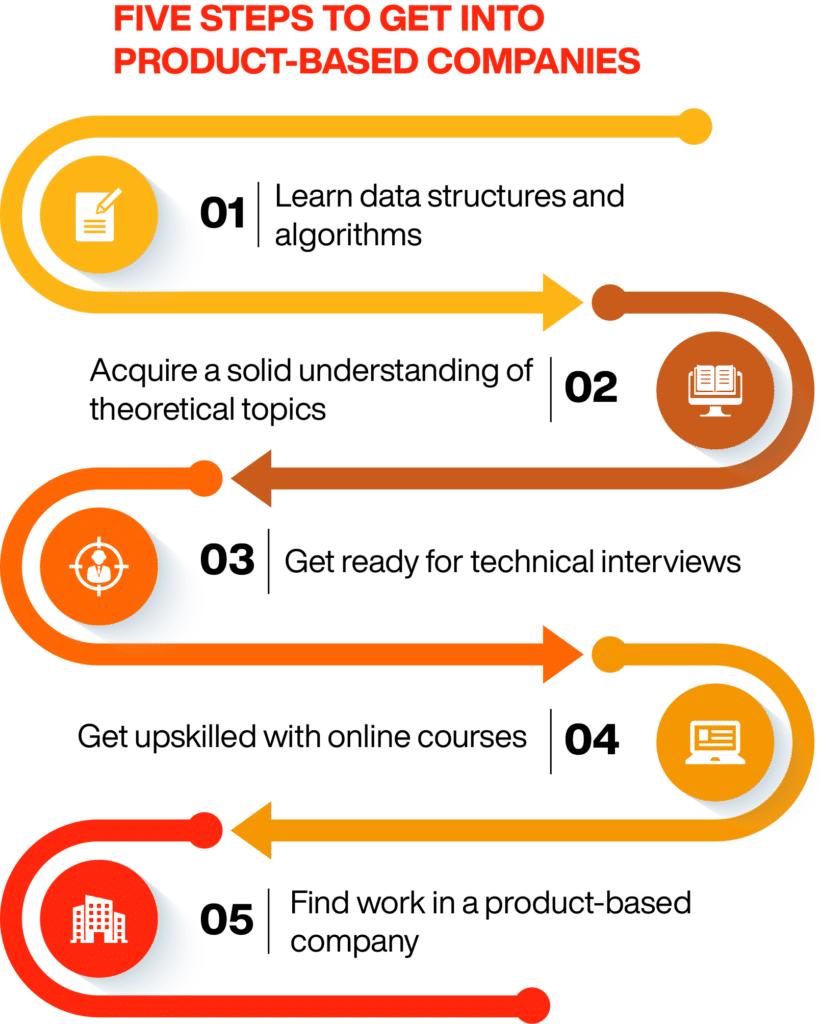 Working individually and creating modules that have been allocated to you. Product-based positions need independence. Therefore you will often be expected to take time off early and complete assignments far ahead of deadlines. Product-based employment is ideal if you like working independently.
Continue reading for advice on how to excel in a product-based career. Learn how to enter into product-based businesses.
Learn data structures and algorithms – If you want to work for a product-based organisation, you need to be familiar with algorithms and data structures. You can create and construct scalable goods if you understand algorithms. Solving an issue for many people is a terrific way to earn a lot of money. Successful product-based businesses employ engineers who understand data structures and algorithms.
Acquire a solid understanding of theoretical topics – While studying, make sure you have a firm grasp of theoretical concepts. The importance of computer networks, operating systems, database management, and system architecture cannot be overstated. Some firms may conduct MCQs or a viva interview round while hiring where you must show your mastery. Prepare by researching the issues and writing down the most critical questions.
Get ready for technical interviews – A data-structure and algorithm (DSA) interview is used by the majority of product-based organisations. This interview is highly technical, putting your problem-solving skills and logical thinking to the test. If you don't have a great understanding of DSA, it's doubtful that a product-based organisation would consider employing you. You'll also be asked about essential technical topics and related experiences. The interviewers may also ask a few technical questions about your previous projects.
Get upskilled with online courses – You will produce new items, enhance old ones, or update them in a product-based firm. Typically, applicants for these professions are picked after completing aptitude and essential coding examinations. They may also need you to attend an interview to see if you are a good fit for the organisation. You'll be on your way to joining the firm after you've satisfied these conditions.
How to get into a product based company as a fresher?
It's not simple to get a position at a product-based firm, but it's not impossible. You can get through the interview rounds if you know what to say and what not to say. Here are some pointers to help you ace the interview.
Finding work in a product-based company is more complex than in a service-based one
A product-based corporation develops new items and improves its performance, while a service-based company provides services. A technical interview and a set of behavioural tests are standard in service-based companies. The distinction is clear, and the transition from a product-based to a service-based business is relatively easy.
A product-based corporation provides exponential learning possibilities for programmers. Service-based businesses have limited growth opportunities, and their personnel are seldom pressed beyond their comfort zones. Moving from service to product-based companies may be ideal for reliable programmers. But be sure to develop an excellent LinkedIn presence and enhance your CV with relevant skills and showcasing projects you worked in.
Requirements for a product-based job
For a new graduate to work in a product-based organisation, appropriate experience is required. Finding a decent position in a product-based company requires extensive prior software development expertise. Product-based businesses need a solid grasp of emerging technology and better soft skills. These jobs frequently demand applicants to present a project that demonstrates their knowledge and skills. Projects also show your talents, boosting your employer's confidence. Prepare a checklist of requirements and make sure you earn them before applying for a job in a product-based company.
Study at top-ranked institutions
Product-based firms often employ skilled fresh students. Because most of these organisations have a limited budget and want to fill openings quickly, they will only visit universities with the correct personnel mix. So they will prefer universities that generate high-quality graduates over those that do not.
Resume selection for a product-based interview
Your CV as a software developer is critical to securing an interview with a product-based organisation. Your resume must be as accurate and concise as possible, all on one page. So the employer can see how much you've learnt and contributed to projects, it should also emphasise your experience and technical capabilities.
What skills are required to get into product based companies?
A product-based firm needs a solid foundation and a problem-solving attitude. These firms often recruit candidates with good interpersonal and communication abilities and coding and programming expertise.
Here are the skills required for product-based companies job roles
Interpersonal skills are required in product management
Listening and empathising with others are vital skills. Empathy facilitates teamwork and boosts partnership productivity. Interpersonal skills will equip you for the demands of product management.
Coding knowledge is helpful
Coding abilities are helpful for many reasons. They may open doors to various careers, both within and outside of organisations. Having coding skills allows you to grasp how these tools function and how to use them to solve issues. Here are some of the main reasons why product-based organisations need coding abilities.
Product-based businesses want people with subject competence and autonomy. If you lack these talents, it is tough to be recruited by product-based firms. These businesses require staff who can work on a product and interact with customers. They typically value specific talents above others. Good communication abilities are necessary, but not the only one.
Companies that produce products have a growth-oriented culture
Getting complete employee buy-in is crucial to developing a growth-oriented work culture. Employees must share their goals and be eager to assist you in achieving them. Share your passion for the company and your vision for it. Starting with your leadership team is the most effective strategy for creating a growth-oriented culture.
Product managers must develop documents
A product manager's job entails several tasks and procedures. The product roadmap is the most frequent document describing a product strategy that give an outline for the stages of deliveries over the subsequent few cycles. Roadmaps also describe the product development process. These documents – prepared in Word or Powerpoint – assist the product manager in explaining the process to their team.
Do I need a master's degree to get into a product-based job?
To gain a competitive advantage, it is advised to earn an online MBA from a prestigious business school, such as Manipal University Jaipur. While a master's degree in business administration has numerous benefits, few individuals are aware of how it can benefit their careers. MBA programmes enable you to enhance your essential skills in management and business administrations.
MBA students acquire the necessary critical thinking skills, including extensive big-picture reasoning, to address client demands and expand the business. MBA programmes also emphasise teamwork and problem-solving skills.
In addition, an online MCA degree can give you an advantage over other graduates competing for the same position. Your skills and training as a software engineer will benefit you in a variety of product-based positions. A systems developer writes code and creates operating system programmes. A web designer will create portals and websites using software. Both of these online degrees – MBA and MCA – demand a creative mind and substantial practical experience.
Marketing managers will always be needed as long as marketing is in demand. Marketers will be required in all industries. Marketing is here to stay, and there will always be a need for young marketers with MBAs. A solid marketing background will enable you to develop innovative solutions to corporate difficulties. An MBA will help you succeed in marketing, whether digital, conventional, or both.
An MBA may help you get a job in product management. The degree might help you progress up the corporate ladder or into more significant firms. It also provides you with a network of connections to assist you in breaking into other businesses. With experience, you may progress into managerial responsibilities at a higher level. Your career will benefit from your networking skills.
Master your skills with an online degree from Online Manipal
The online degree programmes that Manipal University Jaipur provides are acknowledged by a variety of businesses and governmental agencies. In addition, the university provides financial aid in the form of scholarships to students who qualify for them.
A brief rundown of the degrees and certificates offered by Manipal University Jaipur, as well as their duration and cost, is provided below. Find out how obtaining a graduate degree from this institution might improve both your earnings and your resume.
Overview of MBA degrees and certifications
Electives in the curriculum concentrate on developing marketable skills, talents, and inventiveness. The AICTE, UGC, and other educational bodies havel endorsed the online MBA programme. It is considered at par with regular campus programmes.
Visit Online Manipal for additional information on the online MBA programme. You may register online by entering your details. You must also submit your qualifying papers and pay the application cost. Upon completion, you will be notified by SMS and email.
Manipal University Jaipur is a private university in Jaipur, Rajasthan. The institution provides undergraduate, postgraduate, and doctorate programmes of varying lengths. The institution also offers several UGC-entitled online degrees and is listed among the top 25 universities globally by Outlook University Rankings.
The UGC-entitled online degrees from a NAAC A+ Manipal University Jaipur is affordable compared to the full-time regular programmes. The fee can be paid in instalments and no-cost EMIs also available. Attractive scholarships to deserving students will further reduce the fees.
An online MBA may boost your résumé and earnings
An MBA is the world's most sought-after postgraduate degree, and obtaining one will offer you a competitive advantage. An online MBA from Manipal University Jaipur may help you advance in your career. This curriculum is available online so that you may earn it from the comfort of your home. You may pick your chosen learning style and take the courses whenever you want. The LMS is easy to use, and the online classes are engaging.
To enrol, fill out an online application form here. In order to apply, you are required to provide proof of your identification and address. After you have handed in all of the necessary documents, the university will give you the enrollment credentials. You will also have access to reading material, live webinars, and guest sessions. In addition to that, there will be quizzes for you to take to test your knowledge.
Conclusion
If you're a devoted programmer and are acquainted with the advantages, money, and reputation afforded by product-based organisations, then working for one of these companies may be your dream job. If you take the right measures, read some useful resources, and work hard to enhance your skills in the areas that product-based organisations value, landing a job at one of these companies will be as simple as pie!
Working at a product company has a lot of perks and potential for advancement, but getting a job there isn't always easy. There are a number of actions and guidelines that must be followed. If working for a product-based company appeals to you, keep the factors we discussed in this article in mind.
Online degree programmes from Online Manipal are setting the standard in one of the most quickly increasing fields of higher education. Students may learn the fascinating curriculum at their own speed. Students who choose to take their courses online must take proctored tests. Students may also engage with faculty members and alumni who have professional expertise in disciplines similar to the occupations they want to pursue.
Enrol with us
Interested to join our courses?
Share your details and we'll get back to you.