Key takeaways:
There's virtually no industry that does not collect, analyse, and gain insights from data, which is why data science has become the most versatile skill of the 21st century.
The global big data market is expected to reach a whopping $103 billion in 2027.
Currently sitting at #3 on Glassdoor's 50 best jobs in America list, data science is now one of the country's most sought-after careers.
Data scientist occupations are expected to grow by 31 per cent and statisticians by 33 per cent from 2020 to 2030, opines the US Bureau of Labor Statistics. That's much faster than the average growth rate for all jobs, which is 8 percent.
Online Manipal offers M.Sc in Data Science which helps aspirants pursue machine learning applications, deep learning, predictive modelling and solving problems with real-world data.
Our world today is data-driven which has brought forth a digital transformation. Nowadays, organisations leverage data to improve customer experiences, explore new markets, and increase productivity. All of which provide a cutting edge in the competition-driven markets. A data scientist uses relevant data to understand and explain the results and performance of businesses, thus helping organisations to make better and informed business decisions.
Continue reading if you want to understand how to learn data science step by step, how to get into data science career, how to get data science job as a fresher, and much more.
What is data science?
Digital transformation is about the integration of data into our diurnal lives. Data science is exploding with new and advanced technologies every day in the age of machine learning, artificial intelligence and automation. Experts predict we'll have 175 zettabytes of data in the global datasphere by 2025.
This translates into the need for a large number of skilled professionals who can manipulate huge and complex datasets to help build business models for various businesses. Almost every industry is now in need of skilled data scientists. Entertainment, followed by consumer goods, are the top industries that hire data scientists with the most pay,
It is, therefore, significant and beneficial to effectively understand how to learn data science step by step.
READ MORE: What is Data Science?
What does a data scientist do?
A data scientist generally carries out the following tasks-
Find patterns and trends in data.
Create data models to forecast outcomes.
Integrate machine learning techniques to improve the quality of data
Communicate and recommend outcomes and results on the basis of data to other teams and senior staff
Be informed and knowledgeable of innovations in the data science field.
Key skills in data science
Data science emerged as a field because of the increasingly large volumes of digital data that are generated every day. Data scientists analyse data and develop predictive models for theorising and forecasting. Techniques involved in it include mathematical analysis, predictive modelling skills, regression analysis, deep learning, and analytical thinking.
Hence, data scientists are professionals who essentially have computer skills to acquire and transform copious amounts of data to help business organisations perform without disruptions and profitably due to their analytical insights and predictive intelligence.
Top data science job roles
The average salary per annum of a data scientist is quite lucrative. The following chart sheds light on the average salaries of data scientists in different countries –
| | | |
| --- | --- | --- |
| Country | Job Role | Average Salary |
| US | Data scientist | $ 100,560 PA |
| India | Data scientist | ₹ 10.5 LPA |
| UK | Data scientist | £ 52,052 PA |
| Canada | Data scientist | CA$ 87,248 PA |
How to start a career in data science?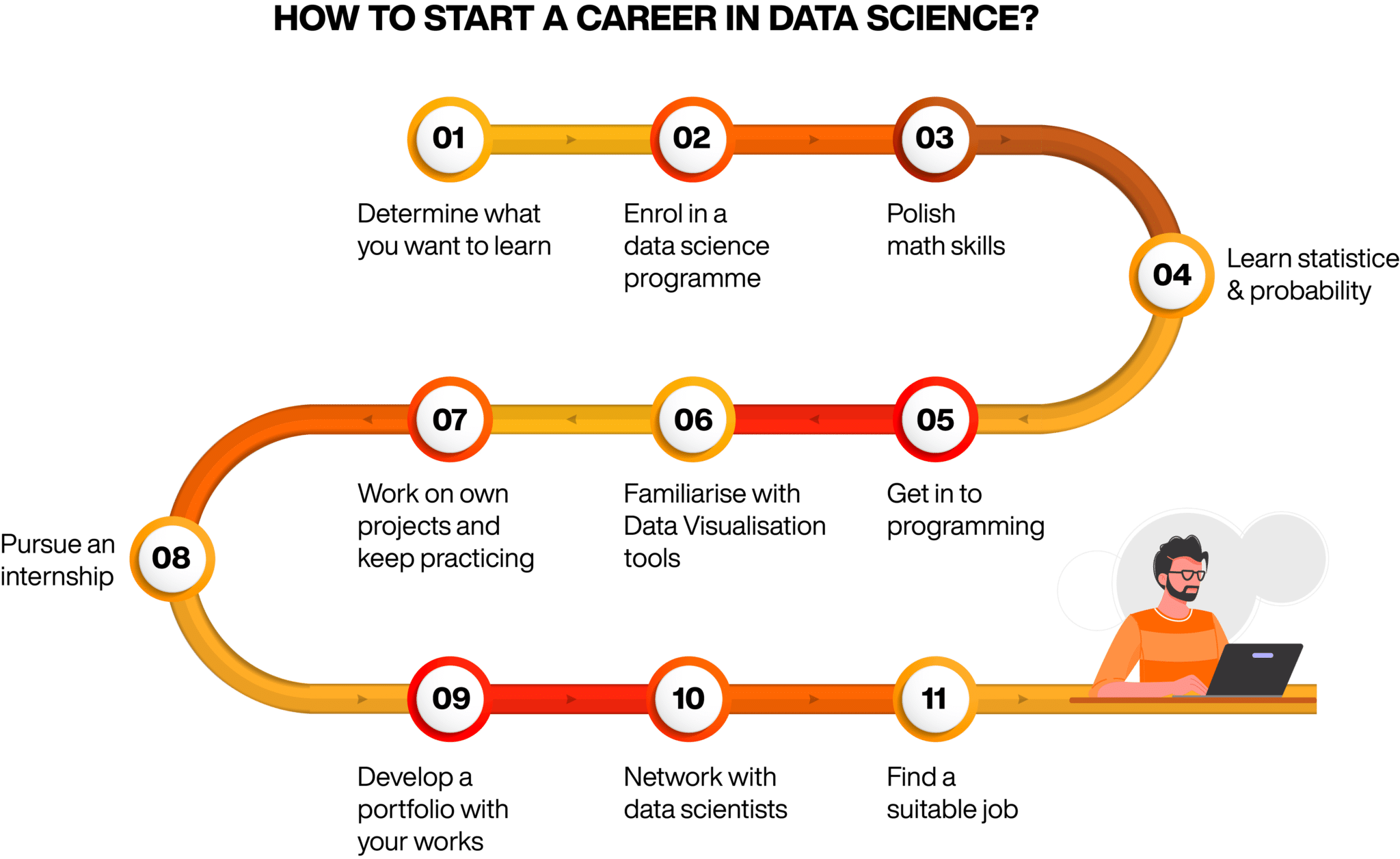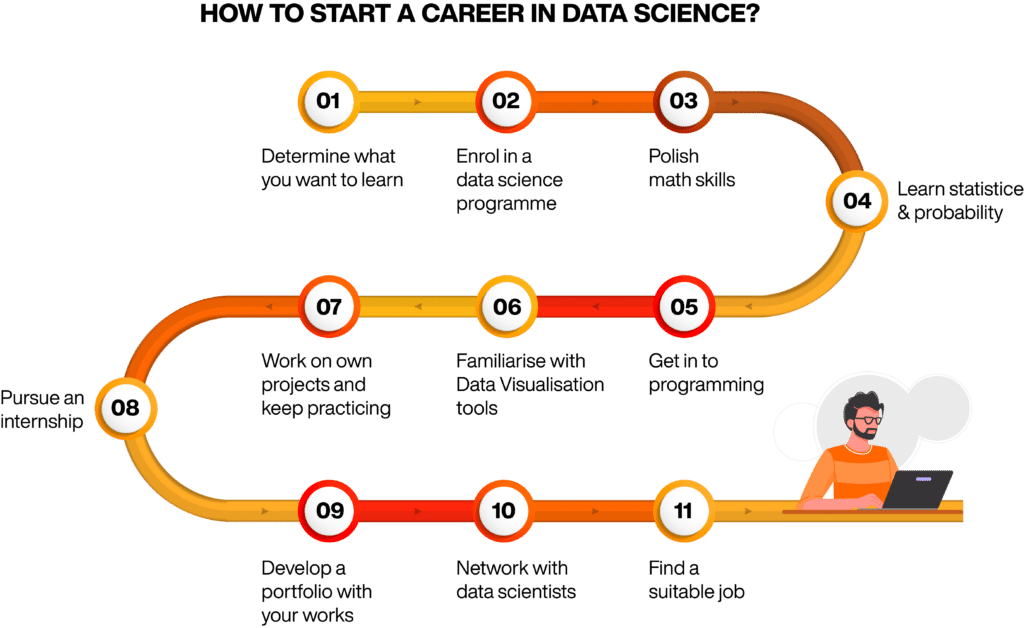 If you've been wondering how to get into data science career, the following information can help –
Determine what you want to learn
When pondering upon how to get into data science career, you must first determine what you want to learn. Formal training is a requisite to becoming a data scientist. Initially, certain skills need to be learnt, a degree acquired but at the end of all the hard work, bright, challenging yet rewarding career prospects lay in wait. In order to get a firm foothold in the data science industry, here are some important steps to consider-
Enrol in a data science programme
Employers give weightage to relevant academic credentials to ensure that candidates have the skills and knowledge required for the job of a data scientist. Acquiring a master's degree, M.Sc in Data Science through courses offered by the prestigious Manipal Academy of Higher Education (MAHE) through Online Manipal, is a step in the right direction.
Polish your maths skills
A skilled data scientist must be conversant with probability, linear algebra and calculus. As a data scientist, all the advanced work such as machine learning and deep learning necessitates those mathematical skills. Hence, most of the techniques that data scientists use are grounded in mathematics.
Learn statistics and probability
Data scientists need to have the requisite analytical skills for handling large amounts of data in terms of acquiring and assembling information, seeing patterns and using the specific information to draw conclusions and make logical recommendations to enhance business operations. A person adept at deconstructing large masses of complicated information into smaller, simpler yet pertinent data aggregates for decision-making has analytical skills.
Data is the collection of information or facts in numbers, observations or measurements, etc., used for reference or analysis. Incorporating machine learning in data collection helps classify and analyse massive amounts of data. This helps in potentially being able to predict the outcomes of future datasets.
Get into programming
Some software frameworks used to process big data include open source frameworks such as Apache Spark and Hadoop. Employers need the assurance that potential employees have the skill to work with this and any other recent, related software.
Data scientists deal with certain software programmes that handle large amounts of data. This software provides development APIs in Java, Scala, Python and R and supports code reuse across multiple workloads—batch processing, interactive queries, real-time analytics, machine learning, and graph processing. A data scientist needs to be knowledgeable in programming languages for data science, including –
Familiarise with Data Visualisation tools
Creating charts and graphs is an important part of being a data scientist. Familiarity with the following tools is a significant prerequisite –
Tableau
PowerBI
Excel
Powerpoint
Work on your projects and keep practising
Studying, analysing and predicting future outcomes after going through massive amounts of datasets is a major part of a data scientist. However, excellent communication skills, both verbal and written skills, are required to communicate findings and results that can affect change. Keep practising and working on projects along with regular degree and certification courses.
Pursue an internship
Pursue internship positions that work heavily with data, such as data analyst, business intelligence analyst, statistician, or data engineer. One can work their way up from there while gaining knowledge, skills and experience in the chosen career field. Most prestigious data science internships are offered by companies like Google, Lenovo, FedEx etc. These give you an opportunity to discover how data science teams function and the kind of problems they deconstruct.
Develop an impactful portfolio with your works
Candidates should use their CVs to highlight their portfolios. Display your technical and computer skills along with leadership skills. Hiring managers look for experience from either former internships or personal projects that show off role-related knowledge and leadership skills.
Network with data scientists
Hands down, one is one meet-up, and great reviews during internships go a long way to not only form a network of referrals but are also the best way to secure an initial job. A disproportionately large number of hires as data analysts are the result of referrals from employees who already work at a company. So your best way to secure a job or to move up the career ladder will be through a relationship with someone who works at your target company, rather than a common channel like a job portal.
Find a suitable job
Beginning a career in a related entry-level job is a good first step. Pursue positions that work heavily with data, such as data analyst. One can work their way up from there while gaining knowledge, skills and experience in the chosen career field. Once relevant skills required for pursuing a career in the data science industry are acquired, the next logical steps are in the form of landing a job as a data scientist. Most organisations expect high levels of competence in the field of work applied for.
Subsequently, interviews for such positions are fraught with tough interviews wherein specific, technical questions are posed to candidates. All forms of ambiguity will lead to disastrous results. Hence rigorous preparation for positive outcomes from interviews is the only way forward. Good institutes like Manipal Academy of Higher Education, which is NAAC A++ accredited, provides excellent domain knowledge through experienced mentors who have relevant industry backgrounds and an understanding of the challenges and opportunities of the specific industry.
Career path in data science
The average salary of a data scientist is USD 122,499 in the United States as of April 2022, according to Glassdoor. Different locations have different impacts on data science salaries. Major tech hubs like San Francisco and Seattle come out on top with impressive median salaries of USD 135,000 and USD 120,000, respectively.
The high salary is driven by the high demand for data scientists linked to the rise of copious amounts of data linked to businesses and other organisations thriving on data-driven decision-making.
Master your data skills with Online Manipal
Wondering how to get into data science career? This course can help you kickstart your journey towards a successful career.
This Master of Science programme is designed for professionals who need a fillip to their careers. This is a 24-month course that will hone all the relevant skills of aspirants trying to get a foothold in the data science industry. The MSc in Data Science offered by Manipal Academy of Higher Education (MAHE) through Online Manipal is a perfect blend of machine learning, big data analytics, and statistics. Perusal time averages 15 to 20 hours a week, and the fees for the programmes are Rs. 2,60,000, which can be paid in instalments as no-cost EMIs.
Taught by skilled and experienced faculty having a background and knowledge of the relevant industry, the programme prepares aspirants for a successful career in the future to strategically and efficiently work in teams, managing work and people. Guidance is not only given for internships but the best on-site campus recruitment by the most prestigious organisations like Google, Amazon, Accenture etc., to name a few, are carried out every year.
Final thoughts
The work of a data scientist is intellectually challenging, technologically driven and rewarding. Data scientists are in demand as big data continues to be increasingly crucial to the way organisations make decisions. The data science industry is witnessing an unprecedented surge in growth, making it a favourable time to pursue a career in this field. Enhance your future prospects by doing a postgraduate course in data science from Online Manipal.
Enrol with us
Interested to join our courses?
Share your details and we'll get back to you.