MCA (Master of Computer Applications) is a three-year postgraduate degree programme that makes students well versed with the core concepts of computer programming and how they are applied in practice. It teaches students about various computer programmes, application software, computer architecture, operating systems, and other topics. The MCA program is available in full-time, online, and distance learning formats.
Students with an MCA degree have the choice to work with technologies that help them design faster and more efficient applications. Its purpose is to offer students a current, industry-relevant computer science education. Many institutions across the country offer Master of Computer Application programmes, which create many qualified candidates for the information technology sector.
When an MCA degree is pursued in an AICTE and UGC-approved college or institution, it becomes a valuable asset. We will provide you with all the vital information regarding the MCA programme from beginning to end in a detailed format. We'll go over all the questions regarding MCA in this article, including:
What is an MCA course?
What is the eligibility for an MCA course?
How to get admission in an MCA course
Types of MCA courses
What are the subjects in MCA?
MCA syllabus semester-wise breakdown
Jobs for MCA graduates
Scopes for MCA graduates in India
Why should you consider an online MCA?
Key points for the MCA course
MCA is a postgraduate degree in Computer Applications, a higher level of study after a bachelor's degree in computer applications.
| | |
| --- | --- |
| Particulars | Details |
| Degree | Master's degree |
| Full-form | Master of Computer Applications |
| Duration | Three years |
| Age | No age limit |
| Minimum percentage | 45-50% in the undergraduate degree |
| Average fees incurred | INR 30,000 – INR 2.4 Lakhs |
| Similar options of study | MCM, M.Sc (Computer Science), B.Tech (Computer Science and Engineering), BCA, MCS |
| Average salary offered | INR 5.3 LPA |
| Employment roles | Senior Software Engineer, Software Engineer, Software Developer, SR. Software Engineer/ Developer/ Programmer, Team Leader (IT), Project Manager (IT), Lead Software Engineer, etc. |
| Hiring companies | HCL Technologies Ltd., TCS, Accenture, Cognizant Technology Solutions Corp, Capgemini, Tech Mahindra Ltd., Sapient Corporation, Oracle Corp, Mindtree Consulting, etc. |
What is an MCA course?
The Master of Computer Applications is a specialised postgraduate degree for students who desire to master modern programming languages and gain insight into the field of computer app development. The curriculum combines theoretical and practical expertise. An MCA course duration is three years, and it takes only two years for those who have a BCA or B.Sc in Computer Science.
Numerous universities in India offer an MCA degree to address the demand for competent individuals in the IT sector. Integrated MCA programmes are also available at several colleges. This prepares students for industry demands, allowing them to succeed in the corporate IT field. MCA students may find excellent employment opportunities in top IT organisations, multinational corporations, and consulting firms. They also have a plethora of options in the government sector.
How to get admission to the MCA course?
MCA is a preferred degree choice among graduates. For MCA admission, candidates must have a bachelor's degree with a minimum of qualifying grades. The admissions method is described below:
MCA course eligibility criteria
The following are important MCA eligibility requirements:
Candidates looking for admission in an MCA degree programme should have earned a bachelor's degree in computer applications, computer science, or a similar field with a minimum of 50% at the undergraduate level. A five per cent relaxation is applicable for students from reserved categories.
Mathematics must be taken as one of the compulsory courses in Class 12.
This is a general overview of the eligibility requirements, which can vary for different institutes.
Most schools and universities offer merit-based admission. You can enrol in the MCA program directly by completing a registration form and submitting your qualification documents. The college will publish a list of those who have been accepted. Once your name has been confirmed, you must submit the course fees to reserve your spot.
Admission to MCA degree programs is typically gained through university-level or state-level entrance exams, such as the IPU CET, MAH CET, etc. Apply and pay the fees to sit for the admission exam. You will be assigned to a college after you receive your results. Based on your findings, you also can apply to the institution of your choice. You must pay the costs to reserve your spot.
Types of MCA courses
There are three basic types of MCA in India: regular MCA, online MCA, and distance MCA.
Regular MCA is the classroom training provided by most institutes across India. This programme lasts two years for BCA grads and three years for those with other backgrounds. MCA course fees typically range from INR 1 lakh to INR 5 lakhs.
This programme lasts between two and five years. To take this course, a candidate must have a bachelor's degree. Admissions are made based on academic merit and entrance examinations. Distance mode MCA fees typically range from INR 40,000 to 1,50,000.
Online MCA is the most preferred mode undertaken by individuals these days. This training might last anything from 6 months to 4 years. Admissions are made based on academic achievement. For this course, candidates must hold a graduate degree. Online MCA course fees typically starts from INR 1,50,000.
MCA course details
The MCA course seeks to improve students' software skills and develop their computer application skills. Students enrolled in the MCA program will learn to design modern software using advanced tools and approaches. They will thoroughly understand computer science basics, applications and related disciplines. MCA courses include classroom lectures, seminars, projects, applications, and lab experiences.
What are the subjects in MCA?
MCA curriculum subjects equip students with a modern and industry-focused understanding of application principles and prepare them for the employment market. Students can get the MCA syllabus in PDF format before enrolling in the course to familiarise themselves with the programme's demands. The following is a list of MCA subjects:
Core subjects
Computer Programming with C
Discrete Mathematical Structure
Database Management System
Unix and Shell Programming
Software Engineering & TQM
Operation Research & Optimisation Techniques
Object-oriented Programming with Java
Elective subjects
Advanced Database Management Systems
Operational Research
Numerical and Scientific Computing
Distributed Systems
Software Project Management
Organisational Behaviour
Multimedia Technologies
Advanced Computer Architecture
MCA syllabus – semester-wise breakdown
The semester-wise syllabus of the MCA course at Manipal University Jaipur has given below:
First semester
The first semester emphasises learning the fundamentals of computer programming and IT. From computer architecture to C programming to complex database management systems, everything is covered in the first semester. The subjects covered in the first semester are:
Mathematical Foundation
Fundamentals of Computer Organisation
Web Technology
Elements of Basic Communication
Data and File Structure
Programming Fundamentals
Second semester
You will improve your ability to adapt to technological developments by emphasising training in virtual laboratories throughout your second semester. You'll have the option of taking a course on advanced web technologies, data structures, computer networks, and operating systems. The subjects of the second semester are:
Operating Systems
Probability and Combinatorics
Unix and Windows Lab
InfoSystems Analysis Design and Fundamentals
Oral and Wireless Communication
Business Programme Lab
Third semester
In the third semester, you'll study algorithm analysis and design, probability and statistics, and advanced software engineering. You can also specialise in wireless and mobile communication, open-source database systems, cryptography, and network security by taking an elective. The subjects of the third semester are:
Statistical Computing
Database Management Systems
Object-Oriented Analysis and Design
Computer Communication Networks
Management Support System
DBMS Lab
Fourth semester
Your last semester will emphasise your capacity to apply theoretical knowledge into practice through a project. Design and construct real-world apps using your maths and computing fundamental expertise. Throughout this semester, you can choose to specialise in hot topics like advanced web development, cloud DB systems, or storage management. The subjects of the fourth semester are:
Network Lab
Organisational Behaviour
CASE Tools Lab
Network Programming
Software Engineering I
Elective I & II
MCA third year syllabus
Not all institution provides three-year MCA. Followings are the syllabus of MCA in fifth and sixth semesters.
Fifth semester
Software Engineering II
AI and Application Lab
Industrial Project
Optimisation Techniques
Elective III
Elective IV
Sixth semester
Jobs for MCA graduates
Candidates who complete this Master of Computer Applications programme can pursue further education or seek employment. MCA graduates can work in both the public and private sectors. These graduates will be assigned challenging positions, though most may be in IT. However, companies will hire candidates in a variety of fields. If the candidate wants to pursue further education, they have many possibilities.
Scope of MCA graduates in India
Given the wide variety of designations accessible to individuals after graduation, the possibilities for MCA government positions and MCA job opportunities in the private sector are diverse. As there are many employment opportunities, the payscale after getting an MCA is appealing. The remuneration for MCA positions is one of the highest in the country for freshers, with several reputable organisations offering lucrative packages.
MCA salary in India and its scope regularly rise as experience accumulates over time. Some industries that offer the highest-paid positions following an MCA are consultancies, software development, e-commerce, stock exchange, software engineering, IT management, and technical consultancies. The following are the preferred jobs for MCA freshers:
Technical Architect
Senior Software Developer
IT Project Leader
Technical Consultant
Web Developer
Senior Project Manager
Android Software Developer
Data Analyst
Higher education opportunities after MCA
Pursuing higher education after completing an MCA boosts an individual's credibility while entering the workforce. Many people enrol in the MCA program for various reasons, but some may feel the need to further their education for professional or other reasons. More educational qualifications ensure an optimum pay scale when starting in the profession. The following are among the higher education opportunities available after completing the MCA program:
Career/job opportunities after MCA with salary
When researching the MCA degree, one should look at the many career choices that the course provides. Individual priorities may influence the options available. Graduates seeking employment can get the most well-paid positions after completing the MCA course. A few of the job positions that an MCA degree holder can enter as a fresher along with the salaries are listed below:
| | |
| --- | --- |
| Job role | Average salary per month |
| Software Developer | INR 45,000 |
| Hardware Engineer | INR 30,000 |
| Software consultant | INR 45,000 |
| IT support | INR 30,000 |
| Web designer | INR 30,000 |
| Assistant Professor | INR 30,000 |
Government jobs after MCA
Candidates who have finished their Master of Computer Applications or are in their last year can search for current government jobs and public sector companies based on their qualifications. Most government sectors, as well as banking and railways, offer IT-based government positions. MCA candidates, both new and experienced, can find the most recent and current MCA govt jobs. A few employment roles and the salaries in the government sector for MCA graduates are listed below:
| | |
| --- | --- |
| Job role in organisation | Average salary per month |
| BECIL (Broadcast Engineering Consultants India Limited) – consultant | INR 35,000- 40,000 |
| NIC, Government of India, (Programmer) | INR 35,000 |
| Government of Haryana (Senior system analyst) | INR 35,000 |
| Public Sector Banks (IT Officer) | INR 35,000 |
MCA vs MBA: Which is a better choice?
"MBA or MCA, which is better?" Both MBA and MCA are widely regarded as important courses in today's corporate world. However, an MBA is a better choice for a candidate who wants to pursue leadership and management jobs, while an MCA is better for enhancing their technical skills. These degrees qualify you for several of the company's top management positions. MCA offers excellent opportunities for students interested in academics and research. MCA positions are more office-based. MBA courses are great for those who desire to earn money and work in the industry.
Usually, learners prefer to continue with the course merely because of what they studied in their bachelor's degree programme. However, with the current benefits of the MBA, it is impossible to turn away. This MBA vs MCA debate is never-ending, so students must decide whether their passion for the subject outweighs the amount of money they wish to make. Consider the fundamental differences between the two courses.
| | | |
| --- | --- | --- |
| Particulars | MCA | MBA |
| Full-form | Master of Computer Applications | Masters of Business Administration |
| Course duration | Three years | Two years |
| Online/ distance education | Available | Available |
| Course fees | INR 30,00- 4 Lakhs | INR 3-20 Lakhs |
| Entrance exams | IPU CET, UPSEE, NIMSET, TANSET, etc. | CAT, MAT, XAT, GMAT, etc. |
| Average salary | INR 5-7 LPA | INR 3-28 LPA |
MCA vs M.Sc. Computer Science
In the employment landscape, both MCA and M.Sc. Computer Science has promising career prospects. Despite a market slump caused by the pandemic scenario, increased recruiting in the IT sector has resulted in many job opportunities. Graduates of both courses have a solid reputation in the corporate world and are more likely to get hired in top roles because of their prior experience.
As technology develops, the relevance of software development and computer applications is expanding dramatically. M.Sc. Computer Science is the best computer science education for graduates interested in research, maintenance, and testing. Similarly, MCA is the degree to take for graduates intrigued by advanced programming and digitisation.
| | | |
| --- | --- | --- |
| Particulars | MCA | M.Sc. Computer Science |
| Full form | Master of Computer Applications | Master of Science in Computer Science |
| Duration | Two years | Two years |
| Eligibility | 50% in BCA/ Computer Science/ B.Tech CSE | 50% in any undergraduate science/ arts degree |
| Average course fees | INR 2-5 LPA | INR 2-4 LPA |
| Average salary | INR 5-10 LPA | INR 4-10 LPA |
Top MCA universities in India
No industry has stayed unscathed by computer penetration resulting in the demand for computer science specialists. Therefore various universities are now providing master's degrees in computer applications to meet this need. The following is a list of the best universities in the country that offer a Master of Computer Applications program:
Christ University Bangalore, Bangalore
Manipal University Jaipur
NIT Trichy, Tiruchirappalli
National Institute of Technology – [NIT], Warangal
Delhi University, New Delhi
Presidency College, Bangalore
BIT Mesra, Ranchi
NIT Surathkal, Surathkal
National Institute Of Technology, Rourkela
Savitribai Phule Pune University, Pune
Jawaharlal Nehru University, Delhi
Online MCA: New generation course
The online MCA program is designed for individuals who wish to pursue a master's degree in computer application after completing their bachelor's degree but don't have the time to attend regular classrooms. There are a variety of digital institutions that offer online MCA programs. Online MCA learning gives students the time flexibility to get their master's degree without attending traditional classes.
Course rigour and professor expectations are vital aspects of online learning. On-campus and online students are graded using the same criteria. As a result, online courses are just as effective as on-campus courses in preparing students for the future. Accrediting bodies also assess online courses and only approve the best. Students typically feel less difficulty studying for online classes, even though they fulfil the same academic standards as traditional courses. This is due to online education's benefits, which encompass professional and vocational flexibility, cost benefits, and reduced stress when it comes to course timing.
Another factor that may make online courses feel more convenient is if the course format matches students' learning styles and educational assistance needs, such as digital tutoring and career counselling. Satisfying this personal inclination can increase educational achievements while also making the experience even better. An online master's degree will provide you with a deeper understanding of computer applications. The topics are like those in the BCA, but you gain a broad understanding of them that will enable you to learn more about the tech world.
Why should you consider online MCA?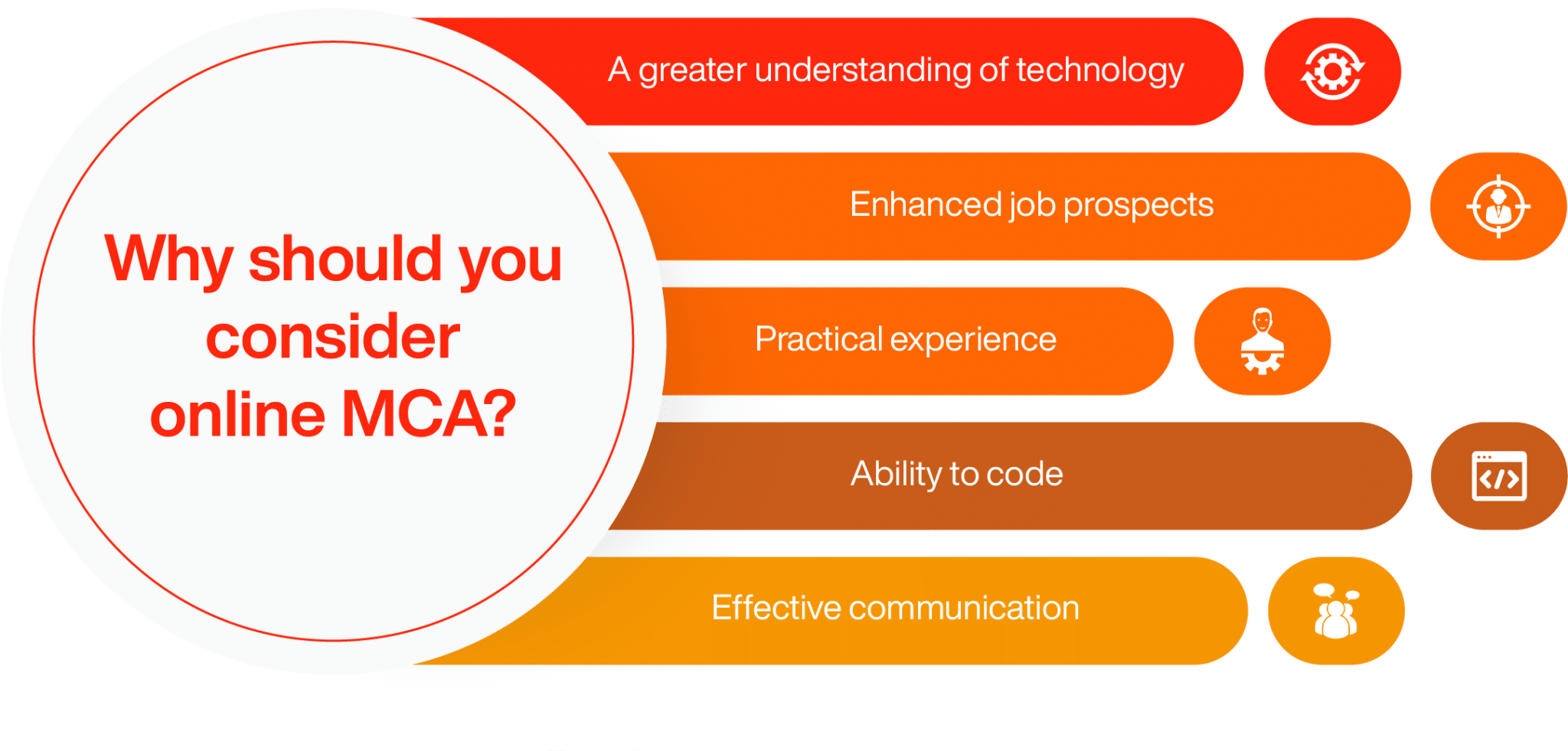 Online MCA is a one-of-a-kind approach to mastering computer applications from the comfort of your own home. The learner attends theory and practical training classes via a virtual learning platform. All interactions occur over the internet, and virtual lab platforms are used to conduct lab sessions. Following are the benefits of an MCA degree in online mode.
A greater understanding of technology
Students have more information, knowledge, and opportunities to interact. They can develop views and judgments. They know where they want to go with their careers. As a result, after completing the online MCA degree in India, individuals are more likely to land a career.
With quality education and training, learners get great job prospects. They can absorb topics, ace their interviews and do well in their careers with little help.
Implementation is the best way to learn computer science and technology. Hands-on training is emphasised in the online MCA program, and it aids students in gaining a comprehensive knowledge of the process. They can use that knowledge to employ technology to address business difficulties effectively.
Programming is a technique of using a technological medium like software to create solutions, services, or to communicate ideas. Students gain a better understanding of computing by learning to code, and they have the potential to become brand and solution creators.
Communication skills aid in the proper transmission and reception of information when working in an organisation. The online MCA program teaches you how to improve your communication abilities, and it assists students to become productive members of their organisations' teams.
Get an online MCA from Manipal University Jaipur
The online Master of Computer Applications offered by Manipal University Jaipur is designed for individuals who want to become smart, innovative tech professionals. This UGC-entitled two-year programme offered through Online Manipal also provides full access to Coursera and the Google Cloud Computing Foundations course, including ideas, hands-on exercises, examinations, and a capstone assignment on cloud infrastructure, app development, big data, and machine learning. You can take live and recorded sessions from the comfort of your own home, study at your speed, and take online proctored tests.
Online MCA course from Manipal University Jaipur highlights
UGC-entitled degree from a NAAC 'A+ ' accredited university
Advanced digital learning platform for immersive learning
Top-tier faculty & real-world mentors
Career counselling and placement assistance
Contact faculty through the student portal
Broader worldview
Better job opportunities
Online MCA course curriculum
Manipal University Jaipur offers a four-semester online MCA program in India. The semester wise MCA syllabus is:
First semester syllabus
Fundamentals of Computer IT
Programming in C
Foundation of Mathematics
Advanced Database Management System
Computer Architecture
Second semester syllabus
Operating Systems
Advanced-Data Structures
Advanced Computer Networks
Advanced-Data Structures using C
Third semester syllabus
Java Programming
Probability and Statistics
Advanced Software Engineering
Analysis and Design of Algorithms
Fourth semester syllabus
Project
Cloud DB System
Advanced Web Programming
Storage Management
Frequently asked questions (FAQs)
Here are the common questions we receive about our online MCA course.
What is the duration of the online MCA degree at Manipal university?
The online MCA program at Manipal University Jaipur lasts for 24 months, i.e. two years.
What is the delivery mode for online MCA programs?
The online MCA program is entirely accessible via the internet. Teaching and learning take place on an LMS (Learning Management System), which enrolled students can access.
Will I receive the certificate after completing Manipal University Jaipur's online MCA degree program?
Yes, you will receive a certificate after the course completion. MUJ's online certificates are acknowledged by governments, corporations, and higher educational institutes as qualifications for jobs, further education, and future opportunities.
What are the fees for an online MCA degree?
The online MCA course fees are INR 1,50,000/- (all-inclusive), which means INR 37,500 for each semester.
What are the career choices after an online MCA?
This course provides comprehensive educational opportunities to develop and extend skill sets that are sought across industries and can apply to a range of job vocations, including:
Business Analyst
Database Engineer
Data Scientist
Software Consultant
Product Manager
Required skills for online MCA course
Although there is a comprehensive list of skills that an MCA student must possess. The following skills are essential to pursue a job in the related field and enhance your MCA career:
Good communication and behavioural skills
Confidence
Strong technical skills
Good command over programming languages like C, C+, Java, .Net, etc.
Good programming skills and hands-on experience
Knowledge of data structure and database
Awareness of the latest technology trends
Is Manipal University Jaipur's online MCA degree valid?
Manipal University Jaipur (MUJ) gets an A+ NAAC rating, with a 3.28 CGPA. This validates MUJ's academic model, world-class amenities, teaching techniques, and educational quality and establishes it as a prestigious institution.
Manipal University Jaipur online MCA eligibility for Indian students
Aspirants must have a bachelor's in Computer Applications/Computer Science/Information Technology from a reputed institute or a comparable credential acknowledged by the AIU (Association of Indian Universities) or other competent organisations, with at least 50% in total (45 per cent for reserved categories).
Applicants from other fields, such as Science, Business Administration, Business Management, Arts & Humanities, Commerce, and others, must have a 10+2+3-year bachelor's degree from a recognised university or an equivalent qualification recognised by the AIU or other competent bodies, with Mathematics at the 10+2 levels and a minimum 50% aggregate in graduation (45 per cent for reserved categories). Such students must attend and finish a bridge course in computer and IT fundamentals alongside their first-semester coursework.
Manipal University Jaipur's online MCA eligibility for international students
Students with foreign education must have a finished graduate university degree of equivalency from the Association of Indian Universities before applying to any university in India.
Students and professionals with NRE or PIO status who live outside of India or are not Indian citizens but international students are eligible to enrol in MUJ's online degree programs. Students and professionals in this situation will be charged an international fee for their degrees and may be required to submit documents such as a CV, proof of address, valid visa, PR card, and passport photocopy as part of the application procedure.
Applicants who did not have mathematics as a subject in their 10+2 or bachelor's degree programme would have to undertake an additional course during their first semester.
Conclusion
The MCA program is thorough and well-structured to meet the needs of the business. After completing the MCA, a student can work in various fields, including networking, hardware, and software development, depending on their competence. Students are prepared for practical field objectives by industrial training interwoven within the degree. Taking an online MCA program is beneficial for working professionals, individuals who live in different areas, and those who aspire to get a quality education.
Only a small percentage of those colleges have experienced and skilled faculty members who help students understand several important areas of computer applications. These standards are met by Manipal University Jaipur's online MCA program. It's an online education programme with the same rigour as a traditional MCA degree.
Hope you get all the MCA course details by going through this post. So make a smart, professional decision by enrolling in Manipal University Jaipur's online MCA program.
Enrol with us
Interested to join our courses?
Share your details and we'll get back to you.